NBA Draft: Could Shaq & Chris Webber Have Won Title If Not for Draft Day Trade?
June 22, 2011
Tom Hauck/Getty Images
Every team in need of a franchise center hoped to land the No. 1 pick in the 1992 NBA draft. The ultimate prize that year was none other than 7'1" LSU center Shaquille O'Neal.
The fairly-new Orlando Magic wound up winning the pick and drafted O'Neal as expected.  
Shaq would have a first-class rookie year in Orlando. He averaged 23.4 points, 13.9 rebounds and 3.5 blocks per game, was voted an All-Star starter and named Rookie of the Year. He also led the Magic to a 41-41 record, 21 more wins than the season before.
Then the Magic surprisingly landed the No. 1 overall pick in the '93 draft as well. Power forward was Orlando's biggest need at the time, and it just so happened that Michigan power forward Chris Webber was considered the most talented prospect in the entire draft. 
After flirting with the idea of drafting BYU's Shawn Bradley or Kentucky's Jamal Mashburn, the Magic ended up choosing Webber.
Fans grew ecstatic about getting the chance to witness a Shaq and C-Webb front court duo down in sunny Florida. However, Webber wouldn't don a Magic cap for very long as he was immediately dealt to the Golden State Warriors for No. 3 pick Anfernee "Penny" Hardaway and three future first-round draft picks.
Webber went on to win Rookie of the Year honors as he put up 17.5 points and 9.1 rebounds per game for Golden State. The former Michigan Fab Fiver also teamed with All-Stars Latrell Sprewell and Chris Mullin to lead the Warriors to a 50-win season and a trip to the playoffs.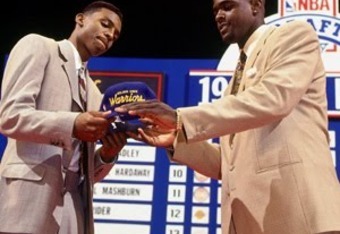 Webber would play 14 more seasons in the association with four other ball clubs and was named an All-Star five times. And in the early 2000s, his Sacramento Kings formed an exciting rivalry with O'Neal's Los Angeles Lakers. 
Meanwhile, Orlando's O'Neal and Hardaway drew comparisons to the '80's Lakers combo of Kareem Abdul-Jabbar and Magic Johnson. Shaq was the impossible-to-guard center, while Penny was the tall point guard who possessed all sorts of skills. 
Shaq and Penny never quite turned into Kareem and Magic, but they were fun to watch during their three seasons together in Orlando. They became one of the league's most well-known duos and led the Magic to the NBA Finals in 1995.
Then O'Neal took his talents to L.A. in the summer of 1996, inking a $121 million deal with the Lakers. He later teamed with fellow future Hall-of-Famer Kobe Bryant to carry the team to three titles. 
The NBA world got to see Shaq and Penny, and Shaq and Kobe, but unfortunately not Shaq and C-Webb.
If that bold trade didn't happen back on Draft Night '93, would the Magic have won a title with Shaq and Webber leading the way? Well, the team definitely had the talent to do so.
O'Neal and Webber could very well have formed the greatest center-power forward combo in NBA history.
The two super-athletic big men might have complemented each other perfectly. Shaq would easily dunk all over defenders in the low post, while Webber would showcase his superb passing from the low post.  
Joining those two in Orlando's starting five would be three-point specialists Dennis Scott and Nick Anderson as well as veteran point guard Scott Skiles, who still holds the NBA record for most assists in a game with 30.
In 1993-94, Shaq and Webber's first season as teammates, there's no way the Magic would've won a title. They were too inexperienced and probably still would've lost to the Indiana Pacers in the first round of the playoffs.
And even if they were somehow able to reach the NBA Finals that year, they still wouldn't have been able to defeat Hakeem Olajuwon and the Houston Rockets.    
Orlando most likely would have advanced to the Finals in '95 and faced the Rockets, just like they did with Hardaway in the lineup. However, even with Shaq and Webber up front, the Rockets still would have found a way to prevail.     
Then in '96, the Magic would have endured yet another title-less year as they undoubtedly would have lost to the 72-10 Chicago Bulls in the postseason.    
And Shaq probably still would've headed to Los Angeles, leaving Webber and co. back in Disney World. Shaq didn't leave Florida because the Magic were a bad team, but because he wanted to be a part of Hollywood and become an even bigger celebrity.
If the Hardaway-for-Webber trade never went down, it's unclear what would have happened. There just might have been a Shaq and Webber-led dynasty in Orlando.
Who knows?
But it sure would have been fun to see two of the most skilled big men in NBA history as teammates.