NBA Playoffs 2011: Larry Bird and the LA Lakers' Biggest Playoff Tormentors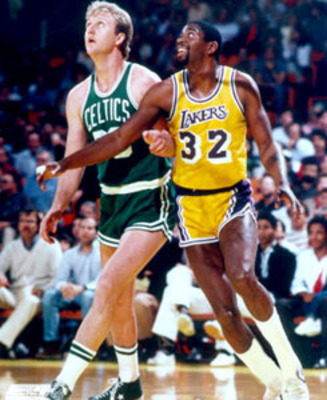 The Los Angeles Lakers have a storied history of playoff success, but while their legacy as an elite NBA franchise is indisputable, many times their championship hopes have been thwarted by players and teams. After the Game 1 loss on Sunday to the New Orleans Hornets, the Lakers again were tormented by one player—Chris Paul.
The list of the Lakers' tormentors is long and covers the team's entire history. Sometimes it is an entire team, an opponent the Lakers could never overcome. Other times, it is one specific player who is the thorn in the Lakers' side.
While Chris Paul emerged as the latest LA tormentor, here's the list of the Lakers' top 10 all-time tormentors.
10. Kevin McHale, Boston Celtics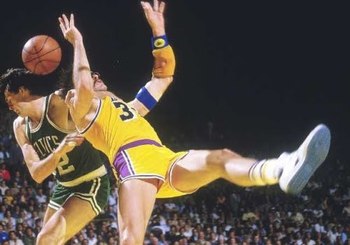 Not only was McHale a member of the 1984 Boston Celtics team that stunned the Lakers in a series LA should have won, but McHale will forever be remembered as a tormentor for his clothesline foul of Laker Kurt Rambis in those playoffs.
That is the hardest and most important foul in NBA history (during a play) and gets McHale on our list.
9. Karl Malone and John Stockton, Utah Jazz
In the summer of 1996, both Shaquille O'Neal and Kobe Bryant came to LA. However, it would take them four years to finally win a title in 2000. Some of that playoff failure had to do with the fact that legendary head coach Phil Jackson wouldn't join this dynamic duo until that 1999-2000 season.
But most of it actually had to do with the fact that the Utah Jazz's Karl Malone and John Stockton stood in the way of Shaq/Kobe. These future Hall of Famers tormented the Lakers and outed them in multiple years.
In addition, no one can forget young Kobe Bryant hoisting up three-point air balls in the closing minutes of the 1997 playoffs versus Utah. That still torments.
8. Manu Ginobli, San Antonio Spurs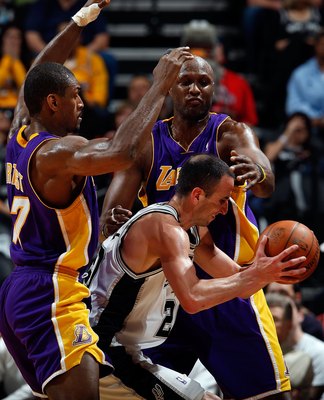 Ronald Martinez/Getty Images
The Argentinian Assassin has been tormenting the Lakers for nearly a decade. His leaping leaners, off-balance, running shots in the lane have beaten the Lakers more than once.
Furthermore, Ginobli is not only a Laker tormentor but a pest. He's tenacious on both ends of the court.
He has teamed with fellow San Antonio Spurs Tim Duncan and Tony Parker to torment the Lakers and take titles throughout the 2000s.
7. Isaiah Thomas, Detroit Pistons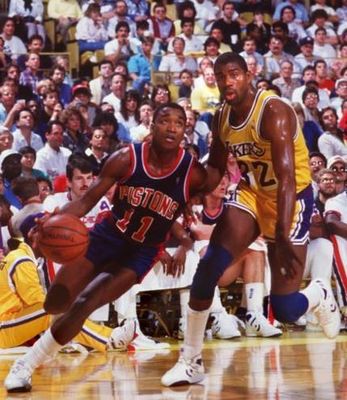 Thomas nearly tormented the Lakers in 1988 by willing and carrying his Detroit Pistons to an upset victory over the defending champs. He blistered the Lakers in a Game 6 performance for the ages, and if he didn't injure his ankle in that game, he might have buried the Lakers in Game 7.
But Thomas' tormenting would have to wait one year when in 1989, he and his Pistons rolled the Lakers who sought a three-peat.
The little guard that could in Thomas ranks on our tormentor list because of his tenacity and his scoring ability.
6. Chauncey Billups, Detroit Pistons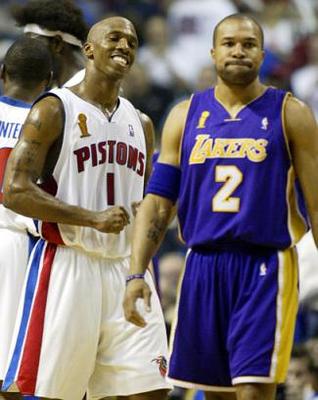 Another Detroit Piston would send the Shaq/Kobe era out with a thud in 2004, when Billups would lead his team to an NBA title in five games.
Billups and his Pistons were throwbacks to the earlier Bad Boys of the 1980's Detroit teams, and they didn't disappoint.
They railed LA, blanked them in their vaunted defense and stunned the world, sending Phil Jackson into retirement and Shaq off to the Miami Heat.
5. Tim Duncan, San Antonio Spurs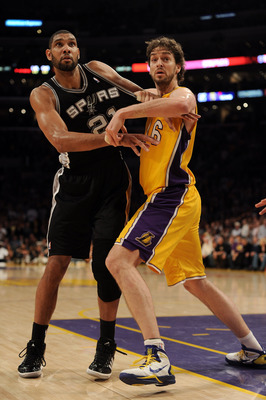 Harry How/Getty Images
The Big Fundamental has also been the Big Laker Tormentor.
When LA wasn't winning titles in the 2000's, Duncan was. And, he's done it again this year with his Spurs taking the Western Conference's top seed. Does he have one last run in him to torment the Lakers?
Only time will tell, but Duncan has proven to be a great Laker tormentor.
4. The Rose Garden, Home of the Portland Trailblazers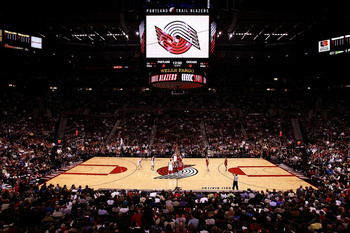 While you thought this list was about players or possibly even teams, you never dreamed an arena would make this list. You thought wrong.
That's because the Rose Garden, the home of the Portland Trailblazers, has been one of the biggest thorns (pun intended) in the Lakers' side for years. For a span of multiple season, LA couldn't win a game in Rip City.
That changed recently, but with the Trailblazers revitalized again this season and looking to upset the Dallas Mavericks in the first round of these playoffs, LA might just see the Rose Garden again if both teams win in the first round. They'd meet in the next series.
3. Bill Laimbeer, Detroit Pistons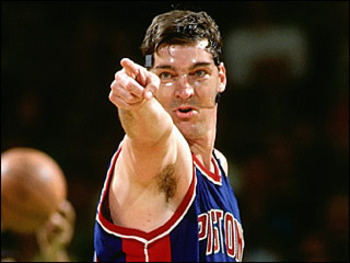 The original leader and ultimate Bad Boy of the 1980's, Detroit Pistons tormented and pushed the Lakers around, even taking the NBA title from LA in 1989. Laimbeer was a brute, and gave new definition to the hard foul.
He'd never even be able to play the way he did in today's NBA as probably nearly every foul he committed back in the day would be called flagrant today.
No matter, he was a one-man wrecking crew of the Lakers and one of the top Laker tormentors of all time.
2. Larry Bird, Boston Celtics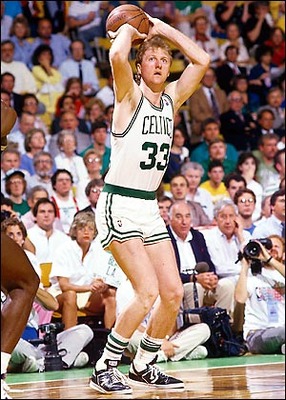 Bird and Magic, Magic and Bird. The names are legendary, tied together forever.
However, the reason is because both players and their teams competed on a level unprecedented in the NBA. Their games and series are legendary.
But Bird gets this spot on our list because he tormented LA in 1984 so badly, the memory of the Lakers failed championship run still stings many diehard fans. LA was highly favored that year, but Bird and his Boston Celtics beat up the finesse-styled Lakers and took the series.
Bird tormented the Lakers in every way possible, from a clock-ending three-pointer to a crucial rebound to a magical no-look pass. Bird burned LA—not just in 1984, but throughout the 1980's.
1. Bill Russell, Boston Celtics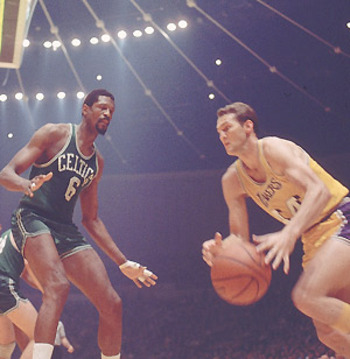 There has been no greater Laker tormentor in LA history than Boston Celtic Bill Russell. Don't take my word for it. Take Laker legend Jerry West.
That's because Russell's Celtics never lost to LA. Not once. As many times as the two teams met in the 1960s, LA never won. To this day, that sears Jerry West to his core.
Only in 1985 did the Magic Johnson and Kareem Abdul-Jabbar-led Lakers do something no LA team had done before—beat the Boston Celtics in the NBA Finals. And they did it on the fabled Boston Garden parquet floor.
No player has been a bigger tormentor in Laker history than the man with 11 NBA titles.
Keep Reading

Los Angeles Lakers: Like this team?