2011 NBA Playoffs: 5 Reasons Why Dwyane Wade Needs To Be the Heart of the Heat
Dwyane Wade is the key to the Miami Heat's postseason success. It is he that can make the difference of a second-round bust, and it is he that can take them all the way.
Kevin C. Cox/Getty Images
The Miami Heat do not have my pick to represent the East in the NBA Finals, but one player can make the difference—no, I'm not talking about LeBron James.
Dwyane Wade. Yes, I'm saying he can be the reason South Beach enjoys its second title in five years.
Don't get me wrong, James and Chris Bosh will play a big role in a potential title run. However, if the offense is ran through Wade, head coach Erik Spoelstra's Heat will have a recipe for success.
This slideshow will present some of the reasons why Wade needs to be the focus of this Heat team, in order to find themselves in the NBA Finals.
Wade Is the Only Member of the "Miami Thrice" with a Ring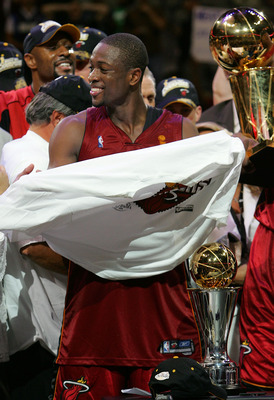 Dwyane Wade celebrates his first NBA Finals victory in 2006, when the Heatdefeated the Dallas Mavericks, 4 games to 2.
Stephen Dunn/Getty Images
The biggest reason why Wade needs to be the center of business is because the playoffs are nothing new to him. Furthermore, he's won an NBA championship before.
We've seen James in the Finals, so it wouldn't be his first venture to the big series, but Wade came out with different results.
Wade was able to put the team on his back—believe it or not, in a bigger way than James—and didn't look back.
For those of you who intensely watched the 2006 NBA Finals, you know exactly what I'm talking about.
Which brings me to my next point: Wade is the ultimate fighter.
Quitting Is Not in the Name of Wade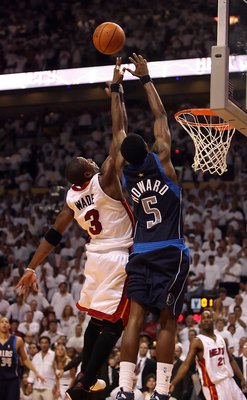 Dwyane Wade blocks Josh Howard's shot, despite having five fouls late in the game. With one fould remaining, Wade continued to play tough defense.
Doug Benc/Getty Images
Down two games to zero, on the brink of falling into a three-games-to-zero hole, Wade did what most athletes are incapable of doing: refusing to lose.
With 6:29 left of Game 3, the Heat were down 13 points and called a timeout. Wade came out of that huddle and drained a jump shot, which he claims is the shot that made it known to him that the Heat were not about to get beat.
The team went on a 22-7 run to win the game.
From that game forward, there was no looking back, as the Heat went on to win the series 4-2.
LeBron Has Proven Himself Unworthy of Man in Charge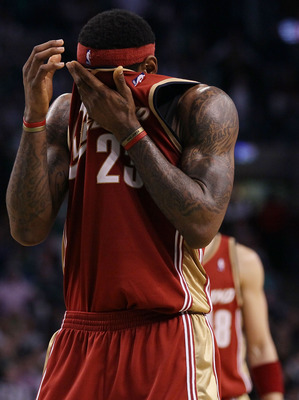 Whether he's wiping the sweat off his forehead or erasing the tears from his face, LeBron James was unhappy with his performance against the Celtics last postseason.
Elsa/Getty Images
I love LeBron James. He's still the king. He's still the next closest thing to Michael Jordan.
However, he just doesn't have that drive in him like that of Dwyane Wade.
Call me crazy, but the Miami Heat still belong to Wade, and rightfully so.
James will contribute in a great way—I'm not stupid enough to deny him that—but if the Heat use him as their main man, they'll have problems.
This Is Wade's Team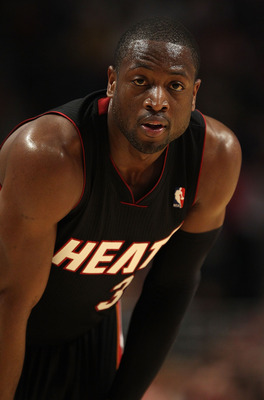 Dwyane Wade hasn't spent a minute of his career playing for a team other than the Miami Heat, and he is still the face of South Beach
Jonathan Daniel/Getty Images
There are some Heat fans who don't remember the days before Dwyane Wade. I'm not one of those people; I remember the Tim Hardaway, Alonzo Mourning, Jamal Mashburn days. However, Wade has taken the Heat into his own hands, making them his baby for the past decade.
Although this year's Miami team is different than the past, Wade knows Miami. He's been there his whole career—nowhere else.
All the diehard Miami fans should agree on this one: South Beach belongs to Wade.
Looking Back at the 2006 NBA Finals

Watch. That is all.

Just watch the video, enough said.
Keep Reading

Miami Heat: Like this team?