NBA Playoffs 2011: 7 Things That Must Happen for the Heat to Coast in the East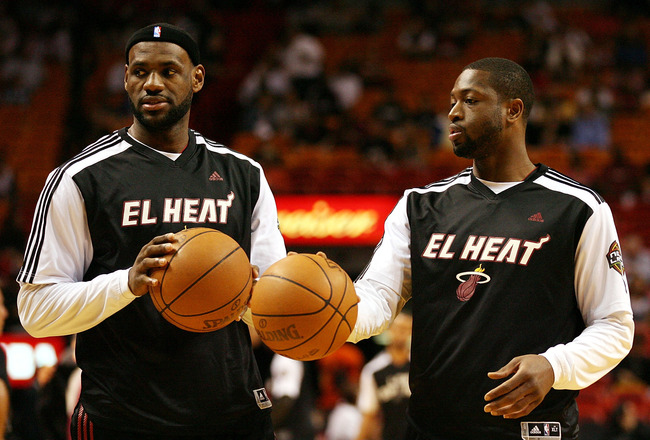 Marc Serota/Getty Images
The NBA playoffs have arrived, and while the Miami Heat didn't go 82-0, and didn't break the single season wins record, they had a very respectable season at 58-24, with the second seed in the East, and the third-best record in the league.
LeBron came in and made quite the impact, along with a solid year from Dwyane Wade, and a consistently above-average year for Chris Bosh.
The Heatles may have been over-hyped but certainly looking at their potential match ups, they could definitely find themselves in the Finals and very possibly crowned champions when the long playoffs are done.
There are a few things that will get the Heat to the Finals, and while not all of them are 100 percent necessary, the Heat should definitely look to make all of these proposals a reality.
7: The Miami Atmosphere Must Be Loud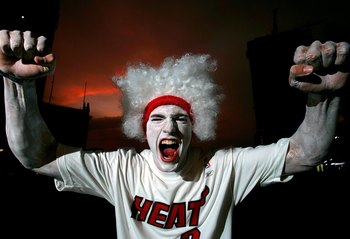 Carlo Allegri/Getty Images
In the Miami Heat's 2006 Championship run, the slogan "White Hot Heat" was brought to every home game, and every home game was a serious White-Out.
The Heat didn't lose many home games during those playoffs, because the roar at American Airlines Arena was deafening, and the Miami Fans were in full force.
That type of crowd allowed Miami to take three straight at home, in the Finals, from the Dallas Mavericks, on the road to a 4-2 series win.
This year, for the team that Miami puts on the court every single night, the fans have been sub-par. I don't know what this year's slogan will be, or how they will dress, but it better be good.
The Heat have home-court advantage for at least the first two rounds, and they absolutely need it to be an advantage!
6: No Trouble from the Sixers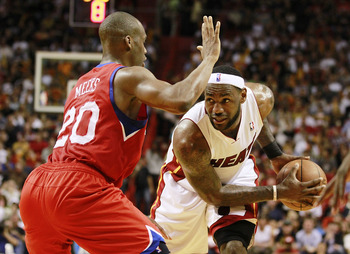 Marc Serota/Getty Images
It be a quick and easy series, with the Heat losing at very most one game. The Heat have completely had the 76ers number this year, winning all three games.
They also out-match the Sixers, who have no one to guard Dwyane Wade or LeBron James. If the Sixers manage to put up a reasonable fight, however, it could prove fatal for the Heat.
If they approach a matchup with the Celtics banged up or tired, it will be a recipe for disaster for a team who relies on being able to outrun other teams.
Assuming, however, that LeBron steps up, Wade plays like he did against the Celtics in the playoffs last year (see First Round, Game 4, 46 points), and Bosh is a consistent inside presence, then the Heat should have no trouble rolling all over Philly.
5: Consistent Three Point Shooting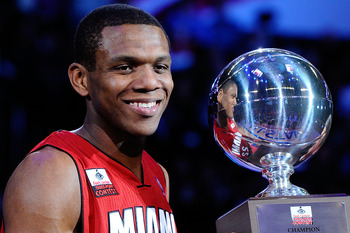 Kevork Djansezian/Getty Images
James Jones, Mike Miller, Mike Bibby, and Eddie House. Those are the "shooters on the Heat" and all of them have been very streaky.
When they're on, the Heat look like the seventh-best three point shooting team (.371) or better. But when they're off, well... It can get ugly.
In the playoffs, when you play at minimum four straight games against a team on every other night, consistency is key. Consistently good is better than sometimes great and other times awful.
If Miller can overcome the injuries he has faced all year and finally find his stroke, he can live up to his role as the fourth-highest paid player on the Heat.
If Jones gets enough minutes, then, as the Three-Point shooting king, he can probably hit a few from beyond the arc.
Bibby has been as expected, a rather consistent veteran shooter who is a liability on defense. House has gotten almost no minutes but has flashed signs of real ability when he plays (see 35 points against the Raptors).
It's not just those four, though. If Chalmers, Wade, and James don't hit their shots, then the Heat will be at a disadvantage as well.
4: Boston and New York Play Seven Tough Games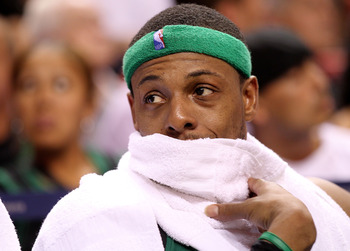 Mike Ehrmann/Getty Images
If the Knicks and Celtics play all seven games, and they're very physical games, as is expected, then the Heat will have an advantage in the second round.
Both New York and Boston are very physical, tenacious teams. And you can expect at least one game to go to overtime, as both teams are clutch down the stretch.
If the Heat can take on an older Boston team, who has just taken a beating by the Knicks for seven games, and the Heat come in fresh after an easy series with the Sixers, it could serve Miami very well.
3: Dwyane Wade Plays Solid Defense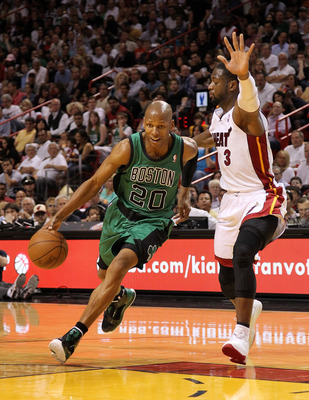 Mike Ehrmann/Getty Images
Dwyane Wade playing phenomenal offense is business as usual, and frankly, so is Wade playing great defense.
However, with the players he is going to have to cover in the playoffs, anything less than perfect defense is unacceptable.
Wade will likely get either Andre Iguodala or Jodie Meeks in the first round. In the second round, he will guard either sharpshooter Ray Allen, quick point guard Rajon Rondo or star rookie Landry Fields.
Most importantly, however, would be if he gets probable MVP Derrick Rose in the Eastern Conference Finals.
If he can slow down Rose, then the Heat will be looking extremely good against the Bulls.
2: Good Center-by-Committee Play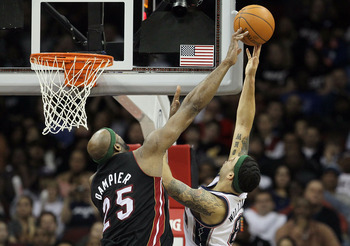 Jim McIsaac/Getty Images
Erick Dampier, Joel Anthony, and Zydrunas Ilgauskas. Those three guys are what the Heat have at center. Combined they score 9.5 points per game. So not exactly offensive threats.
Z might tip in (or goal-tend if you prefer) the most shots in the NBA, and Joel Anthony is the hardest worker on the Heat. Dampier is just a big body, and a decent defensive presence.
It's not impressive, but it works, and against the likes of Joakim Noah and Andrew Bynum (if they get that far) they have 18 fouls amongst them to beat around and bash players inside. If they can all just pull their loads equally, then they should suffice.
Oh and don't aggravate Big Z. Because this will happen. Or maybe this. He is a fiery Lithuanian.
1: Clutch Shooting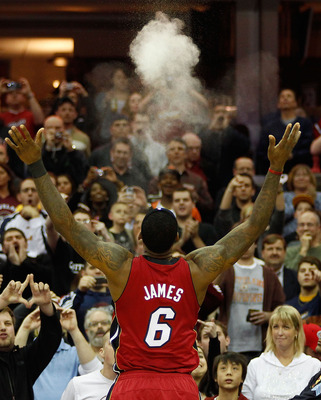 Jared Wickerham/Getty Images
Too many missed shots down the stretch. The wrong guy taking the shots down the stretch. Poor coaching down the stretch. Its all those things and more that caused the Heat to lose many of their games.
LeBron missed a few, Eddie House missed a few, Bosh and Miller each missed one. Wade hit more than he missed, and that's why he is the guy who should have the ball late in the game.
I think Spoelstra finally figured this out, and Wade has been getting the looks, and converting them. If the shots go in, then the Heat win, and if the Heat win, they advance out of the East and win the Championship, it's so simple.
There are few people in the league who are as clutch as Flash, and unfortunately, they apparently don't reside on the Heat, so unless you're wide open, find Dwyane Wade.
Keep Reading

Miami Heat: Like this team?