NBA Draft 2011: Hometown Kid George Hill, Future All-Star for Indiana Pacers?
June 26, 2011
Robert Laberge/Getty Images
The Indiana Pacers acquired George Hill from the San Antonio Spurs Thursday night in a deal for Kawhi Leonard, the No. 15 pick in the 2011 NBA Draft.
Hill will surely miss playing with the always-competitive Spurs, but he has to be thrilled about heading to the Pacers.
"Indiana George" was born and raised in Indianapolis and starred at Broad Ripple High School, located on the city's north side.
During his days as a high schooler, Hill was a part of the town's "Magnificent Seven," which also included Greg Oden, Eric Gordon, Mike Conley, Courtney Lee, fellow Pacer Josh McRoberts and Rodney Carney.  
Hill went on to play his college ball at home for the IUPUI Jaguars. Despite choosing the school over much larger names like Indiana University and Temple, Hill became a first-round draft pick, taken 26th overall by the Spurs in 2008. 
The 6'2" guard has proven he can play at the next level. No, he hasn't become a full-time starter but did develop into a fantastic backup to three-time All-Star and 2007 Finals MVP Tony Parker.
Many expected Hill to eventually replace Parker as the Spurs' starting point guard. Recently, rumors were swirling that Parker could be dealt for a high lottery pick in Thursday night's draft, allowing Hill to instantly take over the reins. But of course, Parker wasn't traded.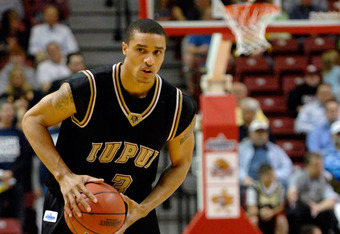 Growing up in Indianapolis, chances are Hill was a huge Pacer fan. Now, he gets the chance to play for his hometown squad. He will either start at shooting guard alongside point man Darren Collison or come off the bench backing up both guard spots.  
Hill has the offensive tools to develop into the Pacers' version of Jason Terry, a guy who can provide a great deal of scoring off the bench. However, he has the potential to become much better than Terry and become an All-Star in Naptown. 
With a career scoring average of just 9.9 points per game, most people don't consider Hill a future All-Star. But, he only started 55 of his total 231 regular-season games in San Antonio. And plus, he was usually the fourth scoring option behind Parker, Tim Duncan and Manu Ginobili.  
Hill will likely receive major playing time in Indiana and will have every opportunity to become the Pacers' second-leading scorer behind "Alpha-Dog" Danny Granger. Hill's scoring average from last season (11.6 PPG) could very well improve to the neighborhood of 18 PPG next season. 
While Hill will certainly contribute offense to the Pacers' lineup, he will also bring stellar perimeter defense. With a crazy 6'9" wingspan, he will try to help his new teammates shut down the Derrick Roses of the world.
Hill could dethrone Collison as the team's starting point guard soon. And somewhere down the road, he just might replace Granger as the go-to guy in the Hoosier state.
Don't be surprised. 
There's no doubt that Hill played hard during his three-year stay in San Antonio. But just imagine how hard he'll play in front of his family and friends in Indianapolis. Becoming an All-Star isn't out of the question.
Spurs head coach Gregg Popovich once referred to Hill as his favorite player. That's a pretty big compliment coming from one of the greatest coaches in NBA history.           
Soon, the Pacers' head coach—which will most likely be Frank Vogel—will make the same comment.
Just wait and see.
For more 2011 NBA Draft coverage, stay tuned to Bleacher Report for NBA draft results and NBA draft grades.