Boston Celtics: Nenad Krstic Injury Update and Analysis
April 1, 2011
The Celtics have been dealing with many injuries over recent weeks and have seen nearly their entire bench remodeled. The team has been struggling to get wins as a result. However, things were looking up as Jermaine O'Neal and Von Wafer returned to the hardwood for Thursday's match-up with the Western Conference leading San Antonio Spurs. Was this feeling of hope going to last fans wondered? Could the Celtics finally be getting healthy right at the best time, playoff time? It seemed that was the case but then it hit.
Late in the second quarter of Thursday's 107-97 win over the San Antonio Spurs, Nenad Krstic was fighting for position down in the post and looking to grab a rebound when his knee suddenly seemed to dislocate as he awkwardly twisted it. Krstic, in obvious pain, collapsed beneath the hoop and grabbed his knee in anguish. With the help of team trainer Ed Lacerte, Nenad Krstic wobbled to the locker room where he would remain to obtain treatment for his injury for the remainder of the game.
According to TNT, the Boston Celtics are calling the injury a "right knee injury" and Doc Rivers said, "It doesn't look good." Krstic underwent an MRI Saturday in Boston to determine exactly how injured his right knee truly is.
Paul Pierce sums up the story when he said, "Hopefully Krstic is not too hurt and he'll be back in a few days or a week or however long he takes," said Pierce. "But we want to be healthy going into the playoffs, bottom line."
Thankfully for the Celtics, the doctors have said that Kristic has only a bone bruise and he is listed as day-to-day. Krstic had been looking tired and worn out in recent games after starting his tenure with the Celtics in impressive fashion. He wasn't getting all that much run when he was with the Oklahoma City Thunder and suddenly found himself playing approximately 25 minutes per game with Boston. This could have something to do with his knee injury. His body may have simply not been in condition to labor for all those minutes.
All of these Celtics injuries bring the classic quote from Rocky in the movie Rocky Balboa (2006) to mind. Some of you may not know which quote I am referencing so, here it is with a slight twist so that it applies to this years Celtics team.
"Let me tell you something you already know. The NBA ain't all sunshine and rainbows. It's a very mean and nasty league and I don't care how tough you are it will beat you to your knees Nenad Krstic and keep you there permanently if you let it. You, me, or nobody is gonna hit as hard as life. But it ain't about how hard ya hit. It's about how hard you can get it and keep moving forward. How many injuries you can take/overcome and keep moving forward. That's how winning is done! Now if you know what you're worth then go out and get what you're worth. But ya gotta be willing to take the hits C's, and not pointing fingers saying you ain't where you wanna be because of him, or her, or anybody! Cowards do that and that ain't you! You're better than that! I'm always gonna love you no matter what Celtics. No matter what happens. You're my team and you're green blood flows through my veins. You're one of the best things in my life. But until you start believing in yourself, ya ain't gonna win sh#t. Don't forget to visit Lebron's mother Delonte."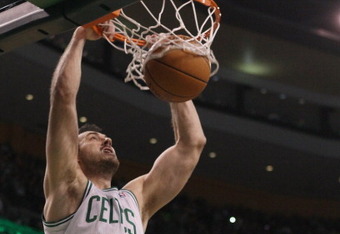 Elsa/Getty Images
Stay Tuned for more details as they become available.
MUST READS:
Boston Celtics: How Jermaine O'Neals Return Will Shake Up the C's & the East
NBA: Hoop Dreams of the 7 Hottest Mom's of NBA Players
Boston Celtics: Trade Deadline Deals & Playoff Predictions
Boston Celtics: Chicago Bulls Seeing Red, Out for Celtics Blood
Boston Celtics: 18 Reasons the C's Win the 2011 NBA Championship