2011 NBA Draft: Which Prospects Have the Most To Gain from March Madness?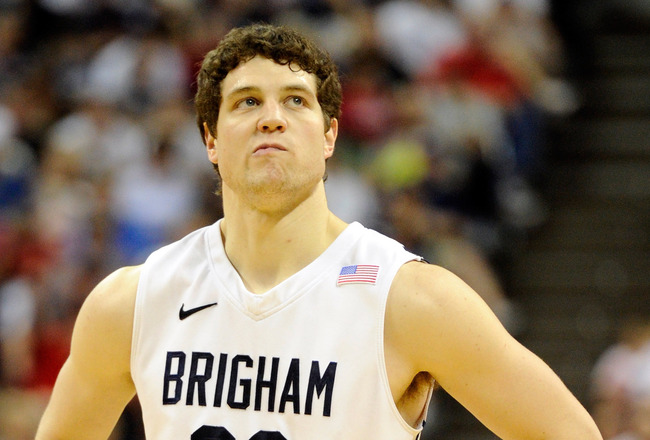 Ethan Miller/Getty Images
Selection Sunday has come and gone, and we've all filled out multiple brackets already.
Now that we know which teams are in, we can take a look at what some prospects have to do in the next few weeks to solidify their draft stocks.
BYU's lackluster play following the suspension of Brandon Davies has Jimmer Fredette sliding in many mock drafts. If he has a couple huge performances in The Big Dance, he can move back into the lottery.
Fredette isn't the only player in this tournament who needs to show scouts what he can do on college basketball's biggest stage.
This slideshow will look at Fredette and nine other prospects who can improve their draft stocks during March Madness...
Harrison Barnes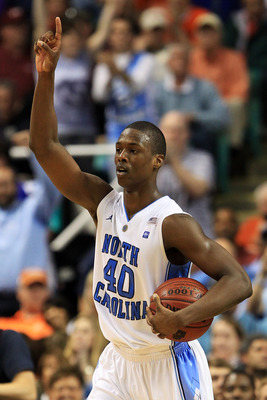 Streeter Lecka/Getty Images
Where He Is Now: Lottery
Where He Could End Up: Top overall pick
Before this season started, Barnes was one of the most-hyped freshmen in the history of college basketball.
He was the top pick in most mock drafts and a preseason All-American despite the fact that he didn't have a single Division-I game under his belt.
Then, he started playing. Over the first couple months of the year, Barnes was a huge disappointment and fell out of the lottery.
But since ACC play began, he's been one of the best players in the country. He's as hot as anyone, and he rode that hot streak to an ACC freshman-record 40 points in the semifinals of the conference tournament.
If he keeps playing like this and leads the Tar Heels to the Elite Eight, he could reestablish himself as the consensus top pick in 2011.
Derrick Williams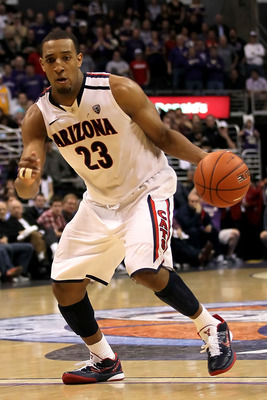 Stephen Dunn/Getty Images
Where He Is Now: Top five
Where He Could End Up: Top overall pick
Derrick Williams' production has been off the charts this year. He's averaging 19 points and eight rebounds per game, while shooting 62 percent from the field and 60 percent from three-point range.
He's definitely a power forward in the college game, but he may not have the body to thrive at that position in the NBA. His height will be a big question leading up to the draft in much the same way that Michael Beasley's or Blake Griffin's was.
He's listed at 6'7" in some places, 6'8" in others. Either way, he needs to use the tournament to prove that he can play some small forward.
Terrence Jones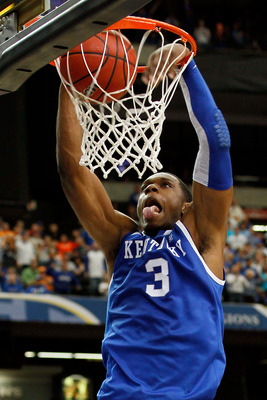 Kevin C. Cox/Getty Images
Where He Is Now: Lottery
Where He Could End Up: Top overall pick
He probably can't get to that top spot with just the tournament, but he can move into the top five and then solidify his stock in pre-draft camps and workouts.
Jones' versatility could make him a great player in the NBA. He's 6'8", strong and he can play all over the floor. He handles the ball well, rebounds and he can finish above the rim.
He needs to work on the same thing that most high-profile prospects do: shooting.
What he needs to showcase in this tournament is the versatility and athleticism that already has many scouts on the edge of their seats.
Kemba Walker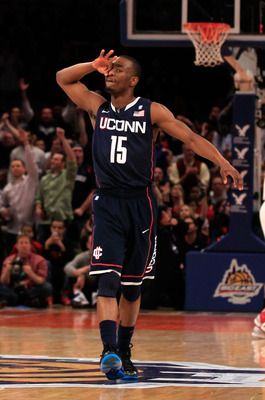 Chris Trotman/Getty Images
Where He Is Now: First round
Where He Could End Up: Top 10
Walker has already done a lot to improve his stock in the last week. His performance in the Big East tournament was nothing short of spectacular.
He showed that he can score under pressure and against the best competition in the country, and he did so for five straight days.
For Connecticut to go far in this tournament, Walker will have to continue to dominate. If he does, he could play his way into the top 10 in the draft.
What he really needs to display are traditional point-guard skills. At this point, everyone knows he can score. He still needs to work on his ability to run a team and distribute the ball.
However, on this Connecticut team, he may not have the chance to show those skills. The Huskies need him to score.
Jimmer Fredette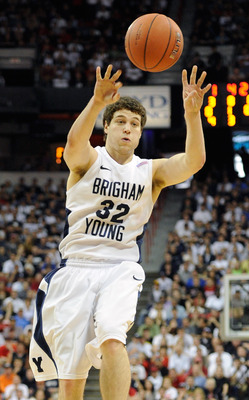 Ethan Miller/Getty Images
Where He Is Now: First round
Where He Could End Up: Top 10
Questions are starting to swirl around Jimmer's ability to play at the next level again. A few weeks ago, he and BYU were on top of the college basketball world.
The suspension of sophomore forward Brandon Davies has changed all that. The team has been much worse without him, and most critics are blaming Fredette for that.
Those criticisms are undeserved. The Cougars haven't run an offense all year. Coach Dave Rose has his team running pick-and-rolls 40 feet from the basket, but other than that, they don't really do anything.
To expect one player to score on five on just about every possession is ridiculous. And on the rare occasions that those five opposing players stop Jimmer and force him to pass, his teammates generally miss the open shot.
Brandon Davies managed to take at least a little pressure off Jimmer. With him gone, BYU has absolutely no inside presence.
So to blame this team's troubles on Fredette is insane, especially when you consider the fact that he's averaged 35.4 points, four rebounds and 3.2 assists per game since the suspension.
He's doing everything he can to carry a team that doesn't have much talent outside of him.
Whether or not the criticism is warranted, BYU will have to win at least three games in this tournament to quiet it down.
And of course, Jimmer will have to be spectacular in order to get that many wins.
Josh Selby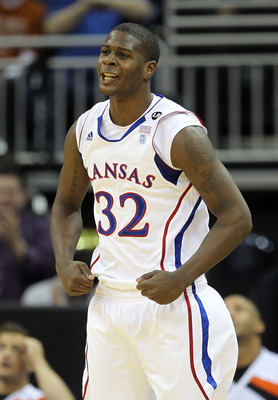 Jamie Squire/Getty Images
Where He Is Now: Late first, early second round
Where He Could End Up: Lottery
Much like Harrison Barnes, Selby had a ton of hype prior to this season. And just like Barnes, the hype died down very quickly.
Selby can do a lot to resurrect the hype in the coming weeks. Kansas is one of the only teams in the tournament that can legitimately win it all, and Selby will have to be great in order for that to happen.
If he's productive and the Jayhawks make the Final Four, he could make his way back into the lottery.
Kyle Singler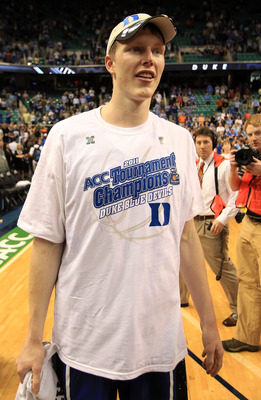 Streeter Lecka/Getty Images
Where He Is Now: Late first, early second round
Where He Could End Up: Lottery
Singler has had a great four-year career for what has arguably been the greatest program in the history of college basketball. He's averaged 16 points and seven assists over 144 college games.
He's versatile for his size. He can shoot, rebound and he can defend his position fairly well. If Duke goes to the Final Four on the back of Singler (and not Nolan Smith), he could sneak into the lottery.
Kenneth Faried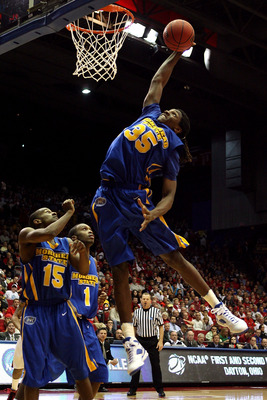 Andy Lyons/Getty Images
Where He Is Now: Late first, early second round
Where He Could End Up: Lottery
Faried might be the most underrated and under-appreciated big man in the country. This year, he's averaging 17.6 points, 14.5 rebounds, 2.4 blocks and two steals per game. Plus, he's shooting 64 percent from the field.
At 6'8", he's a little small to be an NBA power forward. But that's the same thing we heard about Paul Millsap, DeJuan Blair and Jason Maxiell. With Faried's athleticism, work ethic and skill, he can be successful at the next level.
Morehead State is a 13 seed this year, but it has a solid shot at winning its first-round game against Louisville. If it can win two games, people will take notice of this big man (as he'll be largely responsible for those wins).
Ben Hansbrough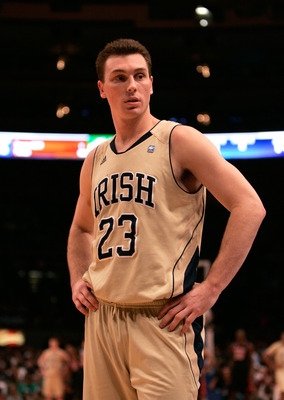 Mike Lawrie/Getty Images
Where He Is Now: Late second to undrafted
Where He Could End Up: Early second
Ben Hansbrough has dominated the nation's best conference all year long. He averaged 18.5 points, 4.3 assists and 3.9 rebounds per game and won the Big East Player of the Year Award.
I haven't been able to figure out his draft status at all. How a point guard can produce the way he has, in the situation he's in, and not be considered an NBA prospect is beyond me.
He's had one bad game in the last few weeks (and it cost them the Big East semifinals). If he can get back on track, Notre Dame has the talent to make the Final Four.
If they go that deep in the tournament, Hansbrough could move up into the first half of the second round. The Pacers will have a pick in the middle of that round, and the Hansbrough brothers could make for an interesting duo.
Shelvin Mack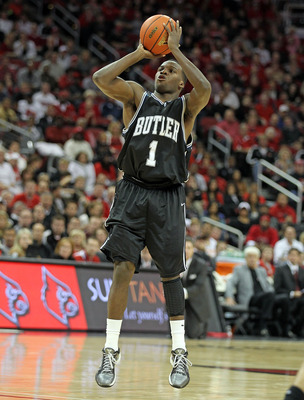 Andy Lyons/Getty Images
Where He Is Now: Late second to undrafted
Where He Could End Up: Early second round
Butler had a magical run to the Final Four and came within inches of a national championship last year. That run showcased Gordon Hayward and helped him get drafted in the lottery.
The chances of Butler repeating that magic this year are incredibly slim, but if they win a couple games, it could help Shelvin Mack's draft stock (if he even chooses to declare).
Keep Reading