Utah Jazz Take Power Back from NBA Players by Trading Deron Williams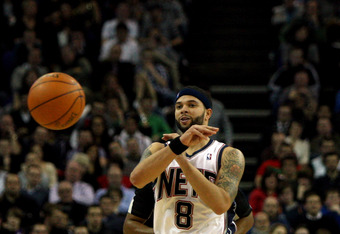 Warren Little/Getty Images
There wasn't a jaw-dropping trade more surprising than when the Utah Jazz shipped Deron Williams to New Jersey last month.
Williams was considered to be untouchable by analysts who were overly concerned with Carmelo Anthony's inevitable migration to the east coast. But the Jazz said goodbye to their two-time All-Star point guard, one measured by some to the best in the game.
And although the trade was far from subtle and completely shocking, the underlying reasons—all forever linking Anthony and Williams—were staring everybody in the face, practically burning a hole in the foreheads of anyone willing to open their eyes.
It was a simple history lesson turned into a league-wide message.
The Cleveland Cavaliers thought that they could court LeBron James into returning for the 2010-2011 season. They failed. And a team that won back-to-back 60-game seasons on the back of the two-time MVP is now on pace to be one of the worst teams in NBA history.
The Cavs walked away with nothing and the result was immediate irrelevancy. The long-term effects may sing a similar tune.
That blueprint was unacceptable to the Nuggets, who decided that they wouldn't let their superstar walk away without receiving a large sum in return, which they got.
But there was a looming shadow over Denver's entire season, stretching all the way out to New York and New Jersey.
The media's relentlessness with Anthony and his expiring contract made the Nuggets' season unwatchable, sadly. The player had superseded the franchise and all management could do was shop for the best possible deal within a select few "preferred destinations."
But Anthony got exactly what he wanted, grinning from ear to ear as he happily traded a highly competitive franchise for a project.
The Utah Jazz took these two schools of thought, if you will, and tweaked them to favor them even more. Instead of blindly begging and pleading to no avail like the Cavs, and instead of allowing the media to turn Deron Williams' contract year into a season-long guessing game like the Nuggets, they threw Williams to the curb and got everything they could from a desperate Nets franchise.
The sudden trade has sent a league-wide message to players and small-market franchises everywhere:
Players are expendable. The franchise's future is not.
The player-pampering era is over, at least in Utah. Not only was Utah able to salvage their future by preying on Mikhail Prokhorov's failing vision, but they were also able to settle a score.
Do small market franchises have a chance in the modern NBA?
The distraught relationship between Deron Williams and Hall of Fame coach Jerry Sloan had, at least on some level, something to do with Sloan's abrupt resignation. Is it believable that Sloan was tired—his so-called reason for leaving? Yes. The man had been in the NBA since 1965, over half the league's existence.
But it became widely public that their private relationship was crumbling under Williams' insubordination and desire for change—maybe not in the form of Sloan. But Williams wanted a drastic shift, something the Jazz aren't typically known for.
Sloan left despite management begging him to stay. The locker room had been compromised, the one place that Sloan claimed would either be fully his or he would be completely gone.
So when the Nets GM Billy King jokingly inquired about Williams' availability—originally a phone call about Andrei Kirilenko—the Jazz saw the opportunity to make the big-time trade that Williams had so long hoped for.
But it was Williams who was on his way out, exactly two weeks after he and Sloan had words at halftime of home game against the Chicago Bulls.
It was the opportunity for Utah to reclaim their culture, putting the power back in the hands of the owners and removing it from the player who had the ability to chokehold the Jazz into the 2012 free-agency period—possibly making Utah as irrelevant as Cleveland.
That opportunity wrapped a personal message for Deron Williams and every other superstar:
Not only are they nonessential to the game of basketball, but when push comes to shove, the power to personally pack and ship a disgruntled player ultimately resides in management.
Welcome to New Jersey.
This article is
What is the duplicate article?
Why is this article offensive?
Where is this article plagiarized from?
Why is this article poorly edited?

Utah Jazz: Like this team?