NBA Trade Rumors: 10 Reasons Milwaukee Bucks Should Trade Michael Redd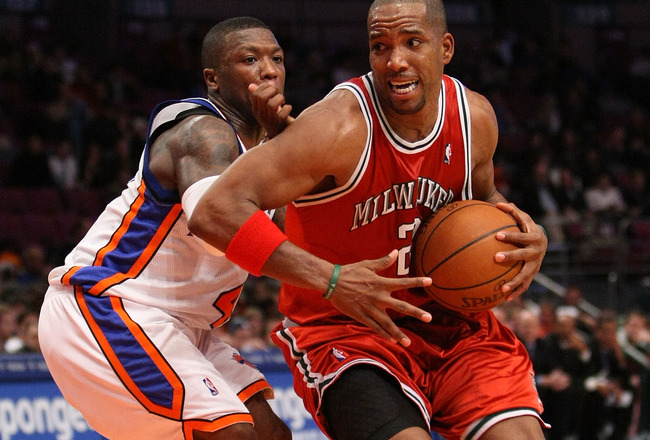 Nick Laham/Getty Images
Michael Redd of the Milwaukee Bucks has been recovering from a left knee injury for the past 13 months. Many rumors of trades involving Redd have been tossed around and if the Bucks are going to make a push for the seventh or eighth seed, they would need to trade Redd.
I will give you (the readers) 10 reasons why the Bucks should trade Michael Redd. The reasons will not be in any order.
Injury Prone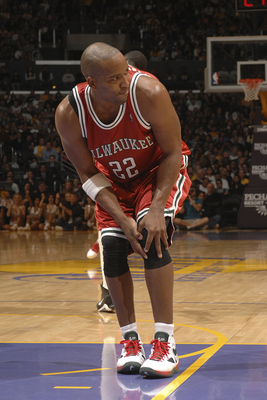 Redd has been injured the last 13 months, like I said in the opening, and who says he won't get injured again? After back-to-back injuries Redd can now easily be labeled as "injury prone." Do not forget that he was also hurt in the 06-07 season as well.
The Bucks, who are still trying to make a playoff push don't need the organization and fans to get their hopes up with the return of Redd, because he could go down at any time.
Need a Solid Backup Center
Mike Zarrilli/Getty Images
Andrew Bogut has not had a solid backup since Kurt Thomas last season. Another "Kurt Thomas" is what the Bucks need, a veteran center that can give No. 6 a rest. Larry Sanders, Jon Brockman and Ersan Illyasova are not bad players, but none of them qualify as a "true center."
If the Bucks could trade for Kurt Thomas himself, that would be great. Don't forget that Thomas had to jump up to the starting center spot when Bogut went down for the rest of the season and playoffs. But a similar Kurt Thomas player would work as well.
Deep at SG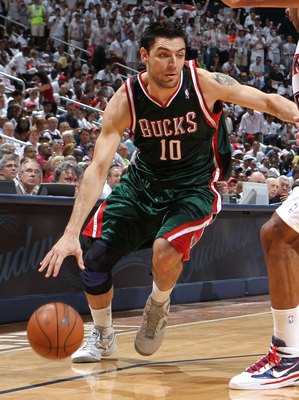 Mike Zarrilli/Getty Images
The Bucks have two "true shooting guards" in John Salmons and Chris Douglas-Roberts. But also have Carlos Delfino and Corey Maggette who both play some minutes at the shooting guard position. How would the Bucks be able to give these four guys and Redd minutes?
They wouldn't Salmons, Delfino and Maggette are all key contributors to the Bucks and (Coach) Skiles couldn't cut their minutes down. And CD-R has shown on a few occasions that he can produce as well.
His Salary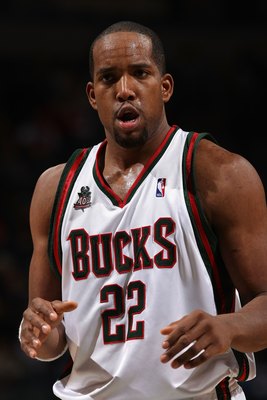 Jonathan Daniel/Getty Images
Redd will make $18.3 million this season with the Bucks. Obviously this is a lot of money, especially for a guy who hasn't played all season. It would be a completely different scenario if the Bucks were paying this much to a key player such as Andrew Bogut. But to pretty much be throwing $18.3 million away, is a big deal. If the Bucks could trade Redd to a team that could take his contract, plus get a decent player out of the deal, they would come out on top.
Won't Be the Same Player Anymore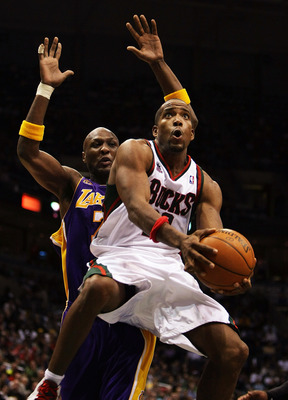 Jonathan Daniel/Getty Images
After two knee injuries and 13 months off from real NBA competition, even Kobe wouldn't be the same player. And Redd is definitely no Kobe. Redd won't be a 23 (points) and five (rebounds) guy anymore liked he used to be. Redd was only averaging 11.2 points per game last season before the injury. But even those 11 points per game can't help out the Bucks who are struggling deeply.
Develop Players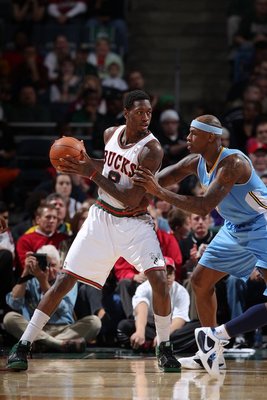 If the Bucks were to not trade Redd for a veteran center, they might as well trade him for a young player who they could develop over the next couple years, (a guy still on his rookie contract) and see where it goes. Hoping that Redd can contribute and be a big player for the Bucks is a push and would most likely end up in a lot of sad Milwaukee Bucks fans.
Or not trade at all and keep Larry Sanders on the team, who the Bucks recently sent down to the Fort Wayne Mad Ants of the NBDL. (Story) This would not result in the Bucks trading for a player but supposedly the Bucks had to send Sanders to Fort Wayne due to Redd coming back. Sanders is already considered a big shot blocker and the Bucks need to develop him so they could possibly start him alongside Bogut in the years to come.
Fans Want Him to Go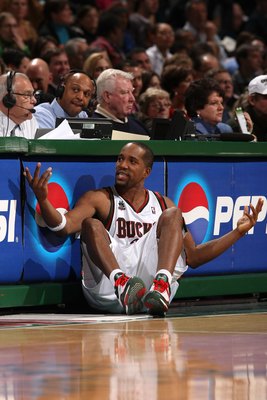 Jonathan Daniel/Getty Images
The Milwaukee Bucks fans are not happy with Michael Redd for many reasons, especially because he has been injured the past two seasons. Though he cannot control that, it's still a good reason for fans to be angry. Fans have also brought up the fact that yet to appear at a Bucks home game this season. And when Redd was playing last season, he was not putting up the numbers the fans were used to.
Bucks Need Role Players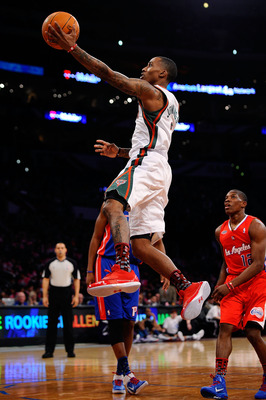 Kevork Djansezian/Getty Images
The Bucks don't need a shooter; they need a big man (like I said earlier) who can rebound and block shots. Yes, the Bucks have a terrible shooting percentage but Redd's shooting percentage last year was worse than Jennings and Salmons percentages last year. Redd used to be one the NBA's best shooters but has been getting worse the past few seasons.
Could Land Big With New Jersey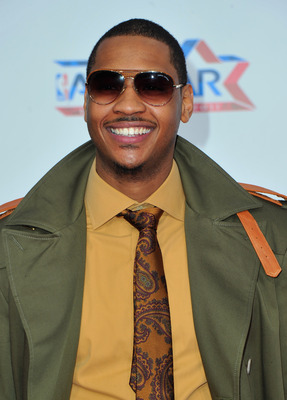 Alberto E. Rodriguez/Getty Images
The New Jersey Nets have been pursuing Carmelo Anthony for awhile now but it has been rumored on ESPN.com that the Nets have given up and that the Knicks around the only team in the "Melo Hunt."
If this is true, the Bucks could land a really good player such as Derrick Favors, if the Nets were still trying to get a scorer. This deal has not been talked about that I have read of. But who knows what the Nets will do.
Teams Are Interested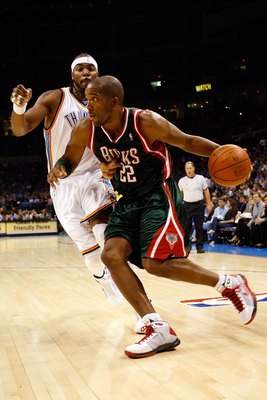 Chris Graythen/Getty Images
Many teams have been rumored to have interest in trading for Redd including: Bulls, Heat, Spurs, Celtics, Mavericks and Hornets.
If the Bucks could land a good deal, Redd and his huge contract would be long gone in Milwaukee.
Keep Reading

Milwaukee Bucks: Like this team?