NBA Power Rankings Week 14: Spurs Coasting, Lakers Rising, Heat Slipping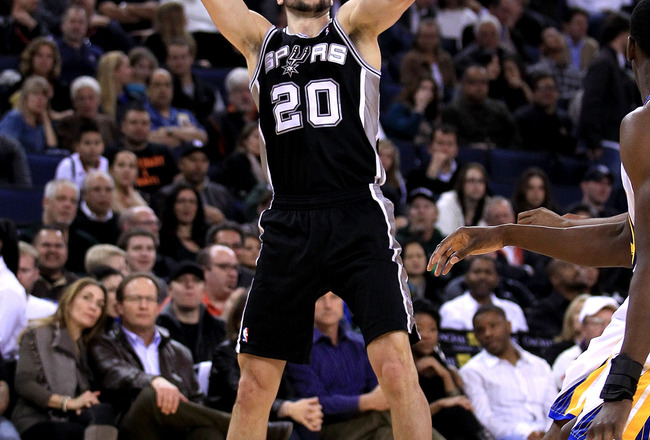 Ezra Shaw/Getty Images
Man—14 weeks already in the books?
Sure doesn't feel like it.
Well, it's been a great season of basketball thus far; I think everyone can agree with that. Feels like nothing has changed from last year—Miami is still average, Cleveland is unbelievable and the Spurs are being the Spurs.
With the trade deadline coming up, questions have to be asked:
Where will Brian Scalabrine end up? Will Matt Bonner still be a Spur?
Or, in less interesting news, where will Carmelo go? But this isn't about Carmelo, Scal or Bonner.
Let's get these power rankings going, shall we?
The Bleacher Report NBA Power Rankings are done by averaging individual featured columnists' tallies.
This week's contributors were James Schmidt (Rockets), Eric Felkey (NBA/Cavaliers), Andrew Bailey (NBA/Mavericks) and Allen Kim (NBA Team Leader).
30. Cleveland Cavaliers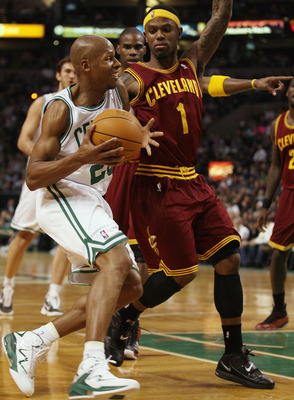 Elsa/Getty Images
At some point you have to start feeling bad for the Cavs.
I mean, they've lost 20 games in a row for God's sake. But then again, when your starting shooting guard is Daniel Gibson and your starting center is J.J. Hickson...what else would you expect?
Cavs fans, there is hope, though.
At the end of the season you will have a 25 percent chance at Kyrie Irving. Or maybe even bring in the next chosen one in Jarred Sullinger!
Record: 8-39
28 games back
Last 10: 0-10
Streak: L 20
29. Minnesota Timberwolves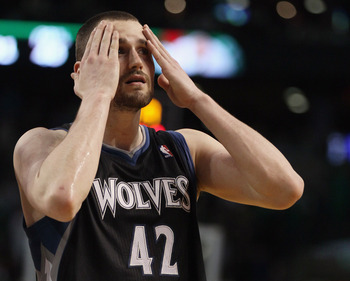 Elsa/Getty Images
Unfortunately for Timberwolve fans, Kevin Love has had that look on his face a whole lot this season.
Some questionable offseason moves have paid off, though: Michael Beasley is a great young scorer averaging 20 points per game and Darko Milicic is averaging 2.3 blocks per game.
Minnesota gave up Al Jefferson for a hoagie and a bag of chips last offseason.
While they could have gotten more for big Al, it was the right move for the future of the team.
Record: 11-36
29 games back
Last 10: 2-8
Streak: W1
28. Sacramento Kings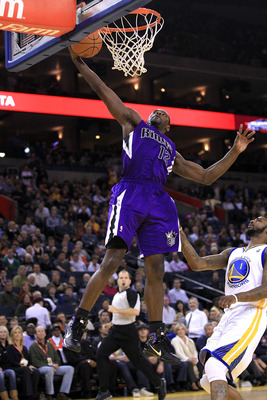 Ezra Shaw/Getty Images
Hey Kings fans, at least you guys know DeMarcus Cousins is worth the hassle.
The guy is a monster, averaging 14 and eight on the season. He has had 25-plus points and 10-plus rebounds in his last two games.
But from what I've watched of the Kings this season (which isn't much), they have a nice chemistry.
You will win a few games on that alone, but it's going to take more than that to be competitve.
But never fear, Kings fans—you'll have a good chance at the No. 1 pick and continuing your journey back to decency.
Record: 12-33
27 games back
Last 10: 4-6
Streak: W2
27. Toronto Raptors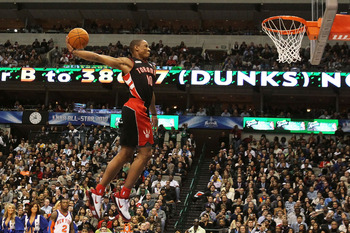 Jed Jacobsohn/Getty Images
The only thing Raptor fans have to look forward to the rest of the season: DeMar Derozan in the dunk contest.
I honestly think he should have beaten Nate last year, but hey, maybe—just maybe—he can beat Blake Griffin.
But Raptor fans can be excited to see an elite prospect coming across the border next year as they will have a pretty high pick. Andrea Bargnani is averaging 21 points a game but only three rebounds and he's a center.
Future is not looking to bright in Toronto.
Record: 13-35
23.5 games back
Last 10: 0-10
Streak: L11
26. Washington Wizards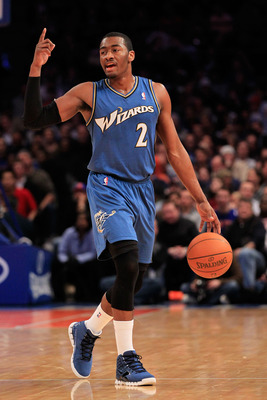 Chris Trotman/Getty Images
"Everybody do the John Wall, John Wall, John Wall, Jo..."
Yeah OK I'll stop.
John Wall is doing something amazing, averaging nine assists per game on the Washington Wizards—yep, the Wizards.
Why is this amazing you might ask? Well, considering their second-best player is Rashard Lewis...yeah, not bad.
The Wizards lucked out last year, winning the lottery and got the future of their franchise in John Wall. But then the front office made a bonehead move in taking on an even bigger contract than Gilbert Arenas' in Rashard Lewis...
But the Wizards are certainly on the rise with guys like JaVale McGee and Nick Young.
Record: 13-33
22.5 games back
Last 10: 3-7
Streak: L4
25. New Jersey Nets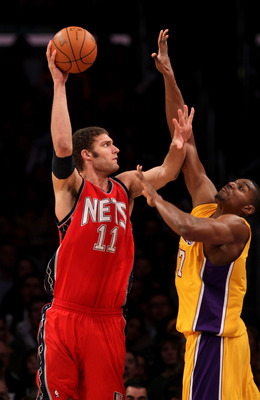 Stephen Dunn/Getty Images
Well, New Jersey is doing their best to rebound from that awful season they had a year ago.
I actually had them as a sleeper playoff team coming into the year, but they are proving me wrong. Brook Lopez is underperforming and the Melo-drama, though it is now over, certainly didn't help.
Add in that Troy Murphy decided he doesn't want to play for you anymore and it's a recipe for disaster.
Things do look brighter on the horizon though, with plenty of draft picks and young talent such as Derrick Favors.
The Brooklyn Nets are sitting pretty.
Record: 14-34
22.5 games back
Last 10: 4-6
Streak: L2
24. Indiana Pacers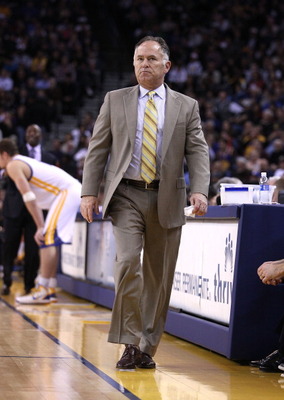 Ezra Shaw/Getty Images
Pacers coach Jim O'Brien (pictured above) was fired Monday. I guess people should have seen it coming, though.
The Pacers have plenty of talent in Darren Collison, Roy Hibbert and Danny Granger to be doing better than their current record of 17-27.
With all this young talent, things look good in Indiana. Larry Bird has been doing some good things for them as of late.
They need one more guy to get them over the hump though, as in a superstar guy.
They have all the role players and more, but lack a true superstar.
Record: 17-27
17.5 games back
Last 10: 3-7
Streak: L1
23. Detroit Pistons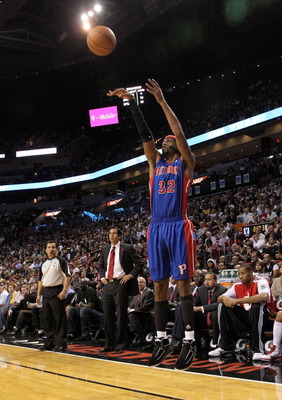 Mike Ehrmann/Getty Images
The man pictured above has the "flu."
Good one Rip.
I think it's more than obvious Richard Hamilton isn't happy with the Pistons organization...and there isn't much to be happy about.
They are old and unmotivated. It's time to blow up Detroit.
On the brighter side of things, Rodney Stuckey has been showing signs he could be the future and Greg Monroe has put himself in the top 10 rookies right now.
Detroit needs to blow up sooner than later though, before every one of their players loses his value.
Record: 17-30
19 games back
Last 10: 5-5
Streak: L2
22. Charlotte Bobcats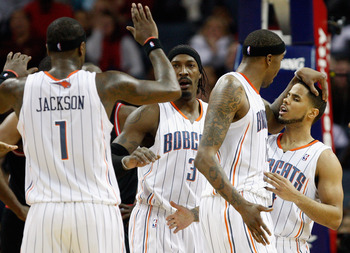 Streeter Lecka/Getty Images
After Charlotte lost Raymond Felton, things weren't looking up for them.
But D.J. Augustin has been solid for them and they do hold the eighth and final spot in the Eastern Conference.
Although that distinction is nothing really to brag about...at least you can say you made the playoffs.
I for one am surprised with how well D.J. Augustin has played this year—he's really made the loss of Raymond Felton less major.
But D.J. didn't fully replace Felton and it shows in Charlotte's performance this season.
Record: 20-26
15.5 games back
Last 10: 5-5
Streak: L1
21. Milwaukee Bucks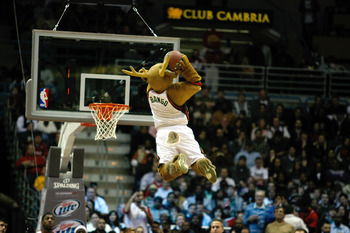 Scott Boehm/Getty Images
The Bucks are the ninth seed in the East right now and are only half a game back of the eight seed Charlotte.
They have won three games in a row. But when your point guard is shooting 38 percent from the field, I'm not sure how far you'll be able to make it, especially with him as your go-to guy.
Brandon Jennings is going to work on shot selection a whole lot before he can be considered elite.
Things aren't going to get much better for the Deer—sure, Jennings will develop.
But they have a bad contract in John Salmons and really, who wants to play in Milwaukee?
Record: 19-26
16 games back
Last 10: 5-5
Streak: W3
20. Los Angeles Clippers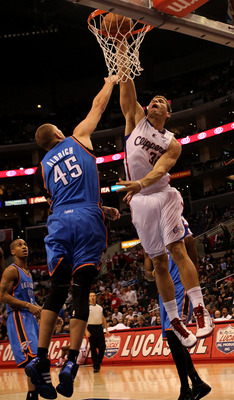 Stephen Dunn/Getty Images
In my humble opinion, Blake Show > Lake Show.
If I were in Los Angeles and I had just enough money to sit courtside for a Clipper or a Laker game, I would pick the Clippers.
This guy is a human highlight reel every single night. Add in Baron Davis, Eric Gordon and Brian Cook?
I don't think it gets any better.
Clippers still have the slimmest of chances to push for a eighth seed, although it seems unlikely with the Rockets, Suns, Grizzlies and Trailblazers in front of them.
But that's why they play the games right?
Record: 18-28
21.5 games back
Last 10: 6-4
Streak: W1
19. Philadelphia 76ers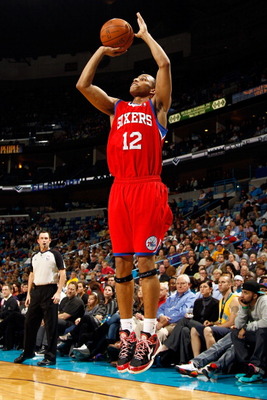 Chris Graythen/Getty Images
Everyone is still waiting for Evan Turner to show us why he was drafted second.
His time might come when Andre Iguodala is eventually traded from Philadelphia.
It's been a well known fact Andre wants out and I would expect a lot of rumors surrounding Iggy around the deadline. I would also expect him to be out of Philadelphia by the deadline.
Phila will still chug on hoping to capture a playoff spot; right now they are the seventh seed and I don't think I'm the only one surprised to see them there.
We'll see in the next few weeks if they can keep up the recent success.
Record: 21-26
15 games back
Last 10: 6-4
Streak: W1
18. Golden State Warriors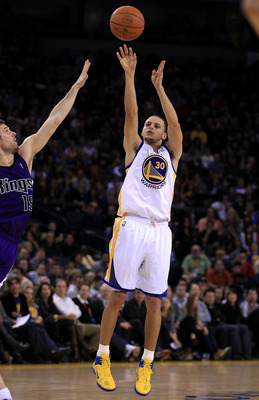 Ezra Shaw/Getty Images
Stephen Curry probably has the purest stroke in the game, next to Ray Allen, of course.
I could watch this kid shoot all day and not get tired of it. Funny thing is, while I'm typing this I'm watching the three-point contest last year and watching him cash just about every shot he takes.
But Steph isn't the only attraction in Golden State—there happens to be a fellow named Monta Ellis, who is a pretty good scorer.
Things look good in Golden State, and they are going to improve a lot over the next few years.
If they developed any type of defense at all they would be a playoff team. But until that happens...
Record: 19-27
20.5 games back
Last 10: 4-6
Streak: L4
17. Houston Rockets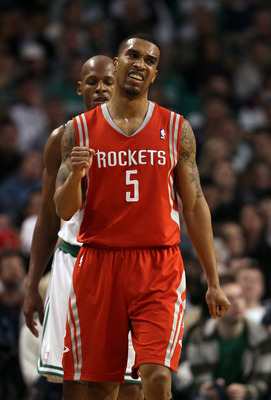 Elsa/Getty Images
If Houston wants to be serious about the playoffs, they need to start winning a game every once and a while against a top team.
I believe the stat is 2-15 against West playoff teams and they have not won any on the road against those teams.
If you can't do that, I have no idea how you would win a playoff series.
You can expect Houston to be a major player near the deadline, as usual. Expect them to be a part of a big trade such as Carmelo Anthony, Gerald Wallace, Chris Paul, etc.
Record: 22-27
19 games back
Last 10: 5-5
Streak: L2
16. Phoenix Suns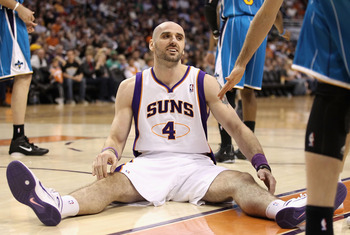 Christian Petersen/Getty Images
The Suns lucked out tonight as a clear goaltend near the end of the game went uncalled, but a win is a win, I suppose.
The Suns are playing better since the trade and Marcin Gortat has done his best to help this subpar defense.
I personally don't see Phoenix as a real threat at the eighth seed unless they make another trade.
They are just too old and will be too worn out down the stretch to make a push for that final playoff spot.
Record: 21-24
18 games back
Last 10: 6-4
Streak: W1
15. Memphis Grizzlies
Christian Petersen/Getty Images
As many of you probably know, OJ Mayo was suspended for 10 games for abusing the NBA's drug policy.
OJ is a key player off the bench for Memphis and will most certainly hurt them for the 10 games he is out.
I'm surprised the way Memphis handling the OJ Mayo situation, as I think he has a lot of upside and obviously a lot of teams value him highly.
Why don't the Grizzlies?
The Grizzlies are battling Portland for the eighth seed right now as they are 1.5 games behind. That race for the eighth seed is sure to be an exciting one.
Record: 24-24
16.5 games behind
Last 10: 7-3
Streak: W2
14. Portland Trailblazers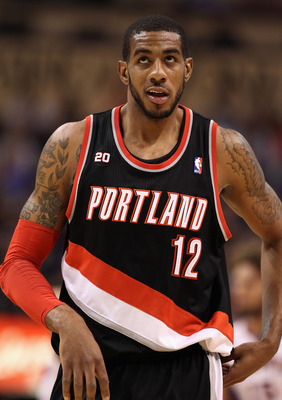 Christian Petersen/Getty Images
The Blazers are fighting hard for that playoff spot and so far are earning it.
I really like how LaMarcus Aldridge is playing lately and I think he should get an All-Star spot.
But then again, so should Kevin Love and Blake Griffin.
Brandon Roy has said he wants to return this season and while I find that unlikely, it's got to boost the spirits of Blazer players.
If he does come back, it's just a bonus for a potential playoff run.
Record: 25-22
15 games back
Last 10: 5-5
Streak: L2
13. Utah Jazz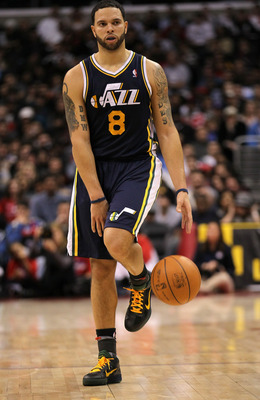 Stephen Dunn/Getty Images
Deron Williams has been out with an injury and Utah has struggled.
Williams has expressed his frustration with the Jazz, and if this keeps up, he could be a surprise mover at the deadline.
While that's highly unlikely, you have to think of every possibility.
Utah isn't going to compete for a title with the current team. If they don't make Deron Williams, happy bad things will happen.
Your move, Utah.
Record: 28-19
12 games back
Last 10: 4-6
Streak: W1
12. New York Knicks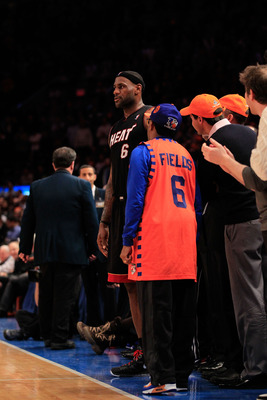 Chris Trotman/Getty Images
The Knicks have faltered a bit as of late.
They're just showing everybody you can't win a championship with offense alone.
Here's a strange concept: If your opponent scores less than you, you win. It's a lot easier to keep somebody from putting the ball in the basket than putting the ball in the basket.
I'll take the easy way out. The Knicks won't.
If NY wants to be a serious title contender...get a new coach and a defensive stopper.
I don't see it happening anytime soon.
Record: 24-22
11.5 games back
Last 10: 3-7
Streak: L1
11. Denver Nuggets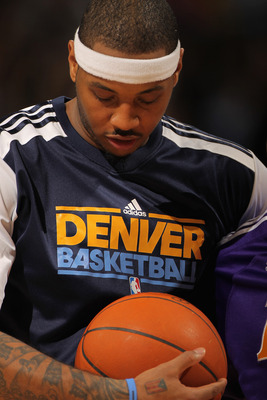 Doug Pensinger/Getty Images
Denver fans... It's been a pretty rough season for you, hasn't it?
I mean, first you get all the news about the injuries and then you find out Carmelo Anthony wants to be traded.
But I don't think they should be booing him; unlike most people, he is actually playing his heart out every time on the court, even amidst these rumors.
Denver probably will end up missing the playoffs once Carmelo gets traded, but they will get lots of young players and draft picks, setting them up for a nice looking future.
I'm not sure it's great to be a Denver fan right now. But in a few years, you might change your tune.
Record: 28-19
12 games back
Last 10: 7-3
Streak: L1
10. Atlanta Hawks
Mike Ehrmann/Getty Images
Joe Johnson is trying to show us why he deserved that max contract...so far, not really doing it.
Twenty points, five assists and four rebounds aren't exactly max-contract numbers, but hey, he has been injured so that's definitely been affecting him.
Atlanta is another team that can pull a first-round upset (I said the same thing last year right before they got stomped by Orlando)...
Record: 30-18
6.5 games back
Last 10: 6-4
Streak: L1
9. New Orleans Hornets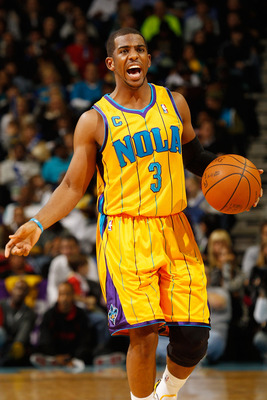 Chris Graythen/Getty Images
New Orleans, for me at least, is probably the biggest surprise.
I'm really not sure why though; they play great defense and with Chris Paul running the offense, it's no wonder they are playing great basketball.
They were on a 10-game winning streak until a few nights ago and got robbed last night in Phoenix off a no call for goaltending at the end of the game.
Remember when the Hornets were said to be shopping Paul? It's probably a good thing they didn't.
I'm not sure he wants to re-sign there, but at least he's not unhappy.
Good job, Hornets.
Record: 31-18
10 games back
Last 10: 8-2
Streak: L2
8. Oklahoma City Thunder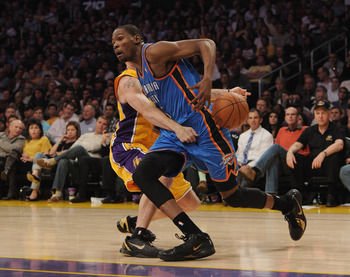 Harry How/Getty Images
The Thunder faced a tough loss to the Heat.
Even with Kevin Durant getting a clutch bucket with less than 40 seconds to go, Eddie House came through in the clutch with a three.
OKC is on the rise though; their young talent surpasses just about everybody's in the league.
The leading scorer in the league in Kevin Durant and the lightning-fast point guard in Russel Westbrook are hard to stop.
But they do need to improve on the defensive side to be title contenders.
Record: 30-17
10 games back
Last 10: 6-4
Streak: L1
7. Dallas Mavericks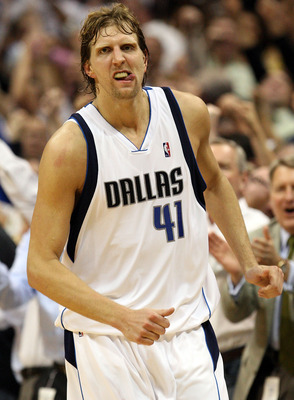 Ronald Martinez/Getty Images
Things have gotten better for Dallas since Dirk has gotten back.
I mean, they are on a four-game win streak. Dirk still isn't at 100 percent and they are playing an elite level of basketball.
A trade will have to be made if they want to be contenders, though. Losing Caron Butler really hurt their chances at a title run.
Record: 31-15
8.5 games back
Last 10: 5-5
Streak: W4
6. Orlando Magic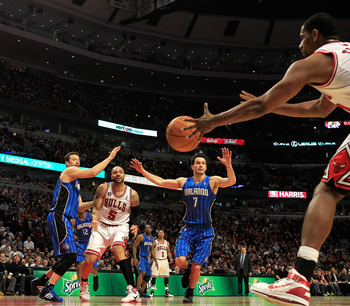 Jonathan Daniel/Getty Images
Things are finally starting to take shape in Orlando after that blockbuster trade they concocted.
Gilbert is starting to play better and J-Rich has taken on the role as scorer. As for Hedo, he has taken his place back on the team as playmaker.
Orlando is primed for a deep postseason run as they possess two key things: defense and a dominant big man.
That is what has won championships in the past. Can it for Orlando?
Record: 31-17
5.5 games back
Last 10: 6-4
Streak: W1
5. Chicago Bulls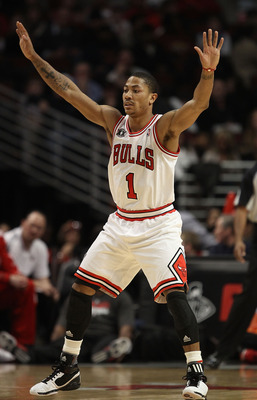 Jonathan Daniel/Getty Images
Derrick Rose is one of the best point guards in the NBA and it is showing in his success of late.
He can score with ease and has Carlos Boozer to dish it to in the post.
The Bulls will never be a serious contender until they get a better shooting guard, though. Keith Bogans just isn't going to cut it.
Record: 33-14
Three games back
Last 10: 8-2
Streak: W5
4. Los Angeles Lakers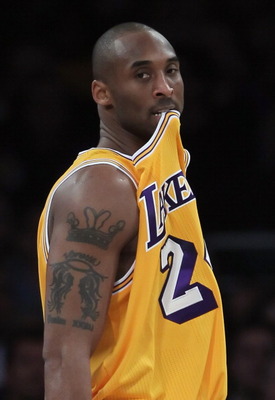 Jeff Gross/Getty Images
The Lakers suffered a tough loss the other night to the Celtics.
When Kobe drops 41 and you still lose...not a good sign.
But the Lakers are still an elite team and certainly a force to be reckoned with in the West.
Tomorrow the Lake Show takes on Houston in their attempts to bounce back from that tough loss.
Record: 33-15
7.5 games back
Last 10: 6-4
Streak: L2
3. Miami Heat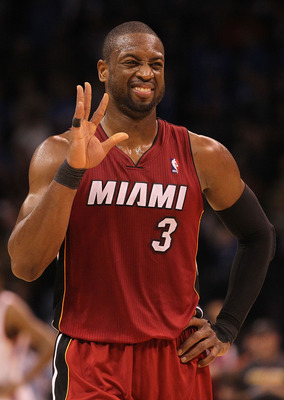 Ronald Martinez/Getty Images
The Heat are coming off a very good road win in Oklahoma City.
With the big three back and hopefully injury-free, Miami fans can rest a little bit easier knowing their stars aren't hurt.
Miami was the big story and continue to be overhyped more than I thought was possible.
But nonetheless, they are title contenders and will make a big push at stopping the Celtics and dethroning the reigning champion Los Angeles Lakers.
Record: 33-14
Three games back
Last 10: 5-5
Streak: W2
2. Boston Celtics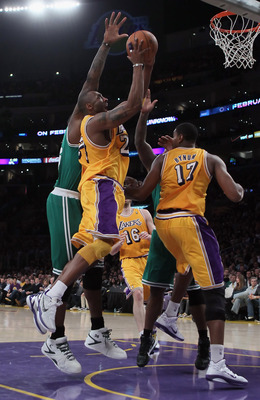 Jeff Gross/Getty Images
Coming off possibly their biggest win of the season, the Celtics handled the Lakers in Los Angeles and ended up beating them by a healthy margin.
This definitely redeems them from the pitiful loss they took at the face of the Phoenix Suns.
Boston is still my favorite for the title—you can't match their depth and chemistry on the court.
If KG can stay healthy throughout the playoffs, I think they will win the title, beating the Spurs in the NBA finals.
Record: 36-11
Last 10: 8-2
Streak: W1
1. San Antonio Spurs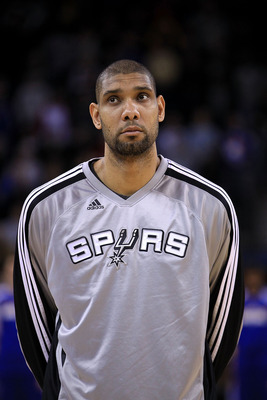 Ezra Shaw/Getty Images
The Spurs were the first to win 40 games this season as they beat the Rockets Saturday night.
San Antonio is just cruising through the season winning with ease and has only lost twice at home.
There are only a couple things that could get their way: injuries, the Lakers and yeah...that's it.
Record: 40-7
Last 10: 9-1
Streak: W3
Keep Reading