NBA Trade Deadline: Each Team's Biggest Questions As Deadline Approaches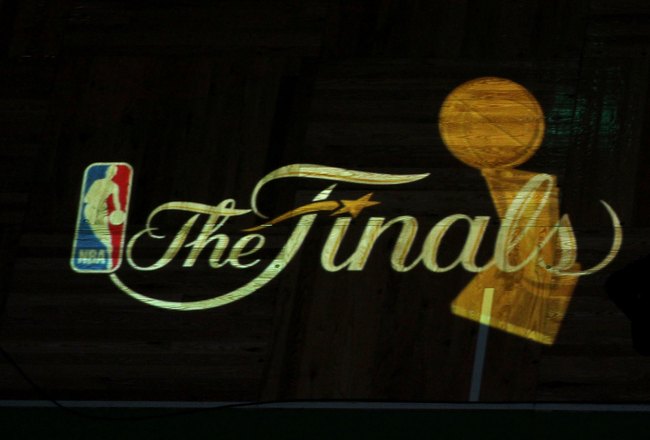 Jim Rogash/Getty Images
Every team's goal is to make it to the Finals. Even if they know they stink, the coach still preaches at the beginning of the season to fight and make it to the championship game.
The trade deadline is February 24th. That is less than a month away for teams to make any moves to better their squad.
No team is perfect. But there are several who don't need to make moves. Can these teams hold on and not falter in the second half of the season? Can they stay strong and healthy all season long?
Here are the biggest questions each team faces as the deadline approaches.
Boston Celtics: Can They Stay Healthy?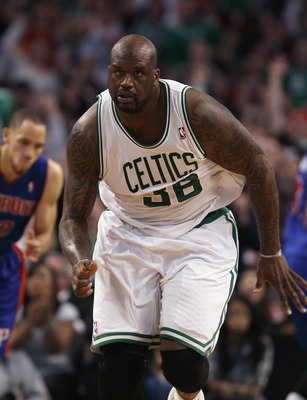 Elsa/Getty Images
They don't really need to make any deals. They just need to stay healthy.
Shaquille O'Neal won't be playing in every game this season. He's 38 years old and can't go as hard as he used to. He didn't play Thursday night because of his hip but he will play tonight against the Suns.
Kendrick Perkins just came back from injury and looked good off the bench. Once he gets back to 100 percent, his game will come back at full force. Kevin Garnett is also injury prone. They can't afford to lose him again.
The Celtics need to stay healthy for the remainder of the season, resting their bigs as much as possible because they will need them when the playoffs roll around.
New Jersey Nets: Will They Get Carmelo Anthony?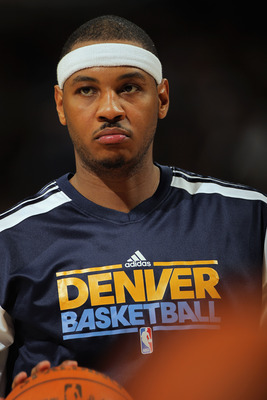 Doug Pensinger/Getty Images
At first the deal was called off by Nets owner Mikhail Prokhorov. Now people are talking again, saying deals are trying to get done.
I'm not buying any of that. A man is only as good as his word. Prokhorov pulled the Nets out of the deal. Therefore, it's over.
The Nets may want superstar Carmelo, but it's unlikely they will get him.
They should just focus on free agency. After all, Prokhorov is rich.
New York Knicks: Will They Get Carmelo Anthony?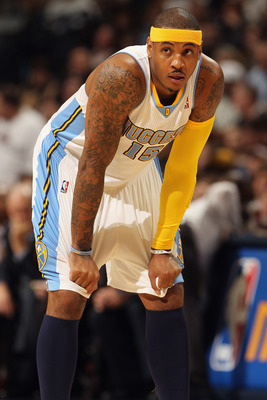 Doug Pensinger/Getty Images
Déjà vu?
Carmelo is the biggest name on the trading block. Everybody knows the Knicks want him. Can they work out a deal to actually get him though? It appears they need other teams help in it but nothing has worked yet.
Melo wants out of Denver. Even though he has yet to say "Trade me now," he wants out. An elite player such as he, wants to be able to contend for a title.
New York needs to offer up everyone except Amare Stoudemire. If they want Carmelo that bad, then do whatever it takes.
If not, just wait till free agency because it's looking like Denver won't be dealing him away.
Philadelphia 76ers: Can They Continue to Play Well?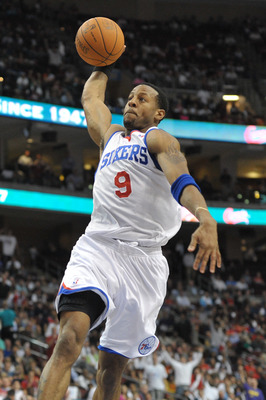 Drew Hallowell/Getty Images
Another team that doesn't really need to make any moves. Or rather can't afford to at this time.
They were looking to deal Andre Iguodala and Elton Brand but nothing ever came of it. It was more of a, "Let's see if we can attract any superstar offers with these two." Nobody bit, and that was that.
Since starting 3-13 they've gone 16-12. They've started to play well as a whole. And in time, Evan Turner will get it going. They're currently in seventh place in the east. Keep playing the way they have and they will make the playoffs.
And that's all you need to do as a team. Make the playoffs and you can make a run for the title. The 76ers will need to get hot at the right time.
Toronto Raptors: Can Somebody Score?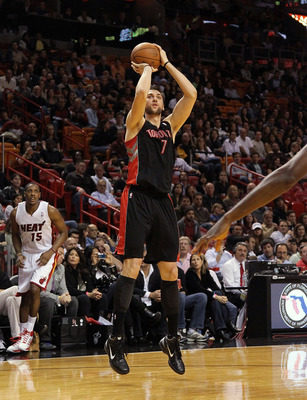 Mike Ehrmann/Getty Images
Andrea Bargnani leads the team in scoring averaging 21 points a game. That's great, but he needs another big guy to help him down low.
The Raptors need a low post scorer. However, injuries have set them back and I don't see them making any moves.
They're not a very good team sitting at 13-33. The departure of Chris Bosh has affected their inside game.
The Raptors will probably just wait for their lottery pick and hope they can draft a solid power forward.
Chicago Bulls: Will They Keep It Up?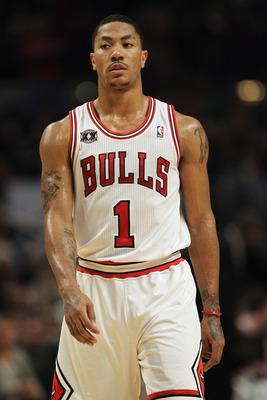 Doug Pensinger/Getty Images
The Bulls could use a shooting guard, but they're playing pretty well without one. Derrick Rose averages 24 points a game. The Bulls are in second place in the East.
If they do make a move, expect them to go after Memphis' O.J Mayo, Denver's J.R. Smith, or Cleveland's Anthony Parker.
Their problem is they don't really want to give up too much. Their best options are one of their guards like Kyle Korver and a first round draft pick. The Bulls will be near the end of the draft picks as they hope to push for a title run.
Cleveland Cavaliers: Will They Deal Antawn Jamison?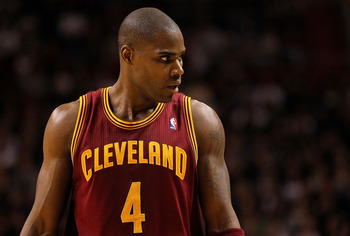 Mike Ehrmann/Getty Images
They got him this time last year. Will they get rid of him this year? His contract isn't that easy to deal, but Cleveland needs to think about rebuilding.
It's doubtful they will move him at all. Cleveland's hopes of rebuilding are through the draft. With the worst record in the league right now, Cleveland is headed for a lottery pick.
The last time that happened, they landed LeBron James. There is nobody in the draft even close to his level of play.
Detroit Pistons: Will They Trade Their Players and Start Rebuilding?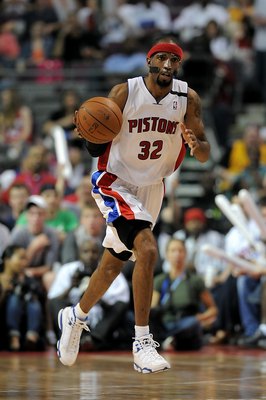 Gregory Shamus/Getty Images
Hamilton has mentally checked out of basketball. He had a good run with the Pistons, but he has to be tired of them. They traded away Chauncey Billups and Hamilton has faded ever since.
His big contract is difficult to move, so it would have to be a three-team deal. Unless it's with Carmelo, I don't see that happening.
Another guy the Pistons are looking to move is Tayshaun Prince. He's always mentioned as being on the trading block, but no team ever jumps to get him.
If the Pistons are serious about basketball, they need to rebuild. Work a deal to move either one of these guys.
Indiana Pacers: Will They Trade Danny Granger?
Kevin C. Cox/Getty Images
They've been listening to offers from teams, but really want Derrick Favors.
It isn't likely that they will get him, but it won't stop them from trying. Granger leads the team in scoring averaging 21 points a game. He could help out the Nets, but it wouldn't do much good.
The Nets are better off keeping Favors. The Pacers need a low post scorer, but giving up Granger for it would get them nowhere.
Milwaukee Bucks: Can They Stay Healthy?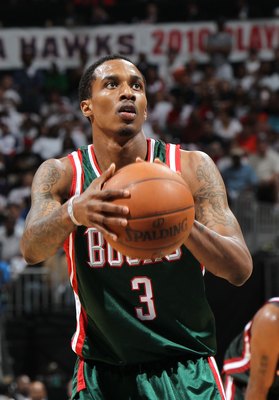 Mike Zarrilli/Getty Images
Realistically, the Bucks are just fine. Injuries to Brandon Jennings and John Salmons are really the only things hurting them.
The Eastern Conference is not very deep. The Bucks are a couple games out of eight place right. With a lot of basketball left, they can make it into the playoffs again.
They made it last year, but lost Andrew Bogut just before the playoffs. If the Bucks can stay healthy when everyone returns, they'll start rolling and catch ground in the East.
Atlanta Hawks: Can They Find a Reliable Point Guard?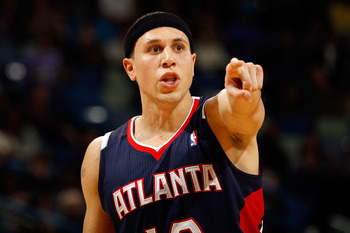 Chris Graythen/Getty Images
Mike Bibby is doing a fine job in Atlanta. But sometimes fine just doesn't cut it. His back up Jeff Teague is not the answer, either.
Joe Johnson is a shooting guard and should not be leading the team in assists. The Hawks paid him too much money too pass the ball. Johnson needs someone to dish it to him.
Atlanta might consider Andre Miller or Mo Williams. However, the Hawks aren't in a position to give anyone up, nor would they really want to go with another veteran at point guard.
They won't make any moves and will probably draft another point guard with no potential. You know, the same thing every year.
Charlotte Bobcats: Can Anyone Take Gerald Wallace Off Their Hands?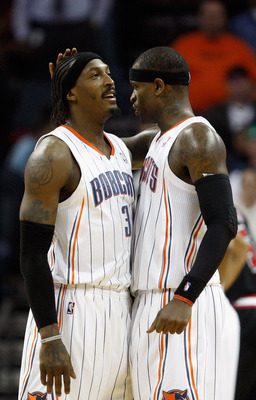 Streeter Lecka/Getty Images
They'd like to get rid of the aging Stephen Jackson or Gerald Wallace, but teams aren't all that interested in paying the hefty price those guys have.
The Bobcats could use a legit big man, but no one is really available. For now, the Bobcats are stuck wishing they could do something, but they'll stick with what they have and hope to make the playoffs. They're currently in eighth and have a good shot at keeping it that way.
Miami Heat: Can They Stay Hot?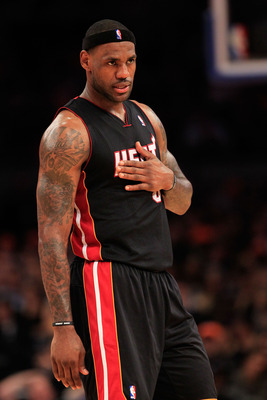 Chris Trotman/Getty Images
The Heat can't really afford to make any moves before the deadline.
They lack depth which has hurt them in some games. Their biggest concern is making sure their big three continue to play well and stay healthy. If one of them is out for an extended period of time, it will drastically affect their team.
They've played well as of late, but need to keep it going. Also, when Chris Bosh returns from his ankle injury, he'll need to return to his old form. Back in the day, he was putting up double-doubles. He scores enough for that but Bosh has to fight more for the boards.
Orlando Magic: Will Their Team Find Chemistry?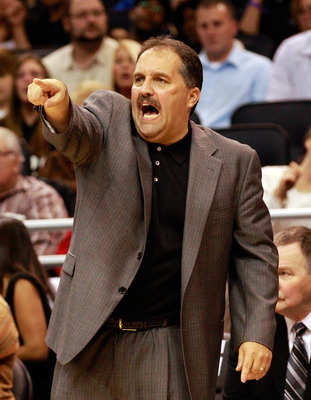 Sam Greenwood/Getty Images
The Magic made the biggest trade so far this season. Now they just need to get their team chemistry going.
As they continue to play together they'll get even better. They already look like a better team from this trade. Time is the only thing Orlando needs right now.
It's a good thing that there is plenty of it before the playoffs. If they don't have the chemistry by then, other teams will stroll right on by them.
Washington Wizards: Can They Play As a Team?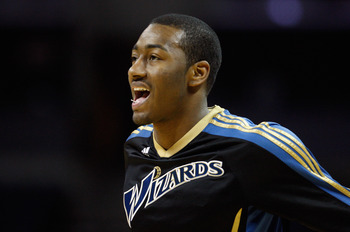 Streeter Lecka/Getty Images
They made the trade and got rid of their baggage. Now they just need to group together and play as one.
John Wall is dishing it out left and right, averaging nine assists per game. If only the guys he's passing to could score a little more, then perhaps they'd win more ball games.
The Wizards aren't going to make any more deals. It's time to play team basketball. Let's see if they can do it. It's unlikely so say hello to a lottery pick again Washington.
Golden State Warriors: Can They Find Another Big Man?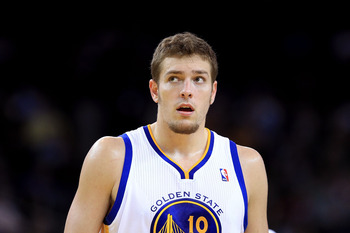 Ezra Shaw/Getty Images
David Lee has been a nice addition for Golden State. Now they just need to get him more help.
If they want some front court help, they'll have to part ways with one of their talented guards. Monta Ellis and Stephen Curry are playing great basketball and will eventually want the big bucks. The two are identical in size, and it might be better for the team to split them up.
However, it will be too difficult for the Warriors to part ways with one of their top two scorers. They'll continue to be mediocre at best in the West without another big man.
L.A. Clippers: Can They Find Another Superstar?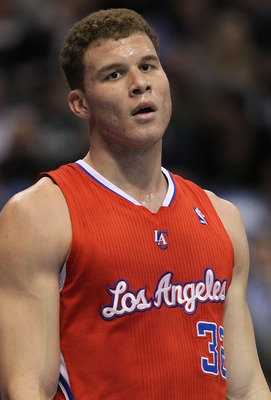 Ronald Martinez/Getty Images
There's no question Blake Griffin is a rising superstar, but the Clippers still lack another true superstar, something you need to survive in Los Angeles.
I've made the claim that they should try and get Carmelo Anthony, but I don't think the Clippers are all that interested. He would be perfect in L.A. You've got the power forward and shooting guard already. Add one of the best small forwards in Carmelo.
Eric Gordon and Blake Griffin can't do it by themselves.
L.A. Lakers: Will They Stay Healthy?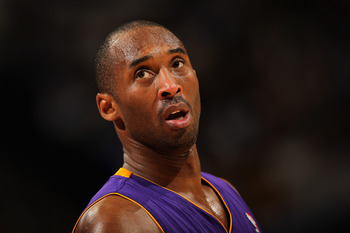 Doug Pensinger/Getty Images
Health is always a concern for any team. Especially for the veteran teams in the league. The Lakers are getting up there in age.
The Lakers are loaded with talent. There's a reason they're going for a three peat. But all title teams need a little luck along the way. And in this case it has be injury free.
Bynum isn't going anywhere. No deals need to be made. They are a phenomenal team. But when every starter except one is age thirty and above.
The veterans on the team have to stay healthy. Otherwise the team will suffer while they heal.
Phoenix Suns: Will They Trade Steve Nash?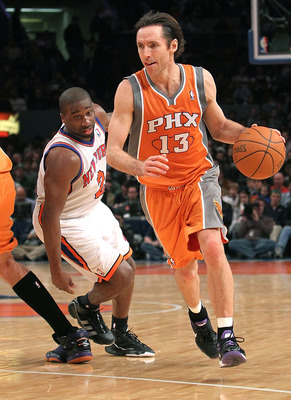 Nick Laham/Getty Images
It doesn't appear as if they will trade him. General Manger Lance Blanks believes Nash is a vital part to their team's success.
Yes, that is absolutely true. However, at what point do you begin to think about your future? Some of the team is up there in age, and it may be time to deal a veteran while you can still get something good for his value.
Blanks is pretty content on keeping Nash. So he stays put. They're out of the playoff picture as of now. Do you think with Nash they will make a comeback? Or should he be dealt?
Sacramento Kings: Can They Survive Without a Star Player?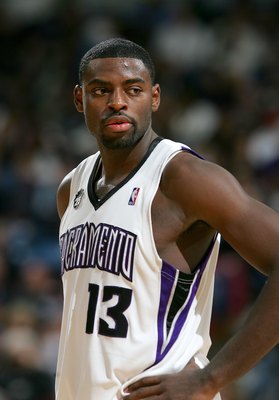 Ezra Shaw/Getty Images
Tyreke Evans is a great player. But he hasn't reached the level of a superstar. A guy who can carry a team.
DeMarcus Cousins is still learning. If the Kings could add a veteran scorer to the roster it would greatly help.
But any team that would give a high scoring player would want a solid young talent in exchange. Are the Kings willing to give one of theirs up? Doubtful.
Say hello to the lottery again, Sacramento. 10 wins so far is just awful.
Dallas Mavericks: What Will Mark Cuban Do?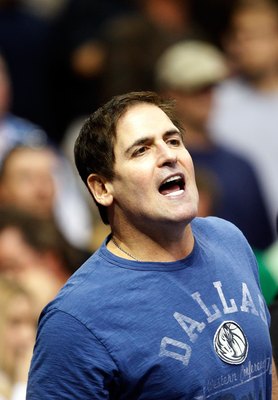 Ronald Martinez/Getty Images
Caron Butler said he could play in four months. Dallas is 6-8 in the month of January, all without Butler. Cuban needs to pull the trigger on something if he wants his team to survive in the Western Conference.
Butler will be back by the playoffs, but how far with Dallas have fallen? Cuban may want to think about Tayshaun Prince or J.R. Smith.
Detroit has had Prince on the trading block for a couple of years now. No deal is ever made but there's always a possibility. Prince has been in the league for eight years. He can still contribute to a team that can contend for a title.
What will Mark Cuban do?
Houston Rockets: Will Anyone Relieve Them of Yao Ming?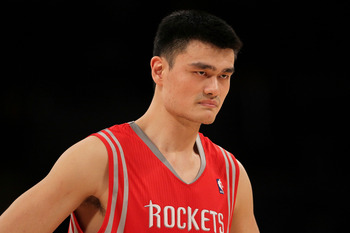 Jeff Gross/Getty Images
Yao is a big risk to take on. He isn't playing now and was just voted an All-Star. What's wrong with that picture?
Obviously he won't play in it, as he is injured, and the Rockets are stuck with him.
His contract is too much for a team to handle. He will remain in Houston for the rest of his career, however long that may be.
Ming played some great basketball his first three years in the league. He hasn't been the same in last four years due to injury.
Memphis Grizzlies: Will They Trade For a Veteran?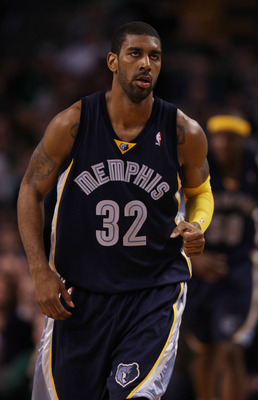 Elsa/Getty Images
O.J Mayo has been suspended for ten games. The Grizzlies may think about dealing him for a veteran leader.
Stephen Jackson and Gerald Wallace are both on the block. Either one could come to Memphis and help the team right away. They would give some nice support for Rudy Gay.
Mayo lost the starting role, and now the suspension. Memphis should consider see what teams would take him off their hands.
Stephen Jackson could be a great addition while Xavier Henry continues to adjust to the NBA.
New Orleans Hornets: Will Chris Paul Make Up His Mind?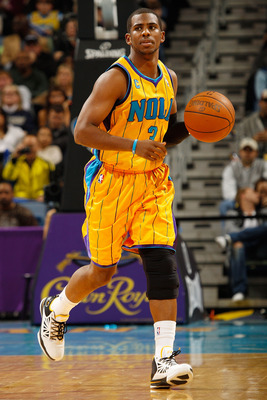 Chris Graythen/Getty Images
If he wants to leave the Hornets during free agency, he should speak up. The Hornets could easily get something in return for him. Paul is one of if not the best point guards in the league.
If New York is a where he wants to be, then a swap for Raymond Felton would be ideal.
I think Paul will stay in New Orleans. There's no doubt they're a good team and if he stays healthy they'll make the playoffs. And anything can happen in a best of seven.
San Antonio Spurs: Will They Remain On Fire?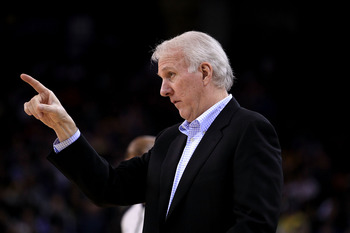 Ezra Shaw/Getty Images
The Spurs are 39-7. They don't need to change anything. Greg Popovich is doing an excellent job coaching San Antonio.
No player on the team is averaging above twenty points.They play team basketball.
And that my friends is how you win. They Spurs cannot and will not suffer a second half slump. They will make the playoffs and be one of if not the top seeds.
Can they keep it going all through the playoffs?
Denver Nuggets: Will They Trade Carmelo Anthony?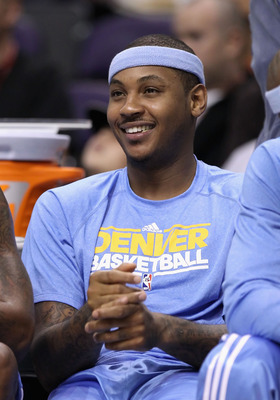 Christian Petersen/Getty Images
All eyes are on Denver and Carmelo. What will they do?
Denver needs a strong player in exchange for Anthony. Carmelo is a superstar athlete, and to trade him away means multiple players or picks in return.
The two teams they seem most interested in working a deal with is the New Jersey Nets and the New York Knicks. Denver is looking to get Derrick Favors of the Nets or possibly anyone but Amare Stoudemire from the Knicks. Ideally Denver wants a big man. Anthony Randolph is the guy.
Both players give the team a set back. But Denver is looking to rebuild if they give their franchise player away.
Minnesota Timberwolves: Will They Trade the Rights to Ricky Rubio Away?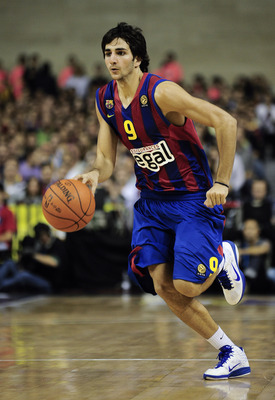 David Ramos/Getty Images
This is doubtful. Rubio doesn't want to play in Minnesota. He wants a team closer on the East Coast so he isn't too far from Spain.
It would make sense for them to get rid of him. It's what most people thought would happen when they drafted him. But they haven't done it. They believe in time he will come and play. He's only 20 years old and continues to develop in the Euroleague.
His contract with F.C. Barcelona ends this summer. Will he come play in the NBA?
Oklahoma City Thunder: Can Kevin Durant get a Little Help?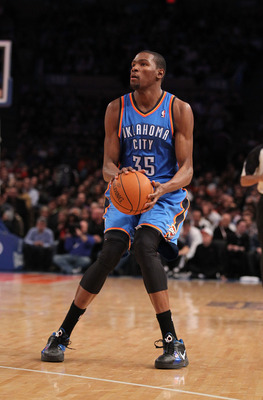 Al Bello/Getty Images
Durant is playing excellent basketball. He's averaging 28 points. His only help is point guard Russell Westbrook who averages 22 points and 8 assists per game.
Will head coach Scott Brooks give James Harden more playing time? He doesn't start but splits similar amount of minutes with the starter Thabo Sefolosha. Give the kid some more minutes coach. Harden averages 10 points per game while Thabo averages five.
A starting role could spark fire for Harden and the rest of the Thunder.
Portland Trailblazers: Will They Make a Move to Help with the Loss of Roy?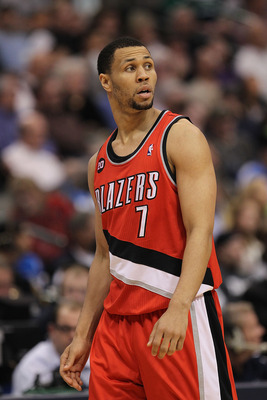 Ronald Martinez/Getty Images
Brandon Roy is most likely out for the season. He had surgery on both knees and will wait for doctor's orders for when he can return. That's a huge blow to the Trailblazers.
I don't think they'll make a move for anyone. They could possibly try to add Richard Hamilton, Tayshaun Prince, Stephen Jackson or Geral Wallace.
Andre Miller is a option for teams looking to for a veteran point guard to help make a surge to the playoffs. General Manager Rich Cho could move anyone on his team.
I think he moves some of the expiring contracts on his team. If it means suffering for the rest of the year without your star player then so be it. At lesst you'll get a good draft pick.
Utah Jazz: Can Raja Bell and Andre Kirilenko Step Their Game Up?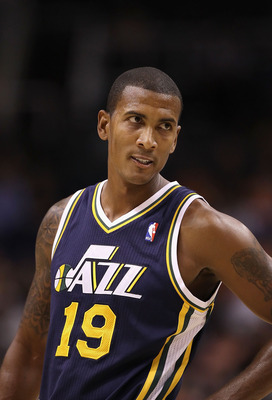 Christian Petersen/Getty Images
You know what you're getting from Deron Williams. A guy who is averaging over 20 points a game and also still manages to have have nine assists.
What the Jazz need is for Raja Bell to shoot better. He is the shooting guard for their team, meaning he should be able to shoot well and score. Bell is averaging less than eight points a game.
Kirilenko is averaging 11 points a game. Will the small forward step his game up and help Deron Williams and the Jazz in the Western Conference?
Keep Reading