Are Miami Heat The NBA's Next Dynasty? A Breakdown By Two Featured Columnists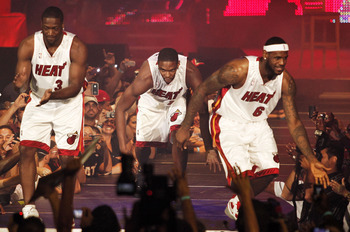 The 2010-11 offseason actions of the Miami Thrice have delivered the most compelling NBA season to date for our extreme enjoyment, and what a controversial, roller coaster ride it has been thus far.
When LeBron James made his decision to fly south with Chris Bosh on his tail to join Dwyane Wade as the new faces of the Miami Heat, they put into motion an uprising of teams in the East, the likes that has never been seen before. In fact, the entire competitive landscape of the NBA has changed in just a few short months.
Like a domino effect, the Boston Celtics grabbed Shaquille O'Neal, the Chicago Bulls cornered Carlos Boozer and the Orlando Magic imploded their team at Christmas in desperate attempts to stave off surprise cannibalistic attacks from their provocateurs to the south.
If anything can be said about the new Miami Heat, however, it's that they have proved that they are the real deal and a legitimate championship contender—just as was originally advertised.
And one thing is for sure, these guys have no mercy. They talk of retraction by subtraction, they talk of bad karma after already kicking poor Cleveland in the gut and they have a "list" of enemies who are already starting to feel their reprisal.
But just how good are these new guys on the block that reign from South Beach? Can they win the title this year? Are they a dynasty in the making? Why did they walk all over the L.A. Lakers on Christmas Day, which is supposed to be a time for sharing and giving?
These are among the questions that fellow Feature Columnist Ethan S and I have attempted to cross analyze from two very different perspectives.
Who Is the Team's MVP, LeBron James or Dwyane Wade?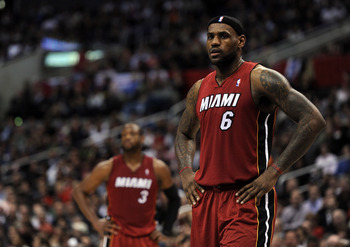 Harry How/Getty Images
Ethan:
Answering this question is like answering which color is better: blue or green? One could make a legitimate case for either player, as both are having an outstanding season.
Both Wade and James are among the top talents and the most explosive players in the league.
Of the two players, I personally like Dwyane Wade more because James' ego is so large that I wonder how he gets his head through some doorways. Wade tends to be the classier individual who doesn't care to make every situation about him.
But in regards to the Heat's team MVP, I have to give the edge to LeBron James. Besides leading the team in scoring, assists and steals, James shoots the ball better from three point territory and the charity stripe than Wade.
Few players can dominate as both a scorer and a playmaker in the NBA, and James may be the best at those two roles put together.
While LeBron James may not be the leader that Wade is, the Heat's dominance truly suffered when James has sat out of recent games.
Players that are the size of Karl Malone should not be able to run as quickly as a guard, but that is what James brings to the table. He simply causes many more mismatches in Miami's favor than Wade does.
Since these mismatches give the Heat a great advantage, James has to be the team's MVP in my opinion.
Who Is the Team's MVP, LeBron James or Dwyane Wade? (Cont'd):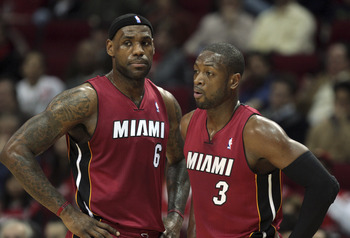 Bob Levey/Getty Images
Rich:
The 2010-11 NBA season is at the halfway point and the Miami Heat have been on a roll since the end of November, and in that time they have put together two winning streaks where the losses in between can be counted on one hand (well, almost if you look at their recent losing streak).
Obviously, the backbone of the Miami Heat has been the Miami Thrice and even more so the dynamic duo of LeBron James and Dwyane Wade.
Which one of these superstars should win the Miami Heat team MVP if the results were compiled today?
While both have had far superior years as the No. 1 option before this year, Wade with the Heat and LeBron with the Cavaliers, this year was about learning how to share the ball.
But even so, the numbers of each player are nothing to scoff at, and certainly each superstar has had their share of dominating games.
Looking at the numbers:
The PPG stat is most interesting given the slow start and early struggles of the Miami Heat, but both stars have moved up the scoring ladder like a rocket. James is at 25.6 PPG (ranked fourth in the NBA) and Wade is at 25.1 (ranked fifth in the league). In fact, Wade has just passed Kobe Bryant for that fifth spot ranking.
When looking at FG percentage, James is at .477 and Wade is at 48.9; FGM has James at 358 to Wade's 357; FT percentage has James at .771 to Wade's .742; 3P percentage has James at .358 to Wade's .306; RBG has James at 7.1 to Wade's 6.5; Total Steals has James at 60 to Wade's 56; AST has James at 7.2 to Wade's 4.2 and finally Total Turnovers has James at 155 to Wade's 122.
Last but not least and also quite surprising is that the 6'4'' Wade has 45 total blocks to the 6'8'' James' 18.
So what is the final verdict for team MVP? As you can see for yourself, the production of these players is not only still on an elite level, but the statistical disparity in almost every category can be seen in marginal amounts.
Therefore, if the Miami Heat MVP award were to go out today, there is absolutely no choice but to have co-winners. What's more important, this dynamic duo has shown that they can produce at a high level while sharing the ball.
Could Kobe Bryant do that?
Describe the Cultish Fan Following of LeBron James and Dwyane Wade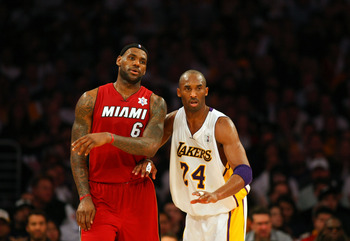 Victor Decolongon/Getty Images
Ethan:
The cultish fan following of these two players is no different than those of other superstars, like Michael Jordan, Larry Bird or Kobe Bryant.
Many of the most passionate fans are from the home market, this case being South Florida.
The fan followings include various groups of people.
One segment is the hostile fan. This person is likely to find every reason to defend attacks against Wade or James. At the same time, this fan loves to attack any other player that other fans promote as being better. To them, any player that is great poses a threat to the legacies of Wade and James.
Another segment is the fan who knows the history of the game. This kind of fan follows most great players and has an appreciation for the game of basketball.
Yet another group consists of casual fans that don't follow the NBA much but like Wade or James because they are great players.
These consistencies of these fan groups vary little from those of other NBA superstars. In the end, I appreciate the fan that truly appreciates the game and knows the history.
Describe the Cultish Fan Following of LeBron James and Dwyane Wade (Cont):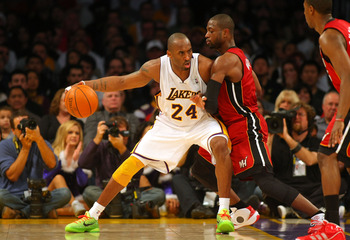 Victor Decolongon/Getty Images
Rich:
The wide spread of different types of media such as the Internet and special sports networks have increased the digital exposure that the typical fan has to celebrities. Previous stars' careers such as those of Magic Johnson, Dr, J or Wilt Chamberlain were not affected with such intense media coverage. The exception to this rule when looking at NBA superstars of the past is Michael Jordan, and as great as he was, his phantom myth continues to grow by leaps and bounds because of today's technology.
When looking at today's stars there is only a handful of players who have a cult like following and they include Kobe Bryant, Dwayne Wade, LeBron James and on the horizon, Blake Griffin. If you criticize any aspect of Kobe's, Wade's or James' game or even personal behavior, a cultish fan would call you a "hater". Of course these players also have non-cultish fans who would not take the criticism as if it were a personal insult.
If you do the same to any of Boston's Big Three, Derrick Rose, Kevin Durant, etc. it is unlikely that those athletes' fans will call you a hater, because no other player except the ones mentioned above and Michael Jordan has a cultish fan following.
Demographics could be used to define both the areas and the ages of the cultish fan. Michael Jordan has a cultish fan following on a national scale that spans all ages. LeBron James is the only one who had a Jordanesque cultish fan following, and that fan base was obliterated after his decision. Kobe Bryant and Dywane Wade's cultish fan base are for the most part, youth who live in the same geographical locations as their stars. And now, James also fits in that same demographic definition when it comes to his cultish fans.
What is interesting however, is how the cultish fan base in Miami are now fighting over who is the best player on the Heat.
Have you called anyone a "hater" lately?
How Will the Heat Fare This Year Against the Top East Teams?
Sam Greenwood/Getty Images
Ethan:
The Miami Heat will have a battle getting out of the Eastern Conference in this year's playoffs, even if the team is considered the favorite.
Orlando has a deeper roster that is filled with scorers like Jameer Nelson, Gilbert Arenas and Jason Richardson. Add in premier defensive center Dwight Howard and the Magic will certainly be a handful.
In addition, Orlando will be motivated to prove that Miami is only the second best team in Florida.
The Chicago Bulls also have a well-rounded team that can provide matchup problems for Miami. Joakim Noah and Carlos Boozer provide a potent frontcourt for Chicago, while Derrick Rose's speed can cause issues for Miami.
Finally, the Boston Celtics may have the biggest advantages over Miami. Unlike the Heat, Boston's core roster has played together for a few years.
Boston's team is full of savvy veterans and the NBA's premier playmaker in Rajon Rondo. Furthermore, the huge Boston frontline (including Shaquille O'Neal, Kevin Garnett, Glen Davis and Kendrick Perkins) can wreck havoc on Miami's frontcourt players.
Miami has a great chance of making it to the NBA Finals. But as of right now, I believe that Boston will emerge as the Eastern Conference champion this season.
How Will the Heat Fare This Year Against the Top East Teams? (Cont'd):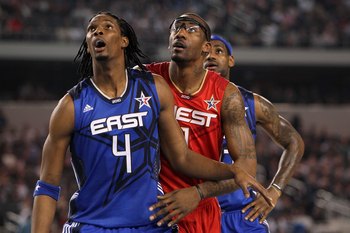 Jed Jacobsohn/Getty Images
Rich:
The East is a beast and has improved exponentially over the past few months. The Boston Celtics look scary from the ground up and look like the team to beat thus far, but the Chicago Bulls and Orlando Magic will pose exactly the same matchup problems for the Miami Heat. On the horizon, the NY Knicks are a trade away from joining this first tier group of contenders in the Eastern Conference.
What do the Celtics, Bulls and Magic have in common that will pose a threat to the Miami Heat? They are set in their rotations and they have deep benches. The Heat's assets are lacking at the point guard and center positions, and their bench is suspect.
The Celtics have an elite point guard in Rajon Rondo who will run circles around Miami's offerings at the same position. They also have a group of big men at the center spot including Shaquille O'Neal, Jermaine O'Neal and Kendrick Perkins. And then there is the Big Three with Kevin Garnett, Paul Pierce and Ray Allen who are still highly effective. And don't forget, the Heat have yet to beat the Celtics this year. To add to the Celtics fierceness, Kevin Garnett is not exactly playing with a full deck.
The Bulls pose the same matchup problems with Joakim Noah (center) and Derrick Rose (point guard), both elite players at their respective positions. And Carlos Boozer is no slouch either. Perhaps the Bulls' only weakness is at the shooting guard spot where they are looking to upgrade. And don't forget, the Heat are 0-1 versus the Bulls.
Ditto for the Orlando Magic who have the best center in the league in Dwight Howard and a better point guard than those of the Heat in Jameer Nelson and Gilbert Arenas. And whatever the Heat did to the Magic before their Christmas rebuild doesn't matter, because the new-look Magic are scary as hell.
Then there are the NY Knicks who are having a breakout year and are led by their superstar, Amar'e Stoudemire, who is playing out of position at the center spot. If the Knicks can pick up an elite center like Marcus Camby of the Portland Trail Blazers, Amar'e can move to his natural power forward position. With that sole acquisition and led by an elite point guard in Raymond Felton, the Knicks will add to the teams that will pose matchup problems for the Heat.
After considering the Heat's weaknesses and their opponents' strengths and also taking into account that the Miami Heat have yet to beat the Celtics, the Bulls and the new-look Magic, it's highly unlikely that James and Co. will make it out of the East this year. To have a chance, they must at the very least, bolster one of their weak spots including either point guard or center.
How Would the Heat Do in a Finals Matchup Vs. the Best of the West?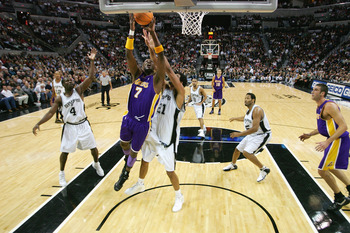 Ronald Martinez/Getty Images
Ethan:
If the Miami Heat make it to the Finals, we already know that the television ratings will be astronomical. For those that believe in NBA conspiracy theories, this is reason enough to believe David Stern will somehow figure out how to make this happen.
Regarding the Mavericks, Dallas will only provide a legitimate threat if Dirk Nowitzki is playing. Without Nowitzki, the Mavericks struggled to get any wins. Caron Butler's season-ending injury further complicates matters.
Yet, Dallas has a deep roster that includes Jason Kidd, Shawn Marion, Tyson Chandler and super sub Jason Terry. With Nowitzki, Dallas can definitely put up a challenge for Miami.
The Lakers team has struggled a bit this season, but the team is built for seven game series. If LA's roster can remain healthy, the Lakers can win a series against the Heat.
Los Angeles should have an advantage up front with the trio of Pau Gasol, Andrew Bynum and Lamar Odom. Matt Barnes and Ron Artest represent two premier defenders that LA can use to slow down LeBron James and Dwyane Wade. And then, of course, there is Kobe Bryant.
The Spurs would also be a tough match for Miami. Gregg Popovich is one of the best coaches in the NBA and his teams always seem to do well on defense and three point shooting.
San Antonio has its own Big Three in Tim Duncan, Manu Ginobili and Tony Parker. But compared to Miami, the Spurs' bench is much stronger.
I believe that the Spurs and Lakers each have legitimate chances at winning a championship matchup with the Heat.
In any case, these series would be exciting and they could easily go either way. I would give Miami about a 50 percent chance of winning against any of these teams.
How Would the Heat Do in a Finals Matchup Vs. the Best of the West? (Cont'd):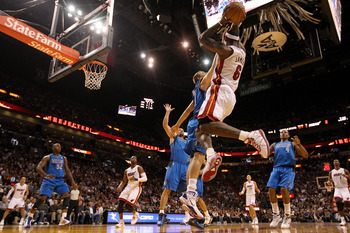 Mike Ehrmann/Getty Images
Rich:
If the Miami Heat make it this far, it will likely be because they addressed at least one of their weaknesses at the point guard or center spots.
The L.A. Lakers have Andrew Bynum back and unlike the matchup on Christmas, Bynum is in the groove and his teammates have gone through the transition of reintegrating him into the lineup, as well as getting Lamar Odom back to the sixth man spot. So the Heat win against the Lakers on Christmas doesn't count and the only thing the Lakers lack is an elite point guard and an unselfish Kobe Bryant.
Yet the Lakers still have issues and are playing with fire.
The Dallas Mavericks are in a bit of a funk right now, but still remain an elite team with center Tyson Chandler, point guard Jason Kidd, power forward Dirk Nowitzki and a very deep roster despite losing Caron Butler for the season. And don't forget, the Heat are 0-2 versus the Dallas Mavericks this season.
The San Antonio Spurs have been a force all year and are on pace to beat the Chicago Bulls' 72 win record as they fly under the radar. People are not paying attention to the Spurs because they don't have tattoos, they don't tweet and they don't try to get their coach fired among a million other silly things. The Spurs are simply a very boring team, even in the way they play, but it's been extremely effective thus far. The Spurs are very deep and they have the point guard, the big men, the sixth man and a very deep bench.
The Utah Jazz and Oklahoma City Thunder are good teams but have not achieved elite status yet. It's unlikely that these two will get past the above teams without further bolstering their clubs with a trade or two.
Given the above scenario, it is possible for the Miami Heat to win a championship, but only if they get an elite center and/or an elite point guard.
How Dominant Will the Heat Be over the Next Six Years?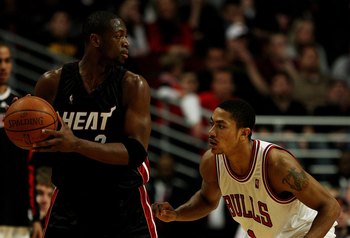 Jonathan Daniel/Getty Images
Ethan:
Over the next six years (assuming Chris Bosh, Dwyane Wade and LeBron James stay together), the Heat will have a good chance at winning a title each year.
It's reasonable to assume that the team should be able to win at around 60 games each season. If the Heat management can fill in some of the weaker roster spots and the players remain healthy, the team could even win 70 games in a season.
In the end, I think Miami will win three or four titles. The first one is always the easiest to attain. It is much more difficult to repeat or three-peat.
When one looks at the Bulls and Lakers three-peats of the past two decades, one can see how the most dominant teams were usually the first year that resulted in a championship.
And, of course, all of this depends on players staying healthy. Chances are that Miami will experience health issues for at least one season.
Dwyane Wade has had a multitude of injuries during his career and can be considered somewhat injury-prone.
LeBron James and Chris Bosh have fared better in the health department, but they will get older over the next six years. Nagging injuries tend to build up and bodies do not heal as quickly when players get older.
One more factor that should be considered is any other trios that are put together. For instance, consider if the New York Knicks manage to form an opposing trio of Amar'e Stoudemire, Carmelo Anthony and Chris Paul?
Perhaps a trio will form that includes Dwight Howard—the NBA's most dominant center—that can attack Miami at its weakest position.
There are too many "what if" scenarios to predict complete domination by the Heat. But winning a few titles is a reasonable prediction for the Miami Heat.
How Dominant Will the Heat Be Over the Next Six Years? (Cont'd)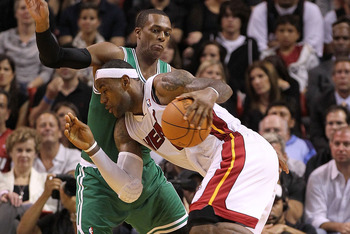 Mike Ehrmann/Getty Images
Rich:
The Miami Heat have the two time reigning NBA season MVP in LeBron James and a one time NBA Finals MVP in Dwyane Wade and both players have won scoring titles. To say that these two players are among the top five superstars would be an understatement, as Wade is the best shooting guard in the league and James is arguably the best player in the league. Together with Chris Bosh, they are the Miami Thrice, and at the beginning of the season, the funniest article ever written on B/R poked fun at the super-friends, a stunt that may come back to bite the writer in the butt.
Six years is a long time to project a single team's success, but the Miami Thrice are still young and their games will probably not fluctuate all that much over the next six years.
With what the Miami Heat have right now, it's highly implausible that they will win the championship this year because they are simply lacking at both the point guard spot and the center spot, positions that elite teams in the league are set at. And because the Miami Heat have shown so much promise during their winning streaks without having to make a change, they will most likely stay with what they have for now.
After failing to win a title this year however, the Heat will be pressed to make some changes in areas where they can improve. The most sensible move would be to trade Chris Bosh and his cap eating salary in favor of a center like Marcus Camby, a point guard like Jose Calderon and a power forward like Audrey Blatche or Jeff Green.
That combination certainly looks like overkill and it's likely that the Miami Heat would win the next three championships in a row and smash all kinds of records in the process. Beyond three years, if they can change some old parts in the names of Camby and Nash, the Heat will remain dominant.
Where Will LeBron James and Dwyane Wade End Up Among the All-Time Greats?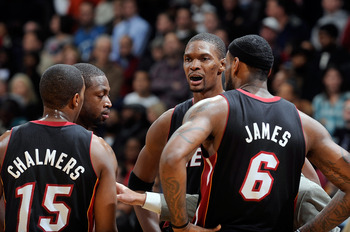 Greg Fiume/Getty Images
Ethan:
LeBron James represents one of the most talented players in NBA history. Besides his obnoxious ego, there are only a few areas where he can improve on: free throw shooting, three point shooting, post-up game and one-on-one defense.
If James were to improve in all of these areas, he might have the best all-around game of all-time.
Yet, when I rank NBA players, I look at all-around game, clutch ability, leadership and winning.
LeBron James is likely to win a few titles before his career is over. Being that James is young and started in the NBA out of high school, he is bound to break many NBA records.
But there is a major factor holding him back: he possibly has three of the top ten NBA players on one team (and two of the top four). This will hurt his ability to come through as the undisputed leader of title teams the way Michael Jordan, Larry Bird, Magic Johnson and Kobe Bryant (the last two years) have.
Due to this reason, I believe LeBron will crack into the top ten players of all-time, but he will never be considered in the same class as the players mentioned previously, or even Kareem Abdul-Jabbar and Tim Duncan.
Dwyane Wade will end up with four or five titles and about three Finals MVP awards. If that happens and Wade can keep up his amazing play for another five or six years, then Wade will end up in the top 20 players of all-time, with an outside chance of cracking the top 10.
In order to help out his chances of moving up the ranks, Wade will need to improve his one-on-one defense, post moves and have more offensive outputs that Jordan displayed throughout his career. Wade will also need to adjust his game as Jordan did as his athletic ability fades in his later years.
Where Will LeBron James and Dwyane Wade End Up Among the NBA Greats? (Cont'd)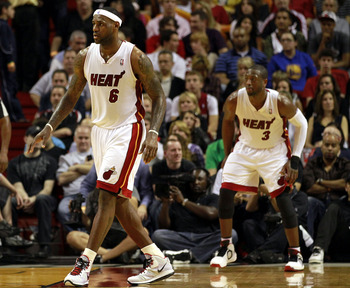 Marc Serota/Getty Images
Rich:
LeBron James has been blazing an incredible legacy since entering the league as a teenager right out of high school. In retrospect, skipping college was a bad idea as James is obviously challenged when it comes to any kind of forward thinking. But that doesn't change the fact that James was born with a basketball in his hand. He is an unbelievable physical specimen that can jump out of the gym and his basketball IQ is fairly high, even if he is somewhat of a dimwit off the court. While a lot can happen over the rest of his career, I project James to make it into the top five players of all-time.
Dwyane Wade is also blazing an incredible legacy in the NBA and he is a much classier individual than his friend. It's hard to determine where exactly Wade ranks right now among the all-time greats since his career is not close to being over. I suspect however, had Wade been lucky enough to be with the Lakers and surrounded by the same quality supporting casts that Bryant had been with throughout his career, Wade would rank almost as high as Kobe himself. But without that amazing supporting cast up until now (in his late twenties), I would project Wade finishing in the top 15 players to ever play in the NBA.
About the Authors: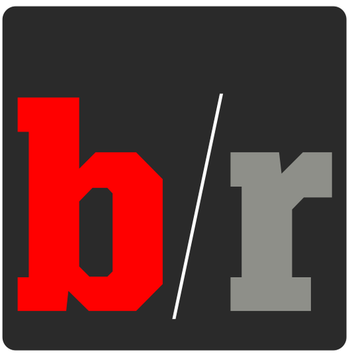 Rich Fernandes – Rich is a resident of Toronto, Ontario and is an avid sports nut. Rich's favorite sports to follow include in order: NHL Hockey, NFL Football, NBA Basketball and Ultimate Fighting. Rich also loves playing the game of squash and he goes downhill skiing in the winter. Rich has found Bleacher Report to be an enjoyable experience as well as the ultimate platform for the serious sports fan. Richard's favorite writer (other than Ethan S.) is Robert Ludlum, unfortunately he's read all of his novels.
Ethan S. – Ethan lives near Seattle, WA and enjoys spending free time between work and family obligations by writing and engaging on Bleacher Report. He enjoys the articles of the many talented writers on the site, and appreciates the support he has received from community members.
Keep Reading

Miami Heat: Like this team?