NBA Trade Rumors: Moves Struggling Teams Can Make To Get Back Into Contention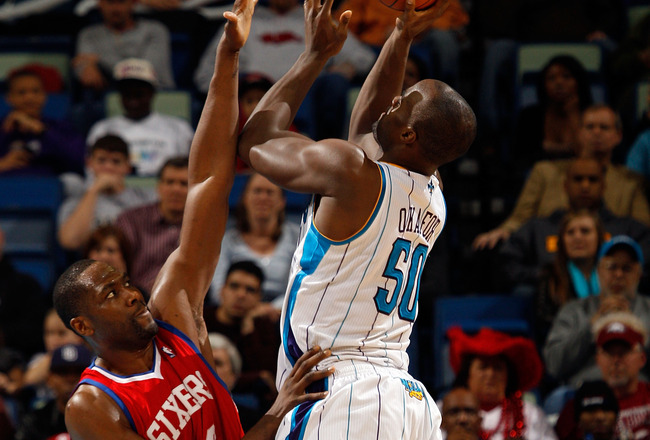 New Orleans Center Emeka Okafor rises over Philadelphia's Elton Brand
Chris Graythen/Getty Images
Almost halfway through the NBA season, it is becoming more obvious that some teams are better off than experts predicted, such as the Hornets and the Spurs; however, it is also apparent that some teams need to make moves if they wish to compete later this year or in the future. These slides will outline moves that could help the current cellar-dwellers make some noise in the future.
Philadelphia 76ers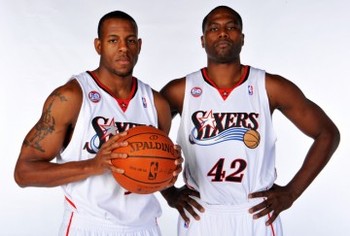 http://assets.gearlive.com/endscore/blogimages/Andre_Igudala_and_Elton_Brand_2_thumb.jpg
As a Boston sports fan, I grew up watching the Celtics consistently finish behind Allen Iverson's 76ers in the East, but since his departure, the 76ers have been unable to recapture winning ways of the old, finishing 27-55 last year and getting off to a 15-22 start this year. While Andre Igoudala is an electric player, the 76ers drafted Evan Turner with the second pick in the draft, making a statement that they want to go in another direction. Igoudala has been mentioned as a likely trade candidate since then, and trading his contract, 4 years and over $50 million left, is an important step in getting the team back on track. Many people will cite Elton Brand and his massive contract, 3 years and 51 million left, as a problem for the 76ers, but Brand's contract will likely scare off most suitors, even with his much improved play this season.
Prepare for Launch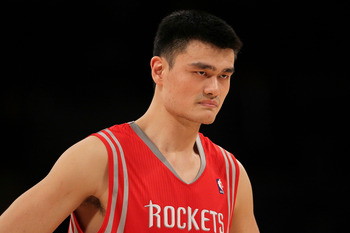 Jeff Gross/Getty Images
76ers trade SG Andre Igoudala and Elton Brand to Houston for Yao Ming, Terrence Williams, and a future first-round draft pick.
Why it works: The Rockets are another team going nowhere fast, and this trade is a fresh start for both teams. This deal is good for the 76ers because it allows the team to build a new core around an up-and-coming player, Terrence Williams, and high-risk, high-reward big man in Yao Ming. The Rockets are not a team accustomed to being cellar-dwellers and the team is trying to move on from Yao Ming because of his constant injury woes. The Rockets also don't have minutes for Terrence Williams and are likely to use him as bait at the trade deadline.
Minnesota Timberwolves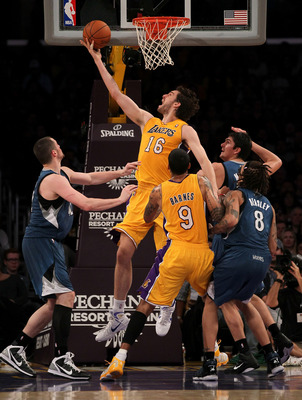 Stephen Dunn/Getty Images
The Timberwolves have certainly made moves to improve over the past few seasons, such as the 7-for-1 trade that sent Kevin Garnett to Boston and stocking up on specific positions each year thanks to GM David Kahn. However, the Timberwolves have been struggling in the strong Western Conference and need a backcourt that compliments the talents of Kevin Love, Michael Beasley, and (never thought I'd say this) serviceable center, Darko Milicic. Johnny Flynn is a good point guard, but the second David Kahn took Flynn with the 6th pick in the 2008 draft, he scared off potential star point guard Ricky Rubio, who he had drafted with the 5th pick. It is clear that these two cannot coexist in Minnesota and while Flynn may not be as good as Rubio presently, Rubio made it clear he did not want to play in Minnesota when he signed a new contract with the Spanish club, Barcelona.
A Golden Ticket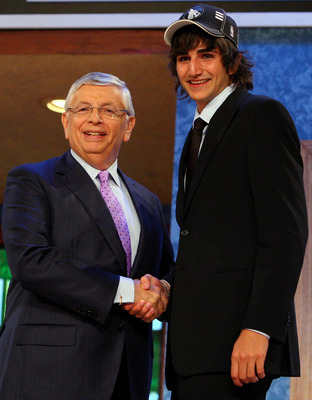 Jim McIsaac/Getty Images
Timberwolves trade the draft rights to Ricky Rubio and Wesley Johnson to Golden State for Monta Ellis.
Why it works: While the Warriors began the season 6-4, they have slid in recent weeks due to lack of depth. Wesley Johnson would give this team an upgrade at the SF position and allow the talented Dorrell Wright to come off the bench. As for Rubio, his style of play would work well in the Warriors' run-and-gun offense, and Stephen Curry could easily move to the SG position, freeing Rubio to run the point. Also San Francisco is a bigger market, increasing the chances that Rubio will come over from Spain next season. For the Timberwolves, this trade gives them one of the best shooting threats in the league, accelerating the rebuilding process.
New Jersey Nets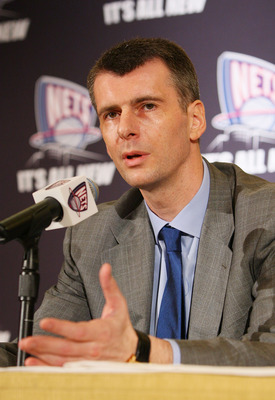 Mike Stobe/Getty Images
Many people forget that in the early 2000s, the Nets went to the finals in back-to-back years and were an exciting team to watch, featuring Jason Kidd, Vince Carter, and Kenyon Martin in their primes. Gone are those days, however, and the Nets flirted with the worst record in NBA history last year, finishing a disappointing 12-70. New owner Mikhail Prokhorov made it clear this summer, he wants to make the Nets a contender by the time they move to Brooklyn. Some pieces are already in place, such as All-Star center Brook Lopez, point guard Devin Harris, and rookie Derrick Favors; however, Prokhorov needs to make more moves to make the Nets a contender.
Rocky Mountain High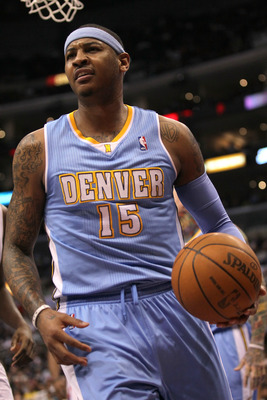 Stephen Dunn/Getty Images
Nets trade Derrick Favors and two first round picks to Denver for Carmelo Anthony.
Why it works: I'm as sick of the Melo rumors as the next guy, but it is no secret that Prokhorov is in hot pursuit of Denver's disgruntled star, but in order for this trade to work, Melo would need to sign the 3-year, $65 million extension offered by the Nuggets because the Nets would not give up such a package without a guarantee that Anthony will help usher in basketball in Brooklyn rather than across town in Madison Square Garden with the resurgent Knicks. This trade allows the Nuggets to move on from Carmelo Anthony and get something in return, not unlike the Cavaliers did with LeBron James's sign-and-trade last year. The Nets get a superstar that they can market as the future face of Brooklyn basketball.
Los Angeles Clippers
Harry How/Getty Images
The "other" Los Angeles team seems to be cursed. The team appeared ready to create a dynamic duo of Baron Davis and Elton Brand, spending a king's ransom, $65 million over 5 years, to bring the former Golden State star to the Staples Center; however, Elton Brand derailed the team's plans when he signed his lucrative contract with Philadelphia. Davis has lost motivation in Los Angeles, and although his numbers are up this year alongside Blake Griffin, he is not the player he was with the Warriors. Then in 2008, they drafted stud power forward Blake Griffin with the first pick in the draft only to see him miss his entire rookie season with a knee injury. Luckily, Griffin is enjoying a monster season this year, but the Clippers need to move on from Baron Davis and build around Eric Bledsoe, Eric Gordon, and Blake Griffin if they want to compete in the West.
Blazing a New Trail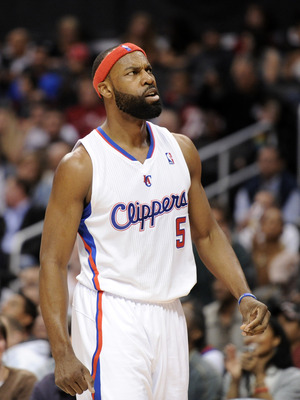 Harry How/Getty Images
Clippers trade Baron Davis and a future first-round pick to Portland for Greg Oden and Nicholas Batum.
Why it works: This trade is a low-risk trade for the Clippers that could have big return, but it also helps the Trailblazers. Andre Miller is a good point guard, but he is aging and more suited for a sixth man role at this point. Baron Davis could get his career back on track in Portland and would happily take touches from the heavily overworked Brandon Roy. The Blazers are ready to move on from Greg Oden after his contract expires at the end of the season and the Clippers can sign him to a short-term deal to see if Oden and Griffin, two former number one picks, can create a monster big-man duo. In this trade, Batum would act as a security blanket for the Clippers. If Al-Farouq Aminu does not pan out for the Blazers, Batum is a good SF with a lot of potential.
Cleveland Cavaliers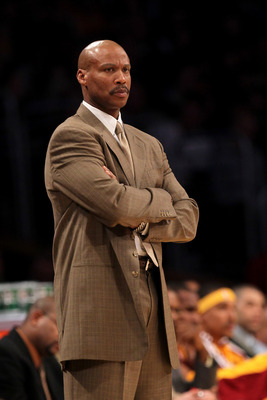 Stephen Dunn/Getty Images
How the mighty have fallen. After seven-years of success in the Eastern Conference under the reign King James, Cleveland has been left with an empty throne. The Cavaliers need to face the facts: this team was built around LeBron James and now that he is with the Heat, the Cavaliers need to move on. Luckily, they did a sign-and-trade with the Heat for James, giving them two first and two second round draft picks in the next five years. Now, the Cavaliers need to use their plethora of picks to get a decent return on their mostly unappealing trade pieces, especially now that Anderson Varejao is out for the season.
Appeasing a Grumpy Grizzly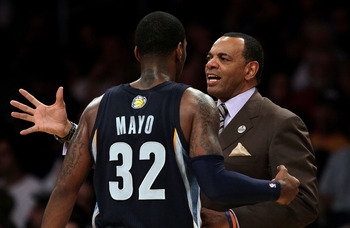 Jeff Gross/Getty Images
Cleveland Cavaliers trade a first and second round pick from Miami for OJ Mayo.
Why it works: Cleveland needs some star power. OJ Mayo is a former number 3 pick who is currently in Coach Lionel Hollins's doghouse behind rookie Xavier Henry. Memphis wants to part with Mayo, and two picks should be more than enough for the Grizzlies to part with their sharpshooter. Cleveland gets a significant upgrade over OJ Mayo and get back on the right track after the Lebron James debacle.
Charlotte Bobcats
Streeter Lecka/Getty Images
The Bobcats have struggled since joining the league in 2004. Last season, defensive dynamo Gerald Wallace and SG Captain Jack led the Bobcats to the playoffs for the first time in franchise history, but the Bobcats have struggled out of the gate this year, and head coach Larry Brown resigned after a 9-19 start. CEO Michael Jordan wants this team to succeed. His competitive nature will spur him to any means to make this team succeed. Therefore, nobody should be surprised if the Jordan decides to blow up this team and rebuild.
A Jack and a Pair of Kings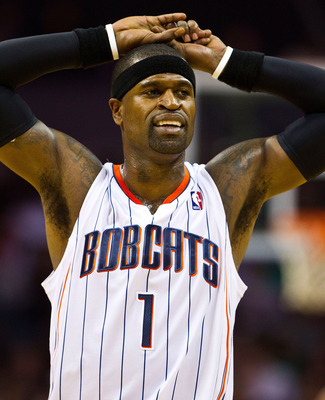 Brian A. Westerholt/Getty Images
Charlotte Bobcats trade SG Stephen Jackson to Sacramento for Omri Casspi and Jason Thompson.
Why it works: A good start in rebuilding for the Bobacts would be trading a proven veteran player for some young talent. Jason Thompson has become lost in Paul Westphal's rotation of big men, and Sacramento would most likely part with Thompson. While Casspi is beloved in Sacramento and a good piece for this team, a backcourt of Tyreke Evans and Stephen Jackson would be one of the better tandems in the league, giving the Kings a good base on which to build.
Keep Reading