NBA MVP Rankings: LeBron James, Chris Paul And Rose Lead The Top 10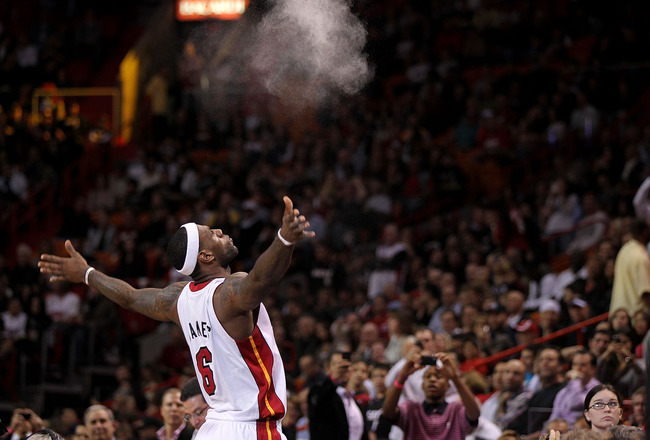 Mike Ehrmann/Getty Images
Lebron James has won the MVP for the past two years running but his summer move to Miami convinced us that he no longer had a chance at winning a Third Straight. That has partly changed because his play of late has been superb and he has had some memorable performances of late (44 points against POR) .Many players have risen to the occasion over the past few games (Kevin Durant game winner against the Knicks) and put themselves in prime position to win the award. As of now, the honor of Most Valuable Player is still completely up for grabs because Wade and Lebron being on the same team will definitely be talked about poorly among voters.
There is no clear cut MVP on the Celtics, Ginobili's stats are not good enough to win, Kobe is not his usual self and Amare Stoudemire's team is not good enough to give him the title that easily. Because of this, there is heavy debate as to who will win the award and anyone can win. Derrick Rose, Dirk Nowitzki and Chris Paul all are having stellar seasons and have to be considered the favorites along with the King and Dwight Howard. With that in mind, here our my Top Ten Candidates as of now. The Criteria are as follows.
Must be on a winning team
Team Must be in Playoff Position
Has to be in the Top 2 on his team in Scoring.
Must Score at least 20PPG or be in the Top 5 in the league in RPG or APG.
Must have missed no more than 10 games.
Must shoot above 50% from the Free throw line and above 40% from the field.
Honorable Mentions
Blake Griffin, Los Angeles Clippers: 22.8PPG, 12.9RPG, 52.2%FG
Why he is not in the Top Ten: The Clippers record (17-26) isn't good enough yet for him to receive serious consideration.
Kevin Love, Minnesota Timberwolves: 21.3PPG, 15.6RPG, 87.4%FT, 43,7% 3PFG, 46.6%FG.
Why he is not in the Top Ten: Like Griffin, he is a dominant big man on a bad team. There record (10-33) is just to poor to have him in the MVP discussion. If Love was on a playoff team he would easily be in the top 3.
Manu Ginobili, San Antonio Spurs: 43.1%FG, 18.5PPG, 4.8APG, 88.1%FT, 35.4% 3PFG.
Why he is not in the Top Ten: It's simple. his numbers aren't flattering and he isn't that far ahead of the rest of the team statistically. In Miami, Wade and Lebron share the possessions but they still take the bulk of the teams plays where as in SA there production is much more evenly spread out. A player who isn't scoring 20PPG or in the top 5 in RPG or APG can not be considered for an MVP.
Russel Westbrook, Oklahoma City Thunder: 22.7PPG, 8.3APG, 5.0RPG, 43.7%FG, 85.8%FT.
Why he is not in the Top Ten: Although his numbers are staggering, he is still not the go-to guy on his team and his 3 Point FG % (24.4%) is glaringly bad for a point guard. He could easily be in the MVP discussion later on in the year if his play continues.
Rajon Rondo, Boston Celtics: 13.0APG, 10.5PPG, 2.4SPG, 51.7%FG.
Why he is not in the Top Ten: His assists numbers are phenomenal but it is hard to ignore his low scoring and the fact that he has 3 potential all stars on his team. Also, his free throw percentage (47.1%) and three point percentage (24.9%) are absolutely horrendous for a point guard. I can't see a player who shoots less than 50% from the line winning the Most Valuable Player Award.
10. Kevin Durant
Positive Stats: 28.3PPG, 88.7%FT, 46.6%FG
Negative Stats: 6.3RPG, 32.8 %3PFG, 2.9APG, 1.0BPG, 3.2 Turnovers Per Game.
Team Record: 28-15 (3rd in West)
Team Record When Playing: 25-14
Team Record When Injured: 3-1
I will be the first person to admit that Kevin Durant is a superstar and that in a few years he will be in the discussion for MVP annually, but this is not the year. When you look at his overall body of work and his teams record, everything looks quite good. But is hard to ignore the relatively low rebounding numbers; especially when Lebron is out-rebounding him and dishing out 7 assists a night. The turnovers are a mild concern but a glaring weakness is that his team is 3-1 without him. Granted, that is not enough games to make it a key point but it does show that they are capable of playing without him .
This list is all about people moving up and people moving down and one of the main reasons he sneaks into this list is that he had a buzzer beating three against the Knicks this week to win OKC the game 101-98 and that's what MVPs are supposed to do. He is also shooting 49% in his last 10 games and is leading the league in scoring. Westbrook is starting to emerge as a star in this league which will lose Durant some votes. Overall, it looks like Durant, the preseason MVP favorite, will not be the MVP this year.
9. Kobe Bryant
Positive Stats: 25.0PPG, 4.8APG, 81.7% FT, 45.8% FG,
Negative Stats: 31.2% 3PFG, 5.1RPG, 2.9 Turnovers Per Game. 0.1BPG
Team Record: 32-13 (Second in West)
Team Record When Playing: 32-13
Team Record When Injured: Has not missed a game.
Notes: Kobe is first in usage percentage at 34.3 making his numbers a little less appealing. He is only third in field goals made which is on course with the fact that he is third in field goals attempted. Kobe's shooting percentage still isn't as good as it could be and his 3 point percentage is poor. He also has not had as many clutch performances so far this year but part of that is due to the fact that Gasol and Odom are taking on bigger roles this year which is healthy for the team.
He does rank fifth in the league in PER and he has the most points in the league at the moment. One of the other main reasons he makes the cut on this list is simple: He is the best player on the two time defending champions who are also one of the best teams in the league this year and that cannot be ignored because he is clearly the leader and most talented player on that team (as apposed to San Antonio where Manu Ginobili is not as far ahead of the pack as Kobe is). Keep in mind that Kobe is shooting 52% in his last 10 games which is a big improvement from his 46% on the year. Kobe's chances for a second MVP are slim to none this year unless his numbers go up rapidly.
8. Dwyane Wade
Positive Stats: 25.1PPG, 6.5RPG,48.9%FG, 1.4SPG
Negative Stats: 30.6 %3PFG, 74.2%FT, 4.2APG, 3.0 Turnovers Per Game
Team Record: 31-13 (2nd in East)
Team Record When Playing: 29-12
Team Record When Injured-2-1
Notes: Although Wade is injured now, he is still a serious candidate for MVP. It is difficult to make a case for two players on one team to be MVP candidates but if Miami can get back on track in the East it will be hard to overlook. At the moment, Wade and Bosh are both carrying injuries which is preventing the Heat from being at full strength. Once they get all their players back, and the Heat will go back to their winning ways, Wade will once again be in the MVP discussion. Before Wade got injured, he averaged 29PPG and 6.6RPG in his last 10 games.
Wade is 3rd in the League in Per at 25.4 which is exactly the type of player Miami needed him to be. He is also 4th in the League in Win Shares at 6.9. Combine this with the fact that Lebron is 3rd in the League in Win Shares and it proves that two MVP's can coexist on one team. If Wade can focus on being more of a threat from the free throw line and 3 point line in the second half of the season then he will definitely be in the MVP discussion come playoff time.
7. Deron Williams

These top 20 plays are sure to entertain any reader.

Positive Stats: 21.7PPG, 45.7%FG, 37.3%3PFG, 85.7%FT, 9.5APG
Negative Stats: 3.4 Turnovers Per Game, 1.2SPG.
Team Record: 27-17 (6th in West)
Team Record When Playing: 27-17
Team Record When Injured: Has not missed a game.
Deron Williams is 2nd in the league in Offensive Win Shares at 5.7. Deron, like Dirk Nowitzki, has extremely consistent numbers across the board in terms of Points, Assists and shooting. His 1.2SPG are decent enough for a point guard. The problem with Deron Williams is that the Jazz have lost 4 straight and he is currently not even the best player at his position as Derrick Rose and Chris Paul are both having spectacular seasons. Williams only averaged 18.25PPG during the Jazz's 4 losses this week.But all is not lost for his MVP hopes.
The Jazz are sixth in the conference but are still less than 2 games out of 3rd place and it looks like anything could happen out West. All Deron needs to do is keep playing with the same consistency he has shown in the first half of the season and start dishing out a few more assists.
25 of 27 games 8 or more assists.
6. Amare Stoudemire
Positive Stats: 26.0 PPG, 9.0 RPG, 49.8%FG, 2.3BPG
Negative Stats: 3.53 Turnovers PG, 1.0 APG, 77.9 FT%
Team Record: 22-21 (6th in East)
Team Record When Playing: 22-21
Team Record When Injured: Has not missed a game.
Unlike most people, I am not jumping on the Amare Stoudemire for MVP bandwagon. The simple reason is that his team isn't good enough and he is not rebounding as much as he should considering his position and his leaping ability. His 26.0PPG and 2.3BPG are extremely impressive and he is even shooting at a high percentage. He is 1st in the league in field goals and 2nd in PPG so I am definitely agreeing that he has revitalized the Knicks franchise but not enough to garner serious MVP consideration.
Remember in 2009 when Dwyane Wade come back from injury to carry the Heat to playoffs? Wade averaged 30.2PPG, the Heat were 4 games over .500 and he still didn't have a serious shot at MVP. The Knicks are only 1 game over .500 at the moment and have lost 6 straight.
Combine this with the fact that Stoudemire is 3rd in the league in turnovers and 4th in the league in personal fouls and it looks like Amare will not be a serious contender for the MVP award this year unless the Knicks can heat up in the second half of the season and Amare starts cutting down on the turnovers and fouls.
5. Dwight Howard
Positive Stats 22.1PPG, 13.3RPG, 2.2BPG, 57%FG
Negative Stats: 1.2APG, 58.7%FT, 3.5 Turnovers Per Game
Team Record: 29-15 (4th in East)
Team Record When Playing: 28-14
Team Record When Injured: 1-1
Howard is second in the league in Defensive Rating at 94.9 and first in the league in estimated defensive win shares at 3.7. The Magic were 3-1 this week as Dwight Howard averaged 26PPG and 14.25RPG in 4 games. What is more impressive is that he only played more than 31 minutes in 1 of those 4 games. The Magic are starting to make a charge in the East ever since their blockbuster trade and Dwight Howard's play has only benefited from it.
It is hard for Centers to win the award but he has a slim chance to become the first center to do it since Shaquille O'Neal in 2000. I wouldn't count on it, although I do think he will win an MVP at some point in his career, just not this year.
4. Dirk Nowitzki.
Positive Stats: 23.4PPG, 87.9FT%, 52.2FG%, 38.6 3PFG%
Negative Stats: 7.1 RPG, 0.7BPG.
Team Record: 28-15 (4th in West)
Team Record When Playing: 26-8
Team Record When Injured: 2-7
Although Dirks Numbers are impressive, it is important to look at Dallas's record without their superstar. This is a top 4 team in the West that is a mere 2-7 when he is injured. That shows just how valuable he is to this team. His shooting numbers are all quite high this year and he has the Mavericks in prime position to make a playoff run. The only knack on Nowitzki would be that he still is not rebounding enough for a 7 footer.
Nowitzki could be a contender for the MVP award late in the year if he can keep these numbers up, get some more rebounds and if the Mavericks can get a little higher in the standings. At the moment it is still a bit out of reach but there is still no reason to write him off. With Caron Butler injured, Nowitzki is going to have to play an even greater role than he already does on the team and it will be a test of how valuable he is to this playoff team. Dirk, an MVP himself in 2007, is shooting a career best field goal percentage and if his play keeps up the Mavericks could be poised for a playoff run.
3.Derrick Rose
Positive Stats: 24.7PPG, 8.0APG, 81FT%, 44.8FG%, 37.9 3PFG%
Negative Stats: 4.7RPG, 3.53Turnovers PG, 1.1SPG
Team Record: 30-14
Team Record When Playing: 30-13
Team Record When Injured: 0-1
Rose has Chicago sitting pretty at 3rd in the East. He is the only player in the NBA to be in the Top 10 in 2 of 3 major statistical categories (PPG, APG, RPG). He has also shown that killer instinct to work on his game during the summer immensely. He has Improved his 3 point percentage from 26.7% to 37.9%. Even with Joakim Noah out, the Bulls are still playing well and they are ahead of Orlando in the standings, something that would not have been predicted by the analysts at the start of the year.
Apart from missing a free throw at the buzzer earlier this year,he has been quite clutch this year. The video above is one example of his play in big games this year. He outplayed Dwyane Wade and cemented his status as one of the clutch players in this league. He is already on pace to start in the All-Star game and if he continues this play the young player could earn his first MVP award.
2. Chris Paul
Positive Stats : 16.2PPG, 9.6APG, 89.5%FT, 46.9 3P%FG, 47.8%FG, 2.7SPG
Negative Stats: 4.1RPG
Team Record: 29-16 (5th in West)
Team Record When Playing: 29-16
Team Record When Injured: Has not missed a game.
Paul's low scoring numbers are easily overshadowed by his overall play. New Orleans have won 8 straight and the New Orleans point guard has orchestrated this streak with his distribution and his superb shooting of late. It was hard to find a negative stat about him (4.1RPG is pretty high for his position). He is shooting immensely well from the 3 point line, the free throw line and in general. He leads the the league in estimated win shares at 9.2 and is second in the league in PER at 25.5.
If that's not enough, he is first in the league in steals and 3rd in the league in Assists. If Paul can continue to catapult this Hornets team higher in the standings, he is sure to be one of the favorites for the MVP award.
1. Lebron James
Positive Stats : 25.9PPG, 7.2RPG, 7.2APG, 47.8%FG, 35.8% 3PFG
Negative Stats: 3.7 Turnovers Per Game, 76.6FT%, 0.4BPG
Team Record: 31-13 (2nd in East.
Team Record When Playing: 29-11
Team Record When Injured: 0-2
Although most people don't view Lebron James as an MVP candidate this year, I believe he is still the favorite in what quite frankly is a wide open race. It is easy to put in a highlight mix of chase down blocks and reverse dunks on this side but instead I think it is more important to show you one of his dominant performances in a big game (44/13/6). Another example of Lebron putting the team on his back in a big game is the 27points, 11 rebounds and 10 assists performance he had against the Lakers on Christmas days. His numbers are starting to get back to where they were in Cleveland and he is doing it more efficiently than ever.
He led Miami to a win in 21 of 22 straight games this year at one point and he is first in the league in Player Efficiency Rating at 26.1 and 3rd in the league in Estimated win shares at 7.6. The Cavaliers last year had 61 wins during the regular season which was the most in the entire league. This year, at 8-35, they have the least wins in the entire league. That says something about the talent of Lebron James.
Lebron has really upped his numbers recently. In December and January Lebron is averaging 27.5 Points, 8.3 Assists and 6.75 Rebounds. If Lebron can keep up this play and Miami finishes first in the East, Voters will start to reconsider him as an MVP candidate.
Keep Reading

Miami Heat: Like this team?