Steve Nash: 10 Reasons He Could Lift the Rockets Into the Playoffs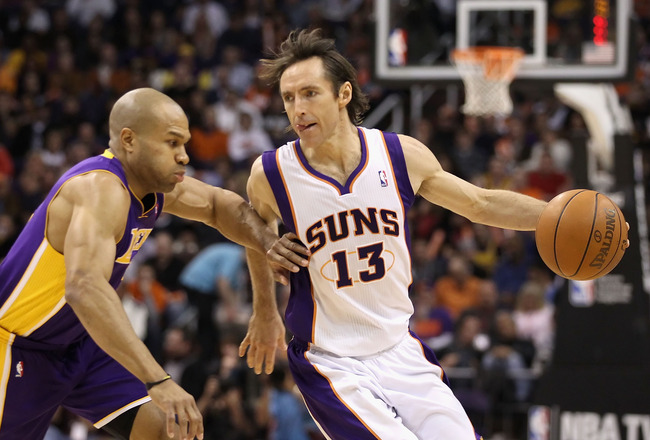 Christian Petersen/Getty Images
With the Phoenix Suns dropping like rocks in the Western Conference, it might be time to pack it in and start looking to rebuild the roster without Steve Nash.
If the Suns shipped Nash to the Rockets, it could be the missing piece for Houston to move back into playoff contention.
With plenty of teams that would like to have the point guard on their roster, Houston has the draft picks to make it worthwhile for Phoenix.
Here are 10 reasons that the move for Nash would be just what Houston needs.
10. Rockets Need an Upgrade at Point Guard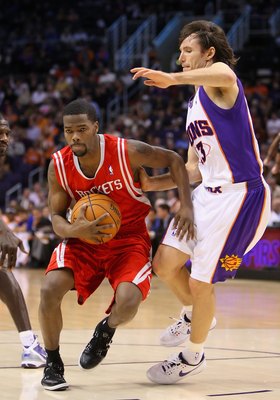 Christian Petersen/Getty Images
The top two point guards on the 2010-11 Houston Rockets are Kyle Lowry and Aaron Brooks. Not exactly the best guards in the league.
Steve Nash would be a great upgrade over both of those guys.
Point guard is one of the areas of weakness for the Rockets and Nash is not a weakness.
9. Rockets Lacking an Identity
Bob Levey/Getty Images
The Houston Rockets are an NBA team without direction. Nearly every great team does something better than anyone else. These Rockets are just a blob of guys.
When they had a healthy Yao Ming, they had one of the best big men in the NBA. When they had Ron Artest, they were tougher than nearly anybody.
Adding Nash would help give the Rockets an identity.
8. Nash Fits an Unselfish Houston Roster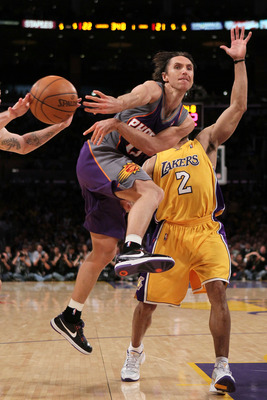 Stephen Dunn/Getty Images
Year in and year out, Steve Nash is right around the top of the league in assists. He has averaged 10 or more assists in six of the last seven years in the league.
His addition would be great for a team that is second in the NBA in assists per game. His pass-first mentality is already instilled in the Rockets fabric, and he would help make them one of the best passing teams in the league.
7. Nash and Kevin Martin: A Deadly Backcourt
Ezra Shaw/Getty Images
Right now on the Suns roster, Nash doesn't have a player that can carry the load playing alongside Steve Nash.
Vince Carter? Are you kidding me? Just wait a few weeks before he has a hamstring pull that keeps him out for six weeks.
On the Rockets, Nash would be playing alongside Kevin Martin, who might be the most underrated player in the NBA.
Teamed with Martin, Nash would be able to lighten his scoring load and he would have a guy that would be an offensive weapon to pass to on offense.
6. Nash Is Still a Mismatch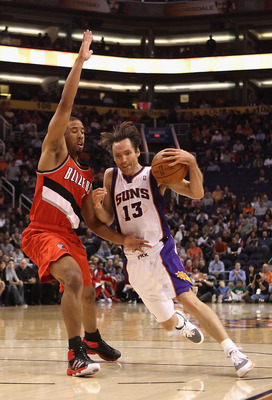 Christian Petersen/Getty Images
Steve Nash may be 36 years old, he may have lost a step of speed, but he is still one of the best point guards in the NBA and he creates a mismatch.
There are probably seven NBA point guards that can match up with Nash.
If he were playing for Houston, I think that number might even shrink simply because of the number of weapons Houston has.
5. Nash Helps in Close Games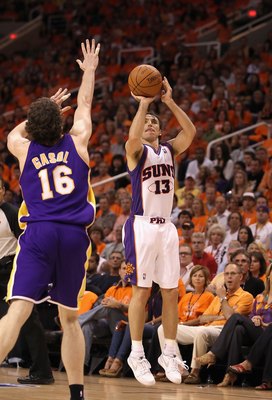 Christian Petersen/Getty Images
This year, the Rockers are 2-5 in games decided by three points or less. Games like that are won and loss by turnovers, free throws and good decisions.
Steve Nash is among the best in the league in those areas. He always finds the open man, he doesn't turn the ball over, and he is one of the best free throw shooters in the NBA.
In close games, Nash would be a great help for the Rockets, who need a stabilizing force.
4. Run-and-Gun Rockets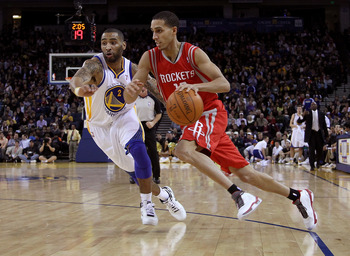 Ezra Shaw/Getty Images
Adding Steve Nash to the Rockets would turn them into a transition monster. Just picture Steve Nash with Kevin Martin on one side ready to pull up on an open three and Chase Budinger on the other side streaking to the hoop for the lob.
That group would be fantastic running the fast break. They might have a tough time on defense, but they would kill teams on the break.
3. Nash and Scola Pick-and-Roll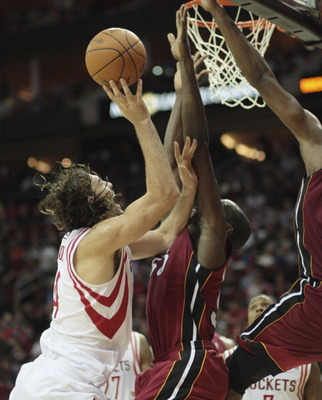 Bob Levey/Getty Images
Teams that make the playoffs do one thing great and something else good enough.
If Nash went to the Rockets, they would be able to run with the best of them, but they could also be a great pick-and-roll team with Luis Scola.
Scola is big guy that could not only get to the basket, but he can also shoot a nice mid-range jumper. Scola isn't Amare Stoudemire, but he is better than anyone Phoenix has right now, so Nash would thrive in Houston.
2. Makes Players Better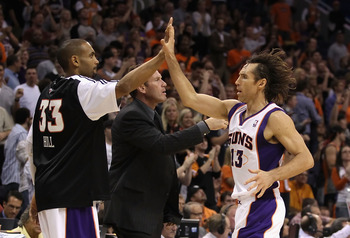 Christian Petersen/Getty Images
It might be a cliche, but Steve Nash makes players better.
His teammates love playing with him and he loves the camaraderie of playing with other guys. If he went to Houston, he would make that team better immediately.
According to the NBA trade machine, Steve Nash is worth between eight and 13 wins.
1. Nash Makes the Playoffs Nearly Every Year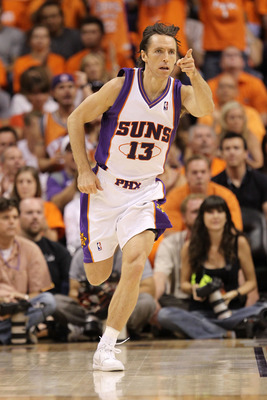 Ronald Martinez/Getty Images
Steve Nash has been in the NBA for 14 seasons. He has made the playoffs 11 of those years, including nine of the last 10 seasons.
Last year, the Suns were considered over the hill and unlikely to make the playoffs. However, they made it all the way to the Western Conference finals, where they lost to the Lakers in six games.
If Nash is traded to Houston, they are a lock to make the playoffs.
Keep Reading

Phoenix Suns: Like this team?