NBA Fantasy Basketball Early Review: Boston Celtics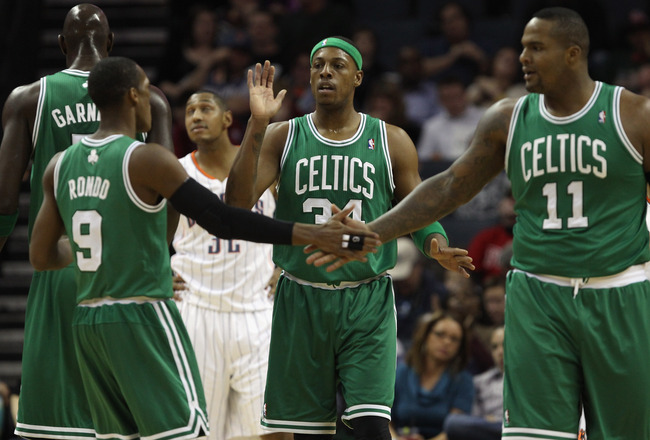 Streeter Lecka/Getty Images
Sitting comfortably atop of the Eastern Conference, don't look for Boston to change its winning formula just yet. That is until someone on The Big Three finally breaks down.

Paul Pierce's stats this season (18.2 PPG, 3.4 assists, 5.0 rebounds) are marginally better to what he averaged last season (18.3 PPG, 3.1 assists, 4.4 rebounds). A plus for Pierce owners is his turnover average, which this season has been only 1.8/game (down half a turnover from last year). Pierce has remained relatively healthy the last three seasons (only 13 regular season games missed), so look for him to put up steady numbers.

Kevin Garnett is no longer an elite force that he once was, however, having him on your team won't hurt you unless Garnett gets injured. The last two full seasons Garnett has missed a total of 38 games. A major plus is Garnett will actually help you with steals. He's averaging 1.7 this season and in doing so he is the only power forward/center in the top 20 in this category. And as always Garnett is pulling down a strong 9.9 rebounds a game.

Ray Allen is still filling up the stat sheet at the ripe old age of 35. Ray is shooting 49 percent from the field and just a notch below 43 percent from beyond the three point line. Allen's free-throw percentage has dipped slightly below 90 percent, but with more than half a season yet to be played, he will most likely go over 90 percent again. Don't expect Allen's three point percentage to stay above 43 percent for long as he has only shot above that percentage twice in his career and those seasons were nearly a decade ago.

A note should be made about the play of Shaquille O'Neal, who is averaging 11.3 PPG in 22.3 minutes. While O'Neal is a decent pick up if you need a temporary fill in at the center spot, take into consideration that he has only played in 18 out of 27 games this season and just 53 games last season for Cleveland. O'Neal's number will drop as soon as Kendrick Perkins makes his return. Big Shaq Daddy will not hurt you anywhere besides free throw shooting, but he should only be owned in deeper leagues.

Overwhelming odds dictate that Kendrick Perkins is probably a free agent in your fantasy league, as he's rehabbing a knee injury suffered in Game Six of last year's NBA Finals. If I were you, I would keep my eye on him or better yet, if you have an Injured Reserve spot in your league, I would stash him away until then. It will take a little time for him to get back into game shape, but Perkins should get plenty of playing time post All-Star Break as the Celtics will most likely look to rest Garnett and O'Neal for the playoffs.

Last year Perkins played only 27.6 minutes per game, while averaging 10.1 PPG, 7.6 rebounds and 1.7 blocks in 78 games. Kevin Garnett had averaged 14.3 PPG, 7.3 rebounds and 0.8 blocks in 69 games. Compare Garnett's and Perkins' 2009-10 per 36 minute averages and it turns out that Garnett and Perkins are closer than you would think. However, Perkins is outhustling Garnett on the boards and when contesting opponents shots, he's +1.1 in rebounds and +1.2 in blocks. Garnett did outscore Perkins by +4.1, but this is more to do with Garnett putting up 4.8 more shots. Kevin Garnett is a dinosaur in NBA years and Perkins will be right there to pick up the slack.

Nate Robinson has been disappointing so far this season. Little Nate is only averaging 8.8 PPG, even considering that he works primarily with Boston's second unit. In seven games started he's averaging 15.3 PPG, 4.7 assists and shooting 54 percent (50 percent from beyond the arc). As the leader of the Celtics' second unit Robinson should be averaging around 11 PPG and 3 assists instead of 5.9 PPG and 1.7 assists. Hopefully the return of Delonte West will be helpful to Robinson.

Consider adding Nate Robinson while Rajon Rondo is out with an injured wrist based on the aforementioned stats as a starter. But consider dropping him if he continues to slump while coming off the bench.

Glen "Big Baby" Davis is as solid of a bench player that you can have on your roster. And this is probably because he's playing more minutes than Boston's starting center, Shaq, in 18 games this season. Like Shaq though he's another casualty of Kendrick Perkins' return.

What more can you ask of Rajon Rondo when he's leading the league in assists besides averaging 11.2 PPG? You can certainly ask him to turn the ball over a little less than his current rate of 4.2 per game, but this is the trade off for his 3.31 assist to turnover ratio (5th best in the league). While he's super in one aspect of basketball, he is awful when it comes to free throw and three point percentages, 43 percent and 31 percent respectively. Thus, you will need to have help in those categories to counteract Rondo's woes.

(stats as of 12/23/2010 From www.espn.com & www.basketball-reference.com)


Written by Artem "Professor Dunk" Altman exclusively for the www.thefantasyfix.com You can follow Artem on Twitter @ProfessorDunk
Follow The Fantasy Fix on Twitter @thefantasyfix, or for Free Fantasy Sports Advice use our Quick Fix to get help with your team!
This article is
What is the duplicate article?
Why is this article offensive?
Where is this article plagiarized from?
Why is this article poorly edited?

Boston Celtics: Like this team?