NBA Power Rankings After Debut of Miami Heat, L.A. Lakers and Boston Celtics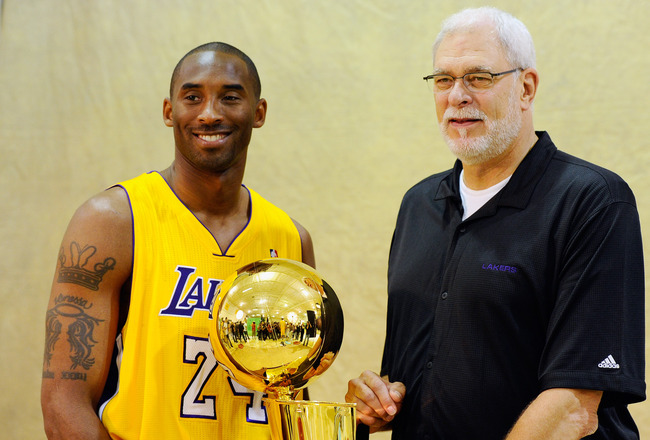 This should be the scene again come mid-June of 2011
Kevork Djansezian/Getty Images
Here is a look at the NBA Power Rankings after seeing the Heat, Lakers and Celtics debut last night.
Hard to believe the NBA season is already upon us. Seems it was quite a summer of activity for mostly the wrong reasons following the Lakers' second-consecutive title.
Count me among the doubters that the Miami Heat will ascend to the throne as the supreme team in the league. They showed some mettle tonight trying to come back from a huge deficit in Boston but still came up short.
There are too many question marks with the team and its chemistry—or lack thereof. Talent will only take you so far, and since most of this team was thrown together, I'm very curious how fast it will gel.
On paper, it looks like LeBron, Dwyane and Bosh are the team to beat. And I'm sure they will continue to be the talk of the league, but let's not get too ahead of ourselves.
The Lakers are still the team to beat. Judging from that comeback win against Houston tonight, they are still pretty hungry.
I'll go ahead and make the prediction that Miami won't make it out of the East. I really like Boston and Orlando for very different reasons.
As much as I love Kevin Durant as a player, Oklahoma City still needs to win a playoff series for me to believe in them.
But enough of the season predictions. Let's check out the first of my NBA Power Rankings.
Bringing Up the Rear
Gregory Shamus/Getty Images
No. 30 New Jersey Nets: Missed out on LeBron and others this summer but have a rich new owner who probably isn't afraid to spend some coins to bring in talent. Still will be a long season.
No. 29 Toronto Raptors: Going to be a long season north of the border after Chris Bosh bolted for a warmer climate.
No. 28: Minnesota Timberwolves: Poster child for one of the worst-run professional franchises in sports at the moment. Still waiting for Ricky Rubio.
No. 27: Sacramento Kings: Good young talent in Tyreke Evans and DeMarcus Cousins. Key word there being young.
No. 26: Detroit Pistons: Don't seem to have much of a presence down low, and Rip Hamilton isn't getting any younger.
No. 25: Indiana Pacers: Danny Granger is one of the most underrated players in the league, but his supporting cast isn't much help.
No 24: Golden State Warriors: Capable of putting up tons of points but not capable of stopping the other team from doing the same. Keith Smart takes over for Don Nelson as coach, which may change the style of play a little bit.
No. 23: Cleveland Cavaliers: "The Decision" didn't exactly leave Cleveland's cupboard completely bare, but Antawn Jamison and Mo Williams are going to have to play much bigger roles for this team to have success. Byron Scott knows how to get the most out of his point guards.
No. 22: Charlotte Bobcats: Michael Jordan takes over in his first full season as the team's owner, and coach Larry Brown is on his last legs. The Bobcats made the playoffs last season but didn't do too much in the offseason to improve the roster.
No. 21: New York Knicks: Missed out on LeBron. Missed out on Bosh. Did get Stoudemire, which will help build this team into a contender. Is a deal for Carmelo Anthony and/or Chris Paul in the works?
No. 20: Washington Wizards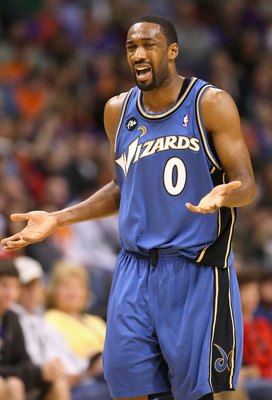 Christian Petersen/Getty Images
Rookie point guard John Wall will have an immediate impact . But will it be enough for the Wizards to contend for a playoff berth?
A lot will depend on Gilbert Arenas and whether or not he can refrain from having another foolish off-the-court debacle like he did last year, when the locker room turned into a flea market-like gun show.
No. 19: Los Angeles Clippers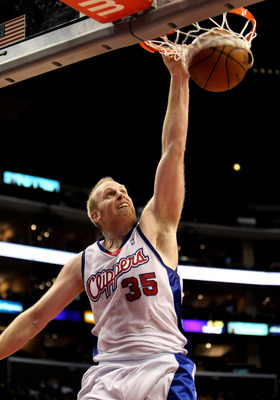 Stephen Dunn/Getty Images
If Blake Griffin is fully recovered from his knee surgery, go ahead and pencil him in for 20 points per game and 10 rebounds per game. He will be the NBA Rookie of the Year.
The Clippers may make some noise in the Western Conference with a solid nucleus that also includes Eric Gordon and Baron Davis. Chris Kaman came into his own last season as well.
Going to be interesting to watch this team.
No. 18: Philadelphia 76ers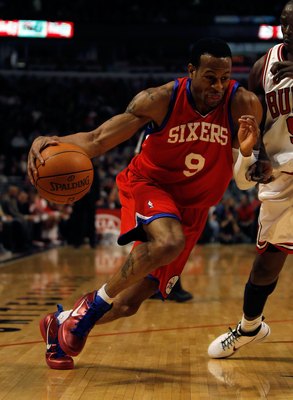 Jonathan Daniel/Getty Images
The young backcourt and how well it meshes will be the key to this team.
Doug Collins returns to the sidelines as the coach. And Jrue Holliday and rookie Evan Turner will be counted on to give Philly fans something to look forward to.
Andre Iguodala has been rock-solid and if Elton Brand can stay healthy, the Sixers can make some noise.
No. 17: Memphis Grizzlies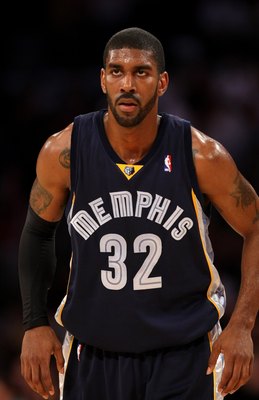 Stephen Dunn/Getty Images
Great young talent in Rudy Gay and O.J. Mayo. And Zach Randolph came into his own last season after averaging over 20 points per game.
Can they secure a playoff berth in the very tough Western Conference?
No. 16 New Orleans Hornets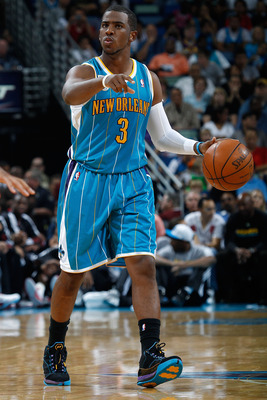 Chris Graythen/Getty Images
Having Chris Paul as your point guard gives you a leg up on a lot of other teams in the league. But the question surrounding the Hornets is this: Will Paul still be wearing a Hornets uniform later this season?
Trade rumors were fluttering over the summer, and with two years remaining on his present deal, he could be shipped out of cash-strapped New Orleans.
He and David West are a solid 1-2 combo which should keep New Orleans alive for a playoff spot.
No. 15: Milwaukee Bucks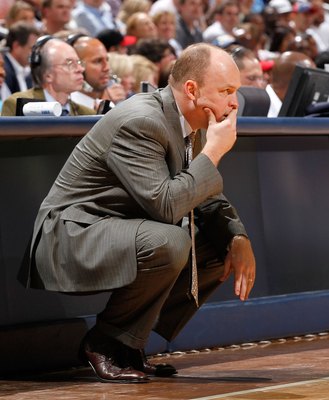 Kevin C. Cox/Getty Images
Scott Skiles is a proven commodity as coach. Andrew Bogut is healthy. Brandon Jennings is blossoming into quite a threat, and Corey Maggette and John Salmons will add some punch.
Very dangerous team that could sneak up and win the Central Division.
No. 14: Utah Jazz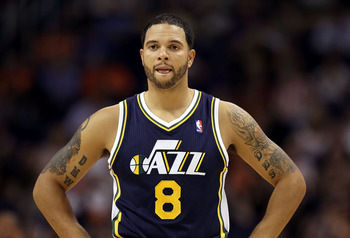 Christian Petersen/Getty Images
Deron Williams is probably the most under-appreciated player in the league. Carlos Boozer and Kyle Korver departed Salt Lake City for the "Windy City," which will hurt.
Utah made a great move on draft night by getting NCAA-darling Gordon Hayward. But can he step right in and produce in a significant way?
No. 13: Phoenix Suns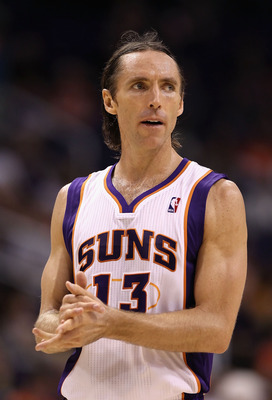 Christian Petersen/Getty Images
Steve Nash has already gone on record to say he didn't think his team was going to be all that good this season.
I'm not buying that.
Even with Amare Stoudemire bolting for more money in New York, Nash still has enough will-power and talent surrounding him to work with.
No. 12: Denver Nuggets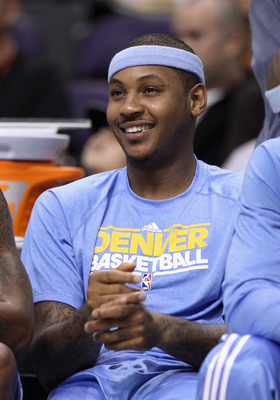 Christian Petersen/Getty Images
If Carmelo Anthony stays for the duration of the season, which is a major if at this point, then the Nuggets will return as a low-seed to the Western Conference playoffs. Without a legitimately-dangerous running mate, that is probably the ceiling for the Nuggets.
Will the front office trade for a talented second option or settle for an early-round playoff exit?
No. 11: Atlanta Hawks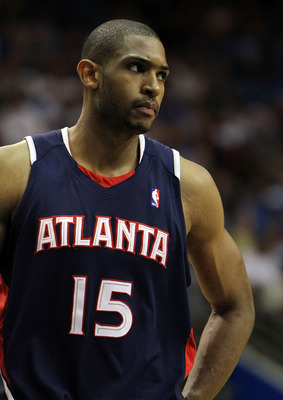 Doug Benc/Getty Images
Joe Johnson didn't bolt in free agency and now has to have a monster year to match his monster contract.
Al Horford has been solid, and Josh Smith is as exciting as it gets.
The Hawks made a lot of noise in the playoffs last season and are hungry for more.
No. 10: Houston Rockets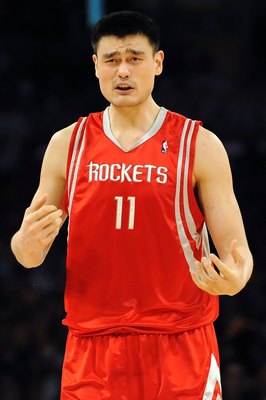 Harry How/Getty Images
Yao Ming is healthy again. Luis Scola has come into his own. Aaron Brooks and Kevin Martin are unheralded scorers who carried Houston last season.
This is a very dangerous team that no one in the Western Conference wants to see come playoff time.
Can they avoid an early-season funk?
No. 9: Oklahoma City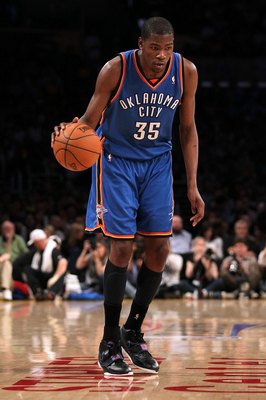 Stephen Dunn/Getty Images
Kevin Durant, Russell Westbrook and Jeff Green may be the most exciting young nucleus of players in the league.
After giving the Lakers all they could handle in the first round of the playoffs last season, OKC seems to be everybody's darling this season.
Durant will have another monster year, but it still won't be quite enough.
No. 8: Portland Trail Blazers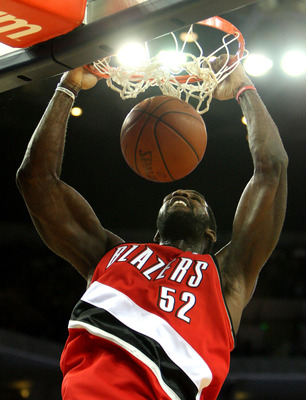 Jed Jacobsohn/Getty Images
Brandon Roy is an enormous talent. LaMarcus Aldridge is a fine complement, and Greg Oden needs to show he is more Patrick Ewing than the second coming of Sam Bowie.
Portland is a scary team that is capable of beating anybody, but can it reach elite status?
No. 7: San Antonio Spurs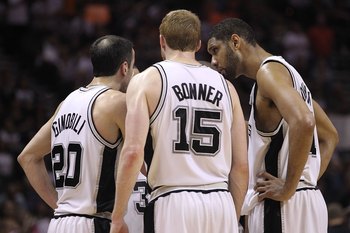 Ronald Martinez/Getty Images
This may very well be the last hurrah for Tim Duncan and Co. Another year on those legs should still be enough to put the Spurs right in the thick of things come playoff time.
Can Richard Jefferson become the player they thought he was going to be last year? And will the addition of Tiago Splitter give them a boost?
No. 6: Chicago Bulls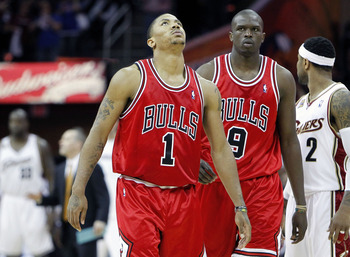 Gregory Shamus/Getty Images
Loaded with young talent, can the Bulls reach their potential this season?
Even with Carlos Boozer injured, the Bulls should still be a major player in the Central Division and in the Eastern Conference.
Derrick Rose immediately became one of the top point guards in the league in his rookie season. And Luol Deng is one of the most versatile players in the game.
I'm not sure they have enough to get past Orlando, Miami or even Boston—but watch out.
No. 5: Dallas Mavericks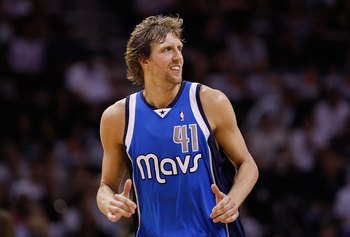 Ronald Martinez/Getty Images
Dirk Nowitzki and company will be back again this year, still itching to get that elusive championship.
Jason Kidd has one more year left in him, and you know Mark Cuban will do whatever it takes to bring a winner to town.
They will be right there with the Lakers once again for Western Conference supremacy.
No. 4: Miami Heat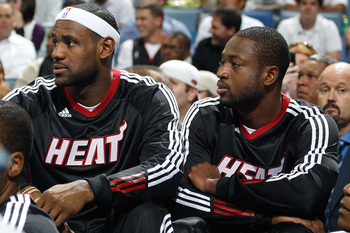 Chris Graythen/Getty Images
Not buying the Heat until I see them play a few games. That being said, any team with that much talent will contend for a title, but I'm not so sure Pat Riley won't be coaching them at some point this season.
Who will be the guy that has to take that clutch shot with the game on the line?
Should the Heat win, it will very closely resemble what Boston did several years ago when it brought in KG and Ray Allen en route to the title.
It might also shape the NBA for years to come.
No. 3: Orlando Magic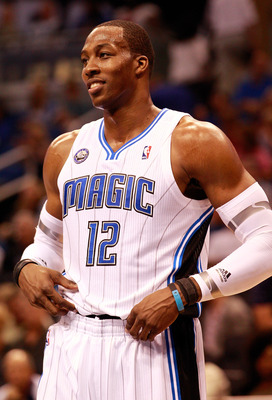 Sam Greenwood/Getty Images
Orlando is one of the most complete teams in the league, but still young. Dwight Howard is one of the best players in the game and has plenty of help.
Do they have enough to get over the hump and back to the finals in the East?
If those fresh legs have anything to do with it, you bet.
No. 2: Boston Celtics
Ronald Martinez/Getty Images
KG is healthy again, Paul Pierce and Ray Allen had the summer to rest, and there's a new guy manning the middle named Shaq.
Yes, the Celtics are a year older. But they have the leadership to make a return trip to the finals.
The season-opening win against Miami was a big confidence boost.
Would things have been different last season had Kendrick Perkins not gotten injured in the playoffs?
No. 1: Los Angeles Lakers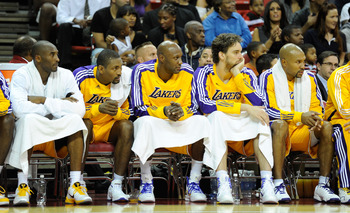 Ethan Miller/Getty Images
The Lakers didn't do anything in the offseason to get worse. As long as they are still the champs, someone is going to have to knock them off their perch.
And Kobe Bryant won't let this team go down without a fight.
Phil Jackson can go ahead and get those "12" hats ready.
Keep Reading