LeBron James Miami Heat: 20 Reasons the Heat Won't Win a Title in 2010-11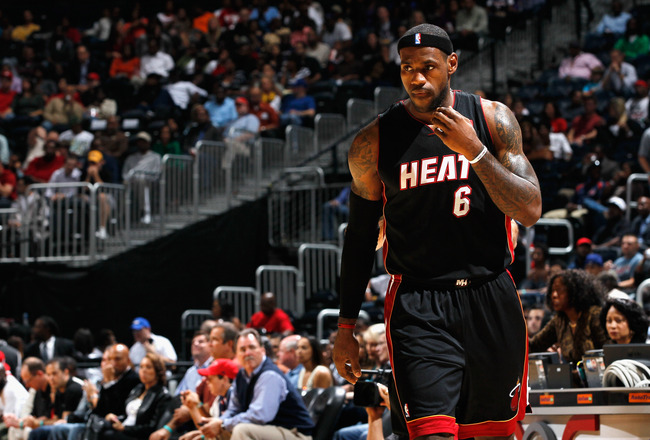 Kevin C. Cox/Getty Images
A lot has been said so far, but nothing is done.
Talks of a dynasty have been ringing in fans' ears all summer long, and now it's time to see if the Miami Heat can deliver. We all know the reasons people think think the Heat will win a championship, let alone multiple. The awful truth for Heat fans, is there is a flip side to every coin. For every reason Heat fans are positive this is their year to start raising banners, I can think of two that they won't.
That's why I'm going to double down (not at KFC), and give you twenty reasons that the Heat will fail to live up to their hype, and win the 2011 NBA championship. Do twenty reasons really exist for this argument?
You bet they do, and none of them involve weapons in the locker room.
20. The "Gel" Factor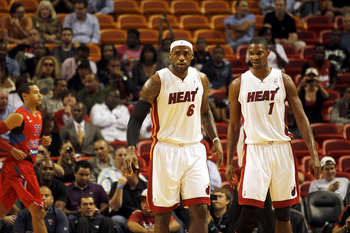 Marc Serota/Getty Images
No, I'm not suggesting that hair product will prevent a banner raising in Miami.
When a new team comes together they always take a considerable time to gel, and to get to know each other's game. This becomes even trickier when two of the new players are big stars. Every one of them is used to playing the game their way, and no amount of preseason games will prove to me that they have figured out how to win together.
People would love to interject here and point out that Boston was able to accomplish this feat in one season back in 2008. Did you also think this?
Of course you did.
That's why with my next slide I'll remind you of a harsh reality.
The truth of the matter is....
19. Boston is the Exception, Not the Rule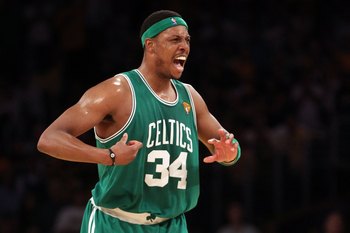 Christian Petersen/Getty Images
That's right, Boston's case was special.
Just like the Miami Heat's All-Stars, the Boston Big Three was also starving for a title. The reason the Heat will have a tough time duplicating Boston's success, is that superstar teams fail a whole lot more than they succeed. Another thing to remember is how deep the Celtics squad was.
Players like James Posey, P.J. Brown and Eddie House all performed amazingly in their roles, something that rarely comes around for any team. The Heat have acquired some good shooters off the bench, but no role player they have has me convinced that they have the depth necessary stay with the leagues best teams.
While everything could magically fall into place for the Heat as they did for Boston, think about how difficult that actually is to bank on.
18. D-Wade Goes Down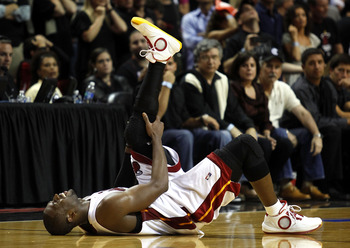 Marc Serota/Getty Images
I don't wish injury upon anyone, even my team's biggest enemies, but it's always possible.
As amazing as Dwyane Wade is, he's also gotten an injury ridden past. There was even a time not too long ago when people wondered if Wade would ever be the same player again because of the severity of his injury. That being said, the chances of Wade getting seriously injured again are higher than you may think.
If the unfortunate where to happen to Dwyane Wade, the Heat would be knocked out faster than Brock Lesner last week.Take away Wade from the Heat squad, and what do you have left?
An amazing superstar (Lebron).
An above average big man (Bosh).
Weak spots at the PG and C position (Chalmers, Anthony).
Starting to sound like the Cavaliers yet?
17. Doesn't Feel Like Home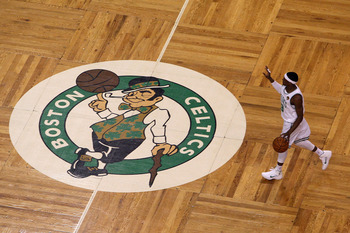 Jim Rogash/Getty Images
No matter how fun your vacation is, their truly is no place like home.
I don't care how well the Heat are playing together. If they fail to lock up home court advantage throughout the entire playoffs, they will not win the title this year. All of the top teams will be gunning for them come postseason time, and new teams tend to lose on the road more than ones that have years of playing together.
The fact of the matter is, the trust will not be there yet. They can say they trust each other until they're blue in the face, but these things take time. Winning on the road in postseason play hinges on how your team responds to the pressure of being down and out. The ability to rise up and come back from big deficits on the road comes from players who know what they can expect from each other.
As talented as the Heat are, they don't have that quality yet. It must be earned.
16. All-Stars, But No Roles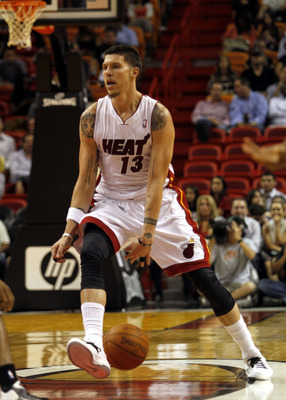 Marc Serota/Getty Images
The Heat are flush with stars these days, but role players are something else entirely.
I'll be the first to say that Mike Miller and Eddie House are a good start, but that can't be all can it? Now that Miller has already gone down for a few months, how much are they left with? How much can you really expect from Carlos Arroyo and Zydrunas Ilgauskas?
Exactly.
Even with Miller the Heat's bench is thinner than Angel Hair pasta. Having Chalmers and Arroyo at the point, and the combo of Joel Anthony and Zydrunas Ilgauskas at the center makes the Heat about as deep as a puddle.
My advice for the Heat? Stay healthy or else.
That, and find some way to eek out another role player via trade.
15. Big Ego's Fall Hard
Kevin C. Cox/Getty Images
While Lebron is currently the only egomaniac on the Heat, don't be surprised if he starts to rub off on the others.
I'm not sure if you've heard some of Wade's interviews since "The King" joined his team, but their starting to sound like his. Man I hope I'm wrong about this, I really do. The next domino that would fall is Chris Bosh. The now timid seeming Bosh has already shown his colors to me, and everyone else.
Remember just a few months ago when he demanded he be the centerpiece in the team he would be traded to? I sure do, and now he's a third option. Now you may say,
"Doesn't that make him humble?"
Maybe, maybe it does. As of now I'm not convinced.
All it tells me is that he's willing to go back on his word, and that there has already been a moment of egomania from him. Anything that happens can be repeated, and Bosh certainly falls into this example. You can bet a buffalo nickel that if he starts to feel unappreciated he's going to let everyone know.
For the Heat to win a title this year, all of their ego's will have to be checked at the door, and that will become increasingly difficult as the games get more important near the end of the season. They cannot win with a divided locker room, history has proven that over and over.
The question is:
How bad do they really want it?
14. Erik Spoelstra's Confidence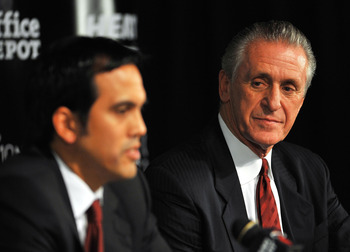 Doug Benc/Getty Images
This is it, Spoelstra has arrived at the big show.
Can he handle it?
While he has proven to be a very intelligent coach up to this point, Pat Riley is waiting in the wings. While I almost never use baseball metaphors, Pat Riley is doing his best Mariano RIvera right now. Miami brass is just waiting for the team to sputter so they can send in their famed closer.
They have put all their eggs in this superstar basket, and they don't want anyone dropping it. What is that going to do to Spoelstra's confidence?
Nothing good, I promise you that.
You can deny that they would replace you.
You can take the refuse to let it bother me approach.
You can act as hard about it as you want.
The truth is that Erik has his own Easter basket next to the band saw right now. If the Heat stumble out of the gate, or fail to meet the seasons expectations, you can expect to see him job hunting shortly thereafter.
Changing coaches mid-season is never a good thing, not even when it's Pat Riley. Coaches teach different approaches to achieve victory, and conflicting messages can only hurt this teams chances of getting the ring.
13. Mario Chalmers? Seriously?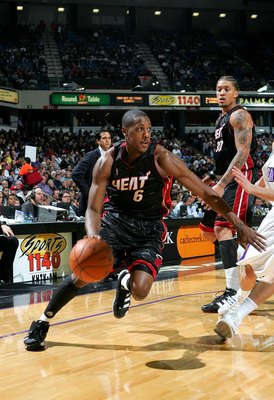 Ezra Shaw/Getty Images
All this chatter about how Lebron and Wade are going to be constantly running the point just needs to end.
You can try to sweep a problem under the rug, but all that does is mask what's really still there. Mario Chalmers is still going to have to match up with someone every night, and if not him it will be Carlos Arroyo. He will still have to defend the leagues best guards, or try to at least.
He will still have to create a certain amount of ball movement and distribution. He will also still have to provide some sort of leadership on the court, and frankly I can't wait to see that.
Guards like Rose, Westbrook, Evans and the rest of the obvious top choices are going to burn him more times than Cleveland did Lebron jerseys. He will end up being a glaring weakness on this team, and it will matter a whole lot more than fans seem to think.
12. Joel Anthony? Oh No.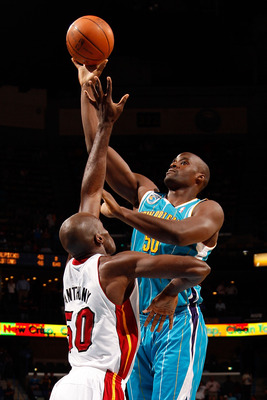 Chris Graythen/Getty Images
Take a good hard look at this picture, it's going to happen all season long.
While Anthony is more than a suitable replacement, he's so far from a starter that he makes Zydrunas Ilgauskas look like Prime Time Shaq. While he's scrappy and all those other terms people say about role players, he's going to get eaten alive by the competition.
They're going to shoot over him, pass over him, back him down, post him up and make the Heat pay with every point. How do you have someone his size as your last line of defense? Sounds like a train wreck waiting to derail.
11. Bosh for the Loss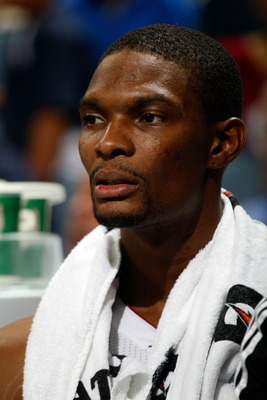 Chris Graythen/Getty Images
It's right there in front of us just waiting to happen folks.
I'm not talking about a last second shot. I'm referring to the whole fracken season.
Bosh has been hyped to be a top-tier superstar like the other two for months now, and he's just waiting to underwhelm us. I promise.
For Heat fans he's undoubtedly this amazing forward who completes the championship puzzle. For realists he will turn in much reduced numbers, and have little to contribute in the clutch.
I would never say he's a bad player, but Chris Bosh is not the answer Miami was looking for. While he will have his moments during the season, I'm quite sure that he will fail to live up to expectations of him being a dominant force.
Sadly, that's what Miami needed.
The two superstars have to rest at some point, and with a depleted bench will need someone to pick up the slack.
Some nights it will be Bosh, and some nights it will be a loss.
10. Lebron Gets His First Major Injury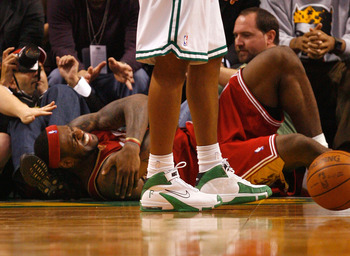 Jim Rogash/Getty Images
Besides the elbow incident, Lebron has been pretty durable so far.
That, my friends, can change at the blink of an eye. If Lebron were to go down with a season ending injury, this Heat team would become luke-warm over night. All of the sudden they're lacking a walking triple double, and it stings.
While it's easy to say "that won't happen", I caution you once more. Lebron riding the bench would equal an early round exit in the post season, and would raise serious questions about this impending "Heat Dynasty."
9. Bosh on the Bench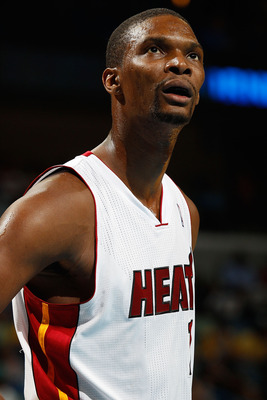 Chris Graythen/Getty Images
You may think that I'm harping on injuries too much now, but hear me out.
If the third option Chris Bosh goes down with a season-ender, the Heat are devastated just the same as if it had been the other two. The reason is not because of his scoring, but because he's the only competent big man on the Heat's roster.
If you lose Bosh, you lose all paint presence, offensive and defensive. Since most games are won and lost in the paint, this is something the Heat cannot afford. Lebron can post up all he wants, but he won't make up for the lack of a true big man.
In simpler terms: No Bosh = No Title
8. The Last Shot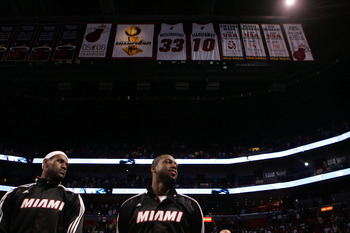 Marc Serota/Getty Images
Lebron James can, and is described as a willing passer.
What I want to know is when the Heat are down by two against the Celtics in this year's playoffs, will he still be willing to pass?
Game winners are not how a coach would like to see the game won, but once in a while they are necessary. They can also mean the difference between moving on, and going home. With two players on the same team that have always taken the last shots, who is going to be the bigger man and differ?
I would say nine out of ten times these guys will make the right decision for the team, but that one time they don't could be a killer. If they choose to ignore their open fellow superstar at the wrong moment of a big game and take a terrible shot, it could cost them everything.
The chances of this killing their season are surely remote, but nothing can be ignored in the quest to build a dynasty.
These two will need to trust the other implicitly, or their greatness could very well cancel each other out.
7. Target Practice
Kevin C. Cox/Getty Images
Hope they are ready to defend themselves this season, because now the target is on their backs, not the Lakers.
Los Angeles has had the privilege of getting everyone's best game the last few years, and now it's the Heat's turn. Every player not on the Miami roster is going to be trying as hard as they can every night to derail their dreams. That's going to make it tough to break the Bulls' best regular season record, and even harder to win an NBA championship.
I do hope they are ready to bring it every night, because their competition will.
The Heat is on indeed.
6. The Magic's Trick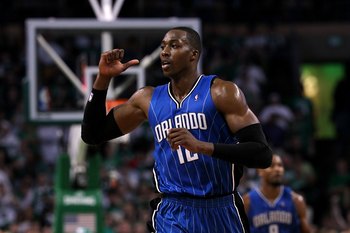 Jim Rogash/Getty Images
The greatest trick the Magic ever pulled, was convincing the league they don't exist.
When the league takes its tiny breaks from hyping the Heat and defending the possibility of a Lakers three-peat, they talk about Kevin Durant. At no time do they mention the Orlando Magic, and it's quite puzzling.
On the plus side of things, the Magic should be happy about this. While everyone else is under hype's magnifying glass, the powerful Magic can fly under the radar and sneak up on people. The Magic could never be called sleepers with their kind of team, but people sure are taking a nice cat nap on them.
The fact is that Dwight Howard is only going to get better for the next few seasons, and his supporting cast already has a trip to the Finals on their resume. Considering also they hold the Heat's kryptonite in Dwight Howard, they could present some of the best competition in the entire Eastern conference.
Wake up people, this team is really good. And they could be the reason the Heat wait another year for a title.
5. The Celtics' Last Stand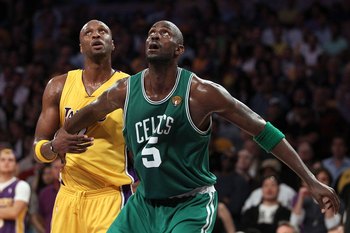 Christian Petersen/Getty Images
It's no secret around the league that the Celtics' recipe for success is close to expiring.
While the Celtics have all their major pieces under contract for at least two more years, you can consider this the final stand. Age is catching up with the "Big Three," and nagging injuries are hindering some of their once amazing abilities as a team.
Rajon Rondo will continue to thrive even after they are gone, but the championship window will be shut for a while after this year.
As far as what Heat fans can expect when they see the Celtics in the playoffs?
Expect the Celtics to be dirty, ruthless and unforgiving. Expect them to not leave a single bullet in the clip, or a dagger three pointer unlaunched. Expect them to be unrelenting in a quest to win what could be many of their last titles. Expect them to be a supercharged version of anything you have seen from them before, because this is their last chance.
When the Heat and Celtics go to battle this postseason, Heat fans can expect the fight of their lives.
4. History Says No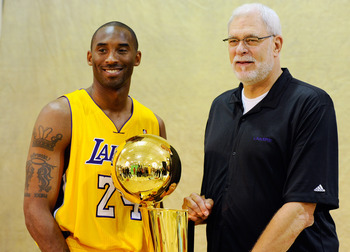 Kevork Djansezian/Getty Images
History has a way of repeating itself.
This year there are a million reasons to discount the Lakers chances at a three-peat, but you only need one to counter them all.
Phil Jackson has never won championships without winning three in a row.
As Ron Burgandy would say:
"It's Science."
I mean, he's done it three times already. He also has two-thirds of a fourth time complete.
Even the biggest hater in the world gets a little uneasy knowing this indisputable truth.
Fight hard Miami, but history has probably already been written this year.
3. Lebron Chokes Again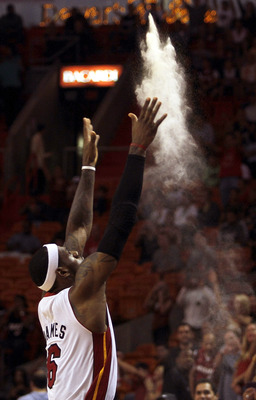 Marc Serota/Getty Images
Seriously, what the heck happened last year against the Celtics?
Don't give that elbow nonsense, because I'm not buying it.
He didn't look like the same player, or much like any player to be frank. Go back, I dare you to watch the tape of those last few games. He doesn't even look interested. Lebron is one heck of a competitor most nights, but something was different about him in that series. It could also happen again, at any time.
If Lebron decides to choke it up, or have some sort of change in perspective in a big game, it could spell the seasons end for Miami.
2. Kobe Has Not Retired Yet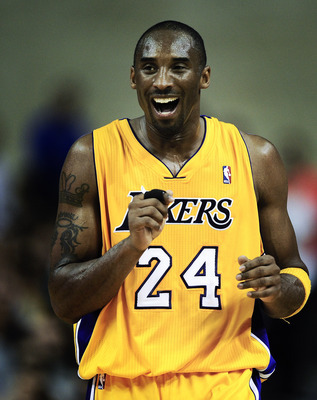 David Ramos/Getty Images
"Did you really forget about me?" -He's thinking here.
Of course you have, but the joke's on you my friend.
I don't care if Kobe has won two straight, five straight, or ten straight, all he wants is the next one.
The dude even said that he never even wears his ring after the ceremony. He just puts it away so he needs another one. That is crazy motivational power right there.
His team is stronger than before, and just once maybe they will all be healthy when the post season arrives.
Scary thought right?
I'll stop here because I know I've lost you already.
You think Kobe is all washed up. He's too old. He's injured, and never getting better.
Of course you do. Yes you.
Just be ready to see him looking like this picture again in June.
1. The Lakers Will Be Waiting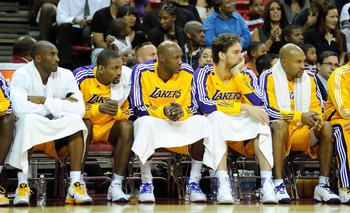 Ethan Miller/Getty Images
So you have arrived Miami.
You avoided major injuries, managed to keep the same coach, beat the Eastern foes and silenced the doubters. Now what do you do?
The Lakers are waiting for you, and they are not nearly as tired as you are after beating the Celtics in a grueling game 7.
What do you do when Gasol and Bynum shove the ball down your throat in the post?
What do you do when Lamar and Artest kill you with their versatility?
What do you do when Matt Barnes punks Lebron James? (which will happen)
What can you say when Kobe nails dagger after another in crunch time?
What will you think when the confetti rains down in Staples before you can refuse to shake hands with us?
The answer is nothing Miami.
You do have a dynasty in the making down in South Beach, but it does not begin this year.
Because after all the trials and tribulations, after all the hard work and rising above the competition, and after all the sleepless nights dreaming of that title, the Lakers will be waiting for you.
Keep Reading

Miami Heat: Like this team?