2010-11 NBA Predictions: 10 Doomsday Scenarios for the Los Angeles Lakers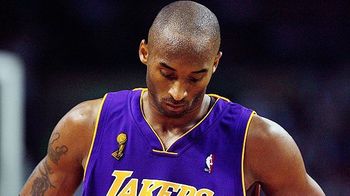 Kobe Bryant
The Los Angeles Lakers is a team that can go either way during the regular season.
Many think that the Lakers are likely to win another championship and complete its second three-peat in twelve years. Jerry Buss thinks that the roster may be the strongest of his 30 years of team ownership, as Los Angeles improved its weakest areas on the roster (bench and point guard).
However, there are many threats that loom in the NBA, standing in the way of LA being handed another Larry O'Brien trophy.
The Miami Heat have been the most talked about team during the offseason and the Miami Thrice core of Chris Bosh, Dwyane Wade, and Lebron James is sure to make the Heat one of the favorites to win it all.
Many of the other top teams from last year should be back stronger than ever including teams like Boston, Orlando, Chicago, San Antonio, Oklahoma City, and Portland among others.
Obviously the Lakers cannot control what other teams do. But can the organization have more control over its own fate?
Lakers fans hold a high standard over the team. Any season that doesn't end with a championship is considered a failure, especially when the team is one of the favorites.
In this article, I present 10 scenarios that could derail the back-to-back reigning champions. Some scenarios are more likely than others and while all of them are technically possible, some have a bit of humor thrown in the mix.
But any of these scenarios happening would spell a doomsday for the Lakers.
1. Kobe Bryant Cannot Regain His Shooting Touch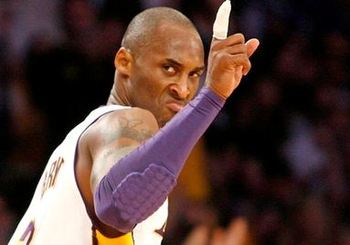 Kobe Bryant with his injured right index finger
One of the biggest concerns among Lakers nation this preseason is Kobe Bryant's field goal shooting. Through the first four preseason games, Kobe Bryant shot 9 for 41 or 22% FG.
To raise even more of a concern, Phil Jackson recently said that he has never seen one of his star players struggle this much during the preseason.
Some of his struggles are attributed to having knee surgery over the summer, as Kobe does not yet have the lift he usually does on his jump shot. Kobe self-admittedly said that he has felt about 60 percent recovered.
This surgery also led to Kobe not working on his game and practicing as much as normal during the offseason which could also factor in to his shooting woes.
But I feel that while these factors all have played a role in his early struggles, his right index finger injury has hurt him the most in the shooting department.
Before Kobe sustained this injury last year, he was the early favorite to win the MVP award as the Lakers steamrolled to the best record in the league as Bryant averaged 30 ppg on nearly 50% shooting.
The problem is that his finger's joints lack cartilage, creating an arthritic situation that will linger for the rest of his career. This condition has obviously affected his shooting touch, as last season showed—he ended up averaging 27.0 ppg on 46% shooting.
When playing near 100 percent, Kobe Bryant is arguably the best player in the world and the closest thing to Michael Jordan we have ever seen. If Kobe cannot regain his shooting touch, the Lakers will have serious issues.
While it is unlikely that he will shoot 22 percent through the season, the Lakers will still struggle if he cannot at least average close to 45 percent with the amount of shots he takes, especially in close fourth quarters.
2. Ron Artest Has A Meltdown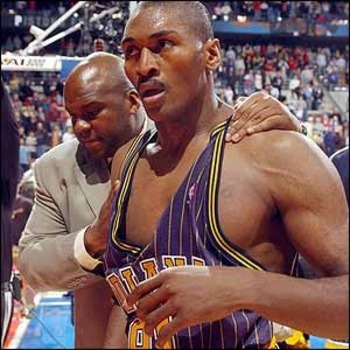 Ron Artest after the "Malice at the Palace"
Many thought of Ron Artest as a wildcard last year for the Lakers.
In the best case scenario, Ron Artest would fit in smoothly within the triangle offense, knocking down outside shots, posting up smaller players, and shutting down other top-scoring perimeter players.
In the worst case scenario, Artest would lose his cool as he did in the infamous Pacers-Pistons brawl on November 19, 2004. Or perhaps he would drink before games, as he admitted he did as a member of the Chicago Bulls.
Last year was mostly a successful one for Artest as he won his first championship ring, played outstanding defense on Kevin Durant and Paul Pierce in the playoffs, and acted as the defensive catalyst for the Los Angeles Lakers.
He had a huge put-back layup in Game 5 against the Phoenix Suns and followed that up by scoring 25 points in the closeout game against Phoenix. In the NBA Finals, Artest had a masterful Game 7 in putting up 20 points and threw in a timely 3-pointer, the last basket scored by LA that led to the win.
But then Artest in his post-Finals interview thanked his psychiatrist. People that know others with mental issues know that this is no laughing matter. Even top psychiatrists don't fully understand how the brain works under such conditions.
So let's say something snaps. What if Artest loses his cool and gets into another brawl that leads to a suspension for the rest of the season?
Matt Barnes is a player that could step up into the starting small forward role. However, Artest is a better defender and has a bigger body to put up against Lebron James, should Los Angeles face the Miami Heat in the Finals.
Artest may have gotten left off of the All-Defensive Team last year, but he probably deserved to make the First Defensive Team.
His impact on the team was definitely great. If Los Angeles is to win a title this year, Artest will need to stay focused and continue to have a positive impact.
3. Phil Jackson Puts Luke Walton In The Starting Lineup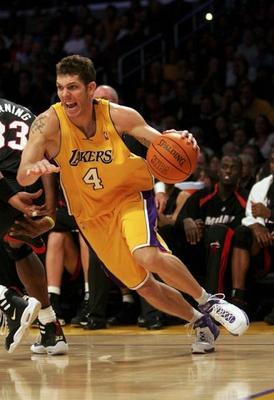 Luke Walton
Say that the last scenario happens. This could lead Phil Jackson to putting Luke Walton in the starting lineup (assuming he comes back healthy as anticipated).
With Artest out, this idea may not be so far-fetched, as Luke Walton has always been one of Phil Jackson's favorite players.
To the casual NBA fan and observer, Luke Walton may not seem like a bad choice. As a starter in the 2006-2007 season, he averaged 11.4 ppg, 5.0 rpg, 4.3 apg, while shooting 47% FG, 39% 3FG, and 75% FT. Walton had a PER score of 14.7 that year.
Compare that to the season averages that Artest had last year with LA: 11.0 ppg, 4.3 rpg, 3.0 apg, 41% FG, 36% 3FG, and 69% FT. This contributed to a PER score of 12.1.
Since Luke Walton has Artest beat in all of these stats, that makes Walton the better player, right?
Lakers fans know that this is false.
Clearly stats and John Hollinger's PER scores don't tell the whole story in regards to a player's impact to the game.
While few players can run the triangle offense as well as Luke Walton, he has a less impressive offensive repertoire as opposed to Artest. In addition, Walton struggles slowing down top perimeter players.
Being that defense is what has led the Lakers to win the last two championships, putting Walton in the starting lineup would definitely be a downgrade over Artest.
Furthermore, Walton has had his share of health issues, never playing a full 82 games in a season. So the team would not be able to expect Walton to be healthy enough to have a sizeable impact during the playoffs.
In short, having Luke Walton in the starting lineup is not the recipe for success for the Lakers.
4. Phil Jackson Has Major Health Issues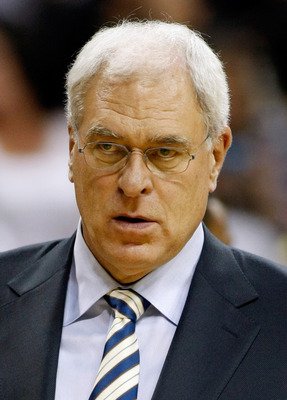 Phil Jackson
Ethan Miller/Getty Images
If Ron Artest has a meltdown, one way that would almost guarantee that Luke Walton would not be inserted into the starting Lakers lineup is if Phil Jackson has major health issues and has to leave the team's coaching position.
While Phil Jackson had a health assessment by doctors in the early part of summer, indicating that he should be healthy enough to sustain another NBA season, anything could happen.
Phil Jackson is getting up there in years. At 65 years of age, Jackson is at the retirement age of many Americans.
And Phil has had his share of health issues over recent years, including back and leg problems. During preseason practice sessions, Jackson was noticeably wearing a brace over his leg.
Surely a lot of strain is put on Jackson's body over the course of a season, as the Lakers always do a lot of travelling. A typical Lakers season in recent years is about 110 games long if one counts the preseason and playoffs.
Travelling to Europe for NBA exhibition games certainly doesn't help Jackson either.
If Phil Jackson experiences health problems this season, he won't be easy to replace. Brian Shaw would be the likely fill in for Jackson and it is possible he could do a decent job.
But replacing the best coach in NBA history is not an easy task. The experience and knowledge Jackson has makes a huge difference during pressure situations in the playoffs.
Although Shaw has learned a lot from Jackson over the years, it's not like Brian Shaw can use a phone-a-friend lifeline during the course of a game and call Phil for advice.
Many people have said that the Heat's signing of Lebron James was the best signing of the summer. I might argue that Phil Jackson's signing with the Lakers was a bigger deal.
He simply means too much towards the Lakers' hopes for winning another championship.
5. Andrew Bynum's Recovery Will Take Longer Than Anticipated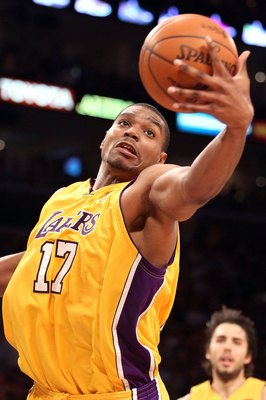 Andrew Bynum
Ronald Martinez/Getty Images
When healthy, Andrew Bynum is a sheer of force in the NBA. At 7'0" and 285 pounds, few centers can match his size and strength.
He helps contribute to arguably the best frontcourt in the league alongside Pau Gasol, Lamar Odom, and Ron Artest. Bynum has studied under NBA legend Kareem Abdul-Jabbar, who has taught him many fundamental skills and moves in the post.
In addition to having an impressive array of offensive moves, Bynum has vastly improved on the defensive end in recent years. His ability to block and deter shots is an important ingredient for LA's success, as evidenced by his seven blocks in Game 2 of the 2010 Finals.
Simply put, Andrew Bynum is a key player if Los Angeles wants to three-peat.
Recovering from his latest knee surgery over the summer has led to speculation of his return in late November to mid December.
While there are many positive implications for the Lakers that can result from Bynum being out, the Lakers schedule will get tougher as the season goes along.
Clearly the Lakers have shown over the last three years that the team is not as good without Bynum. Past seasons have also proven that sometimes Andrew Bynum can have slow recoveries.
A slower recovery could possibly exacerbate the Kobe Bryant injury issue, as Bynum's potential scoring would ease the load off of Kobe.
If Andrew cannot return to court action until January or February, the Lakers could easily struggle getting a top record in the league.
And all Lakers fans know how important home-court advantage is in the playoffs after this past year's Game 7 in the Finals.
6. Andrew Bynum Comes Back On-Time But Suffers Another Catastrophic Injury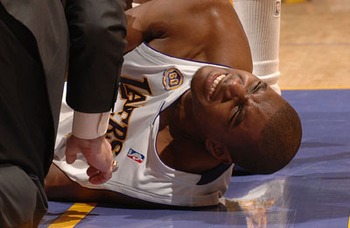 Andrew Bynum injured
Andrew Bynum injuring his knee has to be one of the biggest recurring nightmares in recent seasons for Lakers fans.
This year will mark the fourth season in a row that Bynum will miss significant time recovering from a knee injury.
But say that Bynum makes a healthy return to action in late November. For a month or two, Andrew works himself into shape and starts putting up all-star like numbers. The Lakers go on a roll, winning almost every game on the schedule.
Then disaster strikes! Bynum goes down again with a catastrophic knee injury.
While this is the last thing Lakers fans would want, most would be willing to admit that this is possible, given Bynum recently admitting that he is injury-prone.
While Pau Gasol is perfectly capable of playing effectively as one of the top centers in the league, Bynum's absence makes it easier for teams to match up against the Lakers.
The significance of this was seen in the 2008 Finals where Kendrick Perkins and Kevin Garnett proved to get the better of the matchups with Pau Gasol and Lamar Odom respectively.
Andrew Bynum needs to make a come back on-time and then stay healthy for Los Angeles to have a legitimate chance at winning a title this year.
7. Pau Gasol Has An Epiphany and Goes Into Medical Practice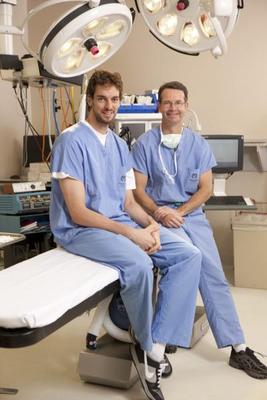 Pau Gasol in scrubs
When Magic Johnson announced he was HIV positive in 1991, Pau Gasol decided he wanted to be a doctor and find a cure for AIDS.
Gasol pursued his dream by enrolling in the medical school at the University of Barcelona. Although he left in order to take advantage of his progressing basketball career, Pau Gasol has a continued interest in medicine.
For instance, he regularly visits Children's Hospital of Los Angeles and helped doctors in the surgery of a 13-year old girl this past June.
Pau Gasol has accomplished a lot over his career. He has won two NBA championships, become an all-star, won the 2006 FIBA World Championship, and has won multiple player-of-the-year awards in FIBA and European league play.
Suppose one day that Gasol has an epiphany and realizes that his true meaning in life is to once-again pursue his medical career. Perhaps Pau has a vision that if he starts now, he will be successful in finding a cure for AIDS.
While Gasol may not be the best offensive or defensive big man in the NBA, he is arguably the best all-around big man. His selection to only the All-NBA Third Team last year was certainly a snub.
Similar to playing without Kobe Bryant, the Lakers have virtually no chance of winning a championship this year without Pau Gasol.
Lakers fans better pray that such an epiphany for Gasol does not happen.
8. Lamar Odom Fills Up On Too Much Candy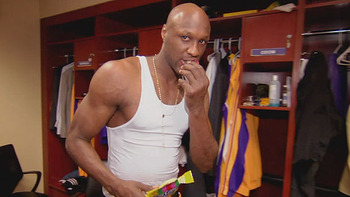 Lamar Odom, the NBA's "Candy Man"
It is widely known that Lamar Odom has liked to indulge himself on candy. Whether it is on a Lakers' charter flight to a road game or in the locker room before the start of a game, Odom truly is the NBA's "Candy Man."
Although Odom has come into the NBA preseason in top shape after his run with the US National Team in the FIBA World Championship, an excessive amount of candy could quickly steer Lamar off course.
Certainly a Jenny Craig nightmare, a diet consisting of too much candy cannot be good for any efforts to keep in the best shape possible.
Many have criticized Odom for being inconsistent over the years. Despite having one of the best all-around games, he has never been selected to the All-Star game.
So far during this preseason, Lamar Odom has been noted as the top performer for the Lakers.
For Los Angeles to make a Finals run this year, it will help to have Odom playing at his best, especially as he fills in for the injured Andrew Bynum to start the year.
9. The Lakers Get Amnesia And Forget How To Play Tough Physical Defense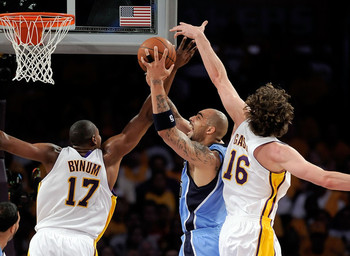 The Lakers' tall frontcourt makes it tough for the opposition to score
Overcoming the "soft" labels surrounding the team's defeat to the Celtics in 2008, the Los Angeles Lakers have won the last two NBA championships largely due to the team's defensive prowess.
Last year, for example, the Lakers ranked first in defending the three-point shot and second in team rebounding.
This year, it is anticipated that the Lakers could be even more dominant on defense. The addition of Matt Barnes brings another premier perimeter defender to join forces with Kobe Bryant and Ron Artest.
Theo Ratliff, one of the best shot blockers of all-time, should be a major upgrade over D.J. Mbenga as the backup center.
Despite indications that the Lakers should be an excellent team this year, sometimes the Lakers teams over the past decade have underachieved over the season and tried to go on cruise control.
The team could easily figure that it does not have to try as hard during the season since the games do not matter as much.
While it is possible to "turn it on" during the postseason, this move is a dangerous gamble. Being that the Staples Center has proven to be one of the toughest road arenas for teams to play in, having home court advantage in the playoffs will be extremely important for the Lakers.
The team will need to stay focused on defense throughout the season to repeat again as NBA champions. Hopefully having new players like Barnes, Ratliff, and Steve Blake can help keep the team hungry.
10. The Big One Hits California—Kobe and Company Get Stranded at Sea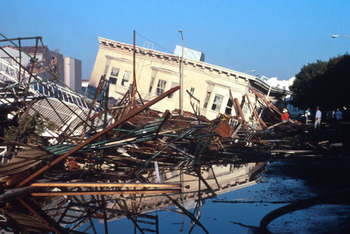 What California could look like if "The Big One" strikes
Everyone knows that California is prone to being hit with earthquakes.
Over the past few decades, some have speculated that the Golden State may be hit by a quake of epic proportions labeled "The Big One."
During this projected disaster, some have said that much of California will be destroyed. If The Big One happens and the Staples Center crumbles to the ground, then the Lakers will not have a home arena to play in.
Another prediction with this big earthquake is that part of California would split off from the rest of the state, separated by the Pacific Ocean.
Since Kobe Bryant and all of his Lakers teammates live near the coast, they could end up on the piece of land that becomes an island.
So then a dilemma presents itself: do the Lakers enjoy a relaxing life on their new island or do they find a new home arena and get back to work?
Okay, this may be one of the most far-fetched scenarios. But it is certainly the worst doomsday scenario that could derail the Lakers' championship hopes.
Conclusion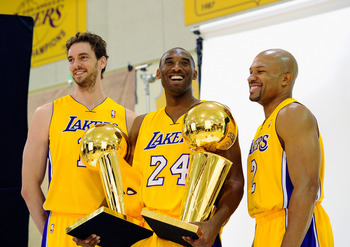 Proven winners: Pau Gasol, Kobe Bryant, and Derek Fisher
Kevork Djansezian/Getty Images
While the preceding 10 scenarios outline reasons why the Lakers may not win a third championship in a row, Lakers fans should remain optimistic about the team's chances this season.
The Lakers have a great coach to lead a deep roster. Barring any major disasters, this season should be an exciting one for Lakers fans.
Thanks for taking the time to read this particularly uplifting article.
As always, feel free to let me know if you liked the article, agree or disagree with it.
Keep Reading

Los Angeles Lakers: Like this team?