The Truth About Championship Rings: 3 Rules When Evaluating Greatness
November 8, 2011
Christian Petersen/Getty Images
Rule No. 1: In professional sports, the object of the game is to WIN! 
Team-sport athletes, sports franchises and individual sport athletes are judged in large part on how often they win, whether it's matches, bouts, division/conference titles, MVP awards, statistical titles and most of all major championships.
I have read in articles on this site and others, and many comments claim too much emphasis is put on "rings."  Often in the case of Kobe Bryant who as most of us in sports nation know is the most polarizing athlete maybe in the history of mankind.  Since Kobe has won his fourth and fifth rings and the discussions and comparisons to Michael Jordan increased, or the "Where does Kobe rank all time?" discussions take place, this "rings are overrated" talk seemed to pop up quite frequently.
Let's leave the individual sport athletes out of this discussion because they win and lose on their own.  In team sports winning games and winning the ultimate prize of a championship is a team accomplishment.  I am not claiming that winning championships is the only measure of greatness.  I understand that some great players have not been blessed to play with teammates or coaches good enough to win it all. 
For the most part great athletes are evaluated on winning (games and championships), statistics and awards.  Other factors affect how athletes are perceived and judged, things like image, likability, style, clutch play and at times, what team you play for.  If you are good on the Lakers, Yankees, Cowboys or in a big city you might be thought of more highly than a better player in a small market or on a bad team.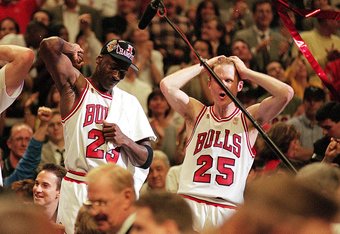 Jonathan Daniel/Getty Images
The athletes with the biggest combination of all of these factors will have the greatest legacies which means that the award-winning great players that put up big numbers in the regular season and postseason with great style and clutch performances, and who also win playoff series and championships, will be elevated to legend status. 
There are exceptions: Players like Dan Marino, Barry Bonds, Ken Griffey Jr., Elgin Baylor, Karl Malone and Charles Barkley never won that ultimate prize but they are generally revered and considered among the best all-time in their sports.
Rule No. 2: A role player or good player with multiple championships is just that, a ROLE PLAYER or GOOD PLAYER with rings.  Just because that good player/role player has multiple rings (I'm talking to you Robert Horry, Steve Kerr, Derek Fisher, Kurt Rambis, Danny Ainge and John Salley) does not automatically make them all-time great players worthy of the Hall of Fame.
The one argument that I think is most ridiculous and unfortunately quite commonly made is the when the guy, who in an effort to prove that rings are over-hyped, says something like "Having more rings makes you the best, so are you saying that Robert Horry is better than Michael Jordan???"  Uhhh, NO dude, we are not saying that, no one is saying that.  This may be the single-worst point or most unnecessary point I've ever heard made in debating sports.
ATTENTION  ANYONE WHO HAS POSTED OR SAID THIS IN A SPORTS DEBATE…PLEASE STOP IT.  No one, and I mean no one, thinks Robert Horry is better than Michael Jordan (except for his maybe his family…no scratch that, even they know MJ is better).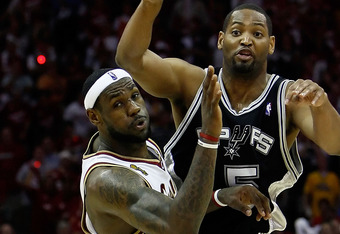 Gregory Shamus/Getty Images
Let me be clear, the point to be made about rings is only when you are comparing GREAT players, when debating Magic, Bird, Michael, Kobe, Dr. J, Wilt, Kareem, Russell, LeBron, Wade, Iverson, Maravich, Duncan, Garnett, Nash, Nowitzki, Wade, Walton, Havlicek, West, Baylor, Isiah, Stockton, Malone, Barkley…and on and on. 
Personally, I love these guys but stop throwing out Steve Kerr or Robert Horry or Derek Fisher to make a point about rings don't mean everything…no one is saying Kerr is an all-time great, no one is saying that because John Salley won rings with the Pistons, Bulls and Lakers that he is better than Karl Malone or Charles Barkley.  Please NEVER EVER EVER make that point (or non-point) ever again. 
An acceptable example of the rings argument when you are comparing great players like, say, Tim Duncan vs. Kevin Garnett, is that one could say either player is better, but I'm sure the fact that Tim Duncan has four rings is going to come up in that discussion, and that is nothing to sneeze at.  
Conversely, a counter-argument can be made that had KG played on teams that were as good as Duncan's, he might have the same amount of rings, and both points have merit.  But debate about the all-time greats should only involve players who were dominant players.  
Rule No. 3: There's no partial credit; if you are a star/dominant performer on a championship team you get full credit on your resume/legacy.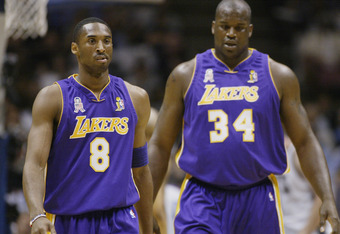 Jed Jacobsohn/Getty Images
I am also aware that winning championships requires more than one great player; some people seem to think Kobe does not get full credit for winning three championships when he played alongside Shaq.  That Lakers team had the most dominant big man and the best perimeter player in the world so they both get FULL credit for the titles they led the Lakers to together. 
Joe Montana had Jerry Rice, Aikman had Emmitt and Irvin,  Jeter had Rivera and A-Rod, Bird had McHale & Parish, Jordan had Pippen and Rodman and Magic had Kareem and Worthy. Kobe and Shaq had each other,  
Again this point usually comes up with Kobe. People look at Jordan and say he LED his teams and then downgrade Kobe because he played with Shaq.  In my opinion Jordan had an easier time leading because he was clearly the best player on the team and in the universe.  Scottie Pippen was great but he did not think he was the best player on that team, therefore Jordan and Pippen did not clash, Pippen was fine in his supporting star role.  
Kobe and Shaq have both proven over their Hall of Fame-level careers to be "Best Player in the World" status, with both winning MVPs and both being two of the most dominant players in league history.  You have two alpha males in Shaq and Kobe, and that power struggle led to their demise.  
The Finals MVP trophy goes to one player, but in the case of most championship teams there are usually two or three Hall of Fame or All-Star level teammates that did the heavy lifting.  I see no reason to put an asterisk next to any "great" players championships as long as they are putting up great numbers.
At the end of the day, to even be considered great these individuals must have incredible skills, stats and all-around talent, which is why rings become so important when evaluating. 
Take the NBA: If you are a fan of the sport and know any of the history you should know the names of some of the greatest players in league history, and when comparing the top 10 or 20 or 50 players, if they all have great stats and All-Star appearances, and awards (which they all do) how do you decide who is the greatest of the great? 
I say rings are a good place to start.  Bill Russell, Kareem Abdul-Jabbar, Michael Jordan, Magic Johnson, Kobe Bryant, Larry Bird, Shaquille O'Neal, Tim Duncan and Hakeem Olajuwon all have won multiple rings as dominant "go to" players…if you still don't understand why factoring in championships when comparing the greats,  just refer back to Rule No. 1: "The Object of the Game is to Win."