2010-2011 NBA Predictions: Why Dallas Mavericks Will Win West's No. 2 Seed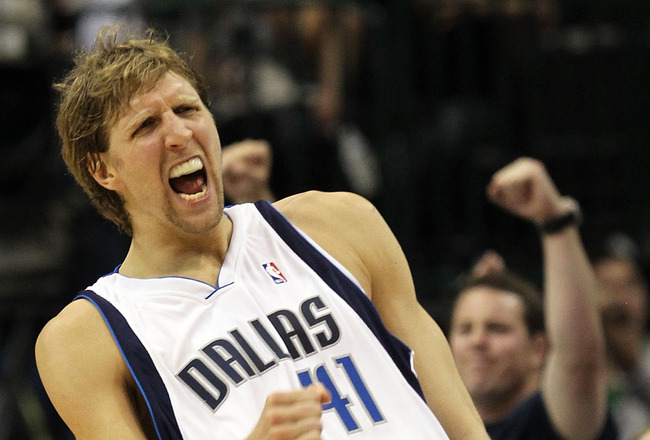 Ronald Martinez/Getty Images
Anticipation for this upcoming NBA season hasn't just hit the boiling point, it's boiling over. All the professional basketball fans around the country almost have to consciously remind themselves not to salivate at this point.
As the start of this year's campaign approaches, I imagine every team getting more excited at the prospect of taking on the Miami Heat and Los Angeles Lakers. There are few squads that legitimately have what it takes to compete with those two teams (but apparently, FC Barcelona is one of them).
The Lakers and Heat will likely finish the regular season as the top team in each of their respective conferences. However, both will have one or two teams that will be pushing them throughout. In the West, that team is the Dallas Mavericks.
Dirk Nowitzki and his band of Merry Mavs are in prime position to capture their 11th straight 50-win season, and their fourth division title in the last nine seasons. They will finish just behind the Lakers for second in the West.
Here's why.
Depth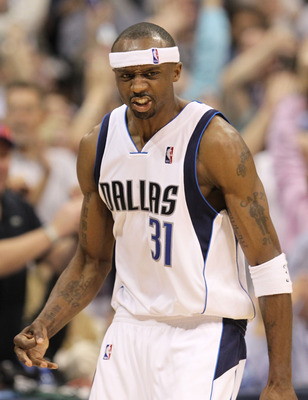 Ronald Martinez/Getty Images
A deep bench is a staple of most really successful teams. The Dallas Mavericks have exactly that, with at least 10 players who could significantly impact games this season.
Coach Rick Carlisle will be able to attack opponents with a wide variety of lineups. His players are not only talented, but many of them are quite versatile as well.
Jason Kidd, Jason Terry, Rodrigue Beaubois, and Jose Barea can all play both guard positions. Caron Butler can play positions two through four, Marion can play the three or the four, and Nowitzki can play the four or the five.
Because of this versatility, the Mavs can go big or small, depending on the situation and opponent.
Youth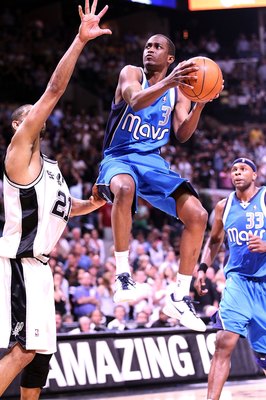 Ronald Martinez/Getty Images
Dallas has a couple of young guards in Dominique Jones and Rodrigue Beaubois that are sure to raise some eyebrows this season. Provided Dallas doesn't trade either of these guys, they are the future of the backcourt for this team.
Last season, Beaubois averaged 7.1 points in just 12.5 minutes per game. That works out to an average of 20.4 points per 36 minutes of playing time. His breakout performance occurred this past March when "Roddy Buckets" lit up the Golden State Warriors for 40 points. He hit nine threes in that game and showed that he can score from all over the court.
Coach Carlisle even developed a play specifically for Beaubois last season that worked against several different teams.
His athleticism and raw talent are unquestioned. If he can develop his point guard skills, he'll join the ranks of other elite, young point guards such as Derrick Rose, Stephen Curry, and Russell Westbrook.
The other impressive young guard is Dominique Jones. The Mavs selected Jones with the 25th overall pick in this past summer's draft. During his three years at South Florida, Jones averaged 19 points and 5.4 rebounds per game.
He was also impressive in summer leagues following the draft. He averaged 16.6 points over five games and looked very explosive at times. He played well enough to spark some rumblings about possibly taking some minutes from Jason Terry at shooting guard.
While they may not be the starting backcourt in Dallas yet, "Roddy Buckets" and "Do-Jo" will be able to put their talents on display this year.
Size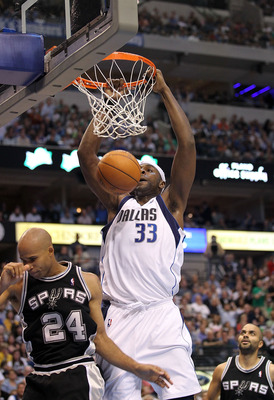 Ronald Martinez/Getty Images
It's no secret that one of the biggest advantages the Lakers hold over most of their opponents is their size inside. When Andrew Bynum is healthy, Los Angeles can start two skilled seven-footers. This frontcourt must be the subject of many NBA centers' nightmares.
Dallas has less of a reason to fear this. They too will start two seven-footers this season, and one of them is the unguardable Dirk Nowitzki. The other is defensive specialist Brendan Haywood.
The Mavericks were a significantly better team when Haywood was playing instead of Erick Dampier. I don't think I'll ever understand why Rick Carlisle insisted on playing Damp; I'm just glad he no longer has the option of putting him in.
Backup center Tyson Chandler provides even more size and defense off the bench. Replacing Erick Dampier with 7'1" Chandler may be one of the biggest offseason upgrades at a specific position. The difference in talent between Chandler and Dampier is enormous. He didn't have a great season in Charlotte last year, but he'll be much more effective in Dallas's uptempo system
They Can Still Make a Trade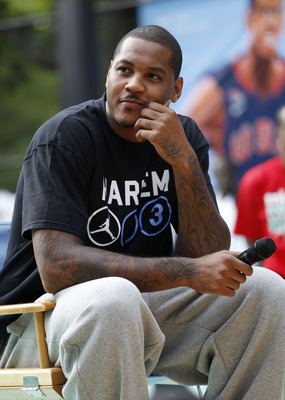 Chris Trotman/Getty Images
The Denver Nuggets want a lot in exchange for their superstar forward Carmelo Anthony. The Mavericks have not been mentioned much since the Melo rumors surfaced, but they may have enticed enough players to convince Denver to pull the trigger on a deal.
I recently detailed a three-team trade involving Dallas, Denver, and the New York Knicks that has Anthony landing in Dallas.
The Nuggets would get Rodrigue Beaubois, Caron Butler, Eddy Curry's expiring contract, and a first round draft pick from Dallas.
The Knicks would acquire J.R. Smith from Denver and DeShawn Stevenson from Dallas.
This trade makes sense for all three teams involved, but Denver and Dallas would both be a bit hesitant. As I've already said in this article, Rodrigue Beaubois is the future of the point guard position for the Mavericks. As such, Mark Cuban and General Manager Donnie Nelson will not take the possibility of trading him lightly.
However, if Dallas is not performing as well as expected, don't be surprised to see them start to aggressively pursue Melo or even other trade possibilities.
Guard Play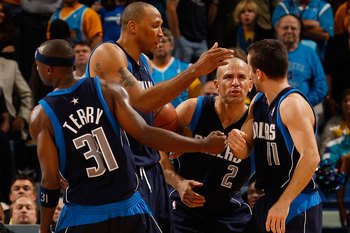 Chris Graythen/Getty Images
Dallas has five talented guards that will be competing for playing time all year long. I already discussed young guns Rodrigue Beaubois and Dominique Jones. So, on this slide we'll focus on the veterans Jason Kidd and Jason Terry, and Jose Juan Barea.
Jason Kidd is not the same player he used to be. He has lost a good deal of his explosiveness and can no longer stay in front of a lot of opposing guards on defense.
However, whatever Kidd has lost physically, he's replaced with intangibles. His leadership skills are unmatched and his knowledge of the game is on display every time he steps on the court. Plus, he has become significantly more consistent from three-point range in the last couple years.
These tools have helped him remain one of the best playmakers in the league. Last season, he was fifth in the NBA in assists at 9.1 per game. He was also 11th in the league in three-point percentage at 43 percent.
Jason Terry is another important veteran guard and has proven himself in his current role. He's been doing this for the last three years, and was the 2008-2009 Sixth Man of the Year award winner.
Even with an influx of talented, young guards in Dallas, Terry will still have a bigger impact on games than any other bench player on the roster.
During his time as a sixth man, Terry has averaged over 17 points per game on 46 percent shooting from the field and 37 percent from three-point range.
Finally, there's Jose Barea, who is probably my second favorite Maverick behind Dirk Nowitzki. For his career, he averages, 14.1 points and 5.8 assists per 36 minutes of playing time. More important than his stats, is his attitude and the spark he brings with him off the bench.
Barea is listed at 6'0" but I find that very hard to believe. He looks significantly smaller than anyone he's matched up with, but he gives every little thing he's got when he's on the floor.
Desperation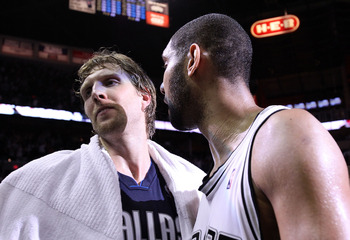 Ronald Martinez/Getty Images
The window of opportunity is slowly closing for Dirk Nowitzki and the Mavericks. They've made the playoffs in each of the last 10 seasons, but have not been close to the Finals since they lost to the Miami Heat in 2006.
These veteran players know that they cannot play forever. Jason Kidd, Shawn Marion, Dirk Nowitzki, and the rest of the team will play with a level of desperation and heart that few Western Conference teams will be able to match.
The only team that may consistently out-compete them is San Antonio, who is equally desperate.
Over the last few seasons, Dallas has been figuratively backed into a corner. It's time for them to come out swinging. If they play with intensity and simply compete for every minute of every game, there won't be many teams that can hang with them.
Experience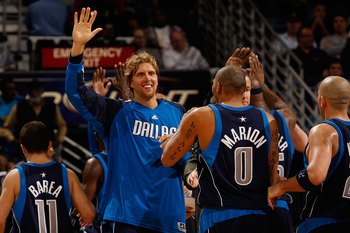 Chris Graythen/Getty Images
This team is loaded with veterans who still have a lot of fight left in them. Dirk Nowitzki, Jason Terry, and Jason Kidd all have NBA Finals experience. In addition to those three, Shawn Marion, Brendan Haywood, Tyson Chandler, Caron Butler, Rodrigue Beaubois, and Jose Barea all have playoff experience.
These veteran players have more than experience. They're still producing.
Take Brian Cardinal out of the equation, and the four oldest players on this team are Jason Kidd (37), Jason Terry (33), Shawn Marion (32), and Dirk Nowitzki (32). Last year, they combined to average 63.9 points, 21.3 rebounds, and 17 assists per game.
The Mavericks will assert their will against inexperienced teams like the old men at the gym schooling the young bucks in pickup ball.
Caron Butler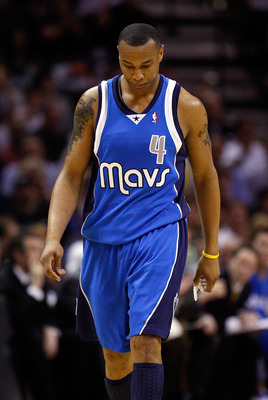 Ronald Martinez/Getty Images
Last season was tough for Butler. He played most of his games for the lowly Wizards, who focused as much attention on dealing with Gilbert Arenas as they did on winning. He was traded to Dallas before the deadline and had 27 games to adjust to a new role, team, and city. He averaged 16.3 points and 6.2 rebounds per game last season.
While these numbers are solid, Butler is capable of much more. In his four previous seasons with the Wizards, Butler averaged 19.5 points and 6.6 rebounds per game. He was beginning to assert himself as one of the league's premier small forwards.
He will have to perform better this season. If not, he and his expiring contract could be dealt prior to the deadline.
Butler is motivated this year. He's out to prove that last year's dip in production was an anomaly. If he can return to the form he displayed a few years ago, he and Dirk Nowitzki would be one of the most effective SF/PF combinations in the NBA.
This season, Butler will have had an entire offseason and training camp to adjust. Plus, he is in the last year of his contract, and we all know what that means for NBA players. He will be more effective in his first full season with Dallas and a great second option behind Dirk.
Timing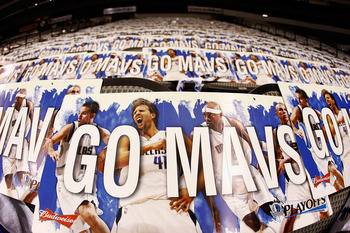 Ronald Martinez/Getty Images
On February 14 of this year, the Washington Wizards traded Caron Butler, Brendan Haywood, and DeShawn Stevenson to the Mavericks for Josh Howard, Drew Gooden, James Singleton, and Quinton Ross. Many felt this deal could propel Dallas to the ranks of the elite, and for a while it did.
The Mavs started a 13-game win streak on February 17 against the Phoenix Suns. The new pieces looked to be acclimating quickly, and many started to toy with the idea of the Lakers not making the Finals.
Those hopes and even expectations came crashing down as Dallas finished the season 10-6 and lost 4-2 to the Spurs in the first round of the playoffs.
During those last 22 games the Mavs did not look cohesive. Specifically, Caron Butler always seemed out of sync. The cherry on top of Dallas's issues was the inexplicable decision by Rick Carlisle to play Erick Dampier over Brendan Haywood.
It simply wasn't their time last year. It's hard to truly integrate two new players in the last two and a half months of the season, especially when those two players are starters.
Now, this team has had an entire offseason and training camp, and will have the entire regular season to come together (assuming no one gets traded). Plus, Carlisle no longer has the option to put Dampier on the floor.
They will have a lot more chemistry this season, and that will translate to lots of wins and the second-best record in the West.
Dirk Nowitzki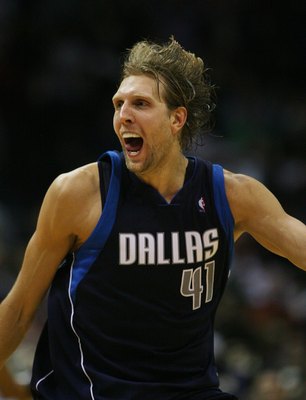 Jonathan Daniel/Getty Images
Over the last ten years, the biggest reason for the Dallas Mavericks' success has been Dirk Nowitzki. He has averaged 22.9 points and 8.5 rebounds a game for his career. His career shooting percentages are 47 percent from the field, 38 percent from three-point range, and 88 percent from the free throw line. He's a nine-time All-Star, 10-time all-NBA selection, and the 2006-2007 MVP.
He's not slowing down. Last year he averaged 25 points and 7.7 rebounds per game while shooting 48 percent from the field, 42 percent from three-point range, and 92 percent from the free throw line.
Nowitzki is still one of the toughest matchups in the league, especially in the clutch.
"Clutch" stats are collected during the last five minutes of a game in which either team leads by five points or less. Then, all the "clutch" minutes a player accumulates are added up and divided by the time of a full game to show a player's production per 48 minutes of "clutch" time.
LeBron James, Kobe Bryant, and Dirk Nowitzki were one, two, and three in the league in "clutch" scoring last season. Take a look at how much better Dirk was than Kobe and LeBron in some other areas during "clutch time."
| | | | | | | | | |
| --- | --- | --- | --- | --- | --- | --- | --- | --- |
| | Min | fg | 3p | ft | Points | Reb | Ast | t/o |
| Lebron James | 151 | 49% | 34% | 80% | 66.1 | 15.9 | 8.3 | 4.1 |
| Kobe Bryant | 132 | 44% | 36% | 82% | 51.2 | 7.3 | 3.6 | 3.3 |
| Dirk Nowitzki | 171 | 45% | 67% | 98% | 47.2 | 9.0 | 5.3 | 2.5 |
Dirk is undeniably one of the best offensive players in the league and he brings his best when it matters most. He is the biggest reason the Mavericks are still relevant, and why they will finish no lower than second in the West this year.
Keep Reading

Dallas Mavericks: Like this team?