David Lee, Chase Budinger and Others Who Prove That The White Man Can Jump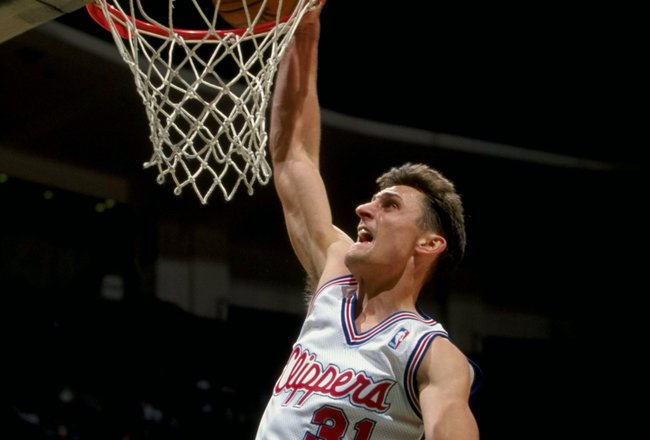 Todd Warshaw/Getty Images
For decades the "fact" that white athletes are generally slower and less athletic than others has been widely accepted. In 1992 the film "White Men Can't Jump" gave us a new saying, made millions of dollars, and featured a scene in which Woody Harrelson threw down a poorly edited alley-oop from Wesley Snipes (and the pass actually looks more awkward than the finish).
Woody provides a horrible counter to the saying "White Men Can't Jump" but there are some real life ballers who prove it wrong.
Chase Budinger
Check out where Budinger's head is as he cleans up this mess and try to tell me that white men can't jump. Budinger is an exciting young player that should see an increase in minutes this season after the departure of Trevor Ariza.
Chris Andersen
Although he's mostly known for his tattoos these days it was just a couple years ago when Chris "Birdman" Andersen was one of the most feared shot blockers in the league. His athleticism has deteriorated due to age and injuries but the Birdman could really fly in his hay.
Brent Barry
It is my opinion that Brent Barry is the most underrated and underutilized player of all time. Go ahead, call me crazy.
David Lee
David Lee's athleticism was first showcased nationally when he defeated James White in the 2001 McDonald's High School All-American dunk contest. Since then, he's quietly become one of the most effective offensive forwards in the league. Expect a lot of high flying dunks as he gets to run around in Golden State's fast-paced offense.
Bob Sura
Sura's numbers would never blow anyone away but he was a solid player and great athlete. He competed in the 1997 dunk contest. Pay particular attention to the play that starts about thirty seconds into this video.
Tom Chambers
This dunk blows me away every time I see it. Chambers just keeps floating up and up and up. He even elevates a bit after the ball is already in the hoop.
Jackie Moon
A great athlete, a true leader and a real man.
Billy Hoyle
I had to show this scene. Snipes looks so lost with a basketball and Harrelson appears to be throwing down on a hoop no taller than seven feet. This is phenomenal.
Keep Reading