10 NBA Players Who Will Take a Step Backwards in 2010-11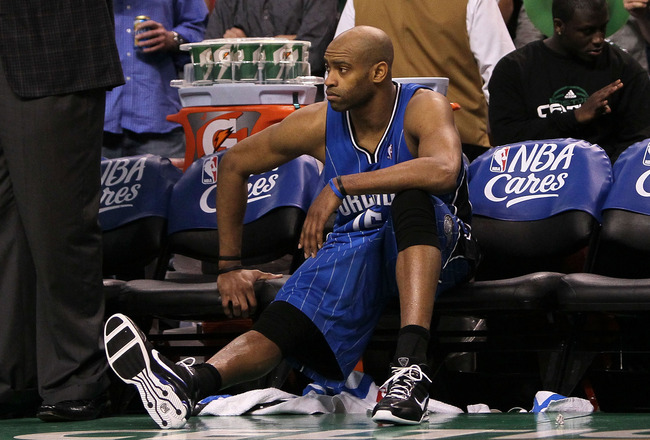 Jim Rogash/Getty Images
It's inevitable. No athlete can be a superstar forever.
Since winning a championship with the Miami Heat, Shaquille O'Neal has never regained his dominance and swagger. Kevin Garnett can no longer carry a team by himself, like he did for so long with the Minnesota Timberwolves.
In 2010, some more household names will join the ranks of the declining stars.
Players can become worse for a variety of reasons. In the case of O'Neal and Garnett, it was simply an age issue. Traditionally, NBA players hit their prime around 28 years old, but once they turn 30, their stardom starts to fade.
For other players, changing personnel can be a challenge. Take someone like Shawn Marion, for example. With Steve Nash in a run-and-gun system, Marion could use his athleticism to thrive. Put him on another team, and his productivity drops significantly.
Or a team could just add better players and greater depth to reduce a star's effectiveness (hint, hint, Miami Thrice).
Regardless of how, here are 10 quality NBA players who should see a decrease in their production this season.
Tim Duncan, San Antonio Spurs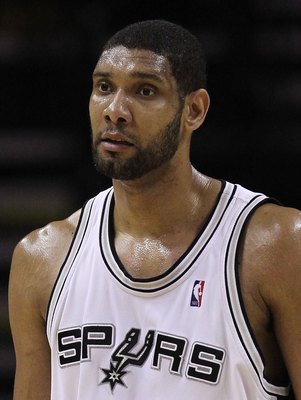 Ronald Martinez/Getty Images
Tim Duncan still has all the tools to earn the nickname, "The Big Fundamental."
Unfortunately for him and the San Antonio Spurs, those tools are no longer the sharpest in the shed.
It's hard to bet against a player who has made every NBA All-Star game since 2000, but all signs show the 6'11" forward will have a decline in production this season.
Duncan is now in his mid-30s. While that's not as bad for big men as is is for guards who lose their speed, it's still going to be a problem Duncan will have to deal with. Younger big men will challenge the veteran with energy and hustle plays.
The other issue for Duncan is that his supporting cast is also aging fast.
Tony Parker is 28. Manu Ginobili is 33. The Spurs have got a fresh face in Tiago Splitter, but even he is 25 and has some wear on him.
This general aging means the conundrum of who to stop in the Spurs three-man attack is no longer a problem.
Duncan's points per game has steadily dropped since 2006-2007, and his rebounds per game have fallen by more than one since 2007-2008. The 2009-2010 season marked Duncan's career lows in points, rebounds and blocks per game.
Prediction: Duncan will see his minutes reduced to about 30 per game, which would be the fewest in his career. He will average 16-17 points per contest and his rebounding average will fall to single digits for the first time in his Hall of Fame career.
Amar'e Stoudemire, New York Knicks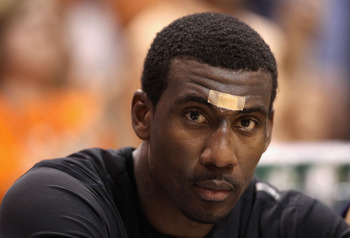 Christian Petersen/Getty Images
I've already written an article about why signing Amar'e Stoudemire to such a large contract will be a mistake for the New York Knicks, but here's the basic gist of why he won't be as productive this year.
He no longer has Steve Nash as his point guard.
Obviously, Nash does what a great point guard should, by making those around him better. There's no question he helped Stoudemire immensely by feeding him the ball effortlessly and playing off Amar'e's athleticism.
Can Raymond Felton do the same thing? Not likely.
It's not just the loss of Nash either. The Knicks aren't nearly as strong from a personnel standpoint at any position. Until the talk of Carmelo Anthony and Chris Paul becomes reality, I'd take the Phoenix core over New York's any day.
Stoudemire also has the added pressure of being "The Man" in the Big Apple, which Eli Manning and Alex Rodriguez know is not easy. Furthermore, he's the consolation prize of the Summer of LeBron, so New York fans are demanding he deliver.
Could he deliver? Yes, possibly. Will he? Probably not.
He's theoretically in the prime of his career, but several major injuries leave questions about his ability to stay healthy.
Prediction: Last season, Stoudemire played in all 82 games and averaged 23.1 points, 8.9 rebounds, and one block per contest, all while shooting about 56 percent from the field. Expect his field goal percentage to drop as he is asked to take more shots. I also imagine his scoring and rebounding will take a slight dip, especially if he does not play the entire season.
Vince Carter, Orlando Magic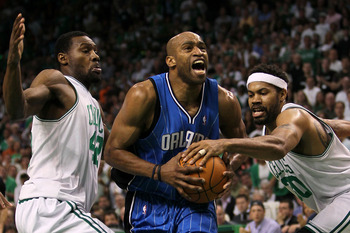 Jim Rogash/Getty Images
The Orlando Magic are going to be good this season. Very good. Possibly the best team in the state of Florida.
But it would be insanity to call the player once nicknamed "Vinsanity" the reason the Magic will be a championship contender.
Otis Smith and the Orlando front office made a statement this offseason when they matched the Chicago Bulls' offer to J.J. Redick. Even though it put the Magic well over the luxury tax, Smith was willing to pay a hefty sum for a backup shooting guard.
Well, a backup for now.
Redick's career is on the rise while Carter's is on the fall. While Redick had his best year statistically in the NBA during the 2009-2010 season, Carter's averages have never been lower.
His 16.6 points per game are nothing compared to what he averaged during his time with the Toronto Raptors and New Jersey Nets. He also had career lows in rebounds, steals, and blocks, and was a mere 0.1 dimes shy of his lowest assist mark.
The reason for this downfall? Well for one, he's on a significantly better team than the Nets and Raptors. The Nets had some talent when he, Jason Kidd, and Richard Jefferson roamed the court, but of course, Carter was in his prime.
Now he's older and lost his explosiveness. For a player who was never a great outside shooter, that's a major problem.
Prediction: Redick will continue to eat into Carter's minutes, but Air Canada will still see plenty of minutes to increase his trade value. He will play less of a role in the Orlando offense, and he will average fewer than 15 points per game while seeing moderate drops in his other statistics.
Joe Johnson, Atlanta Hawks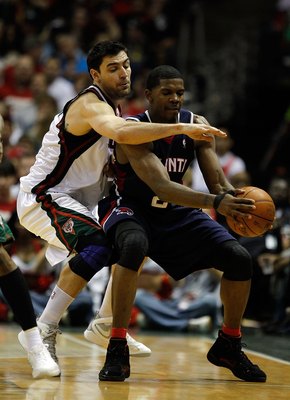 Jonathan Daniel/Getty Images
Somehow, with LeBron James, Dwyane Wade, and Chris Bosh on the free-agent market, Joe Johnson ended up with the most lucrative deal of all the new signers.
So even if his statistics stay the same, in some sense, not getting better is the same as taking a step backwards. He received his payday to perform even better than before.
His averages with the Hawks have remained fairly constant since he joined the team in 2005. The question is how his mindset and role on the team will change now that he is paid more than any one of the Miami Thrice.
My guess is that Johnson will feel the pressure to step up, and will falter as a player because of that.
Maybe he will continue to score. But I'd expect his field goal percentage to drop. He shouldn't get more rebounds, since he's aging and will save his legs for the defensive end. That has already been the case for Johnson, as he averaged one less free throw attempt per game in 2009-2010 than he did the year before.
Johnson still can be an All-Star, and probably will be since the Hawks will surely rank in the top six of the Eastern Conference.
Prediction: 21 points per game on 43 percent shooting. Free-throw attempts and rebounds will decrease. Assists will remain constant and steals will dip slightly.
Mo Williams and The Rest of The Cleveland Cavaliers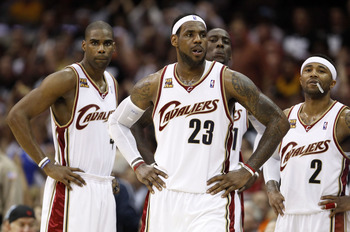 Gregory Shamus/Getty Images
Poor Cleveland. Without LeBron James, the Cavaliers went from championship contender to bubble playoff team at best.
Naturally, the individual players on the squad are going to suffer from not having James on the court. Not only was he a prolific passer, but opponents committed multiple defenders to King James, which opened opportunities for the Cavs' second options.
Such as Mo Williams.
In theory at least, Williams was James' sidekick. He made the All-Star team in 2009, largely because it would seem strange if no one else from the Cavaliers was there besides James.
Last season, Williams averaged 15.8 points, 3.0 rebounds, and 5.1 assists per game. Unless Christian Eyenga becomes a superstar, don't expect Williams to fill the box score like that this season.
Prediction: Williams will be asked to shoulder more of the burden on offense. He will increase his scoring to nearly 20 points per game, but his field goal percentage will suffer, hovering around 40 percent. His rebounds will decrease as he settles for jump shots to save leg strength. His assists will fall as he looks to shoot more than pass.
Lamar Odom, Los Angeles Lakers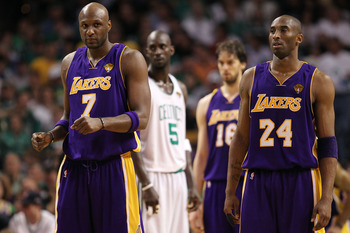 Ronald Martinez/Getty Images
The Los Angeles Lakers won back-to-back championships over the past two seasons, and it will be difficult to derail them in their pursuit of a three-peat.
However, Lamar Odom will be easier to stop this upcoming year.
The all-purpose forward is clearly past his prime, though still felt young enough to lend his talents to Team USA's gold-medal effort in the FIBA World Championship. That decision could be a problem for the Lakers later in the season.
Many of the so-called "A-Team" players elected not to compete this summer so they could heal for the 2010-2011 campaign. Odom probably should have done the same.
A quick look at his statistics from last year show a continual decline in points per game. He also had fewer assists, steals, and blocks than usual in a Lakers' uniform.
Basically, the Lakers have a small window to win their titles. Odom, Kobe Bryant, and Pau Gasol are not getting any younger.
Prediction: Though Odom played in all 82 regular season games last year, don't expect that to be the same in 2010-2011. His points per game will drop slightly to near 10, and he won't have the same rebounding prowess, probably averaging about eight or so per contest.
Brendan Haywood/Tyson Chandler, Dallas Mavericks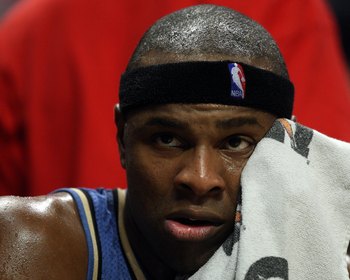 Jonathan Daniel/Getty Images
From one Team USA big man to another, Tyson Chandler has been quite the traveling man over the past few seasons.
He seemed to fit in perfectly with Chris Paul and the Hornets, but suddenly he went to the Charlotte Bobcats and will now be residing in Dallas.
That would be great, except the Mavericks already signed Brendan Haywood in the offseason. So that gives them two centers who are borderline starters in the NBA.
Who's going to start, and who's going to be the backup? How will the minutes be divided? What role will each of them play on the team?
All these impending questions scream "decline!" for both parties.
Haywood and Chandler have never exactly filled the box score during their careers. Haywood has career numbers of 7.7 points, 6.7 rebounds, and 1.5 blocks per game. Chandler averages 8.1 points, 8.8 rebounds, and 1.4 blocks per contest.
Despite those low averages, I wouldn't be surprised to see both big men fall short of their career averages.
Prediction: Chandler and Haywood will each play no more than 24 minutes per game, since Dallas can't field a lineup with both playing at the same time. That's less time than both are used to playing. With a deep lineup, Dallas won't need much scoring from its big men. Expect a drop in scoring, and a decrease in rebounds simply because of playing time.
LeBron James/Dwyane Wade/Chris Bosh, Miami Heat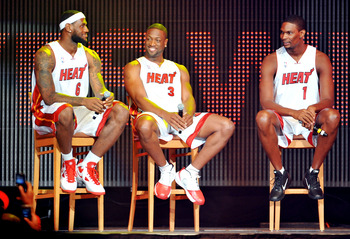 Doug Benc/Getty Images
Individually, each member of the Miami Thrice will have to take a hit statistically. There's only one ball, and none of these guys are going to match their previous numbers.
Of course, one step backwards statistically in this case is two steps closer to a championship.
There's really not much else to say. James is James. Wade is Wade. Bosh is Bosh. They'll all probably be All-Stars, though more so because the Heat will have the best record in the East, rather than their individual performances.
Prediction: LeBron James goes from 29.7 ppg, 7.3 rpg, and 8.6 apg to 24 ppg, eight rpg, and eight apg. Dwyane Wade goes from 26.6 ppg, 4.8 rpg, and 6.5 apg to 21 ppg, 4.5 rpg, and six apg. Chris Bosh goes from 24 ppg, 10.8 rpg, and 2.4 apg to 17 ppg, 9.5 rpg, and 3 apg.
(Of course, those are moderate declines, but that's assuming they play well with each other, which is far from certain.)
Leandro Barbosa, Toronto Raptors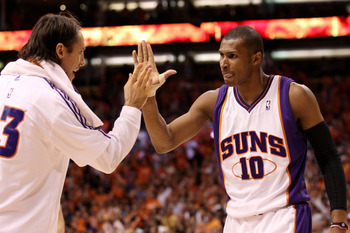 Christian Petersen/Getty Images
Leandro Barbosa is another player who will miss playing with Steve Nash.
Barbosa had health issues last season, which is mildly concerning for a player who is supposed to be entering his prime. His scoring average dipped below double figures for the first time since 2005, and he shot a career-low 32.4 percent from three-point range.
With all that said, could a change of venue perhaps be positive for the Brazilian? That would be the optimistic way of looking at it, but I'm not sold.
By now, it's pretty clear that I'm a believer in Nash greatly boosting the stats of the players around him. I also think the Suns' system and personnel benefit quick, outside shooters. That description fits Barbosa perfectly.
Toronto will be an interesting mix of random players next season. When I say "interesting," I mean I'm predicting them to be the worst squad in the entire NBA.
Will Barbosa help the Raptors avoid that fate? Doubt it.
Prediction: Even if Barbosa is healthy this year, I'd put his numbers right around what they were last year. He can't get back to the four assists per game he had in 2006-2007 with a rag-tag group around him.
Jermaine O'Neal/Shaquille O'Neal, Boston Celtics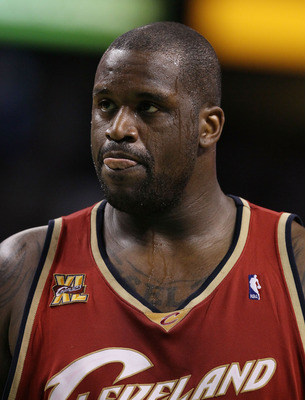 Elsa/Getty Images
Back in the 2002-2003 season, having both Shaquille O'Neal and Jermaine O'Neal would have been a dream come true in the post.
That season, the two combined to average 48.3 points, 21.4 rebounds, 5.1 assists, and 4.7 blocks per game. That's one heck of a duo down low.
Well, eight years later the Boston Celtics have finally paired the two O'Neals together. Unfortunately for the C's, it's a little too late.
The once-mighty O'Neals now have trouble playing for 30 minutes per game. If you watched either play in Cleveland and Miami, it's pretty obvious the Diesel is running on fumes, while Jermaine never developed an effective finesse game to prolong his usefulness.
Still, they are big bodies, and Boston clearly hopes to use a plethora of big men in the playoffs against Miami, and against Dwight Howard.
That's good and well, but during the regular season I don't expect the O'Neals to get significant action, nor a prominent role in the offense.
Prediction: Both Shaq and Jermaine will average fewer than 10 points per game. That would be the first time in Shaq's career that he failed to average scoring in double figures. Both averaged nearly seven rebounds per game last year. This year they'll be lucky to grab 5.5 per contest.
Keep Reading