Early Preview of the 2011 NBA Finals: Miami Heat vs. L.A. Lakers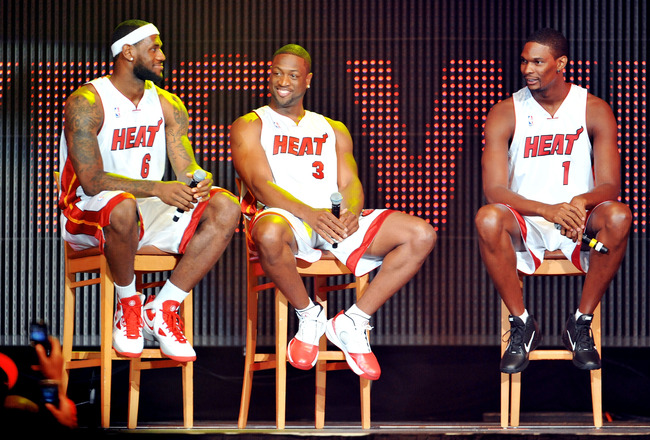 With no disrespect to all the other championship contenders, the minute LeBron James decided to play for Miami over the Cleveland Cavaliers, the New York Knicks, the Chicago Bulls, and the Los Angeles Clippers, the Heat jumped out to the forefront of the NBA Championship race.
While the reigning champion Los Angeles Lakers are still undoubtedly the team to beat, there is no doubt that Miami's new "Big Three" are the biggest threat to their crown.
With a roster that boasts three legitimate superstars and a very serviceable supporting cast, the media have already crowned them unofficial NBA champions for the next few seasons.
But after three consecutive finals appearances and two consecutive finals wins, it would be very unwise to count out the Los Angeles Lakers this early in the offseason, especially before the Heat have played any games together.
Both teams still have whole regular season to play and formidable roadblocks in their quest for a championship. The Heat still have to deal with the Boston Celtics and the Orlando Magic, the Eastern Conference champions from the past three seasons. Out west, the Lakers have a bevy of hungry teams aiming for the target on their back.
But ultimately, when all is said and done, everyone expects the best two teams in the NBA to face one another. Barring an unforeseen upset against either team, the 2011 NBA finals will pit the Lakers against the Heat. So let's see how they match up against each other.
Point Guard: Chalmers & Arroyo vs. Fisher & Blake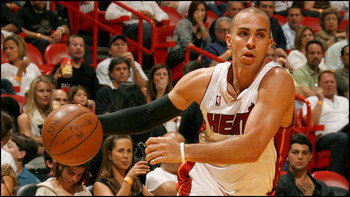 2009-2010 Regular Season Stats:
Mario Chalmers: 24.8 MPG, .401 FG%, .318 3P%, .745 FT%, 1.8 RPG, 3.4 APG, 1.2 SPG, .2 BPG, 7.1 PPG
Carlos Arroyo: 22.0 MPG, .475 FG%, .280 3P%, .844 FT%, 1.8 RPG, 3.1 APG, .5 SPG, .2 BPG, 7.1 PPG
vs.
Derek Fisher: 27.MPG, .380 FG%, .348 3P5, .856 FT%, 2.1 RPG, 2.5 APG, 1.1 SPG, .1 BPG, 7.5 PPG
Steve Blake: 26.3 MPG, .443 FG%, .437 3P%, .750 FT%, 2.4 RPG, 6.1 APG, .7 SPG, .1 BPG, 6.8 PPG
Analysis: Both teams will rely on guard tandems to man the point next season.
Young Mario Chalmers will split time with veteran Carlos Arroyo and offer a good mix of youth and athleticism with knowledge and experience. Both players don't offer much in terms of offense, but on a team with James, Wade, and Bosh, they don't really need to.
In Los Angeles, Steve Blake will replace Jordan Farmar at the point as Derek Fisher's backup. Whereas Fisher brings a toughness and excellent defense to the position, Blake offers a change of pace to the position.
In many teams, the point guard position can be the most important; great point guards can dictate the pace of a game and change momentum. Both teams have solid players manning the point, but with the other players on the team, they don't need to star. Miami's "Big Three" will dominate the ball, while in L.A., the point guard position isn't as important in Phil Jackson's triangle offense as it is on other teams.
Edge: Push
Shooting Guard: Dwyane Wade vs. Kobe Bryant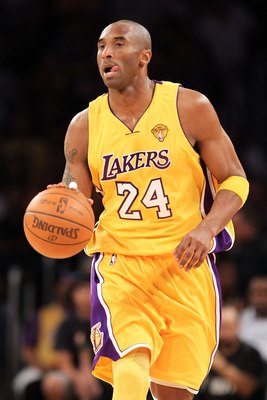 2009-2010 Regular Season Stats:
Dwyane Wade: 36.3 MPG, .476 FG%, .300 3P%, .761 FT%, 4.8 RPG, 6.5 APG, 1.8 SPG, 1.1 BPG, 26.6 PPG
Vs.
Kobe Bryant: 38.8 MPG, .456 FG%, .329 3P%, .811 FT%, 5.4 RPG, 5.0 APG, 1.6 SPG, .3 BPG, 27.0 PPG
Analysis: These two are arguably the two best shooting guards playing today and will invariably guard each other throughout the course of a series. Both players are very athletic and proficient scorers, though Wade is a better distributor, being a hybrid point/shooting guard, while Bryant is more of an out-and-out scorer.
Last year's statistics perfectly demonstrate this difference. Against the Lakers, Wade had his normal scoring game but was incredibly effective as a passer, averaging 26.5 points, 6.5 rebounds, 11.5 assists. But as
On the other hand, Bryant upped his game, averaging 36 points, 4.5 rebounds, 3.5 assists against the Heat. The heat had to contend against the whole Laker team and though much of the attention was on Bryant, he still scored at will.
However, although Bryant should be doubly motivated against a new and improved Miami Heat team, he will also have to work much harder both on offense and defense, trying to stop Wade while keeping up his scoring. Wade has better finishers around him and will be much more of a threat both as a scorer and distributor.
Even though the presence of Miami's "Big Three" will change the team dynamics, as individual matchups go, Bryant still has a slight edge against Wade.
Edge: Lakers
Small Forward: LeBron James vs. Ron Artest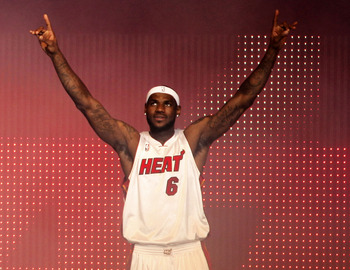 2009-2010 Regular Season Stats:
LeBron James: 39.0 MPG, .503 FG%, .333 3P%, .767 FT%, 7.3 RPG, 8.6 APG, 1.6 SPG, 1.0 BPG, 29.7 PPG
vs.
Ron Artest: 33.8 MPG, .414 FG%, .355 3P%, .688 FT%, 4.3 RPG, 3.0 APG, 1.4 SPG, .3 BPG, 11.0 PPG
Analysis: Although Ron Artest is no chump by any means, LeBron James is arguably the best player in the NBA today. But as a premier perimeter defender, Artest should be able to slow James down a bit.
But in 2 games with the Cleveland Cavaliers against the Lakers last year, James averaged 31.5 points, 4.5 rebounds, and 9 assists, with improved scoring and passing, but decreased rebounding. No doubt L.A.'s big men had a lot to do with his inability to rebound. But it appears that Artest and the rest of the Lakers didn't really slow his scoring and passing down.
On the other hand, Artest averaged 10.5 points, 7 rebounds and 3 assists against James' Cavaliers, showing he held his own pretty well against that team. Being burdened with defending James for much of the two games, Artest still contributed a decent stat line.
But against a stacked Miami Heat team, Artest is going to have to focus most, if not all, of his energy on a rejuvenated James. He may slow him down, but ultimately, James will prove too fast, too strong, and too skilled for Artest.
Edge: Heat
Power Forward: Chris Bosh vs. Pau Gasol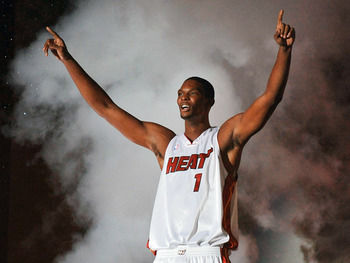 2009-2010 Regular Season Statistics:
Chris Bosh: 36.1 MPG, .518 FG%, .364 3P%, .797 FT%, 10.8 RPG, 2.4 APG, .6 SPG, 1.2 BPG, 24.0 PPG
vs.
Pau Gasol: 37.0 MPG, .536 FG%, .000 3P%, .790 FT%, 11.3 RPG, 3.4 APG, .6 SPG, 1.7 BPG, 18.3 PPG
Analysis: This matchup is going to be one of the closest. With arguably the two best current players in the position, this battle of hybrid forward-centers feature elite players at the top of their game.
While with the Raptors, Bosh averaged 20 points, 10 rebounds and 3 assists, was a shade under his season averages.
Similarly, against Bosh's Raptors last year, Gasol managed 19.5 points, 9 rebounds and 1.5 assists, comparable to his season average.
Joining Miami will afford Bosh more freedom and probably better opportunities to score. Without defenses simply keying on him and inundating him with defenders, he should improve his efficiency even if that means he sacrifices some of his gaudy numbers. He edges it slightly over the classy Gasol.
Edge: Heat
Center: Zydrunas Ilgauskas vs. Andrew Bynum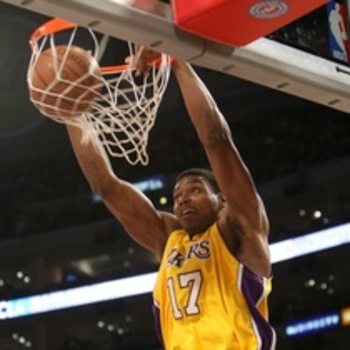 2009-2010 Regular Season Stats:
Zydrunas Ilgauskas: 20.9 MPG, .443 FG%, .478 3P%, .743 FT%, 5.4 RPG, .8 APG, .2 SPG, .8 BPG, 7.4 PPG
vs.
Andrew Bynum: 30.4 MPG, .570 FG%, .000 3P%, .739 FT%, 8.3 RPG, 1.0 APG, .5 SPG, 1.4 BPG, 15.0 PPG
Analysis:Without any true star big men, the Heat have a clear disadvantage against Andrew Bynum.
The Miami Heat still have a problem with the Center position. Between 'Big Z', Juwan Howard, Jamaal Magloire, and Udonis Haslem if they choose to go small, this position is horribly undermanned and severely lacking in talent.
On the other hand, if he can stay healthy, Andrew Bynum is a Top-7 center in the league and offers scoring, rebound, size and a defensive deterrent to opponents. He may not be Shaq, but he has been rapidly improving and is a great alternative at this point in his career.
Hands down, the Lakers have a huge advantage in this position.
Edge: Lakers
The Bench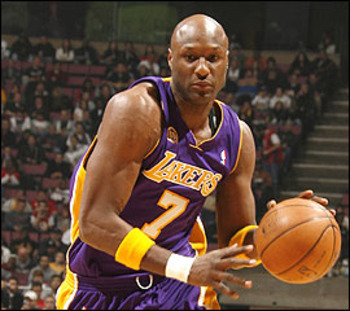 Key Bench Players:
Miami: Mike Miller, Eddie House, Udonis Haslem, Juwan Howard.
Los Angeles: Lamar Odom, Matt Barnes, Shannon Brown, Sasha Vujacic.
Analysis: Although the starters will probably log in heavy minutes, the substitutes will offer quality minutes off the bench.
With three big superstars on their team, the Heat did not have much room to fill out their roster. They did a decent job by signing veterans Mike Miller, Eddie House, and Juwan Howard, who can all provide decent scoring from the bench.
However, the Lakers have one of the best 6th men in Lamar Odom, have the athletic Shannon Brown and Sasha Vujacic on their bench, and added the long-limbed Matt Barnes to their roster. As a second unit, the Lakers bench is about as good as any in the league.
The Heat could really use a few more quality veteran players off the bench, especially big men. The Lakers are largely complete.
Edge: Lakers
Conclusion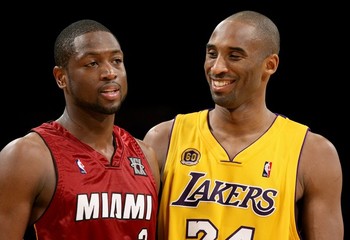 Conclusion
Whether or not the Heat can compete with the Lakers depends a lot on the chemistry between James, Wade, and Bosh, and whether their supporting cast can play their roles adequately.
As the statistics show, both teams are stacked. But the Heat are as yet a mystery while the Lakers will be predictably good. If the former can manage to fix their problems and possible chemistry issues, they will be hard to contend against.
Some members of the media are already predicting the Heat to approach or break the 1995-1996 Bulls' record 72 wins in a season. But having played no games together and with continued uncertainty at the center position, the Heat still have a lot to prove before they are crowned champions.
After all, the Lakers are defending consecutive finals wins and until someone can prove that they can handle their size and depth, they will continue to be favorites in the eyes of many experts. It is never wise to underestimate the heart of a champion.
Furthermore, if the Heat have one glaring weakness, it is undoubtedly their lack of size. Unfortunately for them, that area is exactly where the Lakers excel.
So can the Heat handle the Lakers? We will not know until it happens. But with a much improved roster, and three of the best players in the league, they certainly have as good a chance as anyone.
My Prediction: The Heat will win the NBA Championship this year.
Keep Reading

Miami Heat: Like this team?