Lakers vs. Celtics Game 3: Lakers 'Pierce' Celtics; Gain Good Karma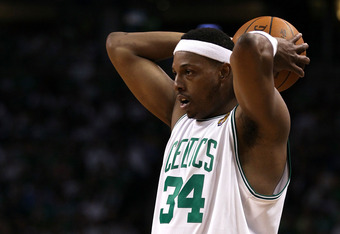 Elsa/Getty Images
The Celtics needed someone to step up.
We've all heard the statistics by now. At least I thought we had. In a 2-3-2 format, the team that wins Game 3 of a tied series wins the series every time.
Ray Allen missed that memo.
Allen looked as if he used up all of his postseason magic in game two. A few days ago we praised him for sinking the first seven 3-pointers he attempted. He was unstoppable. Today? He missed the first EIGHT, and ended with just two points on the night -- both from the free throw line.
Despite several good looks early in the game, it seemed as though Ray had lost confidence in his shot as he continued to put the ball on the court instead of going for three. He was nearly non- existent in this critical game three.
On the other hand, Kevin Garnett seems to have found his own personal fountain of youth scoring 25 points and snatching down 6 rebounds on the night. He was breaking to the basket, throwing down Rondo's alley-oops with authority, and attacking. Boy was he attacking -- both sides of the court.
Paul Pierce, after yelling "We're not coming back!" to the fans at Staples center, decided to show up late in the game. Along with Ray Allen, he also had several good looks at 3-point shots early in the game, but opted to pass around. Maybe this was part of the plan. Maybe this was a diversion to setup his late game heroics. If so, it almost worked.
Almost.
Pierce was 3 for 4 on the night from beyond the arch, drilling one at a critical point in the 4th quarter to bring the Celtics within 2 points of LA.
But it was too late.
The effort should have been there from the start. The 3-point looks should have been tried. This story could have an entirely different spin on it. After trash talking thousands of fans in LA, he fell short.
Derek Fisher fired the dagger(s) that pierced straight through the Celtics armor. Final minute -- Lakers are up by 4. Everyone's on the edge of their seats as Boston is still very much in this game. Little did we know, the fire driving the late game comeback for the Celtics had already dissipated. Green jerseys seemed to be in slow motion as Derek Fisher blew past everyone to the goal and went for the kill. After a foul call and a free throw, LA found themselves up 87-80 with only 48 seconds to go.
Now, statistically, the Lakers are favored by a long-shot to win the series. Phil Jackson teams are 47-0 after winning the first game of a playoff series. As stated earlier, in an NBA Final that follows the 2-3-2 home/away format, the winner of game three in a tied series is 10-0.
Those are some heavy obstacles for the Celtics to overcome. Garnett wants it. Rondo wants it.
Can they inspire their other team members to contribute when it counts?
This article is
What is the duplicate article?
Why is this article offensive?
Where is this article plagiarized from?
Why is this article poorly edited?

Los Angeles Lakers: Like this team?