Keep the MVP, All-NBA First Team and Defensive Player of the Year races out of this. We don't care about that stuff.
This is the space for celebrating the weird, slipped-through-the-cracks, generally unsung achievements of the 2015-16 NBA season. Voted on by an exclusive one-person committee (me) and not technically sanctioned by any governing body, this hardware (there is no actual hardware) recognizes and appreciates things you may have missed in categories you didn't know existed (because they don't).
The focus this time is on developments since rosters solidified following the trade deadline. And if you couldn't already tell, these awards will be different.
"We're All Winners Here" Award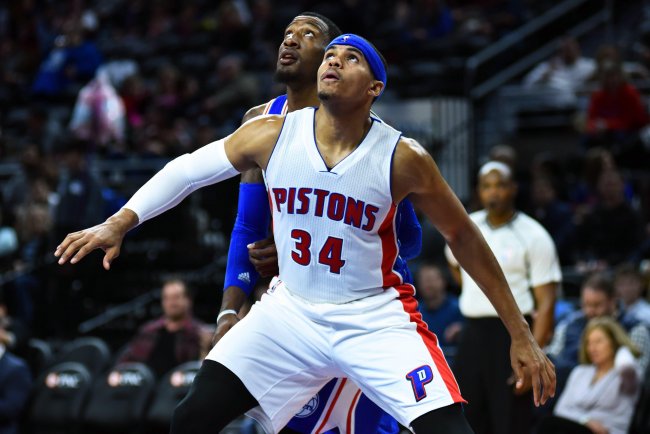 Tim Fuller-USA TODAY Sports
Winner: Everyone!
Not everyone everyone, but everyone involved with the deadline deal that sent Tobias Harris to the Detroit Pistons.
A trade that initially looked like a mistake for the Orlando Magic has paid dividends across the board. Harris is thriving with the Pistons, posting superior scoring volume and efficiency numbers while upping his assists and cutting his turnovers.
Tobias Harris' Improvement with Pistons

| | | |
| --- | --- | --- |
| | PPG | FG% |
| Orlando Magic | 13.7 | 46.4 |
| Detroit Pistons | 16.9 | 50.8 |
NBA.com
He's been a terrific fit, though that part of the exchange was expected.
The surprise has been Orlando also coming out ahead. Though it's still fair to criticize the Magic's middling return (Ersan Ilyasova and Brandon Jennings but, conspicuously, no first-round pick), getting Aaron Gordon more playing time has been an unqualified win. If Harris has improved since the trade, Gordon has exploded, per John Denton of Magic.com:
'You're blind if you don't see Aaron's talent and some of the things that he can do. But before he was a mistake player, and now he's not a mistake player anymore,' said Magic head coach Scott Skiles, who has raved about Gordon's defensive abilities against the likes of all-stars such as Dirk Nowitzki, Draymond Green and Paul Millsap.
Since the All-Star break, Gordon has broken his career high in scoring with 22 points against the Sixers, logged games of 15 and 16 rebounds and generally looked like a young Shawn Marion with a workable jumper.
Detroit got its stretchy power forward, Orlando unlocked Gordon's potential and everybody's happy.
"It Feels Like We Should Panic. Should We Panic?" Award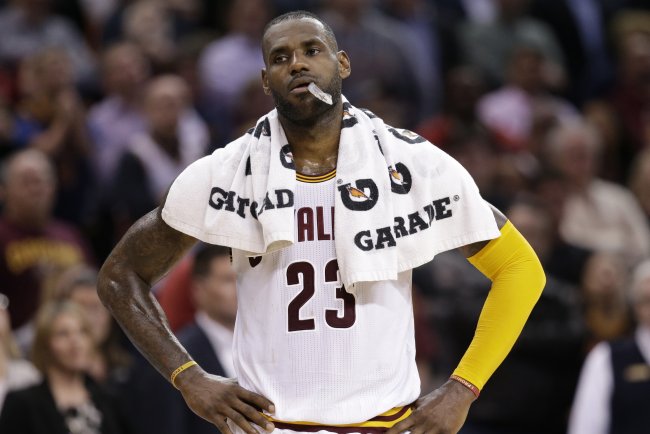 Tony Dejak/Associated Press
Winner: Us, for how we react to everything that happens with the Cleveland Cavaliers.
If losing at home to a Memphis Grizzlies team with eight healthy bodies wasn't rock bottom, it's scary to imagine what the Cavs' true nadir will look like.
"I can sit up here and say that we're a team that's ready to start the playoffs tomorrow, but we're not," LeBron James said after Monday's stunning 106-103 loss to the Grizzlies, per Dave McMenamin of ESPN.com.
James has to say things like that after a bad loss, but is anyone really worried the Cavaliers won't figure it out in the playoffs? Or, better question: Is there a team in the East you'd bet on beating Cleveland four times in seven tries?
Maybe there are deep interpersonal issues at work. Maybe Kyrie Irving and Kevin Love aren't cut out for this. Maybe head coach Tyronn Lue is a downgrade from David Blatt. Or maybe this is what it looks like when a team has been hearing since October (and has known deep down) it didn't really have to try during the regular season because its talent advantage was so great. We should have expected this.
The Toronto Raptors and Boston Celtics look good, but has any of that Cavs-can-just-coast calculus really changed since training camp?
Doesn't seem like it. Everybody just calm down.
"Best Jersey Laundering Technique" Award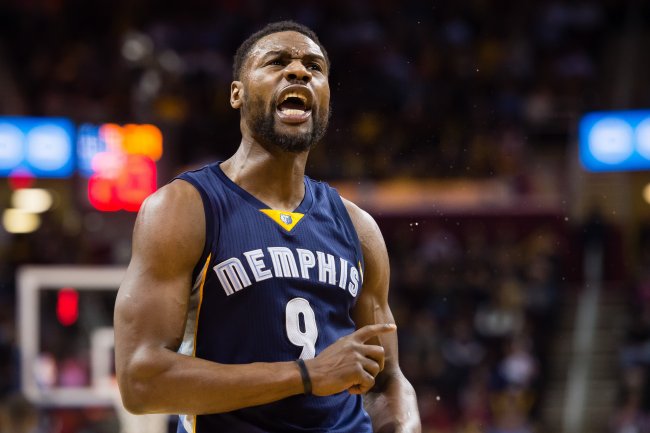 Jason Miller/Getty Images
Winner: Memphis Grizzlies Equipment Managers
It's unconventional, but the Grizzlies' practice of substituting bundles of razor wire, 40-grit sandpaper and used high-mileage 5W-30 Pennzoil instead of detergent and softener clearly works. And it helps explain why anyone wearing a Grizzlies jersey immediately gains cage-fighter toughness.
Memphis, as we already explained, took care of the Cavaliers Monday with a comically thin roster. It shouldn't have happened, and maybe Cleveland's malaise was a factor. But the Grizzlies' hunger and competitiveness were so glaringly evident that minimizing their role in the result feels unfair.
This is a team that stripped down at the deadline, giving up Courtney Lee and Jeff Green to save a little cash and secure picks for the future. Precipitated by Marc Gasol's season-ending foot injury and, perhaps, fears Mike Conley will leave as a free agent, Memphis acted like a team preparing for the end of an era. Yet here the Grizzlies are, firmly in possession of the No. 5 seed in the West and winners of seven of their last 10 games.
Remarkably, Memphis' success during that 10-game stretch has been a product of more offense than defense. The Grizz have averaged 109.2 points per 100 possessions since Feb. 10, seventh-best in the league, per NBA.com.
But they took down the Cavs with guts, activity and hustle.
Grit and grind don't wash out so easily, it seems.
"We're Out of Problems" Award
Winner: Golden State Warriors fans
It's remarkable how easy it is to get worked up over a concern that amounts to "Stephen Curry is so good, it's almost bad for the Warriors." But that's where we are.
Golden State loses almost 14 points per 100 possessions of scoring, the difference between the league's best scoring attack and one that would rank 18th in the league, when Curry sits, per NBA.com. If Curry was only playing at the level he set during last year's MVP charge, the Warriors might be trailing the San Antonio Spurs by a half-dozen games in the standings.
Sometimes, it's fun to rely on Curry to such an obscene degree—mainly because he keeps coming through.
But it's also troublesome. Or at least it passes for troublesome in a season with a winning percentage north of 90. Per Ethan Strauss of ESPN.com: "If Curry weren't trending impossible, the Warriors would look vulnerable. Though the Warriors have an 8-2 record since the break, they're grinding out these wins with a lukewarm +1.4 point differential."
Like Cleveland, the Warriors enjoy the benefit of the doubt. Everyone expects them to dial in when the games really start to matter. Hopefully, Curry won't be too hunched over from the burden he's been carrying by then.
Curry being so good that he dulls his team's competitive edge is the mother of all first-world NBA problems. Enjoy it, Warriors fans. This is as good as it will ever get.
"Giannis Antetokounmpo Euro-Step Dunk" Award
Winner: Giannis Antetokounmpo
Criteria: He's the only human on earth regularly doing this.
Appropriate Response: Terrified, mildly aroused, giddy.
Conclusion: This is just dumb, and it shouldn't be possible. But it's glorious that it is. The Giannis-as-point guard field test might not be more than an experiment, though three triple-doubles in a seven-game span is pretty encouraging. And it's even more intriguing to see the Bucks beating defensive tactics meant to exploit Antetokounmpo's poor outside shooting, as observed by ESPN.com's Zach Lowe: "Teams will slip under picks against Antetokounmpo, giving him space to shoot, but he's starting to find ways around that, including via instant re-screens going the other direction."
Sneaky!
If it turns out Antetokounmpo's point guard tenure is really just a ploy to keep Bucks fans interested as a mildly disappointing season winds down, and all we get from this are highlights we've never seen anyone produce, it's still an unqualified win for all involved.
Follow @gt_hughes on Twitter.
Stats courtesy of NBA.com. Accurate through games played Mar. 8.