Last season, when the Portland Trail Blazers looked like bona fide Western Conference contenders, LaMarcus Aldridge offered up a nickname for the team's blistering backcourt of Damian Lillard and Wesley Matthews.
"Live in Portland, it rains," Aldridge mused on the Dan Patrick Show (h/t Casey Holdahl of ForwardCenter.net). "It's not too hot, but just think about it for me. ... When you're making it rain, you're really making the three. So just think about it. Rain Brothers."
Matthews and Aldridge have both since moved on, as have two of Portland's other starters from 2014-15. But the moniker sticks just as well now as it did then, thanks to the sweet-shooting, pick-and-rolling, playoff-pushing partnership between Lillard and C.J. McCollum that was once again on display during the Blazers' 104-85 pounding of the New York Knicks on Tuesday night.
Lillard looked as comfortable at Madison Square Garden as he told ESPN's Chris Broussard he would be. He had 24 points by halftime, including 16 during the final four minutes and 25 seconds of the second quarter that stretched a one-point lead to eight, and finished with 30 or more points for the eighth time in his last nine outings. NBA on ESPN noted Lillard's impressive first-half scoring stat:
Damian Lillard dropped 24 Pts in the 1st half against the Knicks, including 16 in the last 4:25. pic.twitter.com/11xuGHqVWW

— NBA on ESPN (@ESPNNBA) March 2, 2016
Where Lillard left off, McCollum was quick to pick up. The Lehigh grad dropped 21 of his 25 points after the break, as much with his smooth stroke—which combined with Lillard's to make it rain from three-point range (6-of-12)—as with his crafty handles.
"He is one of the better ball-handlers in the league—he gets anywhere he wants to go—and he's got more scoring areas than a lot of guys in his position," Blazers general manager Neil Olshey told NBA.com's Ian Thomsen recently. "For a lot of 2s, it's either the 3 or at the rim. But he's got runners, a floater, step-backs, mid-range, fallaways. He can score in a lot of different ways, and with all of these pick-and-rolls, he's just so patient."
Lillard's toolbox is just as stacked as McCollum's, if not more so. That combination has proved lethal enough to help the Blazers overcome both the departure of four starters from last year's squad and a sluggish 15-24 start to the 2015-16 season.
Not that Portland's recent success (18 wins in its last 22 games, three straight to start a six-game Eastern Conference road swing) is purely the product of its potent pairing. Lillard and McCollum wouldn't have such solid screens to use or an improving defense on the other end without the efforts of the Blazers' less heralded youngsters.
Meyers Leonard and Ed Davis, in particular, have emerged as key cogs off Portland's bench. As ESPN's Zach Lowe detailed, that duo, which combined for 20 points and 23 rebounds in the Big Apple, has unlocked a workable defensive arrangement for Terry Stotts—the reigning Western Conference Coach of the Month:
Ed Davis, one of those 26-and-under signings, has never been better, and he took one for the team in January, when Stotts tweaked Portland's scheme. Davis plays with Leonard off the bench, and Leonard struggled scampering around with power forwards while Davis tussled with centers in his natural habitat. Stotts asked Davis whether he might swap to simplify the game for Leonard, and Davis agreed.
Still, the Blazers know their hopes, for surprising success now and bigger things in the future, ride on the superb skills of Lillard and McCollum.
"Damian and C.J. are our two best players," Olshey told Thomsen. "They are our two best passers, our two best shooters and our two best scorers."
The Blazers are doing just fine with these Rain Bros leading the way. At 33-28, Portland remains in a dead heat with the Dallas Mavericks for sixth place out West. Those two teams will play a home-and-home set in late March that could determine who gets first crack at the Golden State Warriors, San Antonio Spurs and Oklahoma City Thunder in the playoffs.
That is, assuming the Blazers are still in the running by then. In the meantime, they have seven of nine games to play on the road, including trips to Oakland, Oklahoma City and San Antonio.
This stretch run will test the mettle of Rip City's latest edition. With Lillard and McCollum at the controls, the Blazers have two stalwarts to pave the way along the rocky road to come.
As Lillard told Thomsen, "It's coming together quicker than everybody expected—except for us two."
Heat's Cheap Help Comes Up Big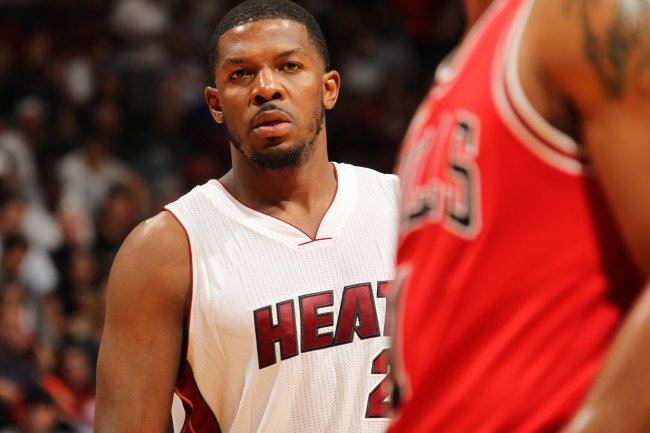 Issac Baldizon/Getty Images
Coaxing LeBron James and Chris Bosh to join Dwyane Wade in south Florida will almost certainly stand as the crowning achievement of Pat Riley's front-office career with the Miami Heat. But since James took his talents back to Cleveland, Riles has revealed his own knack for finding talent in the bargain bin.
Last season, he snagged Hassan Whiteside out of the D-League. On Tuesday, the mercurial big man scored a career-high 26 points, drained 10 of 11 free throws, grabbed 14 rebounds and blocked four shots—his eighth double-double in 10 games since moving to the bench—to boost the Heat to a 129-111 win over the Chicago Bulls at American Airlines Arena.
Whiteside wasn't the only one of Riley's recent strokes of genius (or luck) to put the Heat eight games over .500. Amar'e Stoudemire, who came to Miami for the veteran's minimum this past summer, led all participants with five blocks to go along with seven points and four rebounds.
Stoudemire's 17th straight start came alongside former Phoenix Suns teammate Joe Johnson, who dropped 24 points on 10-of-13 shooting with five rebounds and four assists in his second game with the Heat and first in front of the home crowd in Miami.
"Great pickup, Heat," Whiteside said after the game in reference to Johnson, according to the Associated Press (h/t ESPN.com). "He's an amazing player, and I'm glad he's on our side."
Miami must be happy to have all three of Whiteside, Stoudemire and Johnson around. With Bosh sidelined by blood clots and Tyler Johnson, another diamond in Riley's rough, done for the year, the Heat will need all the help they can get to hang onto a sliver of home-court advantage in the Eastern Conference.
Fortunately for them, Riley has already delivered with only a shoestring budget to spare.
Parsons Puts His Best Foot Forward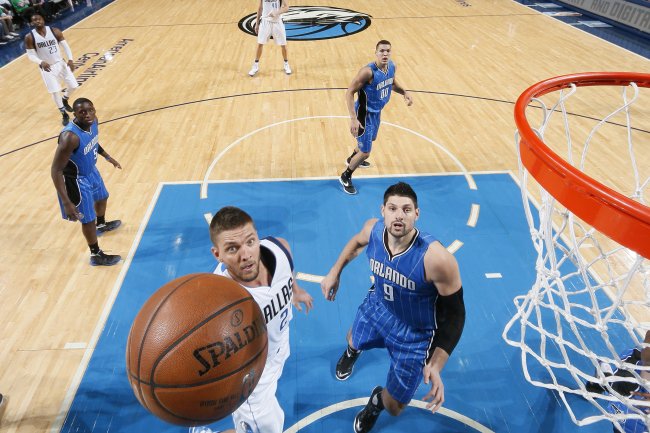 Glenn James/Getty Images
Chandler Parsons fell short of securing his second three-game streak of 20 or more points in his last eight outings. But in scoring 17 points to propel the Dallas Mavericks to a 121-108 win over the Orlando Magic, Parsons did plenty to show how healthy his troublesome knee is now.
The Florida product drained three of four from beyond the arc and didn't hesitate to attack the basket—or throw a lob to himself.
To that end, Parsons was no Tracy McGrady, but he could follow in T-Mac's footsteps this summer. According to ESPN.com's Tim MacMahon, the Magic figure to make a free-agent play for Parsons, who dreamt of playing for Orlando while growing up in nearby Casselberry. Chances are, the Magic liked what they saw from the Gator grad.
Per McMahon, there may be friction between Parsons and head coach Rick Carlisle to fuel the small forward's exit from the Metroplex:
However, Parsons and his inner circle have expressed concerns about whether Carlisle has confidence that Parsons can be a franchise player and is willing to give him the freedoms and responsibilities players of that ilk typically receive.

Those doubts are fueled in part by occasional crunch-time benchings this season, even after Parsons, who averaged 18.8 points on 52.3 percent shooting from the floor in February, returned to form following a difficult rehab from major knee surgery.
Dallas will miss Parsons if he leaves, but it may have the horses to keep winning without him. After all, Parsons was just one of five Mavericks to score in double figures against the Magic, including Dirk Nowitzki (19 points) and Wesley Matthews (21 points).
For now, Parsons gives the Mavs yet another offensive weapon to help them fend off the hard-charging Blazers in the Western Conference standings.
Suns' Road Woes Continue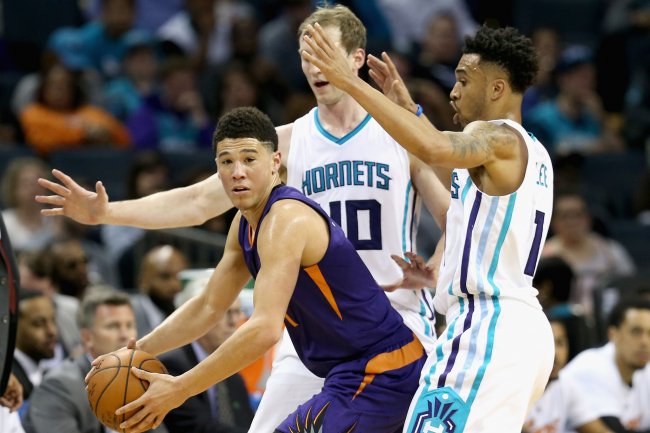 Streeter Lecka/Getty Images
The high note the Phoenix Suns hit to end February didn't carry into March. Three days after edging the remixed Memphis Grizzlies at home to end a 13-game skid, Phoenix returned to the loss column with a 126-92 spanking in Charlotte.
The Hornets fell two fourth-quarter points shy of torching the Suns for at least 30 in each frame. Kemba Walker burned Devin Booker and Phoenix's young guards for 26 points and nine assists, while Al Jefferson, in his first home game since returning from a torn meniscus, took Alex Len and company to task for 19 points and seven assists off the bench.
On the other end, the Suns could hardly buy a bucket. They converted just 36.3 percent of their field goals—their fourth-worst showing of the 2015-16 season—with Booker (4-of-16), Len (5-of-15), P.J. Tucker (1-of-6), Ronnie Price (2-of-10) and Archie Goodwin (4-of-12) all dragging down that mark.
"We have a lot of young guys," Suns head coach Earl Watson conceded to reporters after the game. "Our young guys got quality shots, they got good shots, they got touches, (but) they weren't able to execute. That's going to happen."
So are the road losses. The Suns have now dropped 16 straight outside of Talking Stick Resort Arena, but this 34-point defeat wasn't even the worst of them. That title still belongs to Phoenix's 40-point flattening in L.A. against the Clippers, which tied the third-largest margin of defeat in franchise history.
Dubs Do Enough to Hang On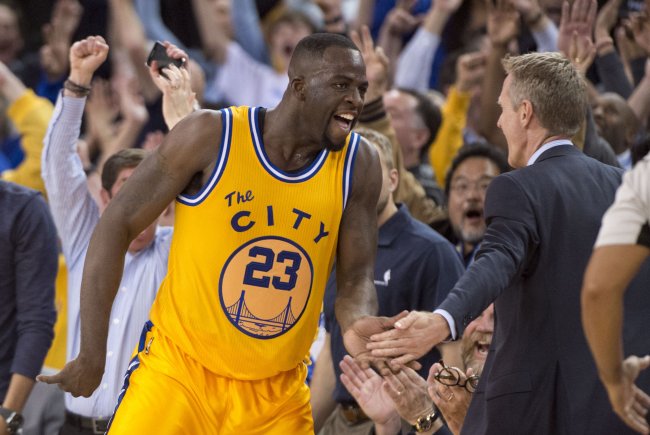 Kyle Terada-USA TODAY Sports
Think the Golden State Warriors are a one-man show? Think again.
With Stephen Curry and Andre Iguodala both sidelined by injuries, the Dubs held off the Atlanta Hawks in overtime for a 109-105 win.
Golden State certainly missed having its MVP on the floor. The team's offense, usually greased by Curry's all-court marksmanship, devolved into a series of slowly developing sets and hopeless heaves as the Hawks clawed back from a 14-point hole in the first half. The Warriors shot under 40 percent from the field for just the fourth time this season, with Shaun Livingston (3-of-9 from the floor in Curry's stead) and Klay Thompson (8-of-27 for 26 points) suffering the most sans Steph.
Thompson, though, scored seven of Golden State's 12 points in the extra period. Draymond Green came through with three of his own, however miraculously, before finishing one assist shy (15 points, 13 rebounds, nine assists, four steals) of his 12th triple-double of the season.
What the Warriors lacked in overall sharpness, they made up with energy, heart and hustle. They outmuscled Atlanta on the offensive boards (18-7), scrapped for 23 more shots than the Hawks and owned their guests in second-chance points (17-7) and points in the paint (52-36).
Thanks to that gutsy effort, Golden State (54-5) extended its winning streak at Oracle Arena to 43 games and will have a chance to tie the NBA record, held by Michael Jordan's Chicago Bulls, for consecutive home victories when the Oklahoma City Thunder come to town on Thursday.
Russell Seizes Center Stage at Staples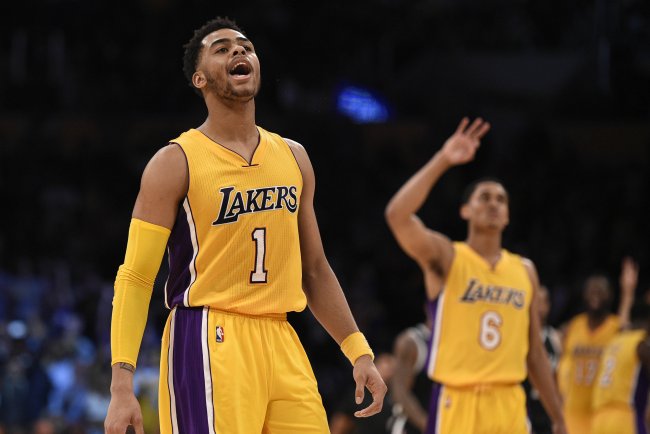 Kelvin Kuo-USA TODAY Sports
While Kobe Bryant rested his sore shoulder on Tuesday, the Los Angeles Lakers got all the Mamba magic they needed from an unexpected source.
In his fifth game since returning to Byron Scott's starting five, D'Angelo Russell exploded for a career-high 39 points on 14-of-21 shooting (8-of-12 from three) to lift the Lakers to a 107-101 win over the Brooklyn Nets. The Ohio State product channeled his inner Kobe when it mattered most, draining consecutive dagger threes to fend off the Nets, who saw Brook Lopez and Thaddeus Young combine for 42 points and 22 rebounds.
"He's growing, has confidence and is more comfortable in the system," Scott said in praise of his first-year guard, per Mark Medina of the L.A. Daily News.
The combination of Russell's growth and comfort now has him mingling with historic company. For one, his night stands as the high-scoring mark among all NBA rookies this season—higher than Karl-Anthony Towns, higher than Jahlil Okafor and higher than Kristaps Porzingis, according to Darius Soriano of the ForumBlueandGold.com:
And yes, Russell's 39 is the most by a rookie this season. Towns has scored 35, 32 & 30, Booker has scored 32, Okafor/Turner have scored 31.

— Darius Soriano (@forumbluegold) March 2, 2016
Russell also became the youngest player to put up 39 points or more in a game since a certain four-time scoring champ, according to Justin Russo of The Beat:
D'Angelo Russell (20 years, 7 days) is youngest player to have 39+ points in a single game since Kevin Durant had 42 (19 years, 200 days).

— Justin Russo (@FlyByKnite) March 2, 2016
As far as Lakers lore is concerned, Russell's coming-out party was the best by a Lakers rookie since the team last played in Minneapolis, as noted by ESPN Stats & Info:
D'Angelo Russell's 39 points, most by a Lakers rookie since Elgin Baylor (39) on 3/11/1959 vs Pistons (via @eliassports)

— ESPN Stats & Info (@ESPNStatsInfo) March 2, 2016
And in relation to the Mamba, Russell is already ahead of schedule, which Bleacher Report's Chris Martin Palmer pointed out:
D'Angelo Russell scored 39 in his 59th game. Kobe scored 39 in his 248th game.

— Chris Martin Palmer (@ChrisPalmerNBA) March 2, 2016
All of which should take some of the edge off what could go down as the worst campaign in franchise history—and lend Lakers fans hope for the future.
Josh Martin covers the NBA for Bleacher Report. Follow him on Twitter (@JoshMartinNBA), Instagram and Facebook.