Updates from Saturday, Aug. 23
ESPN's Brian Windhorst reports that Wiggins is a member of the Timberwolves:
Cavs, Wolves, 76ers have completed Kevin Love trade officially. As part of deal Wolves will receive 6.3M trade exception.

— Brian Windhorst (@WindhorstESPN) August 23, 2014
Updates from Sunday, Aug. 10
The Associated Press provides comments from Andrew Wiggins' former coach Bill Self (via Sporting News):
When all this trade stuff started, I talked to Andrew and Andrew told me, 'I hope I get traded.' And I'm like, 'No you don't.' And he said, 'Coach, I do. It's better for me, knowing my personality and what I need to do, to go somewhere where I'm forced to be something as opposed to going in there where they're going to be patient with me and I'm going to be a piece.'
Updates from Thursday, Aug. 7
K.C. Johnson of the Chicago Tribune notes the Bulls backed off a potential Kevin Love deal when they learned Wiggins was involved:
Bulls remained in contact with Minnesota but knew when Cavs included Wiggins they would've had to gut team to beat Cavs' offer.

— K.C. Johnson (@KCJHoop) August 7, 2014
Adrian Wojnarowski of Yahoo Sports reports the Cavs have a deal in place to trade Wiggins:
The Minnesota Timberwolves have reached an agreement in principle to send All-Star forward Kevin Love to the Cleveland Cavaliers for Andrew Wiggins, Anthony Bennett and a protected 2015 first-round draft pick, league sources told Yahoo Sports.

Cleveland is making the deal with Minnesota with a firm agreement Love will opt out of his contract in 2015 and re-sign with the Cavaliers on a five-year, $120 million-plus contract extension, league sources told Yahoo Sports.

The deal cannot be finalized until Aug. 23, because Wiggins, the No. 1 overall pick, cannot be traded until one month following the signing of his rookie contract. The two teams have agreed to the deal, but neither would have recourse if the other decided to pull out of the arrangement before it can be formally completed this month. No third team is involved in the Cavaliers-Timberwolves trade agreement.
Updates from Saturday, Aug. 2
Wiggins spoke about his inclusion in trade talks and how it's impacting him, via ESPN.com:
I just want to play for a team that wants me. So whichever team wants me I'll play for. ... At the end of the day you have to remember that the NBA is a business before anything. I'm a rookie. I really don't have too much say.
Earlier, CSNNW's Chris Haynes had an update on Wiggins' status with the Cavaliers:
In speaking to key members of Wiggins' camp on Aug. 2, they adamantly maintain to CSNNW.com that the Cavaliers have not informed them a trade is forthcoming. This is even despite NBA's online store recently discontinuing Wiggins' jersey, Kevin Love withdrawing from World Cup play and Anthony Bennett being held out of pickup games.

All signs point towards a transaction.

"As of now, Wiggins anticipates remaining a Cavalier," one source close to the rookie said.
Updates from Wednesday, July 23
Andy Greder of the Pioneer Press provides an update:
#Twolves rookie Zach LaVine, friends with Andrew Wiggins, on possibly playing with him: "He'll bring a lot of excitement to Minnesota."

— Andy Greder (@twolvesnow) July 30, 2014
Updates from Monday, July 21
Bob Finnan of The Morning Journal & The News-Herald reports on the Cleveland Cavaliers' stance regarding No. 1 overall pick Andrew Wiggins:
The Cavaliers insist rookie swingman Andrew Wiggins has not been offered in a possible trade for Minnesota Timberwolves power forward Kevin Love.

No one involved would guarantee it wouldn't happen at a later date, but for now the Cavaliers will proceed in Love negotiations without using the mercurial Wiggins as a trade chip, a source told The News-Herald.
Updates from Sunday, July 20
The NBA on ESPN Twitter account has the latest update on what the Cavs plan on doing with Wiggins:
Sources: Cavaliers planning to sign Andrew Wiggins this week (via @WindhorstESPN). http://t.co/kLVXOqQB8a pic.twitter.com/vM8f9s0y07

— NBA on ESPN (@ESPNNBA) July 20, 2014
Updates from Saturday, July 19
Wiggins talked about the rumors swirling around him, according to Kurt Helin of Pro Basketball Talk:
I let my agent and my support system handle that, I just love playing the game of basketball and I know the NBA is a business. (On if it's distracting): Not at all. If it's someone important, family or friends, you kind of tell them what you know. But if it's not, it's mostly in one ear and out the other. (On if he's worried): No. I just play basketball man wherever I go. I just know what you know, I just see what you see on TV.
CSN Northwest's Chris Haynes refutes previous reports that Wiggins was made available as a potential trade piece:
Cavs G/F Andrew Wiggins has not been made available to Wolves or anyone, multiple league sources tell @CSNNW. They're not budging right now.

— Chris Haynes (@ChrisBHaynes) July 19, 2014
Updates from Friday, July 18
ESPN's Chris Broussard reports the Cavs have made Wiggins, along with Anthony Bennett, available:
The Minnesota Timberwolves and Cleveland Cavaliers have discussed a blockbuster trade centered around Kevin Love and the league's last two No. 1 draft picks, league sources told ESPN.

In an attempt to add Love, a three-time All-Star, the Cavaliers are willing to part with Andrew Wiggins and Anthony Bennett, the top picks in the past two drafts.

One source said the Cavs are also willing to give up a first-round draft pick for next season. Any other players involved in the talks are not known.
Jon Krawczynski of The Associated Press refutes reports that Wiggins is up in any potential trade talks:
Andrew Wiggins has not been offered for Kevin Love. Klay Thompson has not been offered for Kevin Love. This is where things stand.

— Jon Krawczynski (@APkrawczynski) July 18, 2014
Updates from Thursday, July 17
Bob Finnan of The Morning Journal & The News-Herald reported on the latest in Cleveland's pursuit of Kevin Love and how it impacts Andrew Wiggins:
Rumors have surfaced that the Cavaliers wouldn't include rookie swingman Andrew Wiggins in any possible deal for the Minnesota Timberwolves' star.

A league source said on July 17 that the Cavs are now willing to trade the No. 1 overall pick in the 2014 draft. ...

... Up until this point, it was assumed the Cavs wanted to hang onto Wiggins, largely because of comments made by Coach David Blatt.

However, a source said James wants the 6-10, 250-pound Love on the roster. And, what James wants, he normally gets.
Jeff Zillgitt of USA Today later confirmed the report on Wiggins' inclusion in trade talks:
Indeed, Cavaliers have put Andrew Wiggins on table in their effort to acquire Kevin Love from Timberwolves who been firm in trade demands.

— Jeff Zillgitt (@JeffZillgitt) July 17, 2014
Updates from Saturday, July 12
Jason Lloyd of the Akron Beacon Journal has the latest Andrew Wiggins speculation:
#Cavs David Blatt on Wiggins trade rumors: "There's no reason for worry on his part because Andrew's not going anywhere, as far as I know."

— Jason Lloyd (@JasonLloydABJ) July 12, 2014
Original Text
After being selected with the first pick of the 2014 NBA draft, Andrew Wiggins was considered a major part of the Cleveland Cavaliers' future. However, LeBron James coming to town has changed the organization's priorities.
James announced his intentions to return to Cleveland on a special to Sports Illustrated, via Lee Jenkins. In the piece, the four-time MVP discussed his willingness to be a part of building the future with the Cavaliers:
I'm not promising a championship. I know how hard that is to deliver. We're not ready right now. No way. Of course, I want to win next year, but I'm realistic. It will be a long process, much longer than it was in 2010. My patience will get tested. I know that. I'm going into a situation with a young team and a new coach. I will be the old head. But I get a thrill out of bringing a group together and helping them reach a place they didn't know they could go. I see myself as a mentor now and I'm excited to lead some of these talented young guys. I think I can help Kyrie Irving become one of the best point guards in our league. I think I can help elevate Tristan Thompson and Dion Waiters. And I can't wait to reunite with Anderson Varejao, one of my favorite teammates.
The fact that he did not mention Wiggins at all is something that people have noticed, like Grantland's Bill Simmons:
Also - VERY interesting that LeBron didn't mention Wiggins or Bennett in that mini-essay. Makes me wonder if Kevin Love is the next domino.

— Bill Simmons (@BillSimmons) July 11, 2014
Ken Berger of CBS Sports also provides some rumors concerning the possibility of bringing in Kevin Love in this type of deal:
As the LeBron after-effects crank up, word among multiple team execs is No. 1 pick Andrew Wiggins will be in play in Kevin Love trade.

— Ken Berger (@KBergCBS) July 11, 2014
However, ESPN's Brian Windhorst refutes that:
Andrew Wiggins will play in summer league tonight for Cavs. They have no plans to include him in trade talks for Kevin Love, sources said.

— Brian Windhorst (@WindhorstESPN) July 11, 2014
Considering Love averaged 26.1 points and 12.5 rebounds per game last season, he would obviously be a huge addition for any team. However, the big risk with acquiring him this summer is the chance that he will not re-sign once he becomes a free agent in 2015.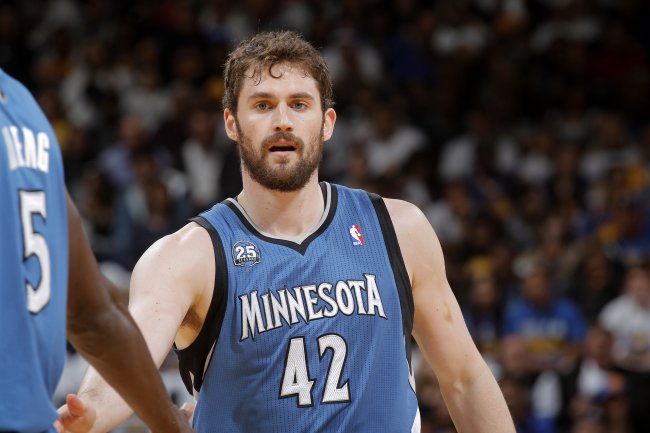 Rocky Widner/Getty Images
Fortunately, ESPN's Marc Stein believes the forward would at least consider sticking around now that James is in town:
Source close to situation says Kevin Love indeed "intrigued" by idea of being dealt to Cavs and would commit long there if traded there

— Marc Stein (@ESPNSteinLine) July 11, 2014
Kevin Pelton of ESPN thinks this move would be a no-brainer for the Cavaliers (subscription required):
Should the Cavaliers acquire Love, he'd be arguably the best player with whom James has ever teamed. While Love's résumé might not compare to Dwyane Wade's playoff success before teaming up with James, his performance is similar to Wade's in 2010. Last season, Love produced 20.3 WARP, good for third in the league behind James and Kevin Durant. In 2009-10, Wade posted 20.0 WARP as the leader of a one-star Miami team.

Crucially, unlike Wade, Love is likely to maintain that level of play for several years to come.
However, any deal for the three-time All-Star would almost certainly have to include Wiggins, as argued by Jon Krawczynski of The Associated Press:
An offer from the Cavs to the Wolves that doesn't include Wiggins is simply not an offer. Can't put it any more clearly than that.

— Jon Krawczynski (@APkrawczynski) July 11, 2014
This does not appear to be something the Cavaliers are likely to do, according to both Sam Amico of Fox Sports Ohio and Marc J. Spears of Yahoo Sports:
FYI: Again, Thursday afternoon, Cavs source told @FOXSportsOH: "Andrew Wiggins is not being traded."

— Sam Amico (@SamAmicoFSO) July 11, 2014
At the moment, Cavaliers rookie swingman Andrew Wiggins' camp believes he won't be traded to Minnesota for Kevin Love.

— Marc J. Spears (@SpearsNBAYahoo) July 11, 2014
ESPN's Chris Broussard reports the team might try to find a way around it:
Source: Cavs have told Wiggins he's not being traded. TWolves want Wiggins. Cavs will try 2 do it w/out losing Wiggins. Must find 3rd team

— Chris Broussard (@Chris_Broussard) July 11, 2014
While Love, still only 25, is one of the best power forwards in the game, Wiggins, 19, has seemingly limitless potential. He can develop alongside one of the best ever to play the game in James.
Magic Johnson thinks his upside could help Cleveland form a great new core:
LeBron James, Kyrie Irving and Andrew Wiggins have the potential to be a great "Big 3".

— Earvin Magic Johnson (@MagicJohnson) July 11, 2014
Just as importantly, Wiggins is someone who can help right away with his defensive ability and athleticism, which will show up on fast breaks if nothing else. He might not be an All-Star in his first season, but he will be a useful player in the hunt for an NBA title in 2014-15 and beyond.
The Cavaliers have some important decisions to make over the next few weeks. None will be bigger than what the front office decides to do with Wiggins.
Follow Rob Goldberg on Twitter for the latest breaking news and analysis.