Russell Westbrook has been an easy target for criticism during his career with the Oklahoma City Thunder, but don't count Kevin Love among those who think the dynamic point guard should change the way he plays.
During overtime of OKC's season-ending Game 6 loss to the San Antonio Spurs, Love took to Twitter to declare something pretty bold about his former UCLA teammate:
No matter the outcome...Russell Westbrook top 5 in the world

— Kevin Love (@kevinlove) June 1, 2014
Obviously, it's tough to make an objective argument over who the top five players in the world are, but most numbers would suggest Westbrook isn't in that very top tier.
Bleacher Report's Adam Fromal recently produced an exhaustive series called "NBA 200" which evaluated players based on nine categories, with "each category weighted to account for its importance at each position."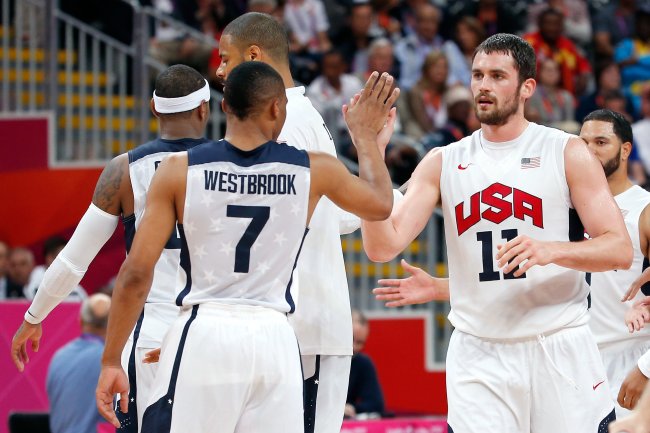 Jamie Squire/Getty Images
In the final rankings, Westbrook finished at No. 16, although playoffs weren't included. That may seem a bit low, but Fromal explained that injuries impacted his overall score:
It's unfortunate for the Oklahoma City Thunder point guard that only the 2013-14 campaign is being accounted for; while he'd never missed a game during the first five seasons of his career, multiple knee surgeries have limited his amount of time on the court this year.
He also lost points for his poor decision-making. In 2013-14, there were four other players who appeared in as many games as Westbrook and had a usage rate over 30 percent. Westbrook led the group in turnover percentage:
Per Game
Shooting
Advanced

Rk

Player

TRB

AST

STL

TOV

PTS

FG

%
3P%

USG

%

TOV

%
1
Russell Westbrook
5.7
6.9
1.9
3.8
21.8
.437
.318
34.4
16.1
2
DeMarcus Cousins
11.7
2.9
1.5
3.5
22.7
.496
.000
32.7
14.7
3
LeBron James
6.9
6.3
1.6
3.5
27.1
.567
.379
31.0
14.4
4
Kevin Durant
7.4
5.5
1.3
3.5
32.0
.503
.391
33.0
12.2
5
Carmelo Anthony
8.1
3.1
1.2
2.6
27.4
.452
.402
32.4
9.5
The other side of the argument has its share of points too, though.
Prior to the season, ESPN's popular NBA Rank series had Westbrook at No. 5, and in many ways, he backed up the ranking.
Here is the Top 5 of the 2013 #NBArank: 5) Russell Westbrook 4) James Harden 3) Chris Paul 2) Kevin Durant 1) LeBron James Do you agree?

— ESPN (@espn) October 22, 2013
No other player in the league averaged at least 21.8 points, 6.9 assists and 5.7 rebounds this season. He's an incredibly dynamic athlete who can put up numbers in bunches.
Based on Westbrook's natural physical ability alone, Love may have a pretty strong argument for calling him a top-five player.
Is Russell Westbrook a top-five player?
If OKC's electrifying playmaker could just figure out the mental aspect of the game, he'd be about as close to unstoppable as it gets.
As a point guard, he needs to focus first and foremost on making his teammates better. That doesn't mean he should abandon scoring, as that's perhaps his biggest strength.
He just needs more balance to truly be in the top five.
Andy Bailey covers the NBA for Bleacher Report. Follow him on Twitter @AndrewDBailey.