Updates from Thursday, July 10
The Trail Blazers confirmed Chris Kaman's contract via the team's Twitter account on Thursday:
OFFICIAL: Trail Blazers sign center @ChrisKaman READ || http://t.co/FPOsRhNyRK #RipCity pic.twitter.com/kQH6ERnQcv

— Trail Blazers (@trailblazers) July 10, 2014
Original Text
After a one-year stint with the Los Angeles Lakers, veteran big man Chris Kaman has reportedly come to terms with the Portland Trail Blazers in free agency.
Adrian Wojnarowski of Yahoo Sports broke the news of Kaman's agreement with Portland:
Chris Kaman has reached agreement on a two-year, $10M deal with Portland, league source tells Yahoo Sports.

— Adrian Wojnarowski (@WojYahooNBA) July 4, 2014
USA Today's Sam Amick shared further financial details:
Chris Kaman's deal w/ Portland is $4.8 million in the first year and $5 million in the second year with only $1 million guaranteed, I'm told

— Sam Amick (@sam_amick) July 4, 2014
TNT's David Aldridge has more on the signing:
Blazers did not think they'd be able to sign Spencer Hawes, who's talking w/Suns, or Channing Frye, rumored to be target of Cavaliers.

— David Aldridge (@daldridgetnt) July 4, 2014
Joel Freeman of The Oregonian had Kaman's thoughts on the deal:
Chris Kaman on agreeing to deal w/ #Blazers: "This was about fit. I know I have 3 or 4 good years of basketball left. Really good years ..."

— Joe Freeman (@BlazerFreeman) July 4, 2014
Kaman cont: "I wanted to find the right fit for myself and the team. Portland was that fit."

— Joe Freeman (@BlazerFreeman) July 4, 2014
Kaman: "I want to be back in playoffs and help the team get back to wining the title. I think the Trail #Blazers are right at that level."

— Joe Freeman (@BlazerFreeman) July 4, 2014
Freeman also provided Damian Lillard's thoughts:
Damian Lillard on Chris Kaman's addition to the #Blazers: "Love it."

— Joe Freeman (@BlazerFreeman) July 4, 2014
And CSN Northwest's Chris Haynes had Robin Lopez's thoughts on the signing:
"He's definitely going to help us. I think it was a great decision," Lopez told CSNNW.com while helping a childhood friend sell fireworks. "I know he has a great relationship with Coach [Kim] Hughes from his days as a Clipper and he's tough to guard. I'm excited for us. We should be much more improved."
Heading into his 12th year as a pro at the age of 32, Kaman has become a bit of a journeyman underneath the rim in a backup capacity. He spent the first eight up-and-down years of his career with the Los Angeles Clippers before one-year stints with New Orleans, Dallas and the Lakers.
Last year wasn't only one of the worst seasons in Lakers franchise history; it was also arguably the worst stretch of Kaman's career. He appeared in just 39 games, averaging 10.4 points, 5.9 rebounds and 1.0 blocks per contest, before falling out of the rotation down the stretch.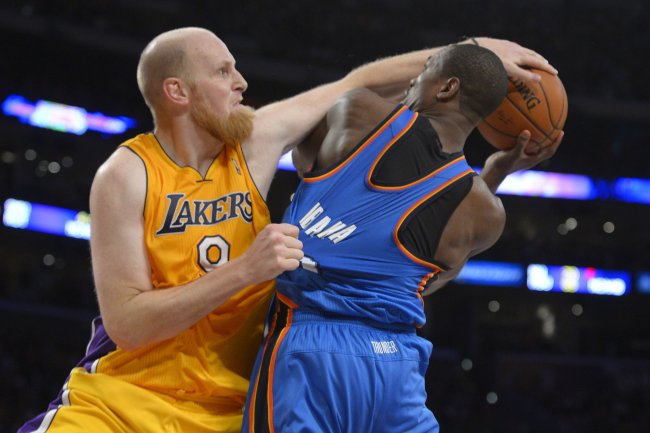 Mark J. Terrill/Associated Press
At the end of the season, Kaman told reporters that he grossly misjudged how then-Lakers coach Mike D'Antoni would utilize him, as Mike Trudell of the Lakers' official website noted:
Kaman: "It was a tough style of basketball for me." Said he anticipated he'd be playing next to Gasol in a 2-big system.

— Mike Trudell (@LakersReporter) April 17, 2014
Kaman said he doesn't blame D'Antoni and understands how things worked out, that 2 bigs aren't ideal with his system.

— Mike Trudell (@LakersReporter) April 17, 2014
A strange signing in the wake of Dwight Howard's departure and an insurance policy behind Pau Gasol, one has to think Kaman is looking for another opportunity to actually contribute in a significant role, hence this deal.
The Central Michigan product still has plenty to offer on a rotational basis, as his 7'0" and 265-pound frame alone clogs the lane for opposing slashers and complicates offenses. Kaman is by no means the steady scorer he used to be during his prime years, but he can still produce at a sound clip when given the opportunity off the bench.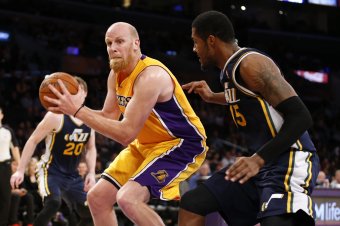 Danny Moloshok/Associated Press
With Gasol sidelined by vertigo in late March, Kaman stepped into the starting lineup and proved capable of remaining relevant. He averaged 13.6 points and 7.4 rebounds in only 22.2 minutes per contest over a five-game stretch, shooting 52.5 percent from the floor.
After averaging the fewest minutes played of his career this past year (18.9 per game), Kaman should be on relatively fresh legs by the start of the 2014-15 season. As a former All-Star, he can also serve a valuable role as a mentor in the locker room to some of Portland's younger players.
So long as Kaman remains healthy, he may turn out to be one of the bigger steals of this year's free-agent class.