Updates from Wednesday, May 28
Paul George commented on his $25,000 fine for comments on officials following Indiana's loss to Miami in Game 4 (via Ethan J. Skolnick of Bleacher Report):
Paul George: "I knew I was gonna get fined.... It's just how I felt."

— Ethan J. Skolnick (@EthanJSkolnick) May 28, 2014
Original Text
Paul George thinks the Miami Heat received some "home cooking" in their Game 4 win Monday night. The NBA thinks George should have kept his opinion to himself.
The league announced Tuesday that it has fined the Indiana Pacers forward $25,000 for detrimental comments he made about officiating at his postgame press conference following Miami's 102-90 triumph. Ben Golliver of Sports Illustrated tweeted out the league's decision:
NBA has fined Pacers F Paul George $25,000 for "home cooking" & other comments about the officiating in Game 4 loss to Heat.

— Ben Golliver (@BenGolliver) May 27, 2014
George, in a rare display of public frustration, cited the officiating as one of the primary causes—if not the chief cause—of the Pacers' critical loss in Miami. The Heat shot 34 free throws to just 17 for Indiana, highlighted by the Pacers' zero first-quarter and two first-half attempts at the charity stripe. Miami now has a 3-1 series lead and can advance to its fourth straight NBA Finals on Wednesday.
While indicating the stat sheet showed the Pacers "outplayed" the Heat, George directed his ire at the officiating crew.
"You can't tell me we don't attack the basket as much as they attack the basket," George told reporters, via Golliver. "You can't tell me we're not aggressive. Maybe we're too aggressive. We're just as aggressive as they are attacking the basket and making plays at the rim. Maybe this was just home cooking."
Obviously, George knew what he was doing. One can chalk up his frustrations to the heat of the moment, but the period between the end of the game and his postgame presser was far more than enough time to properly articulate his point.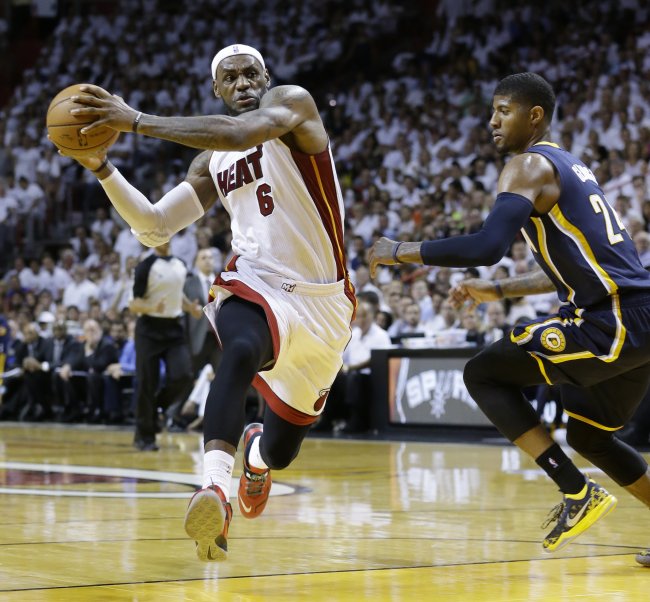 Wilfredo Lee/Associated Press
When LeBron James is playing out of his mind, Chris Bosh is hitting everything in sight and Dwyane Wade is punishing mismatches, it's nearly impossible for any team to find an advantage. We'd also be remiss not to point out that George conveniently omitted the Pacers' 14 turnovers, five of which were attributed to the All-Star swingman.
Those turnovers directly led to 20 Miami points. The discrepancy in points off turnovers alone (20-6) conveniently would have been just enough to give the Pacers a two-point win.
Paul George said they "Outplayed the Heat" except FTs? He must have blacked out again

— Doug Gottlieb (@GottliebShow) May 27, 2014
"We did only have five turnovers, seven steals and 20 points off their turnovers," James told reporters when asked about George's comments. "That has nothing to do with the free-throw line."
The stances of the two stars should have been wholly expected. On one side you have George, his team on the precipice of elimination despite meeting its season-long goal of home-court advantage against the Heat. On the other, you have James, again validating his place as the world's greatest player and turning in four straight sensational performances against arguably his biggest foe.
George and the Pacers have beaten their chest all season and proclaimed 2014 as the year they finally get over the hump. With that goal in serious jeopardy, George looked at the most obvious source of scorn and let his emotions get the best of him.

Now, he'll just have to cut the check he knew was coming.