The Philadelphia 76ers have reportedly traded Spencer Hawes to the Cleveland Cavaliers, according to Yahoo Sports NBA insider Adrian Wojnarowski on Twitter:
Philadelphia has traded Spencer Hawes to Cleveland, league source tells Yahoo Sports.

— Adrian Wojnarowski (@WojYahooNBA) February 20, 2014
The 76ers team website would later confirm the deal and provide all of the details of the transaction:
The Philadelphia 76ers today announced they have acquired two second-round draft picks in the 2014 NBA Draft from the Cleveland Cavaliers (the Cavaliers second-round pick, as well as the Memphis Grizzlies second-round pick), along with forward Earl Clark and center Henry Sims, in exchange for center Spencer Hawes.
Philadelphia Inquirer reporter Keith Pompey notes that Clark was waived later that day:
Now that was fast. #Sixers waive Earl Clark hours after acquiring him in a trade with the Cleveland #Cavaliers.

— Keith Pompey (@PompeyOnSixers) February 21, 2014
Hawes took to Twitter to provide his thoughts on the trade:
Thanks so much to the @sixers, and the fans of Philadelphia for the opportunity to play in such a great city. It was a wonderful 4 years.

— Spencer Hawes (@spencerhawes00) February 20, 2014
Time for the next stage of my career, and I can't wait to get started in Cleveland. #goCavs

— Spencer Hawes (@spencerhawes00) February 20, 2014
Hawes, who was averaging 13 points and 8.5 rebounds per game before being traded, was well aware he could potentially be moved ahead of Thursday's trade deadline, admitting that the combination of the Sixers' struggles and his expiring deal made him an enticing trade chip, per The News Journal's Jason Wolf:
"Not having that certainty...can kind of get on your nerves. That's the nature of getting down to the trade deadline and you just kind of say, 'Until you hear something definite, you kind of got to take it in stride.'"
As ESPN writer Mason Ginsberg points out, Cleveland's decision to part ways with multiple draft picks and bring on a veteran player in Hawes suggests the Cavaliers haven't given up on the postseason just yet.
Cavs REALLY want playoffs. 76ers REALLY want tank. RT @WojYahooNBA Philadelphia will receive two 2nd round picks from Cavs for Spencer Hawes

— Mason Ginsberg (@MasonGinsberg) February 20, 2014
At 22-33, the Cavs are just three games back of the No. 8 seed in the Eastern Conference. Meanwhile, the Sixers, at 15-40, are 10 games out of the playoff picture and just five games better than the NBA-worst Milwaukee Bucks.
Hawes, who is scheduled to make $6.6 million this season, according to Spotrac.com, will become an unrestricted free agent at season's end, meaning the Cavaliers aren't tied to him for the long term. Unless Cleveland has serious intentions of signing him, he's essentially a rental for the final 27 games of the regular season and a potential playoff series.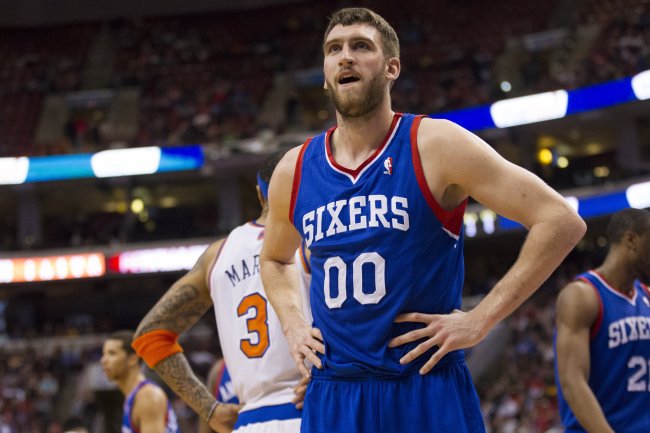 Chris Szagola/Associated Press
Even if only temporarily, the 7'1" center will give Cleveland another big body to assist on the boards and protect the rim. Although Hawes is scoring a career-best 13 points per night in 2013-14, he's doing so in a career-high 31.4 minutes per game and on career-worst 45.1 percent shooting from the floor.
Which team is the bigger winner in this deal?
Therefore, Hawes' offensive impact is likely to be minimal.
Although the 25-year-old won't be easily replaced in Philadelphia, the Sixers have the potential to emerge from this trade as big winners. After all, they're acquiring two draft picks for a player who was coming off the books at the end of the season anyway.
Plus, it's not like Hawes was going to help Philadelphia make the playoffs and contend for a title this spring.
In the end, both teams will come away from this trade with coveted assets. For the Cavs, they now have a veteran center to assist them in their current six-game winning streak and playoff push. Meanwhile, the Sixers have added picks that could prove valuable in the rebuilding process.
Follow Bleacher Report Featured Columnist Patrick Clarke on Twitter.