NBA Hall of Famer and TNT analyst Charles Barkley interviewed President Barack Obama ahead of Sunday's 63rd NBA All-Star Game, and although most of the topics centered on politics, the 44th head of state wasn't shy when it came to talking basketball.
President Obama sits down with Charles Barkley to discuss NBA, politics and breaking barriers: http://t.co/VbbFkWmKyo pic.twitter.com/wLRMqbqdNV

— NBA.com (@NBAcom) February 17, 2014
Barkley quizzed the commander in chief on a variety of subjects during the six-minute interview, but opened with a few questions pertaining to the state of the league.
Let's take a closer look at the top takeaways.
Sold on LeBron
Although Obama will always be a Chicago Bulls fan and Michael Jordan supporter, he was quick to acknowledge LeBron James' greatness when asked about it to kick the conversation off.
As WPLG Local 10 News sports director Will Manso points out, Obama had high praise for LeBron and left the door open for the 10-time NBA All-Star to finish as the game's best:
President Obama tells Charles Barkley on LeBron, "LeBron has a chance to be as good as anybody."

— Will Manso (@WillManso) February 17, 2014
Obama went on to say that he thinks James can continue to play at a high level for the next decade, highlighting his size, speed, leaping ability, strength and basketball savvy as the biggest reasons for his bold projection.
Plays "Once a Month"
After discussing James and his limitless potential, Barkley quickly changed gears, asking Obama how often he gets the chance to suit up and channel his inner LeBron.
Charles Barkley interviews Obama tomorrow night. I'm on board with Barkley interviewing any person on the planet. Sign me up. I'm in.

— Nick Kayal (@NK975) February 16, 2014
Unsurprisingly, the busy politician doesn't have much time for fun and games these days, according to the interview on NBA on TNT:
These days, it's probably once a month. Things happen. One is that you just get a little older and creakier. The second thing is you've got to start thinking about elbows...and you break your nose right before the State of the Union address.
Afterward, Obama talked about watching his youngest daughter play basketball and the excitement that comes along with it. However, he was quick to note that his expectations are much lower than a Hall of Famer's, describing himself instead as a "good high school player."
Although the rest of the interview focused on Obama's political endeavors as President, it was clear from the outset that Obama follows the NBA and has a sound understanding of the game.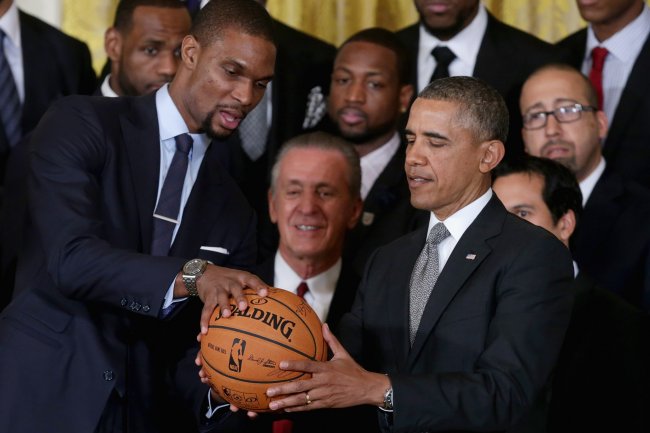 Chip Somodevilla/Getty Images
While it would have been interesting to hear Obama's 2014 NBA Finals prediction or who he likes to take home All-Star Game MVP honors in New Orleans, Barkley did well to maximize on his time with the President and managed to cover a variety of topics.
And with Obama showing tremendous interest in the NBA and basketball in general, it'll be interesting to see whether he becomes more involved or a greater presence in the sport once his time in the White House comes to an end.
Follow Bleacher Report Featured Columnist Patrick Clarke on Twitter.