The New York Knicks (13-22) stunned the Miami Heat (27-9) with a 102-92 victory on Thursday night at Madison Square Garden behind 29 points from Carmelo Anthony.
After trailing by five at the break, the Knicks came out on fire to open the second half, outscoring the Heat by nine in the third quarter and six in the game's final period.
The Knicks shot 63.2% in the 2nd half, their highest FG pct in any half in the last 2 seasons

— ESPN Stats & Info (@ESPNStatsInfo) January 10, 2014
Both teams shot about 54 percent from the field, but it was the Knicks who were more efficient from beyond the arc, hitting 38 percent of their threes compared to Miami's mark of 33 percent.
This is the Heat's 7th loss vs a team below .500 this season (had just 4 such losses all of last season)

— ESPN Stats & Info (@ESPNStatsInfo) January 10, 2014
The Knicks also put forth a much more balanced offensive effort, boasting five players in double figures, and they outscored the Heat by 10 points in the paint.
"We just didn't consistently get to our game," Heat head coach Erik Spoelstra said after the game, according to B/R's Ethan Skolnick.
J.R. Smith received a DNP-CD (did not play—coach's decision) as apparent punishment for his recent on-court escapades.
J.R. admitted that he's not sure if he's part of the Knicks future anymore.

— Frank Isola (@FisolaNYDN) January 10, 2014
New York has now won three games in a row.
Key Players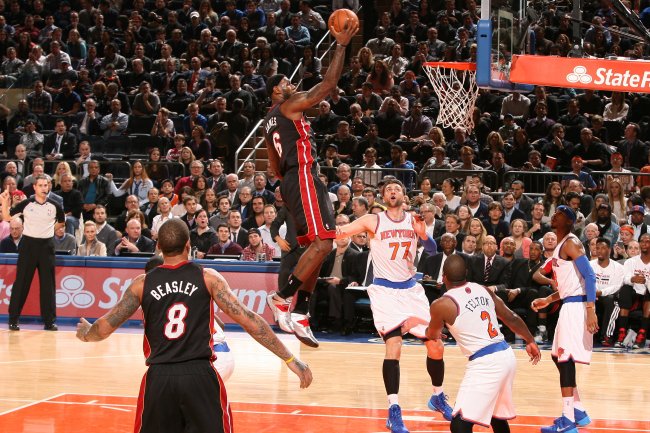 Nathaniel S. Butler/Getty Images
LeBron James, Miami Heat, Small Forward
LeBron James always shows up to play at Madison Square Garden, and Thursday night was no exception.
The league's reigning MVP scored a game-high 32 points on 12-of-17 shooting, dished out six assists and pulled down five rebounds in 41 minutes, although he did commit a game-high six turnovers in the loss.
James' performance was highlighted by several show-stopping plays, including a first quarter buzzer-beater (seen above) and a stunning baseline smash on Andrea Bargnani (seen below).
On a night when the Heat looked uncharacteristically sloppy and played down to the level of their competition, James was one of the team's lone bright spots.
Grade: A-
Dwyane Wade, Miami Heat, Shooting Guard
Dwyane Wade was one of three Heat players to finish in double figures, scoring 23 points on a tidy 11-of-15 shooting, but it's worth pointing out that the Heat were minus-14 with Wade on the floor. He also missed all six of his free throws.
"I only missed [six], I didn't miss 20. So it ain't that damn bad," Wade said, according to Skolnick.
The loss won't fall squarely on Wade's shoulders by any means, but those empty points at the charity stripe really hurt, especially during a second half in which the Heat were outscored by 15.
Grade: B
Chris Bosh, Miami Heat, Center
Ordinarily, you'd think that Chris Bosh would salivate at an opportunity to embarrass the defensively inept Andrea Bargnani.
Bosh didn't get on the scoreboard until the 3:51 mark in the second quarter and finished the first half with two points on 1-of-6 shooting. Like many of his teammates, Bosh didn't look locked in against an inferior opponent during the game's opening stages.
In sum, it was a very, very underwhelming night for Bosh when he was presented with a golden opportunity to torture the Knicks' frontcourt.
The Heat certainly could have used more than six points (3-of-10 shooting) and nine rebounds from their center.
Grade: F
Ray Allen, Miami Heat, Sixth Man
The night was largely a dud for Ray Allen, but he came up with a timely four-point play in the fourth quarter that cut the Knicks' growing lead to five with a shade over seven minutes to play.
Otherwise, there wasn't much reason to celebrate what amounted to a mundane performance.
Jesus Shuttlesworth finished with six points on 1-of-4 shooting (1-of-3 from three).
Grade: D-
Norris Cole, Miami Heat, Point Guard
Norris Cole earned his fourth start of the season with Mario Chalmers sidelined due to pain in his Achilles, and he didn't disappoint.
In the first quarter, Cole scored seven points and made all three of his shots as the Heat pushed the ball up the floor and were able to get open looks.
His presence on the floor generally helped Miami's offense flow, and he capitalized time and again when he was presented with opportunities to take open jump shots from inside or outside the arc.
Cole finished with 12 points on 5-of-9 shooting, three rebounds and two assists in 35 minutes.
Grade: B+
Rashard Lewis, Miami Heat, Power Forward
So long as Shane Battier continues to sit with a sore quad, Rashard Lewis will continue to pick up starts in the Miami frontcourt.
Making his fourth consecutive start, Lewis didn't make a profound impact in the scoring column. His final line consisted of six points, five rebounds, two assists and a block. Nothing special.
His only two buckets helped give the Heat a five-point lead at halftime.
Here's a quick look at Miami's shooting distribution in the first half, per NBA.com's John Schuhmann:
Might want to guard the corners, Knicks: pic.twitter.com/G63PYSsUp9

— John Schuhmann (@johnschuhmann) January 10, 2014
Grade: D
Bench, Miami Heat
Miami's bench laid an egg, plain and simple.
Michael Beasley finished with five points on six shots and the Heat were minus-14 with him on the floor, while Chris Andersen scored two points and grabbed three rebounds.
Roger Mason Jr. was scoreless in five ineffective minutes.
Grade: F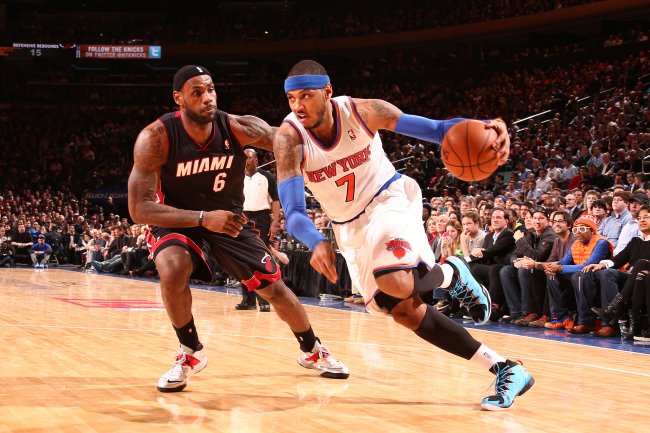 Nathaniel S. Butler/Getty Images
Carmelo Anthony, New York Knicks, Small Forward
Anthony's shot wasn't falling early, which was bad news for a Knicks team that needed all of the firepower it could get against the defending champions.
The league's second-leading scorer jacked up an absurd 16 shots in the first half, hitting just six of them, and missed all three of his first-half attempts from beyond the arc. By comparison, LeBron James scored an equal 13 points on just seven first-half shots.
But guess what? Anthony became infinitely more efficient in the second half. He was a key component of a 16-2 run the Knicks put together over portions of the third and fourth quarters. Here's one example of Melo's increased effectiveness, courtesy of Yahoo's Dan Devine:
Melo started 3 for 10, and is 7 of his last 11.

— Dan Devine (@YourManDevine) January 10, 2014
Anthony totaled 29 points on 12-of-24 shooting, eight rebounds, five assists and two steals. He led the Knicks in scoring.
Grade: A-
Iman Shumpert, New York Knicks, Shooting Guard
After scoring 20-plus points in back-to-back games against the San Antonio Spurs and Houston Rockets, Iman Shumpert had cooled down considerably on the offensive end.
Shump managed a combined 14 points in the two games entering Thursday night. But he came alive during the third quarter, knocking down three triples, and he finished the night with 12 points on 4-of-7 shooting from three.
This month, including this game, Iman Shumpert is shooting 61.9 percent (3.3-for-5.3 makes per game) from 3-point range.

— Jared Zwerling (@JaredZwerling) January 10, 2014
In the process, he scored in double figures after failing to do so against the Dallas Mavericks and Detroit Pistons.
Shumpert was also solid on the glass, pulling down a team-high seven rebounds in the first half and nine overall.
Grade: B+
Raymond Felton, New York Knicks, Point Guard
Give credit where it's due: Raymond Felton churned out one of his better performances of an otherwise lousy season on Thursday evening.
According to B/R's Jared Zwerling, it may have had something to do with Felton's desire to show up for a big game on a national stage against the Heat:
Raymond Felton always comes to play against the Miami Heat, like last season. Real aggressive out there, getting deep into the paint.

— Jared Zwerling (@JaredZwerling) January 10, 2014
Felton's 14 assists are the most he's had in a game since April 2011.

— Chris Herring (@HerringWSJ) January 10, 2014
The Knicks' floor general put together an excellent opening 24 minutes, approaching a double-double with six points and seven assists. He did well to finish with 13 points (6-of-14 shooting), a game-high 14 assists and only two turnovers.
Grade: B+
Andrea Bargnani, New York Knicks, Center
With Tyson Chandler sidelined due to the flu, Bargnani grabbed yet another start in the middle.
And while the big Italian isn't exactly known for his high-flying capabilities, a reverse throwdown (seen below) in the first quarter was the highlight of his night.
In all seriousness, though, Bargs was far and away the Knicks' most consistent offensive contributor in the first quarter, scoring 10 points on 5-of-8 shooting.
The opening period proved to be a microcosm of the Bargnani experience, too. While his range of offensive tools was on full display, Bargnani's defense was questionable at best, as demonstrated on the quarter's final play.
We now know that 00.7 seconds is too much time for Bargnani to guard LeBron.

— Steve Popper (@StevePopper) January 10, 2014
However, Bargnani's scoring output remained surprisingly steady. It wouldn't be a stretch to say that Thursday night was his best game of the season to date.
Bargnani finished with 19 points (9-of-13 shooting) and five rebounds. He really rose to the occasion and provided the Knicks with the reliable second scoring option they've so desperately needed.
Grade: A
Tim Hardaway Jr., New York Knicks, Sixth Man
Playing the role of sixth man with J.R. Smith benched, Tim Hardaway Jr. did his best to provide a burst of energy in 14 minutes off the pine.
His ability to do so was on full display as the third quarter came to a close when Hardaway Jr. threw down a vicious putback slam off of a miss from Amar'e Stoudemire.
Aside from the dunk, Hardaway Jr. didn't have a ton to offer. He compiled five points in the win.
Grade: C- overall, A+ for the dunk
Kenyon Martin, New York Knicks, Power Forward
We'll keep this brief because Kenyon Martin's performances feel like carbon copies of each other on a night-to-night basis.
The Knicks' power forward flashed his trademark aggression and explosiveness in spurts when rolling to the rim or crashing the glass and scored points here and there, finishing with seven points and four rebounds in 24 minutes.
His defense on the interior was solid, though, particularly during a first half in which the Heat were outscored by eight points in the paint.
Grade: D
Bench, New York Knicks
New York's bench really meshed during a key stretch at the beginning of the second quarter. It outscored the Heat 11-2 over the period's first three minutes.
Here's a quick note from Schuhmann that demonstrates just how effective they were:
Knicks with 11 points on their first 5 possessions of the 2nd. Moving the ball really well.

— John Schuhmann (@johnschuhmann) January 10, 2014
One reason Mike Woodson's second unit may have been more cohesive? He finally decided to bench J.R. Smith for his on-court antics (although, frankly, he should have been benched a while ago for shooting 34.8 percent from the field).
Looks like J.R. Smith won't be untying anyone's shoes tonight . . . except his own.

— Ira Winderman (@IraHeatBeat) January 10, 2014
Tonight is 1st time this season J.R. Smith was active and didn't play in the 1st half

— ESPN Stats & Info (@ESPNStatsInfo) January 10, 2014
Amar'e Stoudemire was terrific, posting a double-double with 14 points and a game-high 11 rebounds, and he was the team's leading scorer off the bench. His emphatic dunk capped off one of the Knicks' most complete wins of the season.
Toure' Murry added three points.
Grade: A-
What's Next?
The Knicks will travel south on I-95 for a meeting with the Philadelphia 76ers on Saturday while the Heat will cap off the second night of a back-to-back at the Barclays Center on Friday night against the Brooklyn Nets.