Updates from Sunday, July 13
David Aldridge of NBA.com reported on Omer Asik's move to New Orleans:
Wizards have engaged Rockets and Pelicans in three-team deal to facilitate Trevor Ariza going to the Rockets and Omer Asik going to NO.

— David Aldridge (@daldridgetnt) July 13, 2014
Pelicans will get Asik, Omri Casspi & 1.5M from Houston. Rockets get Ariza from Wizards, Alonzo Gee and 2015 protected first from Pelicans.

— David Aldridge (@daldridgetnt) July 13, 2014
Sam Amick of USA Today and ESPN's Mason Ginsberg had more on the talks:
Wizards get $8.5 million trade exception & Melvin Ely's nonguaranteed deal. Rockets get Ariza on four-year, $32 mil deal.

— Sam Amick (@sam_amick) July 13, 2014
Gee + Ely = $4.3 million. Asik + Casspi is $9.5 mil. #Pelicans need to send out $6.3 mil to take in $9.3. Still missing something.

— Mason Ginsberg (@MasonGinsberg) July 13, 2014
Updates from Thursday, June 26
Brian Windhorst of ESPN added more details on the reported deal:
More dominos will fall in Asik-to-Pelicans deal. N.O. may move Austin Rivers to create cap space. One option: dad Doc owns trade exception

— Brian Windhorst (@WindhorstESPN) June 26, 2014
Original Text
The Houston Rockets have reportedly agreed to trade center Omer Asik to the New Orleans Pelicans, according to Adrian Wojnarowski of Yahoo Sports:

Yahoo Sources: In a first step toward creating max contract space, Houston trades center Omer Asik to New Orleans. http://t.co/Vwtgnr5FB3

— Adrian Wojnarowski (@WojYahooNBA) June 26, 2014
Wojnarowski also detailed what the Rockets will be getting in exchange: "The Rockets will acquire what will likely be a late lottery pick, possibly as soon as 2015, from the Pelicans, sources said."
ESPN's Brian Windhorst provides another detail of the trade:
Rockets will also send New Orleans $1.5 million cash as part of the deal.

— Brian Windhorst (@WindhorstESPN) June 26, 2014
Howard Beck of Bleacher Report provides one key detail with the reported trade:
Should have noted: Asik-to-Pelicans can't become official until July 10, because of cap considerations.

— Howard Beck (@HowardBeck) June 26, 2014
Grantland's Zach Lowe adds more info on the pick:
Pick to HOU has Lowry-style reverse protections, per source. NOP keeps if in top 2/3 of lottery, and if it's 20-plus. In b/w, goes to HOU

— Zach Lowe (@ZachLowe_NBA) June 26, 2014
The 27-year-old Asik is coming off an injury-plagued 2013-14 season that saw him start just 19 regular-season games for Houston while battling a knee injury. His underwhelming numbers reflected his decreased playing time as well as he averaged 5.8 points and 7.9 rebounds in just over 20 minutes per night.
Count Sports Illustrated's Chris Mannix as a fan of the deal:
Win-win for both. Rockets clear cap space to pursue Melo/LeBron. Pelicans get a strong rim protecter/rebounder to protect Anthony Davis.

— Chris Mannix (@ChrisMannixSI) June 26, 2014
Zach Lowe of Grantland feels it's a better deal for the Rockets:
Future 1st for Asik expiring a nice get for HOU. Pelicans all-in to make the playoffs next season. Gordon tough to dump w/o 1st to sweeten.

— Zach Lowe (@ZachLowe_NBA) June 26, 2014
Asik missed a plethora of games prior to the All-Star break, and even though he struggled to adjust when he returned to the rotation, it was clear he had the support of his teammates, including All-Star guard James Harden, per The Houston Chronicle's Jenny Dial Creech:
We definitely miss him out there on the court. He is such a great talent. he did so many great things for us last year. He is one of the best big men in the NBA. We are grateful to have both him and Dwight (Howard) on the same team.
After averaging a career-best 10.1 points and 11.7 rebounds in 30 minutes per night in 2012-13, the Turkey native was projected to do big things alongside free-agent acquisition Dwight Howard. Instead, Asik struggled to fit in alongside the eight-time All-Star in the season's early stages, as pointed out by NBA.com's Sekou Smith:
Nene and Gortat ... the twin towers I thought Dwight Howard and Omer Asik would be this season in Houston #NBAPlayoffs

— Sekou Smith (@SekouSmithNBA) May 8, 2014
The duo would gradually improve together as the season wore on, though, with Asik averaging 10.7 points and 14.6 rebounds per game for the month of April.
While moving the 7-footer may seem like a head-scratching move for Houston considering it's been only two years since the Rockets signed him to a three-year deal, it's hard to argue that Houston isn't better in the wake of this trade. In addition to the assets the Rockets acquire in return, it became clear early on and again in the postseason that Asik and Howard weren't going to thrive in the same frontcourt.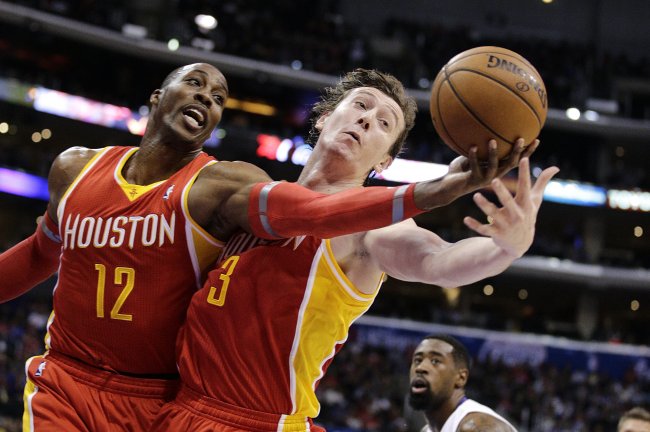 Jae C. Hong/Associated Press
After all, Howard's play improved dramatically in the days and weeks after Asik was forced to come off the bench during the first part of the year. After averaging 16.7 points and 11.7 rebounds per game during the month of November, Howard averaged 19.1 points and 13.8 rebounds per game through the month of December.
Is trading Omer Asik the right move for the Rockets?
It remains to be seen just how much better Houston will be in the wake of this deal, but for the sake of on-court chemistry and cap space, it's hard to argue with the Rockets' decision.
For Asik, the move is good news as well as he'll have an opportunity to earn more playing time with his new club, something he yearned for last season.
Asik burst onto the scene as a defensive-minded role player with the Chicago Bulls three seasons ago. After hitting the free-agent market, he signed an eye-popping three-year, $25 million deal with Houston in the summer of 2012.
Howard's arrival this past summer was sure to minimize Asik's impact and effectiveness. Sure enough, eight games into the season the Rockets took Asik out of the starting lineup and replaced him with second-year power forward Terrence Jones.
According to Spotrac.com, Asik is owed roughly $14.9 million in base salary next season and is set to become an unrestricted free agent at the conclusion of the 2014-15 season.
Follow Bleacher Report Featured Columnist Patrick Clarke on Twitter.