The Houston Rockets showed many things in Wednesday night's 97-88 home loss to the Phoenix Suns. They showed the scoring depth which is the envy of nearly every team in the league, with Omri Casspi (14 points) and Aaron Brooks (17 points) stepping up in the absence of Jeremy Lin and Chandler Parsons. They showed their bruising front line, which out-rebounded the Suns 54-40.
What they didn't show, however, was the presence of mind to adapt their offensive strategy, and it cost them the game against a disciplined, feisty Phoenix squad.
Looking at the box score, it seems obvious that shooting guard James Harden took too many three-pointers. After all, it's not every day that a player of Harden's caliber goes 0-for-10 from beyond the arc.
Per Sports Illustrated's Rob Mahoney:
Interestingly, tonight was the second 0-for-10 three-point shooting performance of James Harden's career. http://t.co/ZKLzTwJ4T6

— Rob Mahoney (@RobMahoney) December 5, 2013
Kevin Durant (2010) and Ray Allen (2004) are the only other active players to go oh-fer while attempting 10 threes or more.

— Rob Mahoney (@RobMahoney) December 5, 2013
While 10 threes is indeed too many coming from Harden, who ranked eighth among Houston regulars coming into Wednesday in three-point field goal percentage at 32.3 percent, that wasn't Houston's biggest flaw on offense.
The Rockets are a high-volume three-point shooting offense, leading the league both in overall attempts and makes from beyond the arc. Even with Harden's 0-for-10, the Rockets still scored 27 of their 88 points via the three, with the other Houston shooters picking up the slack with an impressive 9-for-21 performance.
No, the biggest reason the Rockets' offense stalled is the biggest reason it usually stalls: The self-destructive tendency to give center Dwight Howard too many looks in the post.
The Best of Dwight Howard...Almost
On Wednesday night, Dwight Howard was two-thirds of the way to reclaiming his title as the undisputed best center in the game. On defense, he was a beast, particularly in the third quarter, when he shut off the paint and forced Phoenix to take every shot from outside. On the boards, he exploited Phoenix's weakness on the defensive glass to rip down eight offensive rebounds to go with his ten defensive rebounds.
But on offense, he was the same old Dwight: continually begging for the ball in the post, where he wasn't terribly effective. And the Rockets foolishly obliged him...at least early in the game, before they thought better of it.
Howard ended the night shooting 4-of-11, with most of those shots coming in the first quarter, and committing five turnovers. Here are Howard's field goal attempts and Houston's scoring, by quarter:
Dwight Howards' FGA, Per Quarter

| | | |
| --- | --- | --- |
| Quarter | Howard FGM-A | HOU Points |
| 1st | 3-7 | 20 |
| 2nd | 0-1 | 20 |
| 3rd | 1-3 | 21 |
| 4th | 0-0 | 27 |
nba.com
The Rockets were terribly inefficient to start the game with Howard in the post, a fact not lost on Grantland's Zach Lowe.
Took 5 Dwight post-ups in first 6:00 tonight to get one basket. One PNR with Harden, he gets an And-One. This isn't complicated.

— Zach Lowe (@ZachLowe_NBA) December 5, 2013
Houston's stubborn reliance on Howard's post game is bad not only for Howard, but also for Harden, who looked surprisingly hesitant to drive for long stretches.
Per the Houston Chronicle's Jonathan Feigen:
Tucker terrific defensively, but Harden has not been involved offensively. Has 2 shots in 9 1/2 minutes. Needs to drive on extended Suns D.

— Jonathan Feigen (@Jonathan_Feigen) December 5, 2013
It should come as no surprise then that the Rockets often looked better with their two star players on the bench, such as during the start of the fourth, when Houston opened with an 8-0 run.
Modern Offense, Stone-Age Center
The Houston Rockets came into Wednesday's game with the NBA's most efficient offense, averaging 111.6 points per 100 possessions, according to Basketball-Reference. The question now becomes: Can the best get better?
Absolutely.
The Rockets run the most modern offense in the league, an offense that relies almost exclusively on the most efficient shots (three-pointers, layups and free throws) while eschewing inefficient mid-range jumpers. It's no coincidence that Houston leads the league in both three-point field goal attempts and free throw attempts; that is a product of design.
The Rockets obviously need Howard more for his defense and rebounding than they do for his offense, so perhaps they feel the need to placate the big man by feeding him early touches in the post, no matter how bad he may play down there, with the hopes that he will be energized on the other end.
If that's the case, if Howard wants these shots, then perhaps we need to ask why. Howard's obsession with his underwhelming post game has hurt his offensive development. He was a much better offensive player in Orlando, when he was used more as a roll man in the pick-and-roll. He was good at it, and it made him a much more efficient player.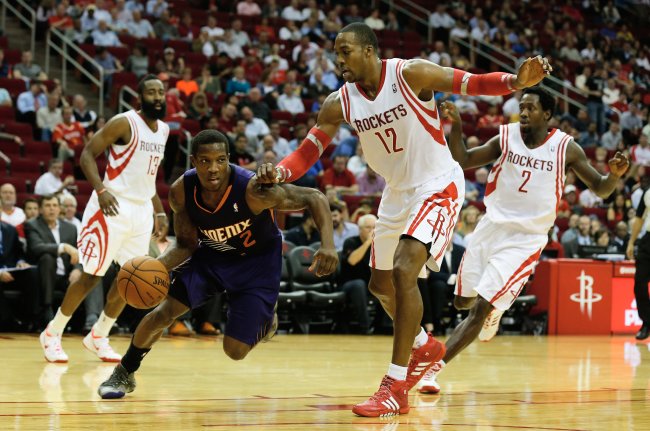 Scott Halleran/Getty Images
The pick-and-roll is a staple of modern NBA offenses; the post game is not. Why does Howard seem more interested in scoring points out of the post than he does in actually scoring points?
Howard has been working on his post game for years, with little success. He's unlikely to suddenly transform into the next Kareem Abdul-Jabbar.
If Howard simply will not change his mind about these early-game post touches, and the Rockets continue to feed him just to keep him happy, then it is an indictment on Howard as a player.
After the game, Howard himself spoke about the need to grab every possible win.
Per the Associated Press (via ESPN):
We can't give away games like this. It will come back to bite us in games later this season. We've got to learn how, no matter how many guys we have out there, short-handed and all, we've got to play the same way, play hard and play aggressive.
Playing hard and aggressive is all well and good, but the Rockets also need to play smart and efficiently. And wasting multiple early possessions on his post game experience is neither of those things.
The Rockets probably have more than enough offense to let Howard dabble in the post for the time being, but when the games get tight, and the opponents are smart and capable, the Rockets might just have to put their foot down and keep the ball out of Howard's hands.