All offseason, we heard talk about how the Chicago Bulls were ready to vault back into the NBA's elite. Derrick Rose and Co. were supposed to pile up wins, climb the ladder in the East and chase a title this year.
After the Indiana Pacers absolutely took it to the Bulls in an eye-opening 97-80 beatdown Wednesday night, the conversation could be changing.
It's probably wise to toss in a handful of "it's still early" caveats, but we've seen enough from both the Bulls and Pacers to know that one team currently stands head and shoulders above the other. Indiana made a statement last year, but there was some question as to whether its playoff run was clouding the fact that it was a good but decidedly flawed outfit during the 2012-13 regular season.
The way the Pacers played against the Bulls Wednesday proves that the version of the team that showed up against the Miami Heat last postseason is here to stay. Indy held off the increasingly desperate Bulls with grit and defense during the first three quarters, then uncorked an offensive run, hitting a late-game gear the Bulls couldn't match. The Pacers turned a one-point lead after three into a 17-point victory.
So I guess the Pacers are pretty good.

— Jared Dubin (@JADubin5) November 7, 2013
The result was impressive, but the way Indy achieved it was especially telling. That's because all of the Pacers' strengths were on display, but most of the weaknesses that hampered them a year ago disappeared.
Where'd This Bench Come From?
After dragging the team down last year, Indy's reserves were terrific in the win. I suppose that's largely because the Pacers overhauled their bench this past summer.
Luis Scola contributed 12 points, three boards and two steals on 6-of-8 shooting in 16 minutes. His fourth-quarter swipe of Luol Deng's dribble led to a one-man, slow-motion break in which Scola somehow plodded 75 feet to the hoop and finished on his own.
Donald Sloan, pressed into duty because C.J. Watson had to start for an injured George Hill (hip), hit 4-of-6 shots, grabbed six boards and handed out four dimes in just 21 minutes. Critically, he and Watson didn't commit a single turnover against a dogged Bulls defense.
Giveaways were the team's Achilles' heel last year. Not anymore, apparently.
It wasn't just the rebuilt bench that made the difference against Chicago, though. A couple of staples from last season were just as integral: effort and defense.
Same Old Pacers
Lance Stephenson overcame a 1-of-11 start by hitting four of his final six shots, including a couple of critical threes and a breakaway dunk that functioned as the exclamation point on Indiana's impressive victory.
That final dunk was a direct result of the Pacers' consistently terrifying on-ball defense, which generated a number of steals and transition opportunities. It really shouldn't be surprising that the Pacers played so dominantly on defense, especially after the incredible numbers they put up a year ago.
But somehow, Indiana has gotten even better on D.
The Pacers came into the game with a defensive rating of 86.3 points per 100 possessions, a number that was—ridiculously—more than 10 points better than their league-leading rating of 96.6 points per 100 possessions last year, per NBA.com.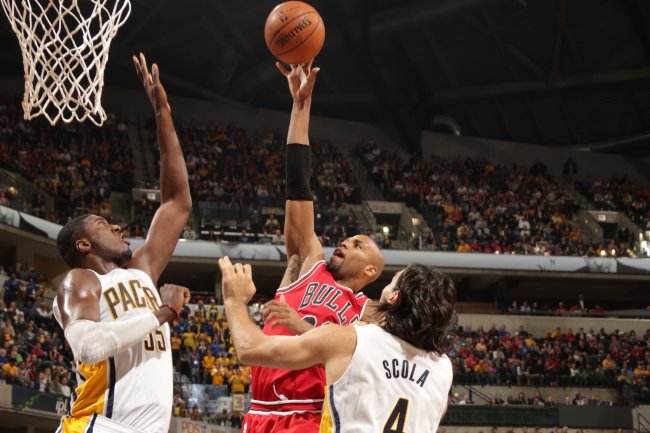 Ron Hoskins/Getty Images
Naturally, Roy Hibbert was integral in shutting down the Bulls. He stuffed everything in sight, frequently coming all the way across the lane to help erase shots at the rim. He finished with five blocks on the night, and he had a direct affect on at least twice that many misses inside.
By the way, we've made it this far without mentioning Paul George, who struggled shooting the ball (6-of-19) but defended well enough to post a plus-28 rating for the game, the second-best figure on the night.
Chicago Out of Sorts
Meanwhile, the Bulls continued to look like a team that still wasn't quite sure how to work together. That's a little odd, considering the fact that their principal players have been playing alongside one another for almost four years. Perhaps it's taking longer than anyone expected for the team to adjust to Rose's return to the lineup.
Speaking of Rose, he looked better than he had at any point in the young season, but still registered more turnovers (four) than assists (two). And, notably, the Bulls pulled closer to Indiana during the first few minutes of the final period when Rose was planted firmly on the bench.
Pacers' Paul George on rivalry w. Chicago: "We want to step away from that shadow as the 'little brothers' of this division..."

— Steve Aschburner (@AschNBA) November 7, 2013
Derrick Rose's struggles are a significant issue for the Bulls, but they're being compounded by the fact that the rest of the roster's growth has stalled.
Jimmy Butler disappeared, getting up just six shots in 26 minutes and scoring seven points against three turnovers. In addition, Mike Dunleavy continued to underwhelm and Joakim Noah clearly hasn't shaken the nagging groin injury that cost him so many preseason games.
The preceding list of issues is probably as good of an argument as any that the Bulls are bound to improve. Let's not get too far ahead of ourselves; Chicago is an excellent team with tons of talent, a terrific coach and a track record of success.
The Bulls are far too good to stay this mixed up forever.
Indy: A New (Old) Power
More Paul George on Bulls: "Their success is the Michael Jordan era. This is a new age, this is a new team. It's ours till they take it."

— Steve Aschburner (@AschNBA) November 7, 2013
As Chicago has dipped, the Pacers have soared.
This was an ugly game—the kind the Bulls typically win. What's clear now is that Indiana does "ugly" even better than the Bulls. The ability to gut out victories when tough opponents make easy buckets disappear (Indiana shot just 41.9 percent from the field) is going to serve the Pacers very well down the line.
Indy's 5-0 start is its best in 42 seasons. That's impressive. And, like last year, the Pacers are still a better team than the Bulls. That's old news.
The gap between the two teams is widening, though, despite the return of Rose. That's scary.