Predicting the Biggest Winners and Losers of NBA Training Camp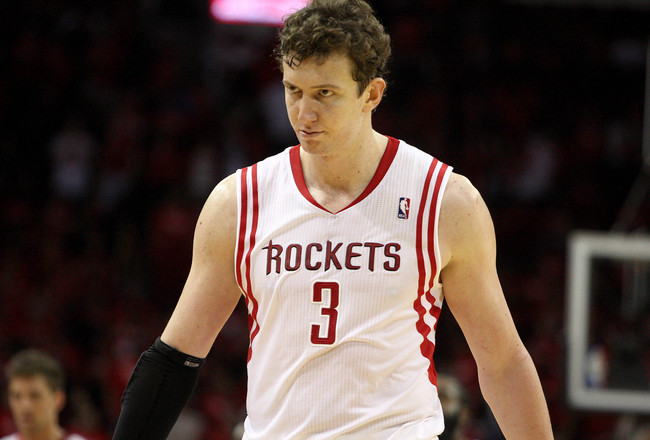 Omer Asik's role could be diminished now that Dwight Howard resides in Houston.
Troy Taormina-USA TODAY Sports
A sense of optimism has permeated all 30 NBA teams, which must mean that training camps are underway. And while players across the league claim that they worked tirelessly over the summer to hone their skills and get in the best shape of their careers, not everyone can be a winner.
Unfortunately, that applies to both teams and players.
Some teams' prospects are noticeably brighter than others, and it's becoming increasingly clear that several squads and individuals are entering uncertain waters as the season approaches.
Whether it's bolstered title hopes in Chicago or an uncertain future for the enigmatic Andrew Bynum in Cleveland, we're here to take a stab at who the winners and losers of training camp will be in a few weeks' time.
Winner: Chicago Bulls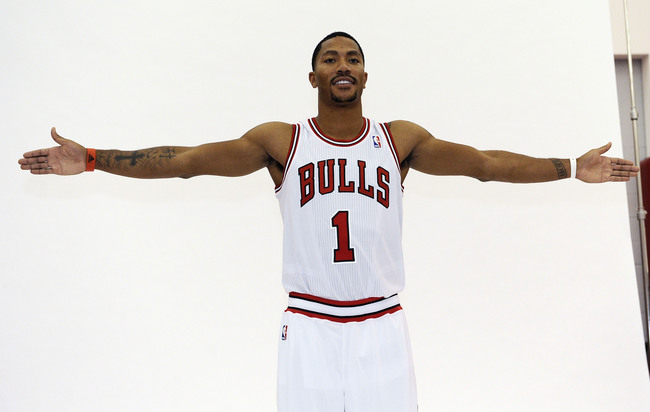 David Banks-USA TODAY Sports
If the Chicago Bulls enter the regular season with their full complement of stars healthy, they will be undisputed victors at the end of training camp.
Having Derrick Rose back at 100 percent transforms the Bulls' offense from one of the league's worst units into one that has top-10 potential. For context's sake, in Rose's last somewhat-healthy season (39 appearances in the lockout-shortened 2011-12), the Bulls finished fifth in offensive rating, scoring 107.5 points per 100 possessions, per Basketball-Reference.
Factor in Jimmy Butler's continued development, the addition of Mike Dunleavy and the restored health of cornerstones Joakim Noah and Luol Deng, and Chicago could shoot right back to the top of the Eastern Conference.
Loser: Andrew Bynum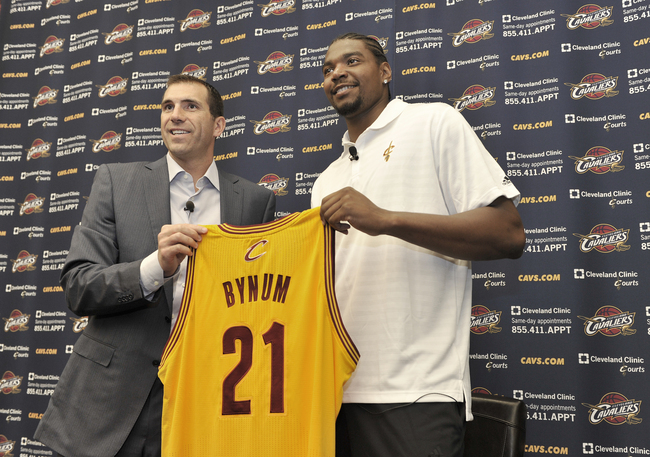 David Liam Kyle/Getty Images
New team, new number, same old knee problems for Cleveland Cavaliers center Andrew Bynum.
As we learned last season during Bynum's brief stint with the Philadelphia 76ers, certainty eludes Bynum and his troublesome knees.
Ambiguous reports are the norm when discussing the big man's chronic injury, and we've already seen an example prior to the start of Cavs training camp.
According to the Cleveland Plain Dealer's Cavs Insiders on Twitter, "#Cavs GM Chris Grant says Andrew Bynum has worked hard and made significant progress but there is no actual timetable for his return."
And therein lies the problem.
It's impossible to nail down a timetable for Bynum because of the chronic nature of his damaged cartilage.
Bynum "says he will 'definitely' play this year for #Cavs," according to Jason Lloyd of the Akron Beacon Journal on Twitter, but given recent history it's hard to accept that sort of statement at face value.

Loser: Anthony Bennett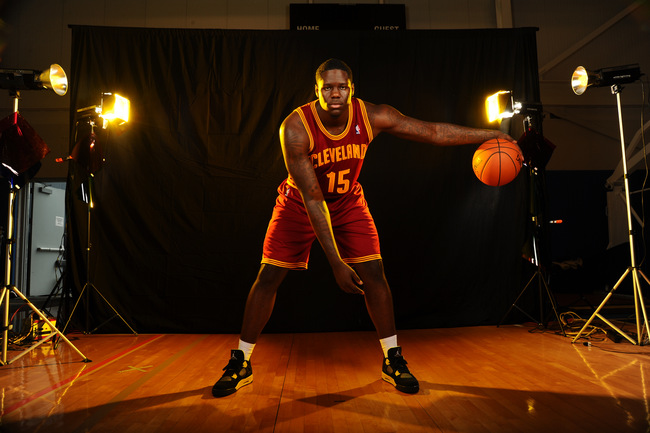 Brian Babineau/Getty Images
It's not often that a No. 1 overall pick enters training camp as a consensus backup, but that's exactly what's happening with Anthony Bennett in his first season with the Cleveland Cavaliers.
Standing in Bennett's way is 22-year-old Tristan Thompson, who's primed for a breakout year after showing signs of promise during his sophomore campaign.
Appearing and starting in all 82 games for the Cavs last season, Thompson averaged 11.7 points and 9.4 rebounds while improving his field-goal percentage by 4.9 percentage points. And if the Canadian's shooting efficiency does wind up improving thanks to his ambidextrous touch, there's no scenario I can envision that would see Bennett overtake such a key franchise building block on the depth chart.
A diverse talent out of UNLV, Bennett should have no problem carving out a spot for himself in the rotation during his rookie season. But the talents of Thompson should be enough to prevent him from starting for now.
Winner: Reggie Jackson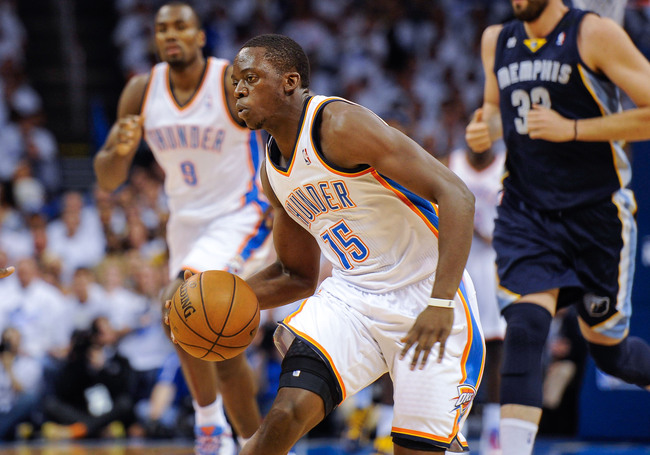 USA TODAY Sports
The Oklahoma City Thunder are attempting to fill a major void on their bench, with Reggie Jackson and Jeremy Lamb vying to be Scott Brooks' new sixth man.
Working in Jackson's favor are his impressive playoff outings against the Houston Rockets and Memphis Grizzlies last spring, not to mention the insane Summer League performance he turned in this past July, scoring 35 points against the Detroit Pistons, including 23 in the fourth quarter.
In 11 playoff appearances (nine starts) last season, Jackson logged 33.5 minutes per game, averaging 13.9 points (47.9 percent shooting), 4.9 rebounds and 3.6 assists in place of an injured Russell Westbrook.
Jackson's primary competition for the gig will come from Jeremy Lamb, whose long-distance shooting chops may just be compelling enough to provide competition for the role.
However, it must be noted that Jackson is also looking at a significantly larger role over the first month of play. Russell Westbrook will miss four to six weeks of the regular season after undergoing arthroscopic surgery on his right knee, according to Bleacher Report's Howard Beck.

In the end, it's the seasoned Jackson who should assume Kevin Martin's old role and see his numbers inflate in Year 3.
Winner: San Antonio Spurs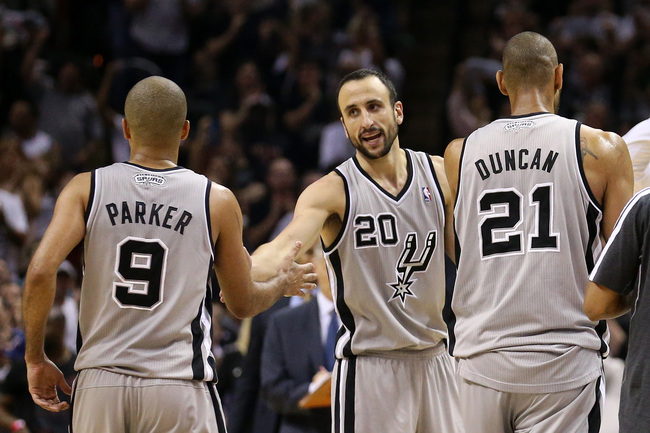 Stephen Dunn/Getty Images
The San Antonio Spurs didn't make any big splashes this summer, which is exactly why they're going to be winners when training camp concludes and the season starts.
The Spurs seemingly go about their business in the quietest of fashions each summer and fall, letting buzz surround their Western Conference competition while Gregg Popovich prepares his team for another successful campaign.
And here's the scary part: While hype builds around improved contenders like the Houston Rockets, Golden State Warriors and Los Angeles Clippers, the Spurs may be even better this season than they were a year ago.
Yes, Tim Duncan, Tony Parker and Manu Ginobili will continue to age, but Danny Green and Kawhi Leonard are just now coming into their own. R.C. Buford also managed to sign former Chicago Bulls shooter Marco Belinelli during the offseason, providing San Antonio with yet another perimeter weapon.
Don't sleep on the Spurs just because it's become the norm. They deserve our attention, and lots of it.
Loser: Omer Asik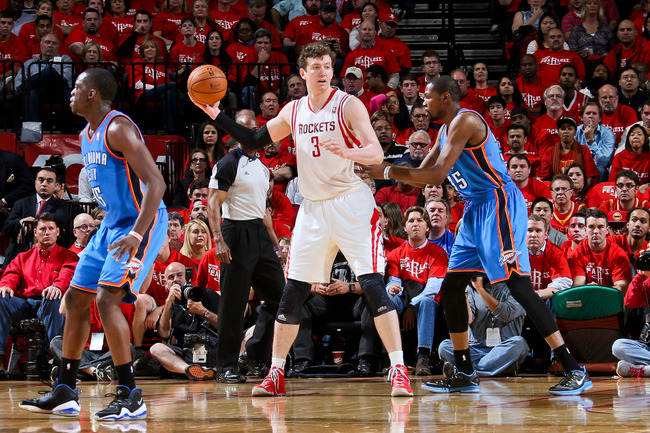 Layne Murdoch/Getty Images
When the Houston Rockets inked Dwight Howard to a four-year, $88 million deal this summer, it became clear that Omer Asik's role was going to be diminished one year after arriving in H-Town.
Asik, who led the Rockets in both rebounding (11.7 per game) and blocks (1.1 per game) last season, will presumably take a backseat to Howard considering that both players are largely limited to playing in the low post.
It's a shame that a player of Asik's defensive caliber will likely have to assume a smaller role, but his offensive tools simply aren't good enough for him to be the team's starting 4. Kevin McHale's attack is predicated on spreading the floor and getting to the basket, and with Howard set to dominate low-post touches, Asik would be a redundant player on the starting unit.
Winner: Gordon Hayward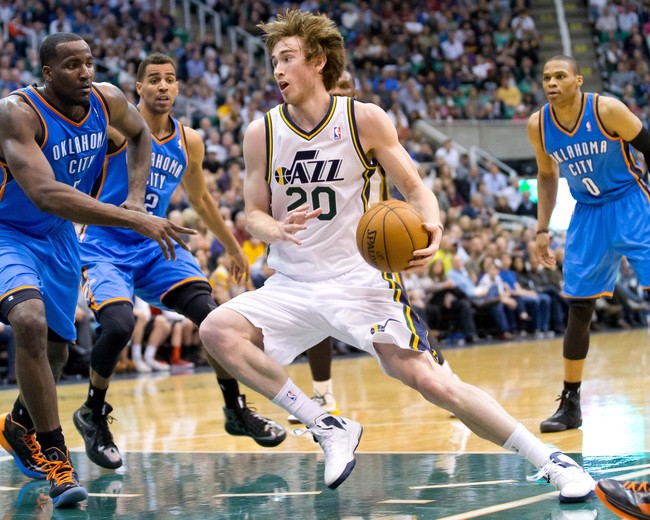 Russ Isabella-USA TODAY Sports
Other than the promise of a bright future, the Utah Jazz and their stable of young building blocks don't have much to look forward to this season.
The rebuilding process is in full effect in Salt Lake City, but the good news is that the Jazz have a chance to lock up some of their future franchise centerpieces, one of whom is Gordon Hayward.
Hayward will be a restricted free agent at the end of this season should the Jazz choose not to extend him before the October 31 deadline. However, I don't see it coming to that, and neither does Bleacher Report's own D.J. Foster, who predicts that Hayward will sign an extension prior to the season.
Hayward only started 27 of the 72 games he played in last season, but that didn't prevent him from posting the highest PER (16.8) or scoring average (14.1 points) of his career to date. So as his role continues to expand in Year 4, expect improved numbers and more efficient production from the former Butler standout.
It may be a down year for the Jazz, but they would do well to lock up Hayward and stabilize the core of their franchise for years to come.
Loser: Minnesota Timberwolves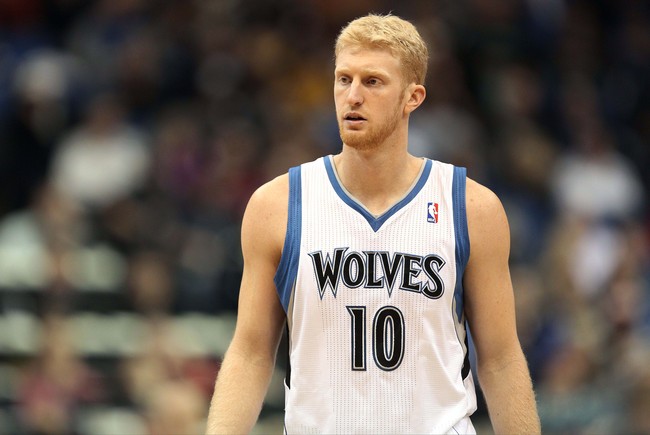 Jesse Johnson-USA TODAY Sports
A season removed from seeing their roster decimated by injuries, the Minnesota Timberwolves are facing similar concerns as training camp gets underway.
The bad news started to roll in with the announcement from the Timberwolves that forward Chase Budinger will be out indefinitely following arthroscopic surgery on his left knee to remove a torn lateral meniscus.
Budinger was vying to start at the 3 with Corey Brewer after playing just 23 games last season, but it appears that battle ended before it could really begin.
And with the T'Wolves in desperate need of added artillery beyond the arc (they finished last in three-point percentage last season), the loss of Budinger, a career 35.8 percent three-point shooter, is a crucial one.
It's impossible to predict what other ailments may hinder key players moving forward, but there's no denying that the Timberwolves' 2013-14 campaign is off to an ominous start.
Winner: Greivis Vasquez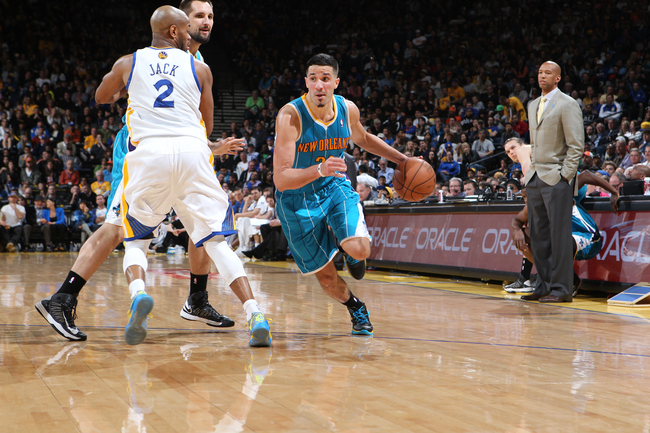 Jack Arent/Getty Images
When training camp concludes, I'd expect to see Greivis Vasquez atop the Sacramento Kings' depth chart at point guard.
In Year 1 of the Mike Malone era in California's capital, the Kings will be looking for stability, something they've sorely lacked over the last five-plus years. Vasquez is a nice solution at point guard, in that he can competently and efficiently run Sacramento's offense, setting the table for the likes of Ben McLemore, DeMarcus Cousins and Carl Landry.
For those who are unaware, Vasquez finished third in the NBA last season in assists per game (nine), and ranked first overall in total assists with 704.
While Isaiah Thomas should garner consideration for the role, he's more of a spark plug, the sort who could emerge as a fearsome weapon off the bench. Although Vasquez isn't going to score quite the way Thomas can, his calming and selfless presence should be enough to negate his slow feet and subpar jump shooting.
Finally, consider the praise that Malone heaped on Vasquez in an interview with the Sacramento Bee's Ailene Voisin:
Obviously, we have three point guards. Greivis Vasquez, a guy who gives you 14 points and nine assists. The exciting thing about Greivis is, those nine assists per game … we need willing playmakers. I think that's contagious. The fact he's 6-foot-6. You can't teach that.
Vasquez may take things easy in the early going due to offseason ankle surgery, according to the Sacramento Bee, but in the end it will be his job to lose.
Loser: New York Knicks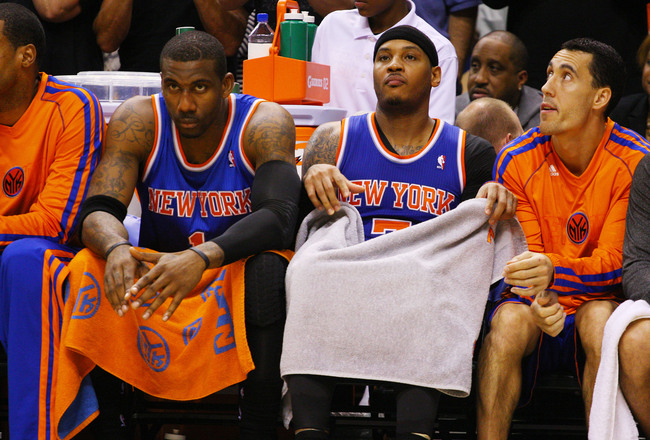 Brian Spurlock-USA TODAY Sports
The New York Knicks are entering murky waters.
Amar'e Stoudemire had offseason knee surgery, according to Frank Isola of the New York Daily News. J.R. Smith is suspended for the first five games of the regular season. Andrea Bargnani has come to the Big Apple after the worst season of his career. Last year's veteran leader, Jason Kidd, is now coaching the Knicks' crosstown rivals.
With so much up in the air, how will Mike Woodson's bunch replicate their impressive 54-win total from last season?
It's hard to tell at this point, which is what makes the Knicks look like relative disappointments at this juncture.
Factor in the personnel improvements made by Brooklyn, Chicago and Indiana this summer, and the Knicks are looking like they could slide down the Eastern Conference ranks a year after capturing their first Atlantic Division title since 1994.
Keep Reading