B/R Interview: Anthony Bennett, Nerlens Noel, Ben McLemore Talk Rookie Seasons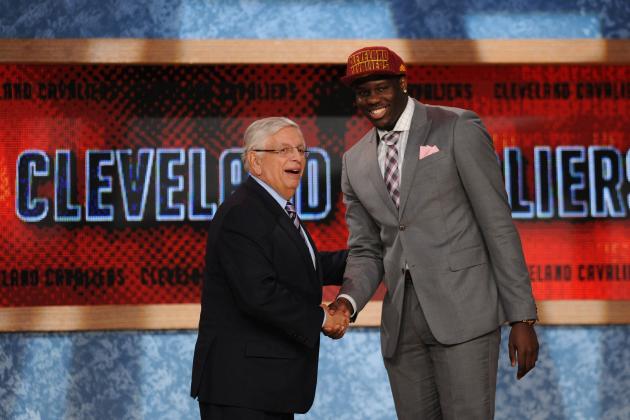 Jerry Lai-USA TODAY Sports

A lot goes into an NBA rookie's preparation for their new life.
All of a sudden they're dealing with increased exposure and are held to different standards. They're thrust into the spotlight like never before, no matter who they are and where they've previously played.
Work is put in on the court, but a big part of this transition takes place outside of the game itself.
Injured players need to put in rehab, and all of them must ready themselves for the situation they're entering, whether it be with a rebuilding team, playoff hopeful or title contender.
Bleacher Report caught up with Anthony Bennett, Nerlens Noel and Ben McLemore at this year's rookie photo shoot and picked their brains about what life has been like since being drafted. They also discussed the future and their goals.
Noel's high-top fade may or may not have come up as well.
More than a month removed from the draft, the league's rooks are still taking it all in. From their new digs and teammates to their overall mindset, they're still learning how to traverse the path of an NBA player.
Begin Slideshow

»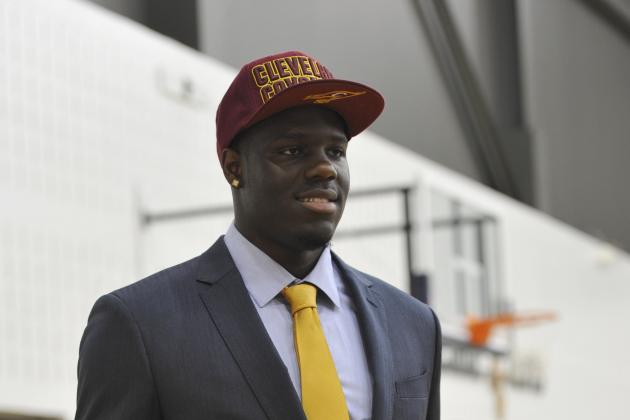 David Richard-USA TODAY Sports

Bleacher Report: For you specifically, how's the NBA experience been since you were drafted? How memorable has it been?
Anthony Bennett: It has been crazy. But at the same time, it's pretty cool. The crazy part about it is I can't even go to the grocery store without people going crazy. Especially in Canada, everybody notices [me]. I feel like when that happens it's pretty cool.
Ben McLemore: The whole process [has been memorable].
Nerlens Noel: It's been good. I've just been staying focused on my rehab. Definitely working at that, trying to get back as soon as possible.
B/R: Have you had that kind of "oh wow I'm in the NBA" moment since you were drafted? Is there anything that stands out in particular?
AB: Um, no. Other than that [being recognized in public], that was pretty much it for me.
BM: Not yet. Hopefully soon. I've been enjoying the process.
NN: No, I don't think it has [hit me yet]. I think it will when I step on an NBA court.
BR: Have you bought anything interesting since you got to the NBA, any big purchases? Or have you had to stop yourself from making a big purchase?
AB: No, I don't even spend my money like that anyway. The only thing I really got was a personal chef. That's it, and I'll be good.
BM: Not at all. I haven't really bought anything expensive like that yet. I save my money.
NN: I just bought a Range Rover, that's it.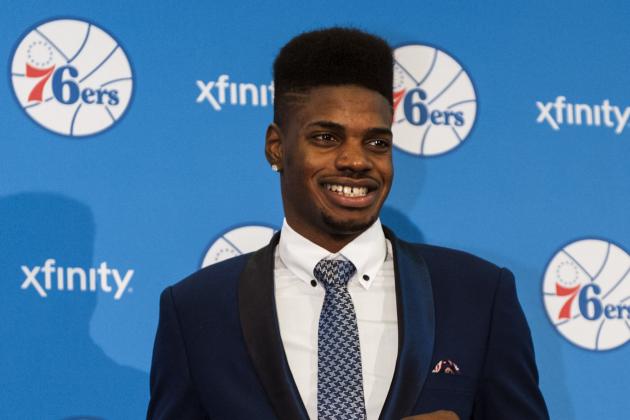 Howard Smith-USA TODAY Sports

B/R: You've had a really busy year, with the draft and the injury. Has this all taught you anything about yourself that you didn't know before?
NN: Yeah, it definitely taught me how to judge the game; not take it for granted. One day you're dunking and having fun, and the next day your leg just blows up. It's difficult. It's really taught me how to love the game more.
B/R: You're known to have an insane work ethic; take the play you were injured on. Will you have to push through any barriers, or will it be difficult kind of regaining that no-fear mentality?
NN: It will definitely be a process coming back from this, mentally and physically. For me, playing hard, that's just who I am. That's not something I'll have to get back. But then being as aggressive as I was is still a process.
B/R: I know you said you were excited to play alongside [Michael] Carter-Williams. What is it that you're most excited about?
NN: Me and him played in the past, playing AAU together, and we really had a connection. We're kind of bringing that into it [the NBA] and not having to develop it; it's already there. We're just going to take it to another level, get adjusted to the NBA and take our games to another level with each other.
B/R: Have any current NBA players reached out to you about your high top, saying they love it or giving you any kind of feedback on it?
NN: No, I don't think any NBA players will tell me they love my hair.
B/R: Has anyone from your draft class made fun of it, tried to get you to cut it, or anything like that?
NN: Yeah! Ricky Ledo tried to tell me to cut it, just joking around. There's a few guys who will joke around with it.
B/R: Everyone knows a lot about your game, but is there a less publicized part about it that you would consider underrated?
NN: I would definitely say my passing ability, being able to find open teammates and just really expanding that part of my game. I think that's it—the most underrated part of my game. And I think it's really critical to winning games.
B/R: Did your draft-day slide give you any extra drive?
NN: Oh yeah, definitely. It makes you work that much harder to be the best that you could be.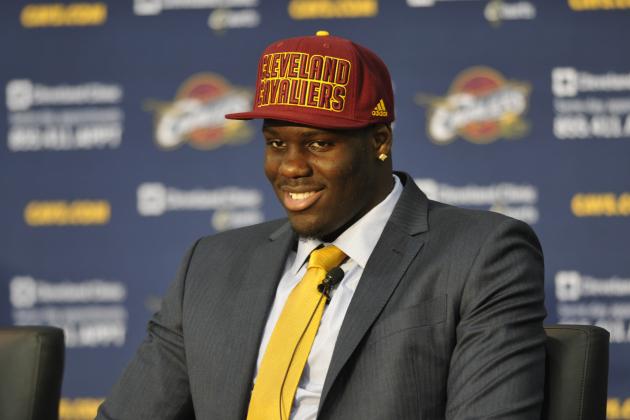 David Richard-USA TODAY Sports

B/R: Were you a Raptors fan growing up?
AB: I supported them. I supported them my whole life; I still do today. I feel like back then when I was a kid, I watched Vince Carter every now and then. But that was about it.
B/R: Did they [the Raptors] have any influence on you wanting to play basketball?
AB: Not really. It was just me watching Vince Carter put down them dunks. As a kid, that was something I really wanted to do.
B/R: Besides Andrew Wiggins, obviously, is there anyone else in CIA Bounce that's going to start making headlines in the coming years?
AB: Tyler Ennis, he's at Syracuse. There's Dylan Ennis, he's at Villanova. Xavier Rathan-Mayes, he's at Florida State. Sim Bhullar—he's a 7'5" center—he's at New Mexico State. There's a whole bunch. I could keep going down [the list]. Everybody, not only with CIA Bounce, but everybody—everybody in Canada—is trying to make some noise.
BR: I saw the photographer had to tell you to stop smiling before, is that—
AB: It's natural. I just like to smile and have fun. No matter what time—actually no. I wouldn't say no matter what time. In the morning I'm a little miserable, but not today. I'm real cool, like to smile and like to have fun.
B/R: Kyrie Irving, Dion Waiters, Tristan Thompson, Andrew Bynum and now you. How excited should fans be to see that?
AB: Real excited. I feel like we have a good team—a great team actually. [We have] nice, young players willing to work hard.
B/R: Do you think you guys have the talent necessary to make the playoffs this year?
AB: I hope we make the playoffs. All the hard work starts in the gym. Once we get to the gym, we can start competing and start understanding each other a lot more. So hopefully that's what our goal is.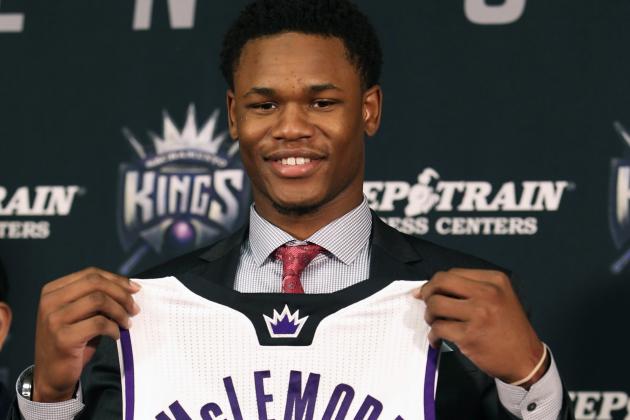 Kelley L Cox-USA TODAY Sports

B/R: Has anything about this process made your life more difficult, like going out in public or anything?
BM: Not really. I'm just being a normal person; I'm being Ben McLemore. I'm just being myself and being a normal guy.
B/R: Is there anyone in particular on the Kings you're especially excited to play with?
BM: Oh, DeMarcus Cousins definitely. I can't wait to play with him. I'm really excited and happy to be a part of the Sacramento Kings.
B/R: Now, you've drawn a lot of Ray Allen comparisons. How do you respond to those?
BM: I think it's a great comparison. He's a great shooter; I'm a great shooter. He was a great athlete back in his day, and I'm a great athlete. Just the all-around game.
B/R: Is there an underrated part of your game that you feel a lot of people overlook?
BM: I think my dribbling. I know I need to work on it a little bit more, but my dribbling. I can definitely create for myself.
B/R: Like you said, you're a great athlete. Is there anyone in the NBA you would love to put on a poster with one of your dunks?
BM: I don't really have a person. Whoever's there, is there.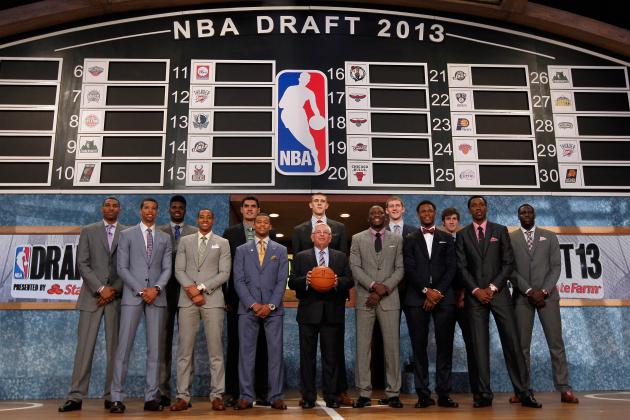 Mike Stobe/Getty Images

B/R: Besides yourself, if you had to pick someone from your class most likely win Rookie of the Year, who would it be?
AB: Me and C.J. McCollum, we've been working out. Well, I wouldn't say I've been working out [with him]. After my surgery, I used to go watch him work out, watch everybody work out. He's the most skilled, I'd say, most skilled guard. He understands the game pretty well. I mean, he can shoot and just score.
BM: Victor Oladipo.
NN: Michael Carter-Williams.
B/R: Besides yourself, which rookie is most likely to drop 30 points in a game first?
AB: I have no idea, to be honest.
BM: I would probably say Trey Burke.
NN: Michael Carter-Williams.
B/R: Is there a biggest smack-talker among the rookies this year?
AB: I don't really know them like that to say that they're smack-talkers. Everybody talks smack during games. If I had to say someone, it would be me.
BM: I don't know. I don't know. Everybody talks smack, so I don't know.
NN: I haven't played against all these guys, but I don't remember any of them being trash-talkers.
B/R: Have you met anyone in this [rookie] class that you think will be a really good coach, or even be one of those player-coach types?
BM: Tim Hardaway [Jr.]
NN: I think Michael Carter [Williams] will be. I think Trey Burke, too. He's a smart player; a high-IQ offensively. Yeah, that's it. And myself.