New NBA Starting Fives That Don't Make Any Sense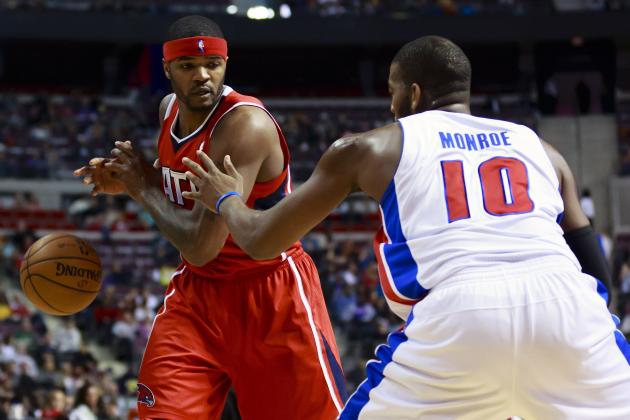 USA TODAY Sports
Josh Smith and Greg Mornoe are now teammates in Detroit, but how will that work out?
When you take a look at some of the rosters around the NBA, you will find some that just make you scratch your head.
Why does this team have so many point guards? Why does that team have no shooters? How come this team has absolutely no big-man depth?
Sometimes, it boggles your mind how incompetent and directionless some front offices are. But you know what? That's what makes the league so unpredictable, and the 2013 offseason has undoubtedly been one of the most capricious summers in recent memory.
For some ballclubs, such volatility works in their favor. Others, however, fall into potentially disastrous traps.
You just have to hope that these teams correct themselves for the future...or get incredibly lucky.
Begin Slideshow

»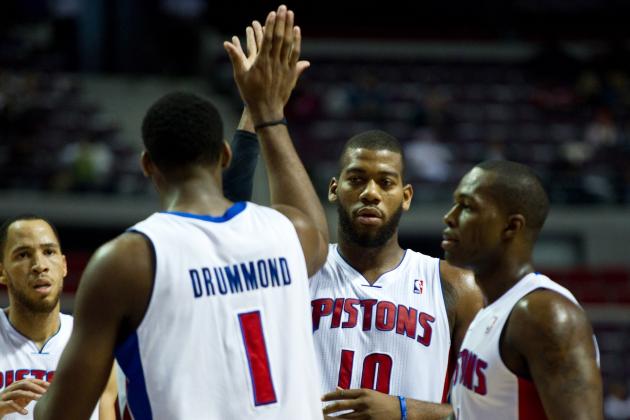 Tim Fuller-USA TODAY Sports

Don't get me wrong. It's nice that the Detroit Pistons are actually trying to build a solid team
And you know what? With offseason moves they made, the Pistons probably are a playoff squad in the Eastern Conference. However, their roster as currently constructed isn't going to make any serious postseason noise unless some changes are made.
The Pistons now have a frontcourt featuring Greg Monroe, Andre Drummond and newcomer Josh Smith.
A talented group? Absolutely. One that fits together nicely? Absolutely not.
Clearly, Detroit's offense is going to suffer from an inability to space the floor, as Smith is not exactly what one would consider a good—or even adequate—jump-shooter. Drummond only took 22 shots outside the paint in 2012-13, and Monroe doesn't have a good mid-range game, either. The Pistons will just have to rely on the combination of Drummond and Smith to be so dominant defensively that it compensates for its lack of fluidity on the offensive end.
They also have to hope that the newly acquired Brandon Jennings continues his improvement from behind the three-point line. The 23-year-old shot 37.5 percent from distance this past season.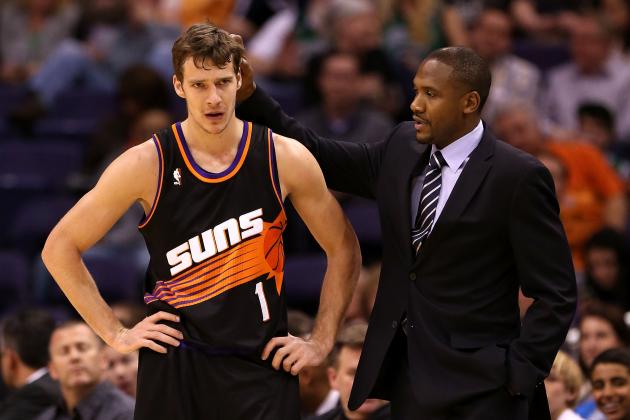 Christian Petersen/Getty Images

You would have thought that the Phoenix Suns would have attempted to move Goran Dragic after trading for Eric Bledsoe, but they didn't.
Instead, they will likely enter the 2013-14 campaign with Dragic and Bledsoe sharing a backcourt, meaning that Bledsoe will be playing out of position much like he did for a solid share of his time with the Los Angeles Clippers.
Standing 6'1" and not known for being a sharpshooter, Bledsoe is not at all suited for the 2-guard spot. He did improve significantly from three-point land in 2012-13, shooting an impressive 39.7 percent, but the sample size (78 attempted triples) was relatively small.
Are we sure that Bledsoe is going to keep shooting that well from long-range in extended minutes?
While Bledsoe may not have a "true" point guard's skill set, he does possess blinding quickness and is a very good slasher and perimeter defender—three qualities that can make him a pest for opposing floor generals. He seems much more like a 1 than a 2.
Given that Dragic has decent value, it would behoove the Suns to try and deal him at some point this season. A contending team in need of a point guard might offer up a worthwhile return, and it would also put the 23-year-old Bledsoe where he belongs.
On another note, Phoenix could really use another big man. Markieff Morris at the 4 just does not cut it. Maybe someone like Miles Plumlee will step in and provide the frontcourt with a boost, but if not, the Suns need to get better there.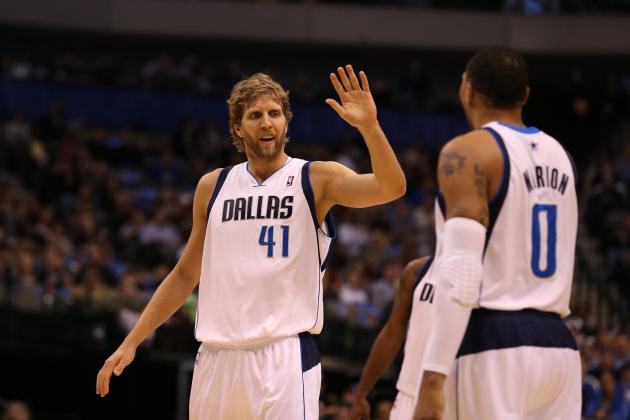 USA TODAY Sports

The Dallas Mavericks' starting lineup is odd for a different reason.
A starting five of Samuel Dalembert, Dirk Nowitzki, Shawn Marion, Monta Ellis and Jose Calderon is certainly sensible in that nothing in the combination really clashes; each player is manning the correct position.
It's just the circumstances that make it a bit strange.
With Nowitzki nearing the end of his career, adding older, not-so-stellar players doesn't really make much sense. Instead of going after one of the younger point guards like Jeff Teague or Brandon Jennings, the Mavericks went out and signed Calderon, who will be 32 in September, to a four-year, $29 million deal (per Marc Stein and Tim MacMahon of ESPN.com).
Calderon is a solid player, but he is hardly someone who is going to put Dallas over the top, and inking him for four years? Definitely a questionable move on Mark Cuban's part.
Rather than signing Ellis and Calderon, why not just re-sign O.J. Mayo and then make a play for Jennings? That would have given the Mavs a nice young backcourt to fall back on in the post-Dirk years.
Of course, the Mavericks tried to add Dwight Howard. But they struck out in adding a marquee name for the second straight offseason and then made what seemed to be knee-jerk moves to compensate.
Rick Carlisle's club is probably a playoff team, but one that will merely serve as a sacrificial lamb for one of the higher seeds.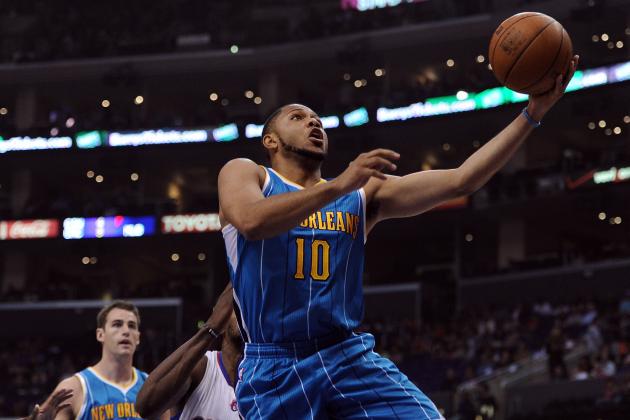 Harry How/Getty Images

Similar to the Pistons, the New Orleans Pelicans certainly accumulated a solid amount of talent this summer, bringing in the likes of Jrue Holiday and Tyreke Evans. The question is, how in the world will a trio of Holiday, Evans and Eric Gordon work out?
Both Evans and Gordon need the ball in their hands to maximize their effectiveness, and Holiday has never hesitated to look for his own shot, either.
This could work if those three players are willing to sacrifice for the betterment of the team, but all three guys are young and likely feel like they have something to prove, especially in the case of Evans and Gordon. Let's also not forget that Gordon was not exactly ecstatic when New Orleans matched the offer sheet the Phoenix Suns made to him last year (per Jeff Zillgitt of USA Today).
There is no doubt that the Pelicans are loaded with talent. It's just a question of how well that talent will mesh.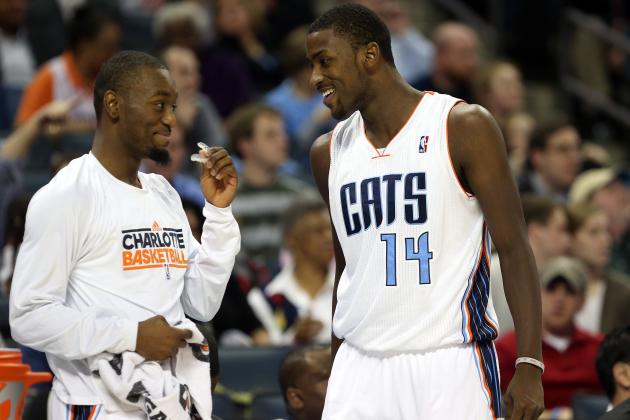 Streeter Lecka/Getty Images

Unlike a fairly large faction, I didn't have a problem with the Charlotte Bobcats signing Al Jefferson. At some point, bottom-dwelling teams have to start trying to build a winner, and it's not like Jefferson is old at the age of 28.
What I do have an issue with is taking Cody Zeller with the fourth overall selection in the draft. Zeller is not a good defender, and with Jefferson not what one would consider a stalwart on that end of the floor either, Zeller's inability to play consistent D compounds the problem.
Of course, the Bobcats signed Jefferson after selecting Zeller, but the complication remains, nonetheless.
To be specific, Nerlens Noel, someone who would complement Big Al much better than Zeller, was on the board at No. 4. Perhaps Charlotte shied away from him because of concerns about his knee, but taking Zeller at that spot seems just as risky.
With an improving Kemba Walker and Michael Kidd-Gilchrist entering his second season, the Bobcats are definitely in a better position now than they were a year ago. You just have to wonder how much better of a spot Michael Jordan's club could be in right now.