July 5 was supposed to be reserved for Dwight Howard's decision, but instead, it was Andre Iguodala and the Golden State Warriors who stole some of the headlines.
After trading to clear up a rather significant chunk of cap space, the Warriors signed the All-Star swingman to a multi-year deal, thereby upgrading the team rather significantly and repositioning themselves in the Dwight Howard sweepstakes. USA Today's Sam Amick has the details:
The Golden State Warriors landed free agent small forward Andre Iguodala on a four-year, $48 million deal, two people with knowledge of the agreement told USA TODAY Sports.

In order to clear the necessary cap space for the move, the Warriors agreed on a trade that will send Richard Jefferson, Andris Biedrins and Brandon Rush to the Jazz. Golden State gets guard Kevin Murphy while giving the Jazz first round picks in 2014 and 2017 as well as two second-round picks.
Looking at the combination of the two moves, do the Utah Jazz or Warriors emerge as bigger winners? Did they both come out grinning from ear to ear following this deal?
Let's dole out some grades.
Utah Jazz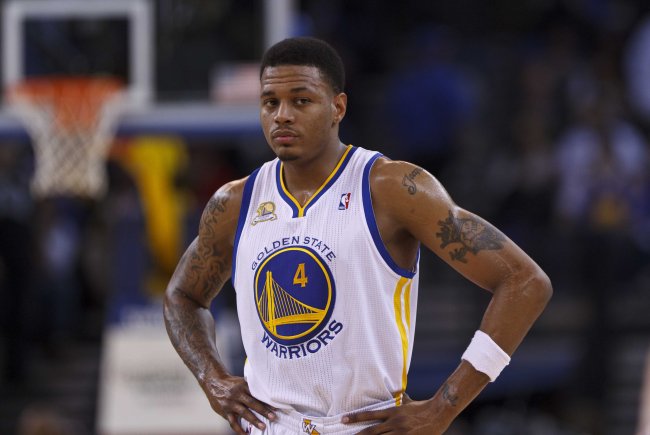 Jason O. Watson-USA TODAY Sports
Received: Andris Biedrins, Richard Jefferson, Brandon Rush, 2014 and 2017 first-round picks, multiple future second-round picks
Gave Up: Kevin Murphy
The Utah Jazz didn't give up much here, other than their financial flexibility for the immediate future. Essentially, they're serving as conduits for Andris Biedrins and Richard Jefferson on their tracks toward free agency and significantly less burdensome contracts.
The duo will be paid over $20 million during the 2013-14 season, but they come off the books next summer, giving the Jazz plenty of cap room for a loaded free-agent class. They also won't demand much playing time and shouldn't interfere with the development of the myriad young players on the roster.
Jefferson won't eat many minutes from Gordon Hayward, and it's hard to fathom the Jazz brass giving Biedrins playing time at the expense of Derrick Favors and Enes Kanter.
Utah also receives Brandon Rush, who is a sneaky valuable player after a torn ACL in the second game of the season cut his 2012-13 campaign short. During the 2011-12 season, the last one in which he played a significant number of games, Rush averaged 9.8 points, 3.9 rebounds and 1.4 assists per game while making more shots from the field than he missed.
The shooter should help pair up with Alec Burks to form a solid young duo at shooting guard, and he'll also spell Hayward at the 3.
The Jazz also get two first-round draft picks from the Dubs, including one that's sure to be near the tail end of the loaded 2014 draft-day proceedings, and multiple future picks that will come in the second round.
What letter grade would you give the Jazz?
All of this only came at the expense of Kevin Murphy, a second-round draft pick by the Jazz in the 2012 NBA draft. The shooting guard from Tennessee Tech was a complete non-factor during his rookie season, so the fact that Utah isn't giving up anything more than his services makes this one heck of a steal.
The Jazz ended up with a lot of cap space for the 2013 offseason, and they made bank with it.
Now, they can let their young players learn on the job, add a potent shooter, tank for a great pick in 2014, free up cap space for next offseason and add future draft picks.
What's not to love?
Grade: A+
Golden State Warriors
Kelley L Cox-USA TODAY Sports
Received: Andre Iguodala (will sign for four years, $48 million), Kevin Murphy
Gave Up: Andris Biedrins, Richard Jefferson, Brandon Rush, 2014 and 2017 first-round picks, multiple future second-round picks
As stated above, the Golden State Warriors did most of the giving with this move.
They unloaded over $24 million in salaries, giving up only one valuable player in the process. And Kevin Murphy isn't even certain to be on the roster, since his $789,000 salary is non-guaranteed. The intention of the trade with the Jazz wasn't to receive assets, but rather to unload non-assets.
That's exactly what the Dubs did, and it paid off immediately, as the team was able to land one of the league's premier swingmen for the next four years. $48 million over the next four seasons is pretty fair value for Andre Iguodala.
The Warriors are now left with a deep rotation of wing players. Klay Thompson, Harrison Barnes and Iguodala are all worthy of starter's minutes, and balancing them will be a tricky act.
That said, how potent does a Curry-Thompson-Iguodala-David Lee-Andrew Bogut starting five look with Barnes serving as the sixth man while Festus Ezeli and Draymond Green join him off the pine? That's a terrifying eight-man rotation, assuming Mark Jackson is capable of balancing all the desires for playing time.
Iguodala's one flaw is that he's not a lethal shooter. Anyone think that actually matters on this team?
What letter grade would you give the Warriors?
Last I checked, Curry and Thompson can fill up the scoreboard from the outside, leaving the newly acquired swingman to focus on using his more elite skills.
That is a unit with the potential to challenge any team for supremacy. It's overflowing with offensive firepower and has two standout defenders who can help negate the flaws of the others. As long as Golden State can make savvy signings to fill up the roster, you're looking at a true title contender.
On paper, the Warriors gave up a lot. But they got back even more in return.
Grade: A
Update: It was announced by the USA Today's Sam Amick on July 8 that Randy Foye will be going to the Denver Nuggets.