The Golden State Warriors and Utah Jazz have reportedly agreed to a trade that would send expiring contracts to the Jazz and give the Warriors a chance to complete a deal for a player they've had their eye on for quite some time.
And that player is not free-agent center Dwight Howard, but rather Andre Iguodala.
According to Adrian Wojnarowski of Yahoo! Sports, the Jazz and the Warriors have agreed on the framework of a deal that would send Richard Jefferson and Andris Biedrins to Utah:
Also, @daldridgetnt reports Andris Biedrins will join Jefferson with the Jazz.

— Adrian Wojnarowski (@WojYahooNBA) July 5, 2013
Jefferson ($11 million) and Biedrins ($9 million) will both be in the final year of their contracts during the 2013-14 season. According to CBS Sports' Ken Berger, Brandon Rush and the final year of his $4 million salary will also be going to Utah:
Brandon Rush is the third player going to Utah in the Jefferson-Biedrins salary dump, league source says.

— Ken Berger (@KBergCBS) July 5, 2013
Wojnarowski is also reporting that multiple picks are headed to Utah in exchange for the right to dump $24 million in salary on the Jazz:
Golden State will send first-round picks in 2014 and 2017 to the Jazz, league sources tell Y! Sports.

— Adrian Wojnarowski (@WojYahooNBA) July 5, 2013
According to USA Today's Sam Amick, the Jazz will send 2012 draft pick Kevin Murphy to Golden State as part of the deal:
The Warriors get Kevin Murphy in the deal from Utah, I'm told.

— Sam Amick (@sam_amick) July 5, 2013
In a corresponding move, the Warriors have also reportedly agreed to sign former Denver Nuggets guard/forward Iguodala to a four-year contract worth $48 million with the cap space they created (per Wojnarowski).
Andre Igoudala has reached agreement with Golden State on a four year, $48 million deal with the Warriors, league source tells Y! Sports.

— Adrian Wojnarowski (@WojYahooNBA) July 5, 2013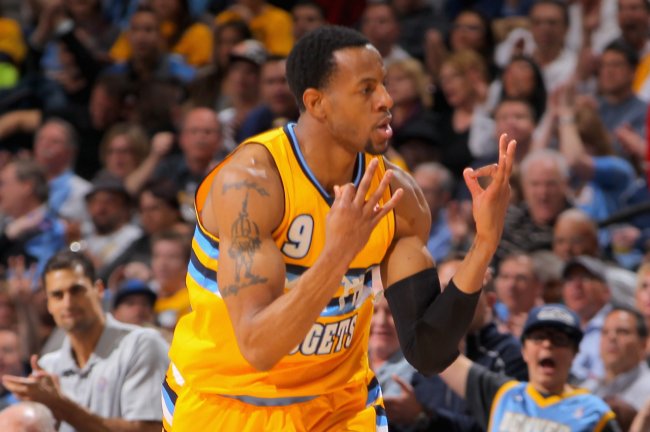 Doug Pensinger/Getty Images
Wojnarowski initially thought the move would take the Warriors out of the running for Howard, but he changed his tune soon after:
Warriors still working to make moves, so my suggestion they're out of play with Dwight Howard is premature. They have tentacles everywhere.

— Adrian Wojnarowski (@WojYahooNBA) July 5, 2013
NBA.com's David Aldridge spoke with Iguodala shortly after the news of his signing was made public, and he didn't suggest the Warriors had given up on Howard:
FWIW, Iguodala says he does not know what Howard is going to do: "If he comes to Golden State as well, it's going to be even scarier."

— David Aldridge (@daldridgetnt) July 5, 2013
By creating cap space and signing a player who is considered one of the best wing defenders in basketball, the Warriors have set themselves up to complete a sign-and-trade with the Los Angeles Lakers.
Does this move make the Warriors the favorite to sign Dwight Howard?
A combination of Andrew Bogut and one of their two young wings (Klay Thompson and Harrison Barnes) could entice the Lakers if Howard informs L.A. management he wants to play in the Bay Area.
In short, this could be just the beginning of a flurry of moves to come for the Warriors.
Jefferson and Biedrins were both fringe rotation players for Mark Jackson last season. Jefferson played in 56 games (one start) and averaged 3.1 points per game. Biedrins played in 53 games (nine starts), averaging 0.5 points and 2.9 rebounds per game.
Rush played in just two games for the Dubs during the 2012-13 season before tearing his ACL.
Murphy was Utah's second-round pick in the 2012 NBA draft.