Pros and Cons of NBA's Potential Expanded Use of Replay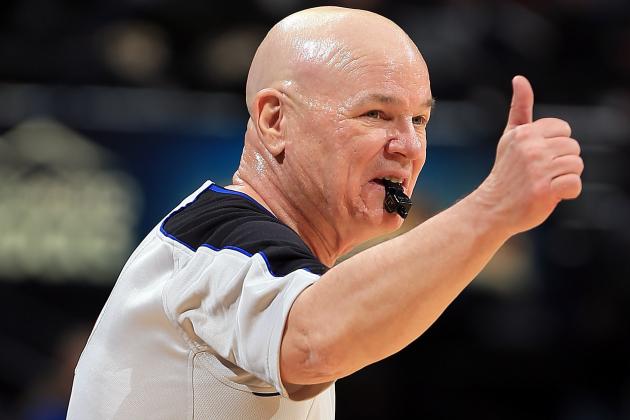 Doug Pensinger/Getty Images

The NBA is looking into potential rule changes that could help its officials get a few more late-game calls right, but that accuracy will come at a cost.
According to the Associated Press (via ESPN), the league's "competition committee is recommending an expansion of instant replay to include block/charge calls in late-game situations."
If the league adopts the committee's suggestions, NBA referees could employ replay to scrutinize "judgment calls" for the first time ever. Up to this point, video reviews only applied to rulings of the more black-and-white variety: Was a player's foot on or behind the three-point line? Which team touched the ball last before it went out of bounds? Stuff like that.
Now, the persistently difficult block/charge call could become reviewable. Call it Pandora's box or a can of worms if you like, but the truth is that these uniquely difficult calls need to be made correctly. Replay could help in that effort, but there are sure to be problems with such a system that could further slow the already bogged down late-game proceedings in the NBA.
Begin Slideshow

»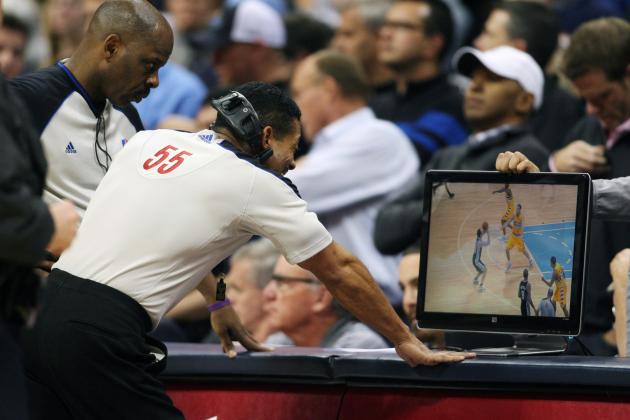 USA TODAY Sports

There's nothing more frustrating than reading an NBA press release admitting that the officials erred on a crucial call. The admission of fault isn't the problem; it's the fact that it always comes after the game has been decided.
If officials had a chance to review their own mistakes in real time—and at a juncture in which correcting that mistake was still possible—there'd be no excuse for egregious errors.
The block/charge call is extremely difficult to make. Players are moving at lightning speed, there are a hundred variables and oftentimes, both the offensive and defensive player involved are guilty of something.
But if referees had a tool to help them get a second look at such a tough ruling, it would be much harder for them to rely on the speed of the game to explain their missed calls.
And those that can't rectify a bad whistle even with the use of replay would probably be on borrowed time.
Accountability is important, and replay could help create more of it.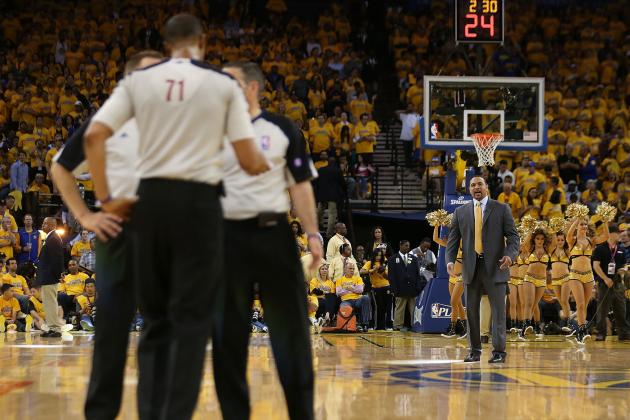 Jed Jacobsohn/Getty Images

There's a reason the league has held off on expanding replay to judgment calls until now: They're much harder to handle.
It's easy to make a snap judgment on whether or not the ball went out of bounds or if a player's toe was behind the three-point line, especially when a quick look at the video can promptly confirm or overturn the call. But even with the use of replay, it might not be so easy to nail down the numerous variables inherent in the block/charge ruling.
Was the defender set? Did the offensive player initiate the contact? What about the league's favorite new buzzword, verticality? It's often impossible to come to a clear conclusion even after looking at a handful of slow-motion replays.
It's likely that a more thorough review would yield a higher percentage of correct calls, but would the potential delay for such a minimal gain be worth it?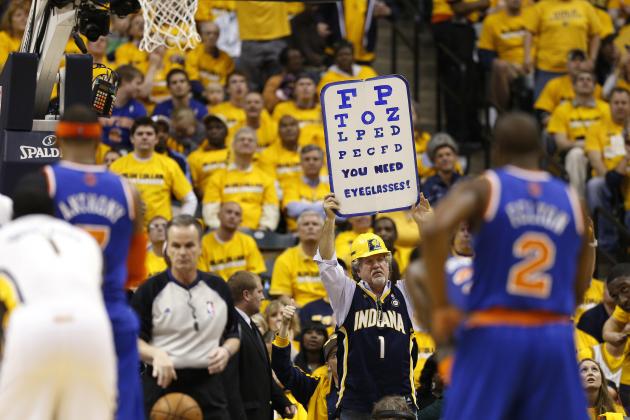 Joe Robbins/Getty Images

If a few extra video reviews could help quell the ridiculous chorus of conspiracy theorists who invariably raise their voices every time their team loses a game, then replay is totally worth it.
It's not a new thing, but it certainly seems like the number of irrational fans claiming that the NBA is fixed and their favorite team is always on the wrong end of the fixing is growing. Whenever an underdog shoots a few more free throws, the explanation is always that the league wants a longer series to generate more TV money.
And when the favorite gets a call here or there, it's because the NBA is rigged to allow stars to succeed.
Come on, people. Free-throw disparities are usually attributed to style of play or some other logical explanation. Working backwards from the result to engineer some half-cocked conspiracy theory is both lazy and lame.
Perhaps a bit more late-game scrutiny in the form of instant replay will quiet the silly outcries of uneducated fans. If a call or two gets reversed, it'll be hard to claim that the referees have some plan to hand the game to one team or another.
Oh, who am I kidding? The nut jobs out there will probably just come up with some other reason to believe the league predetermines the outcomes of games. But maybe replay will help—if only a little.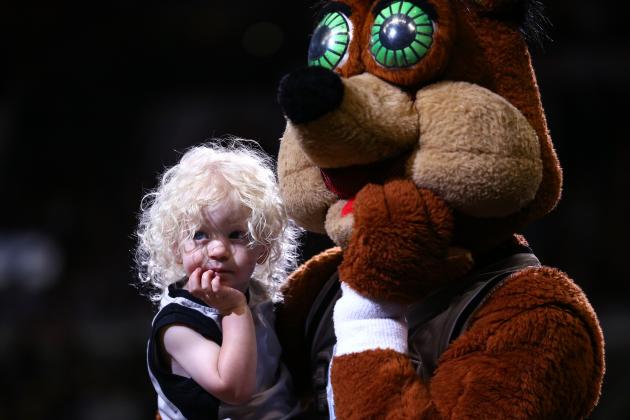 Ronald Martinez/Getty Images

The most inevitable result of expanded replay will be its negative effect on the pace of the game. Video review takes time, and with more difficult calls like the ones the league is considering including under the replay umbrella, delays could be longer than ever.
Playoff games already take far too long thanks to extra TV stoppages and a seemingly endless series of timeouts down the stretch.
Adding a few more breaks for officials to review their calls could grind things to a halt.
The league knows that the chief selling point of its product is its entertainment value, and it's not exactly entertaining to watch the same Kia commercial 37 times in three hours.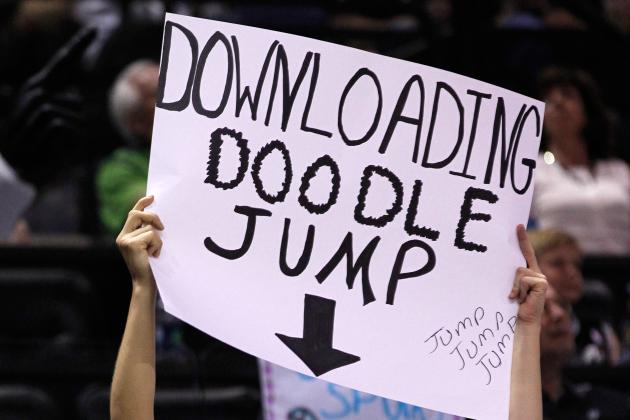 Tom Pennington/Getty Images

This one won't appeal to fans, but the league probably wouldn't mind a few more stoppages down the stretch of games.
Ask yourself if you'd seriously entertain the idea of changing the channel in the last two minutes of a close game just because there were a couple of extra reviews. You're not touching that dial, are you?
The NBA probably knows this, and if it can force more commercials down the throats of its captive audience, it's going to take that opportunity. Replays provide another valuable ad break, if only for about 30 seconds at a time.
Don't think for a second that the NBA won't take advantage of the extra revenue replay could provide.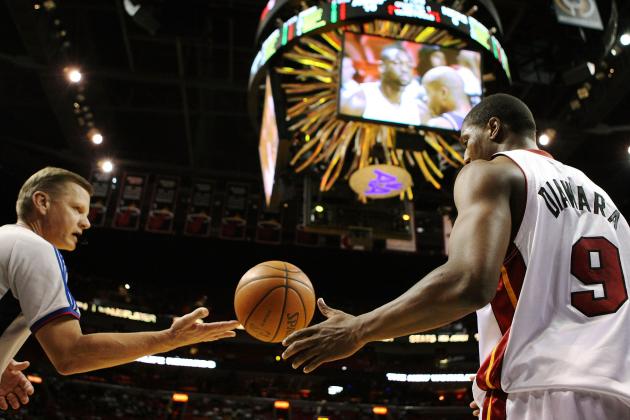 Doug Benc/Getty Images

The earlier discussion of pace had more to do with the viewer's experience. Replay could give games a herky-jerky quality that might diminish the fans' enjoyment.
But it could also have a very real effect on the on-court product.
Momentum matters in the NBA, perhaps more than any of the other major sports. Baseball and football are inherently slower, punctuated by brief stoppages in the action after every pitch or play.
There's no stepping off the mound or huddling up in the NBA, though.
When one team scores, it behooves the other team to quickly inbound the ball and attack right away. That kind of back-and-forth action is part of what makes high-level basketball such a uniquely frenetic game. Fluidity is key.
More breaks in the action could actually hamstring some of the league's more exciting teams. Imagine how much less effective the Houston Rockets' turbo-charged attack would be at the end of games if there were more opportunities for opponents to catch their breath and set their defenses.
That doesn't sound like much fun, does it?
The obvious counterargument is that the last few minutes of the fourth quarter were already ill-suited for fast-paced teams. There's a reason that the Miami Heat and San Antonio Spurs are in the finals: They can both execute when the game slows down.
Still, variety makes the league fun. If up-and-down teams can't succeed because of too many stoppages, that's not good for anybody.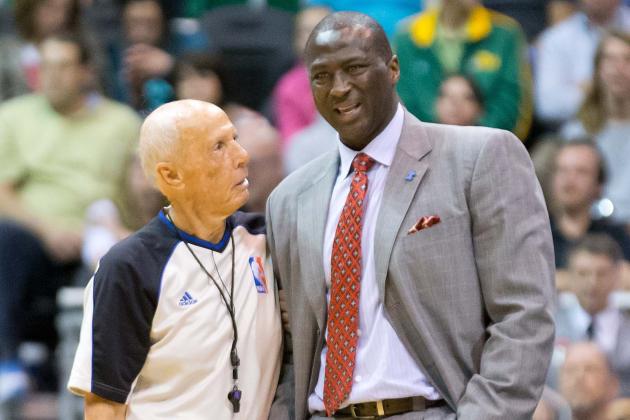 Russ Isabella-USA TODAY Sports

This is really the be-all, end-all of this discussion. There's no excuse for getting calls wrong when it's actually possible to improve the chances of getting them right.
That's really all there is to it.
Those espousing the value of the "human element" (an argument that seems much more common in Major League Baseball's ongoing resistance to using technology to aid its umpires) in officiating are just clinging to the sorts of necessary evils—relics, really—of yesteryear.
Officials are supposed to function as keepers of order by enforcing rules. That's it. If replay helps them do that more effectively, it's asinine to oppose it—so long as its administration doesn't markedly damage the game.
The NBA has an opportunity to get more calls right with a relatively minimal impact on the game. That's a good thing.
Plus, it could lead to more camera time for Joey Crawford and more hugs from Dick Bavetta. Who doesn't want that?