NBA Coaching Rumors: Ranking Most Likely Destinations for Lionel Hollins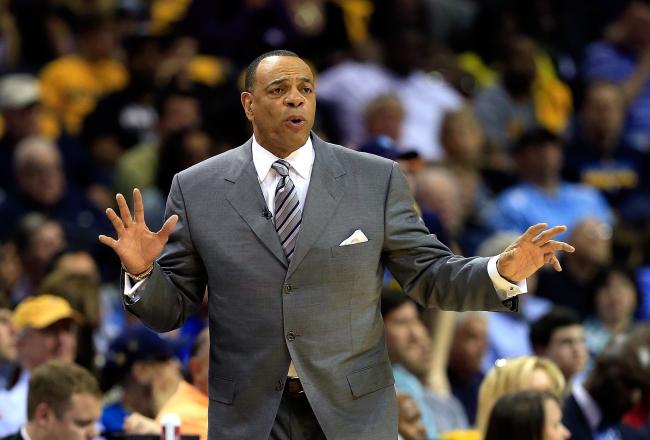 Lionel Hollins will find himself coaching another team next season
Jamie Squire/Getty Images
Lionel Hollins, head coach of the Memphis Grizzlies, will not return to the bench next season according to the team's official website.
Hollins, who led the team to the best season in franchise history this past year, was in charge of the Grizzlies for four-and-a-half seasons. Despite the 59-year-old becoming the franchise's winningest coach, Grizzlies ownership decided not to renew the contract of Hollins, who compiled a 196-155 record in his time with Memphis.
Under Hollins, Memphis featured one of the NBA's best defenses, holding opponents to only 89.3 points per game this season—the first time a team held opponents under 90 points a game for an entire season since 2005-06.
However, it was reported that Hollins developed a strenuous relationship with Grizzlies star forward Zach Randolph. Furthermore, tension between Hollins and guard Jerryd Bayless was evident when Hollins was shown shoving Bayless in Game 4 of the 2013 Western Conference finals against the San Antonio Spurs.
Nonetheless, it is time for Hollins to start thinking about his future in the league. Being such an accomplished coach, it is safe to bet on Hollins garnering plenty of attention from teams looking for new head coaches in the upcoming offseason. Namely, Hollins has been linked with the Los Angeles Clippers, Denver Nuggets and Brooklyn Nets.
Let's take a look at the three most likely teams who would love to have Hollins at the helm next season.
3. Brooklyn Nets
If Hollins does not end up joining the Clippers or the Nuggets, then look for him to be possibly headed to the East Coast.
According to ESPN's Marc Stein, the Brooklyn Nets have reached out to the Grizzlies for permission to interview Hollins. Although the Nets' main priority is Pacers associate head coach Brian Shaw, expect the Nets to at least give Hollins' phone a ring.
While the Nets do not have the pieces in place that the Nuggets and Clippers do to contend for a championship, they still have one of the better point guards in the league in Deron Williams.
As we saw this past season with Memphis finishing fifth in the Western Conference, Hollins has shown that he can take a group of individuals and make them buy into his system.
If Hollins were to join the Nets, he would have the opportunity to do the exact same thing in Brooklyn.
Despite his team being swept by the Spurs in the Western Conference Finals and not having his contract renewed this offseason, Lionel Hollins remains one of the best coaches in the NBA.
With plenty of teams around the league currently having head coaching vacancies, don't expect Hollins to remain unemployed for too long.
2. Denver Nuggets
According to Yahoo! Sports' Adrian Wojnarowski, the Nuggets have shown extreme interest in appointing Hollins as George Karl's replacement in Denver.
As a defensive-minded coach, Hollins could end up being a perfect fit in Denver. The Nuggets, despite ranking seventh-worst in the NBA in opponents' points per game, have several pieces in place for Hollins to work with.
One of which would be Andre Iguodala, one of the best one-on-one defenders in the game. As Tony Allen was for Hollins in Memphis, Iguodala could be the lead piece in the defensive puzzle for Hollins with the Nuggets.
While Hollins had two big men in Zach Randolph and Marc Gasol, he would have the same sort of set-up with Kenneth Faried and JaVale McGee in Denver.
Add in Ty Lawson and Danilo Gallinari, and Denver has a serious foundation for Hollins to work with should he become their head coach.
1. Los Angeles Clippers
According to Ramona Shelburne of ESPN, the Los Angeles Clippers were scheduled to meet with Hollins recently.
The Clippers, who ranked fourth in the NBA in opponents' points per game, already have the foundation set to be a dominating defense. With superstars Blake Griffin and Chris Paul already in the Staples Center, Hollins has plenty of talent to work with should he become the Clippers head coach.
According to the Los Angeles Times, Hollins joins Brian Shaw and George Karl as candidates to take over for Vinny Del Negro in Los Angeles.
As long as Hollins's interview with the Clippers goes well, don't be surprised to see Hollins in Los Angeles come next fall.
This article is
What is the duplicate article?
Why is this article offensive?
Where is this article plagiarized from?
Why is this article poorly edited?