Defending the House: Best Defensive Players in 2013 NBA Finals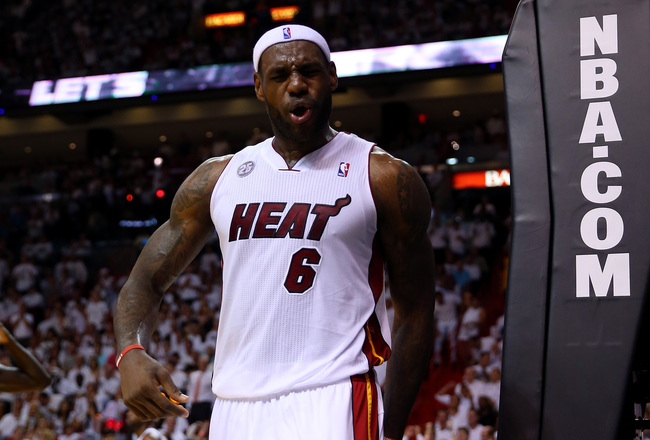 Mike Ehrmann/Getty Images
It's a long-held postulate that "defense wins championships." And while both the Miami Heat and the San Antonio Spurs—the two contestants in this year's NBA Finals—are both elite offensive teams, they stand on their own defensively as well, proving the adage true once again.
According to data from Synergy (subscription required), Miami leads the league in offensive points per play, with San Antonio a close second.
Defensively the Spurs are second, with the Heat fifth. Considering the Heat are first in transition offense, and since it is defense that initiates transition offense, one could argue that the league's two best defenses are represented as well.
Part of being a great defensive team is having an effective system, but that system needs players to execute it. Both the Heat and Spurs have the players who can do that, and that's why they succeed.
Here is a look at four players from each team who make their respective systems work.
Defensive Statistical Measures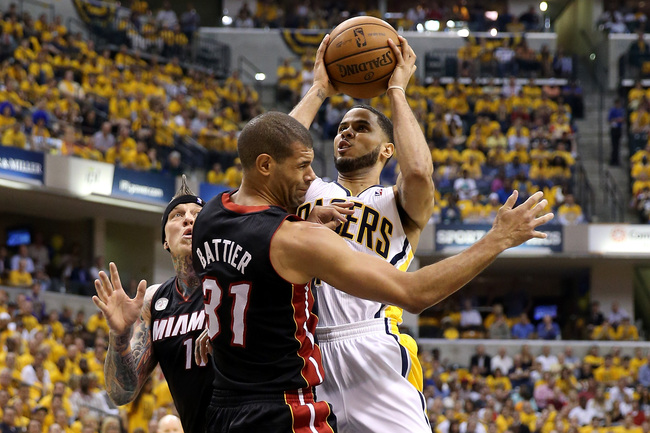 Andy Lyons/Getty Images
Before proceeding, let's take a moment to explain what some of these defensive numbers are and why they are being used.
Defense is a very difficult thing to measure for various reasons. Traditional measures like blocks and steals can mean something, nothing or even something negative.
The ball hawk who goes for the steal by targeting passing lanes may get those two or three steals a contest, and he might even turn those into fast-break points, but he might get burned four or five times per game trying to do that. Even accounting for those easy points he scored, such a player may give up even more easy points without a proper balance of risk-taking.
A player might block a shot out of bounds. The opposing team gets a chance to set a play for out of bounds, increasing its chance of scoring, as teams on average are statistically more likely to score off an inbounds pass than on the average play. It'll often depend on how much time is left on the shot clock.
Furthermore, blocks and steals don't describe team defense, which is the main thing that keeps the other team from scoring. That's a very difficult thing to measure.
Part of the problem is that defensive play is largely reliant on an overall system. It depends on other players executing as well. A player can be great, but if his teammates aren't, it won't matter.
Additionally, elite defenders guard elite players.
For example one thing that can impact a player's defensive numbers is who he is guarding. A player guarding LeBron James is probably going to surrender more points than a player guarding Alonzo Gee.
If one player gave up 15 points to Alonzo Gee, and another player gave up 16 to LeBron James, you can't say that means the player guarding Gee did a better job. You can't just look at the points; you have to look at the opponent.
Defensive numbers, even the advanced ones, aren't everything, but they still are helpful. Primarily there are three I viewed when compiling this list. They are opponent's player efficiency rating (oPER) and net defensive rating, which are provided by 82games.com, as well as points per play against, provided by mysynergysports.com (as is all the per play information cited this article).
OPER borrows from PER, John Hollinger's measure of a player's offensive production. Only here, it determines what the opponent of a player's PER is. While in many ways this can be helpful, sometimes it can penalize a player for good defense.
For example, say Tony Parker is penetrating and Mario Chalmers stops him, forcing Parker to pass. He finds Danny Green behind the arc for three. That assist credited to Parker actually counts against Chalmers' oPER, even though he did his job defensively.
There are some nice things about it, though. It factors in shooting and scoring. It also accounts for the fact that the player, and the player whom he is guarding, are competing for the same rebounds, lose balls, etc., by measuring a player against the person he guards.
So while it's not perfect, it's an indication of something.
Synergy measures points per play against (PPPA), describing what happens when a player is the primary defender on the play. If a player scores, it counts against him. If his opponent doesn't score, it counts for him. They average it out to points per play.
The problem here is it doesn't account for help defense. A defender rotates to help out a teammate, leaving his man by design. Then his teammate, who is supposed to rotate over, does not rotate, and the points are accounted to the primary defender who did his job, rather than the secondary defender who did not.
Net defensive rating (net DRtg) is nice because it shows how many points per 100 possessions a player's team gives up while he's on the court versus when he's off the court. If a team gives up more points while he's off the court, it ideally shows that player's defensive worth. It's fairly clean.
This is an indication of help defense because it shows how the overall defense performs while he's on the court. There's a certain logic that is sensible there, but it doesn't account for other variables.
For example, when Omer Asik was with the Bulls, Chicago gave up 8.1 more points per 100 possessions with Joakim Noah on the court than when Asik was on the court. That means Asik is the better defender, right?
Not necessarily. They also gave up 8.6 more points with Carlos Boozer on the court. The difference was more about Taj Gibson being a much better defender than Boozer than it was about Asik being better than Noah. The rotations are a complicating factor, as are sample sizes.
So while net rating numbers can tell you something, if it's out of proportion with other data, you have to take it with a grain of salt.
The bottom line is that while all of these numbers can tell you something, in isolation they can be misleading. Cobbled together they are more revealing, though they still are not the final answer. You still need the eye test.
That should be sufficient to explain what some of these numbers are and why they've been included, though, allowing us to proceed with the list.
Miami: Chris Andersen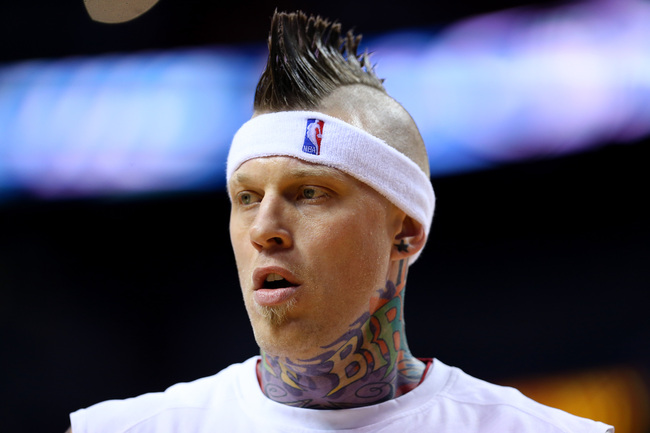 Mike Ehrmann/Getty Images
oPER: 15.3
PPPA: .89
Net DRtg: -3.4

Chris Andersen, the Birdman, is raw energy off the bench, and much of defense is about energy.
Prior to Andersen signing with the Heat, Miami was 27-12 with a DRtg of 101.8. After that they were 39-4 with a defensive rating of 99.2. They were 12th best before and fourth best afterward.
Andersen adds a lot of the little things that don't show up in box scores. He is the one true enforcer the Miami Heat have. Joel Anthony provides reasonable defense, but he's such a liability on the offensive end that he pretty much fell out of the rotation entirely.
Andersen is the perfect fit for what the Heat needed. He has attitude, athleticism and strength. He muscles his way for rebounds. He doesn't get pushed around easily. He's the one guy that really helps the Heat defend the interior.
When he's not on the court, based on data from NBA.com/STATS (subscription required) Miami's opponents score 34.5 percent of their points inside the restricted area and shoot 60.3 percent from that range.
When he was on the court, opponents got just 31.2 percent of their points in the restricted area and shoot only 53.2 percent.
Overall, they give up 2.6 points fewer per 100 possessions, and they don't give them up where Andersen is responsible for defending. That's a strong indication that the Heat are not merely better when Andersen is on the court, but because he is on the court.
San Antonio: Danny Green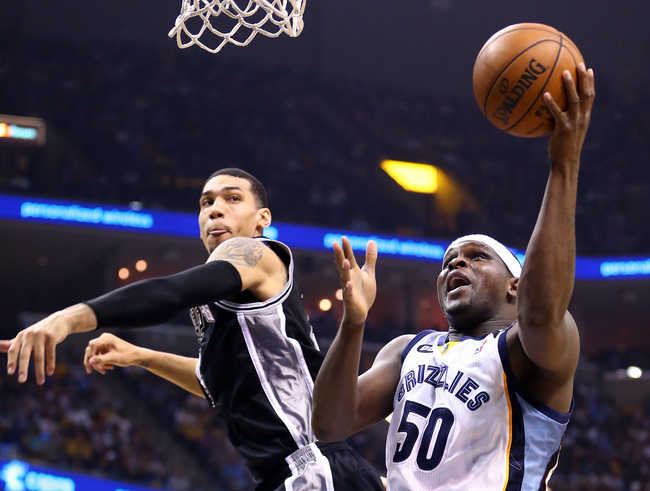 Ronald Martinez/Getty Images
oPER: 13.1
PPPA: .84
Net DRtg: -0.9
The San Antonio Spurs have a deceptively good defensive team. When you look at the 11th-ranked 96.6 points they surrender per game, you would think they are average.
However, they also average 94.2 possessions per game, which makes them the sixth-fastest paced team in the league as well. Accounting for pace, the Spurs are actually the third-most efficient defense in the league, yielding just 101.6 points per 100 possessions.
Danny Green is a big part of the reason for their defensive success, particularly in his defense of the pick-and-roll. Green tends to draw the tougher defensive assignments, which allows Tony Parker to reserve his energy for pushing the offense.
Against the pick-and-roll, Green is extremely effective, yielding .66 points per play and a field-goal percentage of .347. He fouls only 3.7 percent of the time and forces turnovers 17.5 percent of the time. At 6'6" he should provide good size against Dwyane Wade, whose pet play is the pick-and-roll.
Wade has run the play 472 times this season, averaging .84 points per play and shooting .465, drawing the shooting foul 10.8 percent of the time.
This is classic strength against strength. Green will be counted on to slow Wade down, and he has the defensive acumen to do it (though "stopping" him is another story altogether).
Miami: Norris Cole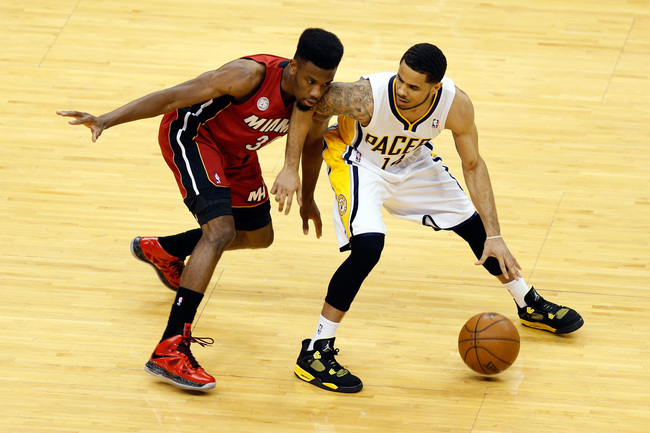 Joe Robbins/Getty Images
oPER: 11.8
PPPA: .81
Net DRtg: 4.2
Norris Cole has had some nice moments in the postseason offensively, but let's not lose track of reality. In the history of the NBA, there are only 16 players with a lower PER and at least 2,000 minutes played than Cole's 7.9. His postseason explosion is more about getting hot and a regression to the mean than breakout.
Having said that, let's not dismiss his defensive prowess either. He's an excellent on-the-ball defender, particularly when it comes to stopping the pick-and-roll, and against the San Antonio Spurs that's going to be extremely critical.
Opponents score just .66 against Cole when running the pick-and-roll. They shoot just .357 and turn the ball over a whopping 32 percent of the time, which is greater than the 31.6 percent of the time opponents score.
That's worth highlighting twice. Cole's opponents are more likely to turn the ball over than score in the pick-and-roll. That's pretty impressive.
Mario Chalmers, the starting point guard, has an oPER of 17.5 which is nearly four points higher. Tony Parker isn't going to be hampered by Chalmers. Expect to see a heavier than usual dose of Cole in the finals.
San Antonio: Manu Ginobili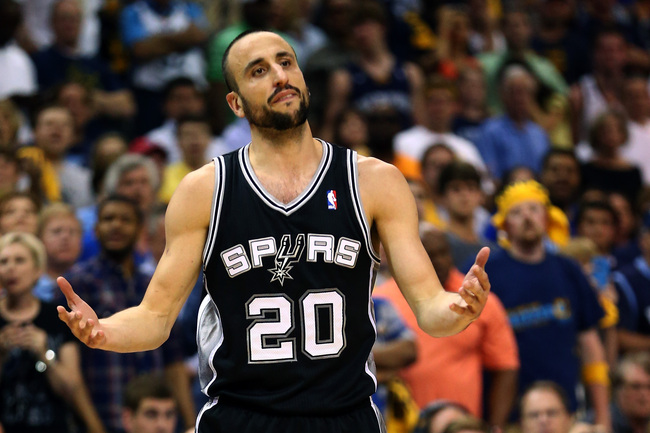 Ronald Martinez/Getty Images
oPER: 11.8
PPPA: .84
Net DRtg: -1.2
Manu Ginobili is a vastly underrated defender, as evidenced by his 11.8 oPER, which is the same as Andre Iguodala if you want a frame of reference. Among players in the finals, he is tied with Dwyane Wade for the best oPER.
However, it should be taken into consideration that he comes off the bench, so he's not always going against elite offensive players. And while he does finish the games and does guard the better players at times, it's not always the case.
Still, you don't just ignore 11.8 with that. He uses his length, freakish athleticism and a tremendous basketball IQ to make what I call "extra" defensive plays. These are the kinds of plays that come simply because that player was in the game. Most players wouldn't be able to do it—they just come out of nowhere.
Ginobili's steals, blocks and disruptions always seem to come from nowhere. It's not gambling if you know what the other players' cards are. He is the basketball equivalent of a card counter. His IQ is off the charts. He always knows where to be defensively, and he uses that ability, along with his paradoxically gangly fluidity to disrupt offenses and make his team's defense work.
Miami: Dwyane Wade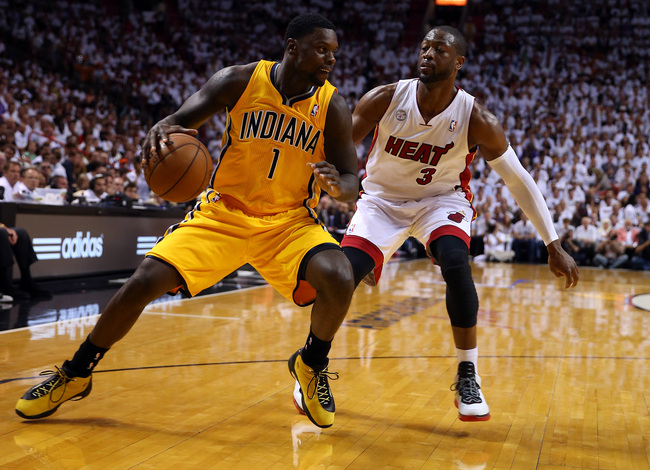 Mike Ehrmann/Getty Images
oPER: 11.8
PPP: .83
Net DRtg: -3.9
Why, and at what point, did Dwyane Wade stop being considered an elite perimeter defender? To be fair, he probably never got the full credit he deserved. He's been on the NBA All-Defense Second Team only three times, including the two years prior to LeBron James' arrival, but since then, he's been absent.
This year he got two measly votes. Last year he got five. He gets little respect, but don't let that fool you into thinking he's not a great defensive player.
He's a tremendous shot-blocker. He's seventh all-time among guards, and if he is anywhere near his career average of 67 next year, he would trail only Michael Jordan in that regard.
His oPER since LeBron James came to Miami has been outstanding: 11.8 this year, 10.2 last year and 12.0 the year before that, so this isn't a case of a player just getting blocks, but using that to mask otherwise inferior defense.
He excels most at the pick-and-roll, which is where he'll be needed in helping with Tony Parker. Wade gives up just .59 points per play in that category, one of the best averages in the NBA.
Wade's speed, athleticism, explosiveness and competitiveness—the same things that make him one of the greatest offensive talents in league history—also all go together to make him a great defender, even if he doesn't get the accolades for it he deserves.
San Antonio: Tim Duncan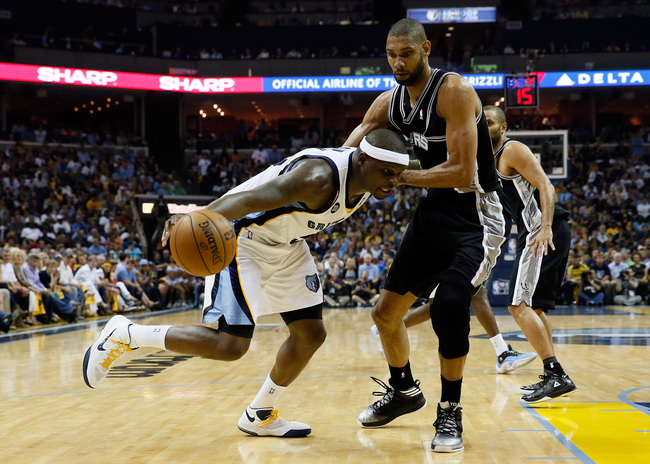 Kevin C. Cox/Getty Images
oPER: 14.4
PPP: .88
Net DRtg: -4.2
Continuing the subject of underappreciated players, how about Tim Duncan? You can make the argument that he, not Kobe Bryant, is the greatest player of his generation, particularly if the Spurs win the title this year.
Duncan is in the finals for a third time, with a team that is effectively a third group of players, even if it is the same team, and even if Tony Parker and Manu Ginobili have been with him a while.
In terms of how the team plays, and what they do to win, Duncan's role has changed three times, and all three times he's been one of the two most important players.
Bryant has won five rings, with two different supporting casts, (and Shaquille O'Neal was a lot more than a supporting cast) but Bryant's role as a player was pretty much the same in all five titles, although it was less crucial in the first two.
Duncan's defense has been a constant though, regardless of what his team asks from him. He patrols the lane and shuts down the paint. He is one of the greatest low-post defenders in league history. That's been the constant in the various lineups the Spurs have thrown out and won with.
That's true again this year, as Duncan give up just .75 points per play in the post. Ho hum. Just another boring year of watching Duncan shut down the paint and lead the Spurs to 50-plus wins and an NBA Finals appearance.
Miami: LeBron James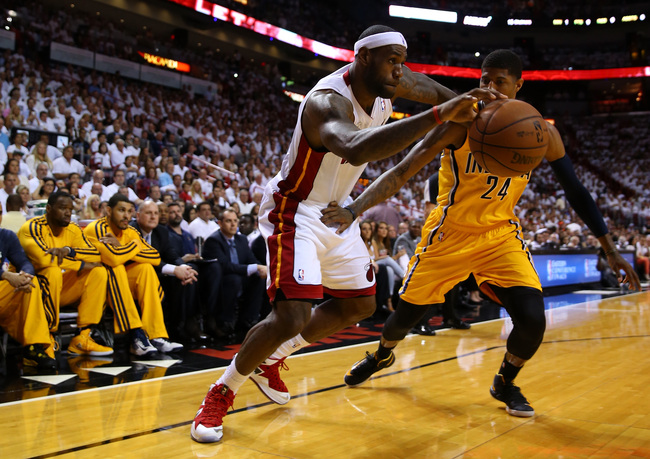 Mike Ehrmann/Getty Images
oPER: 13.8
PPP: .84
Net DRtg: -3.6
LeBron James was upset that he wasn't selected as the Defensive Player of the Year, but honestly speaking, this year he didn't deserve it. That's not to say that he's not the best defensive player on his team, or one of the best defensive players in the league, but this year he wasn't as great as he was last year.
He actually did deserve to win last year when he had an oPER of 10.0 and gave up just .83 points per play on defense, but his defense hasn't been as intense this year. He's taking more plays off. He's less great than he was last year.
Less great doesn't mean he's not still great though, particularly when he's fully engaged. When he is, James is as good as they come. He can stop almost any player in the league, at almost any given time, regardless of position.
Of the seven different play types that Synergy breaks down, James doesn't give up a worse field-goal percentage on any of them than 41.7 percent against the ball-handler on the pick-and-roll, where he gives up a meager .69 points per play.
Against the post-up he yields a field-goal percentage of just 26.8 percent and his opponents score only .55 points per play. Against the roll man on a pick-and-roll, they shoot just 25.0 percent and score .53 points per play.
LeBron James' biggest defensive strength is his ability to defend anyone, anywhere on the court at an elite level, and with the kind of versatility the Spurs have in their lineup, that ubiquity will be necessary.
San Antonio: Kawhi Leonard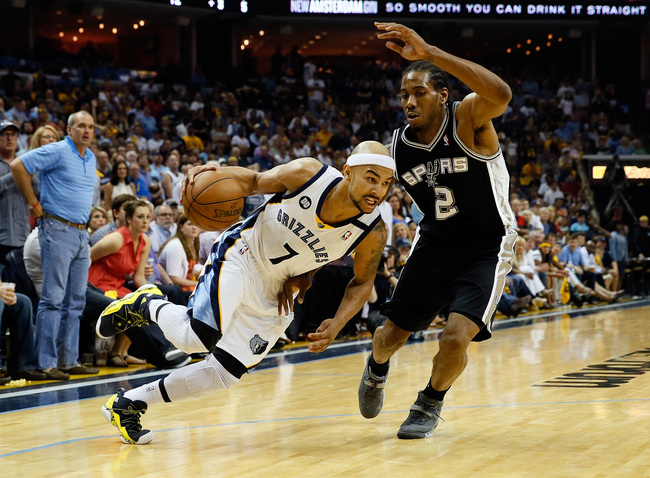 Kevin C. Cox/Getty Images
oPER: 12.0
PPP: .81
Net DRtg: -4.6
Kawhi Leonard is the name no one (outside of San Antonio and devoted NBA fans) knows right now, but will by the end of the series. Whether the Spurs win or not, Leonard is about to have a coming out party—similar to Jimmy Butler in the conference semifinals. In balance, he has the best defensive numbers of any player on either team in the finals.
In many ways, Leonard is similar to Butler defensively. They both are aggressive, physical defensive players who like to play up close and in the ball-handler's face and who have the quick feet to get away with it.
They both are great at poking at the ball and just being bothersome. They are play disrupters.
Leonard, in particular, whose fingers seem to be long enough to scratch the top of his head and the bottom of his feet at the same time—with the same hand—uses that digit-length to get a lot of steals.
While James had success against Paul George in the conference finals, Butler is a better comparison to Leonard. While Butler was guarding him, James shot only .375 from the field during the series against the Bulls.
James likes to create separation from the defender and then use that unholy, cyborgian combination of size and speed to get his shoulder past the man, and once he's done that, the rest is history. Suddenly the ball is getting dunked through the rim and there's not much that can be done about it.
However, when you have a defender like Leonard or Butler who have the physicality to stay up in James' "business" and the lateral-foot speed to keep him in front of him, James gets frustrated. He'll either step back and take contested jump shots or try and bull his way past and get called for charging.
Leonard doesn't need to make sure that James never gets around him, but if he can use his foot speed to funnel him into Duncan (a la Butler funneling him into Joakim Noah) he can limit the damage that James does.
There is a difference between James getting into the lane on his own terms and on the defenses terms. When he's there on his terms, the center has to recover, and usually that's too late. When he's funneled into the center, James isn't able to get a good shot because he can't go over or around the defense.
Leonard is by no means a "LeBron Stopper," but he should be enough to bring James from godlike to merely demigodlike. Being a "LeBron Slower-Downer" might be all that they Spurs need from him to win the title.
Keep Reading