Bargain Bin 2013 NBA Free Agents Who Would Be Ideal Fits for Top Contenders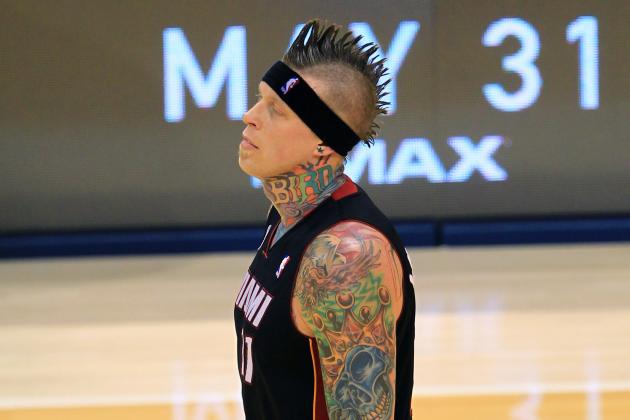 Pat Lovell-USA TODAY Sports
Sometimes when you dip into the free-agent bargain bin, you can come away with a Chris Andersen.
Each of the 30 teams in the NBA has an offseason wish-list, but not all of the items on them are realistic. Unfortunate as it may be, some contenders have to dip into the bargain bin and fill out their rosters with the dregs of the free-agent pool.
Sometimes it works out well, as was the case for Chris Andersen and the Miami Heat. Other times, it doesn't, and a player gets buried at the end of a bench.
But when you're pressed up against the cap, you have to look for options in that bargain bin, and that's where these guys come into play.
So, which teams could be coming after these 10 players?
The Brooklyn Nets ($86,340,962), Chicago Bulls ($77,988,636), Denver Nuggets ($68,681,468), Golden State Warriors ($74,891,716), Los Angeles Lakers ($79,631,035 without signing Dwight Howard), Miami Heat ($85,675,757), New York Knicks ($77,582,832) and Oklahoma City Thunder ($65,993,678) should all be scouring this article for ideas.
Remember, the salary cap, although it hasn't yet been announced, will likely be set right under $60 million, pushing the luxury-tax threshold up to $70 million and the apron $4 million above that.
If you're already over $60 million, you better start looking at these players, the best bargains who will likely accept minimum deals.
Begin Slideshow

»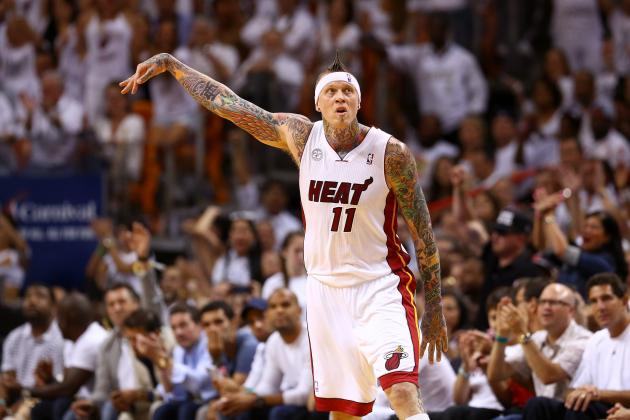 Streeter Lecka/Getty Images

Last Team: Miami Heat
Position: C
Age: 34
2012-13 Per-Game Stats: 4.9 points, 4.1 rebounds, 0.4 assists, 1.0 blocks, 0.4 steals, 17.44 PER
It's only fitting that we lead off with Chris Andersen, because Birdman has used the 2013 postseason to show exactly how valuable a bargain-bin free-agent signing can be for a contender.
Even though he's confined to a box along the baseline, Andersen has been an invaluable contributor for the Miami Heat. His energy is contagious, his rim defense is phenomenal and there's the occasional offensive contribution.
It's unlikely that anyone will be able to pry Birdman away from his newest roost, but he will be an unrestricted free agent this summer.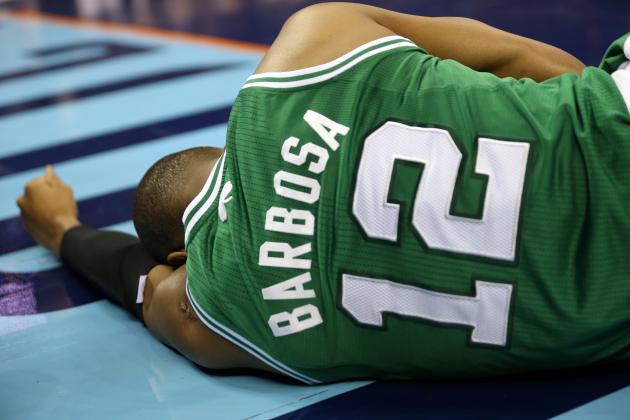 Streeter Lecka/Getty Images

Last Team: Washington Wizards
Position: SG
Age: 30
2012-13 Per-Game Stats: 5.2 points, 1.4 assists, 1.1 rebounds, 0.1 blocks, 0.4 steals, 13.57 PER
Although his first game was quite impressive, Leandro Barbosa struggled to make a major impact for the Boston Celtics. He was trending in the right direction and carving out a bigger role for himself in Doc Rivers' rotations, but a torn ACL put an end to that.
Barbosa was then shipped off to the Washington Wizards as an expiring contract, and now he'll be a free agent once more.
Assuming that the shooting guard retains his impressive speed once he returns from rehabbing his knee, he'll be a nice bargain for a contender in search of a minimum contract. Barbosa is still a solid offensive player, and his age isn't creeping up too high quite yet.
Every contending squad needs an offensive sparkplug in the second unit, and that's a role the Brazilian 2-guard thrives in.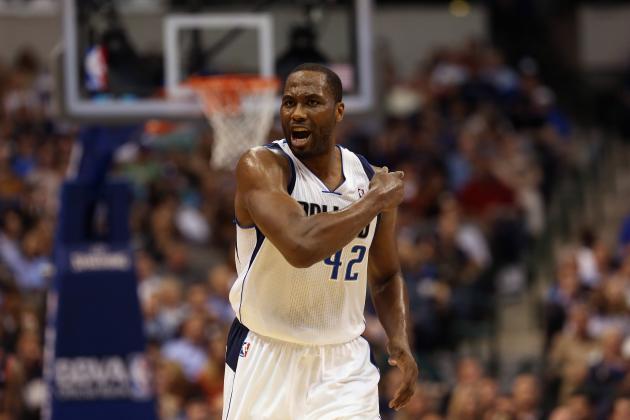 Ronald Martinez/Getty Images

Last Team: Dallas Mavericks
Position: PF
Age: 34
2012-13 Per-Game Stats: 7.2 points, 6.0 rebounds, 1.0 assists, 1.3 blocks, 0.7 steals, 15.19 PER
Elton Brand played over 20 minutes per game for the Dallas Mavericks during the 2012-13 season and even started 18 of the 72 contests in which he appeared.
Although the power forward is a far cry from the 20-10 threat he became during the prime of his career, he still has a lot left in his tank. Now it's time for him to use the remaining gas and start chasing a ring.
Brand should be willing to take a discounted salary this offseason for a chance to play with a true contender. He knows, as well as we do, that his mid-range shot is still fully functional, and he remains a fantastic help defender.
The big man might be 34 years old, but he's still worth using in the rotation.
Mark D. Smith-USA TODAY Sports

Last Team: Oklahoma City Thunder
Position: SF
Age: 28
2012-13 Per-Game Stats: 3.0 points, 2.3 rebounds, 0.8 assists, 0.1 blocks, 0.7 steals, 10.02 PER
Ronnie Brewer never really made it off the bench for the Oklahoma City Thunder after he was traded there during the 2012-13 campaign. Scott Brooks was too pleased with his rotations, especially the defense of his second unit, and he didn't want to tamper with the chemistry.
As a result, the 28-year-old will be seeking a new home this summer. And as an unrestricted free agent, he'll control his own destiny.
Brewer, in a lot of ways, is like a homeless man's version of Tony Allen. A terrific defender without much of an offensive game, the Arkansas product should have the point-preventing skills necessary to work his way into a rotation.
It didn't work with the Thunder, but that was more a reflection of the timing. Brewer hasn't had a chance to show off his skills in a while, so he'll be taking a discounted contract this summer, and it'll likely be with the first contender that recognizes how valuable he could be.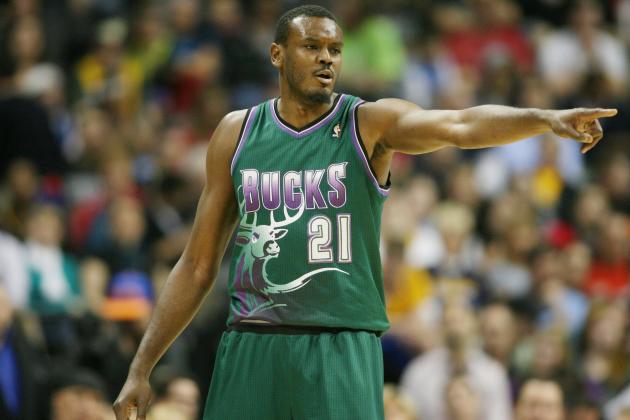 USA TODAY Sports

Last Team: Milwaukee Bucks
Position: C
Age: 32
2012-13 Per-Game Stats: 6.7 points, 5.9 rebounds, 0.4 assists, 1.1 blocks, 0.4 steals, 18.60 PER
You know how to prove that you've still got a couple good years left in you?
Go ahead and submit one of the most impressive and unexpected games of the season. That's exactly what Samuel Dalembert did on Feb. 5 in an eight-point loss to the Denver Nuggets.
In that game, the 32-year-old big man recorded 35 points, 12 rebounds, two assists and a block. But what truly made the game impressive was the fact that he did so on 17-of-21 shooting. How's that for efficient?
Amazingly enough, it was just the third time in the last two seasons that Dalembert had even broken past the 20-point barrier.
Whichever contender snaps him up shouldn't expect that type of production, though. Instead, the team should be looking for efficient play and mobility on the defensive end of the court.
Another 35-point outing would be absolutely shocking.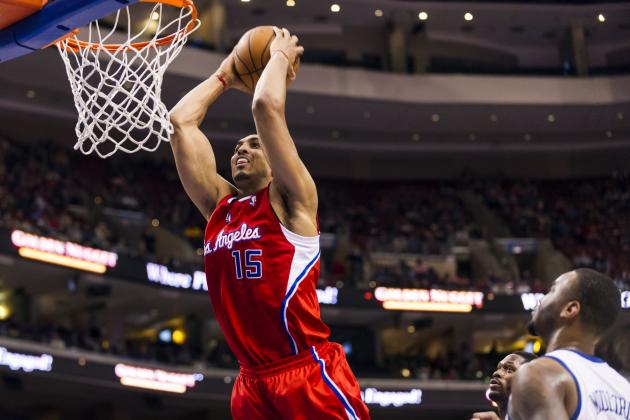 USA TODAY Sports

Last Team: Los Angeles Clippers
Position: C
Age: 28
2012-13 Per-Game Stats: 3.4 points, 2.3 rebounds, 0.2 assists, 0.6 blocks, 0.1 steals, 11.37 PER
Ryan Hollins is a great situational big, but asking anything more is too much.
Take his defense, for example. The 28-year-old is fantastic against pick-and-roll sets because his mobility allows him to hedge out and then recover quickly, but you absolutely do not want him attempting to corral a bigger center on the block.
On offense, Hollins knows his strength—note the singularity of that word—and sticks to it. He can dunk. Ferociously. But that's it.
Finding a quality backup center is crucial when looking to win a title, and Hollins presents a nice value at the position. You can play him without getting much production, but free of any worries that he'll hold you back.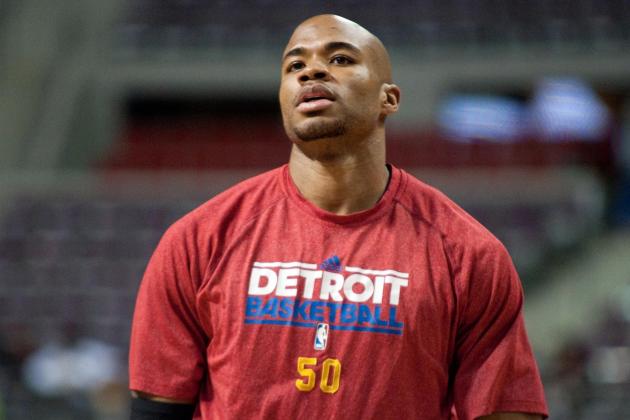 Tim Fuller-USA TODAY Sports

Last Team: Detroit Pistons
Position: SF
Age: 33
2012-13 Per-Game Stats: 5.3 points, 1.4 rebounds, 1.1 assists, 0.1 blocks, 0.3 steals, 7.90 PER
I refuse to believe that Corey Maggette's usefulness has run its course in the Association. The decline is far too precipitous and feels a bit fluky.
A stroke like Maggette's doesn't just disappear overnight, yet that's what's happened over the last few years. Take a look at his shooting splits from the past three seasons:
| | | | | |
| --- | --- | --- | --- | --- |
| | GP | FG% | 3P% | FT% |
| 2010-11 | 67 | 45.3 | 35.9 | 83.4 |
| 2011-12 | 32 | 37.3 | 36.4 | 85.6 |
| 2012-13 | 18 | 35.5 | 23.8 | 75.0 |
The drop-offs from the charity stripe and free-throw line don't sit well. They're significant outliers when compared to the rest of his career, and yes, an outlier can come at the end.
Maggette just needs to get back in a rhythm. Then he'll be fine.
Since he can be had for a minimum contract this offseason, that's a chance worth taking.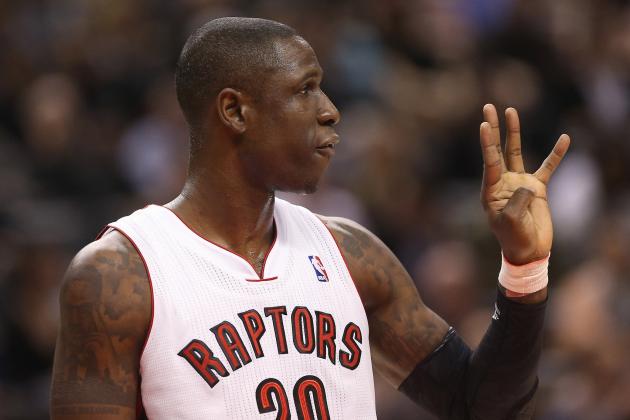 Tom Szczerbowski-USA TODAY Sports

Last Team: Toronto Raptors
Position: SF
Age: 31
2012-13 Per-Game Stats: 5.3 points, 1.9 rebounds, 0.5 assists, 0.3 blocks, 0.6 steals, 6.00 PER
The Toronto Raptors don't need to bring Mickael Pietrus back because they have a better, younger version of the wingman who can just take over his minutes: Terrence Ross.
Pietrus can stil bring two things to the table. He's a solid three-point shooter, especially when he's allowed to spot up in the corners and wait for defenses to get distracted by the more glamorous options on the floor.
He's also a defensive stopper who can match up against the toughest assignment, so long as that isn't a power forward or center. According to NBA.com's statistical database, the Raptors allowed 105.2 points per 100 possessions both when Pietrus was on the court and when he sat.
That may not seem like a big deal, but Toronto is full of defensive wings, so it's telling that there was no decline in defensive performance when he wasn't in the game.
The year before that, Pietrus dropped the Boston Celtics' defensive rating from 95.5 to 95.4 when he was on the court. Considering how stellar a defensive unit those C's put together, that's quite impressive.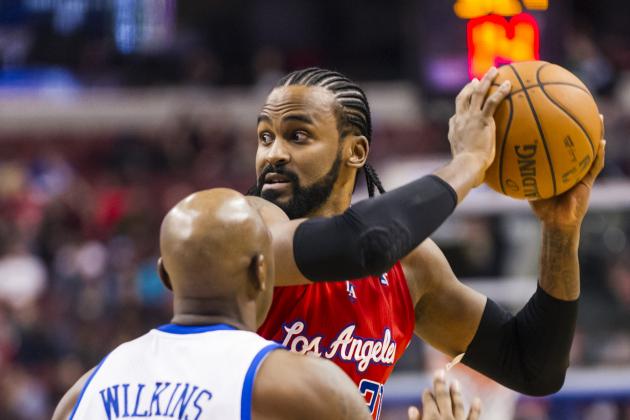 USA TODAY Sports

Last Team: Los Angeles Clippers
Position: C
Age: 30
2012-13 Per-Game Stats: 1.9 points, 2.3 rebounds, 0.5 assists, 0.5 blocks, 0.3 steals, 9.37 PER
Ronny Turiaf is a backup center who never stops moving, but the Los Angeles Clippers were too deep to use him all that often. As a result, if you're looking for evidence that Turiaf has energy left in the tank, turn to the Olympics rather than the 2012-13 season.
Last summer in London, Turiaf averaged 3.0 points and 5.2 rebounds per game, but he had his best performance against the top team on France's schedule: the United States.
In that contest, Turiaf was everywhere on the court, finishing with seven points, nine rebounds and two assists. That's the type of output you can still expect from the braided big man if you give him enough time on the court.
You could do worse than Turiaf as your reserve center, especially if you're a cash-strapped contender.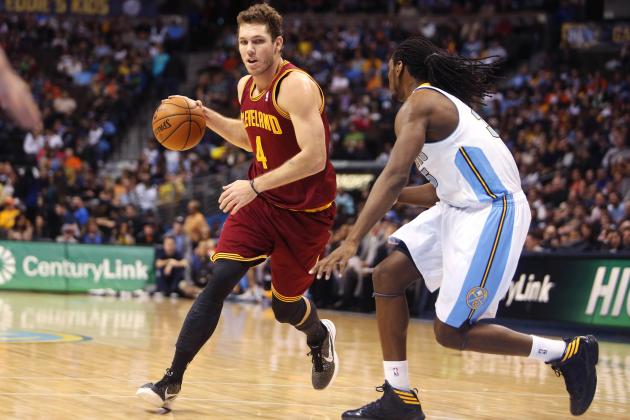 USA TODAY Sports

Last Team: Cleveland Cavaliers
Position: SF
Age: 33
2012-13 Per-Game Stats: 3.4 points, 2.9 rebounds, 3.3 assists, 0.3 blocks, 0.8 steals, 11.32 PER
When Luke Walton's body isn't betraying him, he's actually a productive player. However, every step he takes looks like it hurts nowadays.
As you might expect from a Walton though, this small forward's court vision is far better than it should be for a player of his height. He's still capable of putting up some impressive assist totals, and he sometimes even ran the show for the Cleveland Cavaliers when the team decided to run without a true point guard.
More than anything else, Walton is now a locker-room presence. He's worth rostering solely because he's a great influence on the younger players, and his work ethic is quite impressive.
Given the trials and tribulations he's experienced during his NBA career, Walton easily could have given up. Now he's a shining example of how to give it your all day in and day out.
Walton likely wouldn't play on a contender, but he'd be a bargain simply because he's a stabilizing presence when the going gets tough. Jerry Stackhouse falls into this category as well, but there's a solid chance the 38-year-old won't get another chance in the Association.