Stock Up, Stock Down for Top 20 2013 NBA Draft Prospects Entering June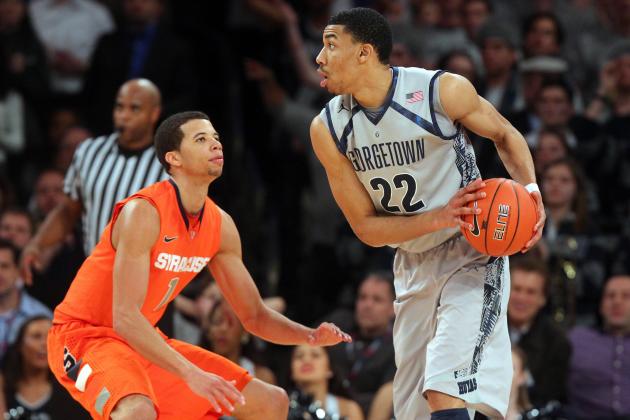 USA TODAY Sports

The start of June typically means the start of workout schedules. Some teams report whom they will be working out, while others keep that information private.
With the lottery in place, teams have a good understanding of whom they'll be targeting. Now they just have to sift through the batch and find their man.
These workouts are important for prospects, especially when they're going head-to-head with another player at their position.
There's bound to be a ton of rumors over the next few weeks. Believe them at your own risk.
Begin Slideshow

»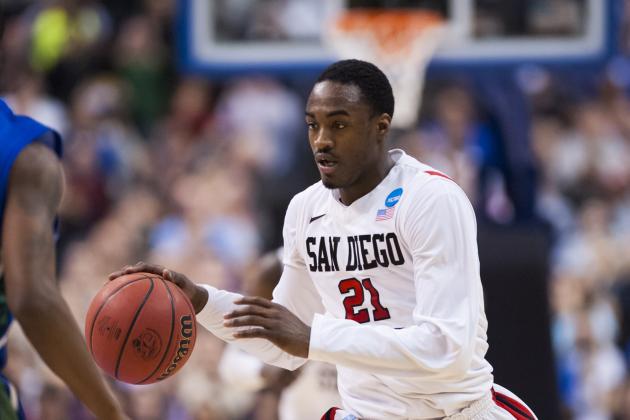 Howard Smith-USA TODAY Sports

Stock Report: ↔
Jamaal Franklin's primary goal at these workouts should be showing coaches his jumper has promise.
In three years at San Diego State, his career high from downtown was 33 percent, and that's when he played eight minutes a game as a freshman.
Right now, he's a capable shooter. Franklin should want to prove he's a reliable one.
It just might force a team to reach, given how rounded the rest of his game is. He's one of the more versatile wings in the draft, as he can rebound, pass and score.
Anywhere outside the lottery seems like fair game from here.
Stock Report: ↓
Depending on whom you talk to, people either love Rudy Gobert's potential or they're uninterested in doing what's necessary to find out what it looks like.
Lately, we seem to be hearing more of the latter.
Chris Mannix of Sports Illustrated wrote that one scout at the combine told him, "I wouldn't touch him," when referring to Gobert.
Still, it's unlikely he slips too far down the board. At some point those measurements are going to become too enticing to pass on. At 7'2'' with a 7'8.5'' wingspan, Gobert will be hoping one general manager in the lottery is an imaginative thinker.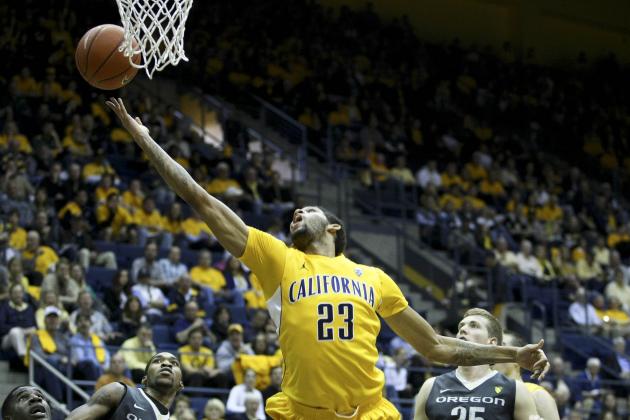 USA TODAY Sports

Stock Report: ↑
Allen Crabbe is looking to build off the positive buzz he generated at the NBA Combine. He worked out for Minnesota (which has two picks in Round 1) on Thursday with Michigan's Tim Hardaway Jr., Providence's Ricky Ledo and Georgia's Kentavious Caldwell-Pope.
Crabbe's bread and butter is running off down screens before catching, gathering and firing, which should translate to the drills that instructors typically run for 2-guards.
Consider Crabbe a candidate to rise during this pre-draft process over prospects who've been projected to be higher picks for much of the year.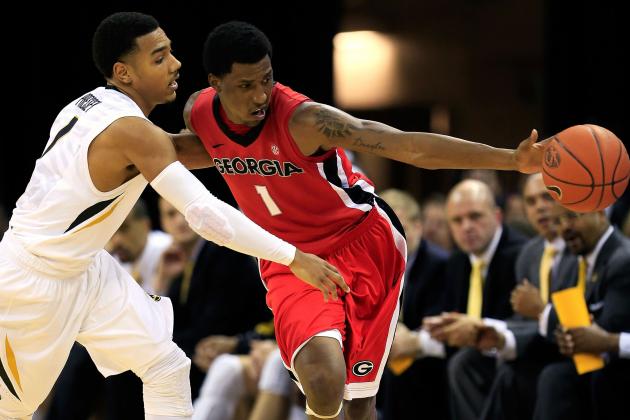 Jamie Squire/Getty Images

Stock Report: ↔
Kentavious Caldwell-Pope is expected to work out with Minnesota this week, a team that holds the No. 9 spot and is in need of shooting and athleticism.
He's a prospect who picked up steam once the season ended and is now firmly in the conversation with every team in the No. 8 to No. 20 range. Practically all those teams could use help at the off-guard position, most notably Minnesota, Portland, Philadelphia, Utah and Atlanta.
Thanks to the late-season buzz he's generated, Caldwell-Pope is no longer an under-the-radar prospect.
Stock Report: ↑
Dario Saric went for nine points and six boards in Game 1 of the Croatian Finals that's taking place this week.
ESPN's Chad Ford believes (subscription required) that the New Orleans Pelicans, Portland Trail Blazers and Dallas Mavericks could all be interested in grabbing Saric in the lottery.
Saric is a unique combo forward who can best be described as a frontcourt playmaker. I recently wrote a report on Saric highlighting his strengths as an offensive mismatch and weaknesses as a defender.
He's one of those guys who can make teammates better given his ability to pass and facilitate from all over the floor. Saric has work to do in terms of generating his own offense, particularly on the perimeter, but his overall versatility is what attracts NBA attention.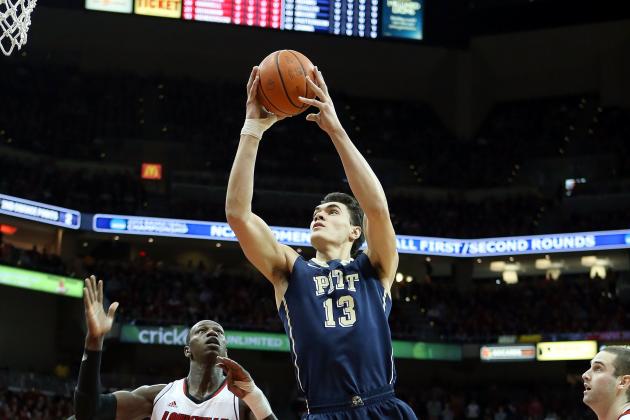 Andy Lyons/Getty Images

Stock Report: ↑
Steven Adams continues to make his decision to declare look like a smart one. He's been able to show scouts and decision-makers different aspects of his game and personality that went hidden at Pittsburgh.

ESPNBoston.com's Chris Forsberg talked to Celtics assistant coach Jay Larranaga, who praised Adams after a workout for the team.
We've had Adams to Boston for the past few weeks now. At this point, No. 16 overall looks like a worst-case scenario for Adams, whose stock has skyrocketed since his freshman season came to an end.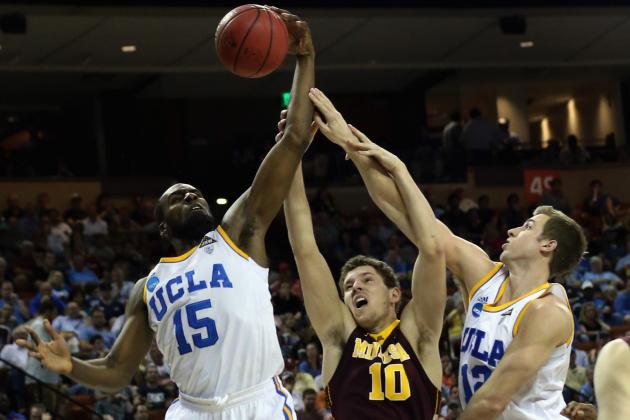 Stephen Dunn/Getty Images

Stock Report: ↑
While Shabazz Muhammad's draft stock might have seemed a bit frail leaving the combine, there has been reported interest from teams drafting in the top 10.
ESPN's Chad Ford reported (subscription required) that both Detroit and Minnesota could target Muhammad, with Flip Saunders particularly intrigued by his scoring prowess.
If there's one thing for sure, it's that Muhammad's intensity, motor and effort level will all shine during workouts. He'll get the chance to put any potential character flaws to rest, while showing there's room for growth as a scorer and defender.
Muhammad would be a fit in both Detroit and Minnesota, as neither team has been getting much production from the wing.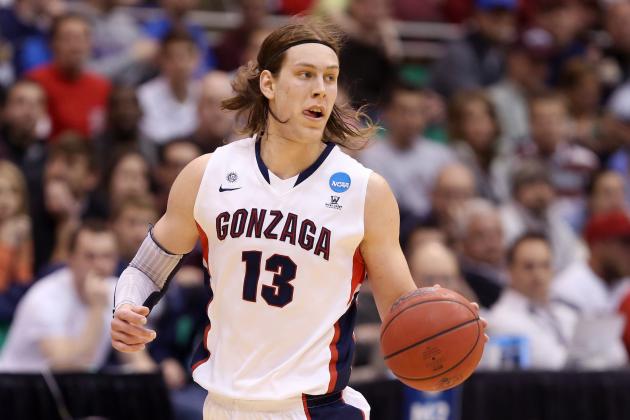 Streeter Lecka/Getty Images

Stock Report: ↔
There hasn't been much to report on Kelly Olynyk, who will be battling Adams, Duke's Mason Plumlee, and Louisville's Gorgui Dieng for first-round draft position.
Teams expected to work out Olynyk will come away impressed with just how skilled he is. If he can prove in these workouts he's got the strength to battle inside, Olynyk might be the center called first amongst the four previously mentioned.
Expect Portland, Oklahoma City, Philadelphia and Boston to all consider Olynyk in that No. 10 to No. 20 range.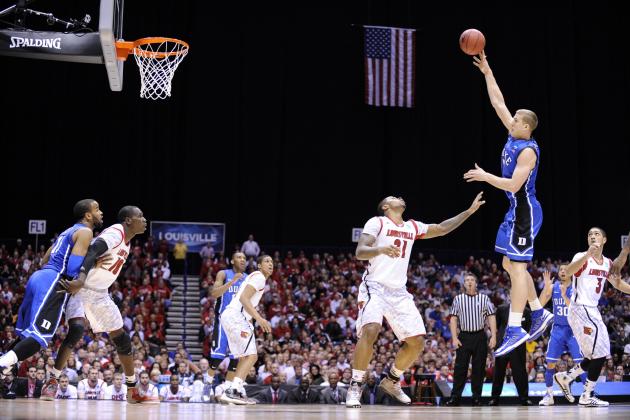 Jamie Rhodes-USA TODAY Sports

Stock Report: ↔
Mason Plumlee worked out for the Mavericks on Thursday, along with Adams.
It's going to be tough to get a read on Plumlee's stock unless he really blows someone away during workouts. Teams pretty much know what he is at this point, which could work for him or against him.
You'd like to assume Oklahoma City and Philadelphia will both give him a look, as well as every other team in the market for a big.
He's one of the safer options in this draft thanks to his size, athleticism and feel for the game. Worst comes to worst, a team finds itself an above-the-rim finisher, rebounder and shot-blocker.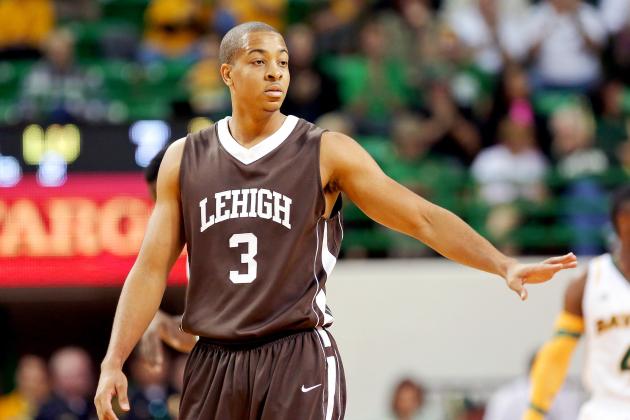 Kevin Jairaj-USA TODAY Sports

Stock Report: ↔
C.J. McCollum is in that late-lotto to mid-first round cloud, along with a dozen other prospects fighting for position in the top 14.
He proved at the combine he's back to full strength after breaking his foot in January.
It would be hard to imagine a team like Utah passing at No. 14, given its need for a lead guard and some offensive firepower.
The No. 8-to-No. 14 range sounds realistic, with Detroit, Minnesota and Portland all in play.
Stock Report: ↔
Not much has changed for Dennis Schroeder since he decided to sit out drills at the combine following an alleged first-round promise (reported by Chad Ford during the combine broadcast).
He'll be in the conversation when Utah is on the clock at No. 14 overall, a team in desperate need of a new point guard. Schroeder has actually stated his desire to play for Utah or Milwaukee since playing time could be available.
Until workouts pick up, consider Schroeder a mid-first-round option for any team looking for a point guard.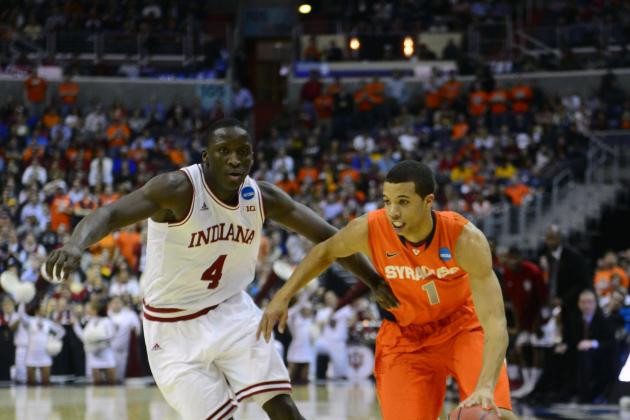 Bob Donnan-USA TODAY Sports

Stock Report: ↑
Michael Carter-Williams is one of those potential "splash" picks because of the upside he offers at the position. He turned heads at the combine, and now he has his sights set on leapfrogging Trey Burke on NBA draft boards.
He's going to generate interest from every team looking for a point guard, including Orlando at No. 2 (though trading down would be more likely).
Proving that his shooting stats from college were flukey should be his goal during workouts.
Carter-Williams will be a hot name right down to the wire.
Stock Report: ↔
There hasn't been much news surrounding Cody Zeller, who's likely to impress during workouts given his size, athleticism and polished offensive game.
But if teams start looking to address needs, Zeller might fall out of the top 10 based on how the lottery played out. He'll either need to convince a team he's a better prospect than Alex Len, or sway Sacramento at No. 7, Detroit at No. 8, Minnesota at No. 9 or Portland at No. 10 to add another big to their frontcourt.
Otherwise, Philadelphia at No. 11 makes sense for Zeller and the 76ers.
Stock Report: ↑
Alex Len won't be working out for anyone with a boot on his surgically repaired foot, but he will have plenty of opportunities to tell teams why he should be their man.
ESPN's Chad Ford reported (subscription required) that Len would be "in the mix" for Cleveland at No. 1 overall, and though he's likely trailing Nerlens Noel and Otto Porter, it's the consideration that counts.
The fact that Cleveland would consider Len with its No. 1 pick should likely mean that Washington, Charlotte, Phoenix and New Orleans will do the same with their respective ones.
Stock Report: ↑
Victor Oladipo is going to let the market boost his value.
ESPN 1500 in Minnesota reported that Minnesota would be looking to trade up for Oladipo, while Chris Haynes of CSNNY.com hears that Portland is looking to do the same.
This type of interest is contagious, as nobody wants to sit back and let another team steal a gem.
ESPN's Chad Ford also reported (subscription required) that Orlando would be taking a look at Oladipo at No. 2.
Just based on history and how interest in one player can snowball, don't be surprised to see a team trade into the top three to grab Oladipo. He's one of the few guys whom you can count on this draft, and he is bound to bring positive energy into the locker room and lineup.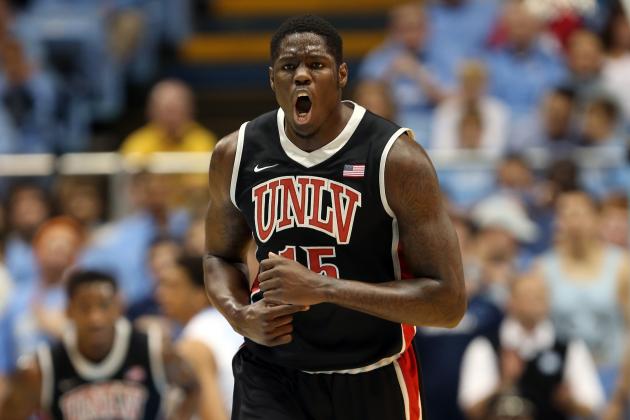 Streeter Lecka/Getty Images

Stock Report: ↔
There isn't much Anthony Bennett can do now except try to charm during interviews. Bennett remains sidelined after undergoing surgery on his shoulder, an injury that's likely to keep him out most of the summer.
We haven't heard any rumors regarding specific interest in Bennett, but it's there. It sounds safe to assume that Washington, Charlotte, Phoenix, New Orleans, Sacramento and Detroit would all give Bennett serious consideration.
He's one of the few players in this draft to offer All-Star upside if he finds a niche for himself as a combo forward in the league.
Stock Report: ↑
Otto Porter remains a top option this year for teams drafting anywhere on the board. ESPN's Chad Ford reported (subscription required) that Porter is "in the mix" for Cleveland at No. 1 overall, though it's likely his name sits under Nerlens Noels' on the draft board.
Porter will likely get consideration from every other team in the lottery, which is really all you can ask for heading into June. Washington seems like a likely destination at this point.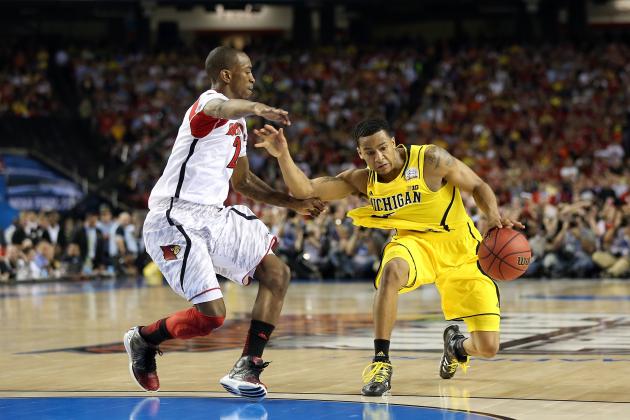 Andy Lyons/Getty Images

Stock Report: ↓
Trey Burke may not be feeling the love in Orlando after all. According to ESPN's Chad Ford (subscription required), "The Magic aren't sold on Trey Burke as the second-best player in the draft."
The problem for Burke is that if he doesn't go No. 2 to Orlando, he's likely to slip to New Orleans at No. 6, with Washington, Charlotte and Phoenix all committed to their point guards.
Even the Pelicans might be hesitant, as they have gotten solid production out of a growing Greivis Vasquez.
At the end of the day, the only thing that should matter to Burke is finding the right system and situation. This first contract won't mean anything in the long run if he can't use the time to command a bigger one when his rookie deal expires.
Stock Report: ↔
There hasn't been much news surrounding Ben McLemore, who should expect to be getting looks from every lottery team.
If Noel goes No. 1, McLemore is likely to battle Trey Burke for draft position at No. 2. McLemore is considered the better long-term prospect but the worse fit for Orlando, while Burke is more of a positional need.
Consider Charlotte at No. 4 to be his draft floor if the Magic go with Burke at No. 2.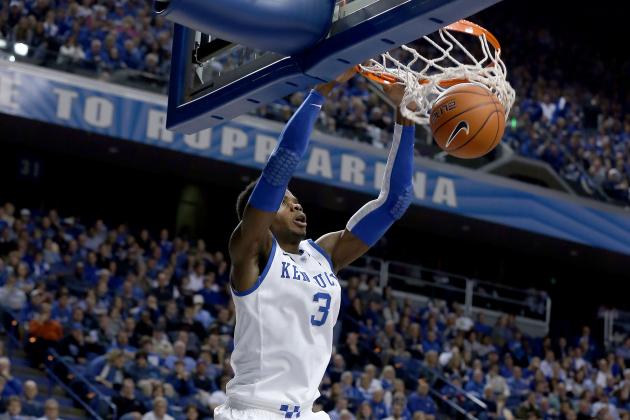 Andy Lyons/Getty Images

Stock Report: ↑
According to ESPN's Chad Ford (subscription required), Nerlens Noel remains No. 1 on Cleveland's draft board. Ford also reported that Noel had received orders from his doctor to keep weight off, which helps explain the fact he showed up weighing 206 pounds at the combine.
Andy Katz also relayed some information about Noel's weight:
According to Noel's camp, Nerlens is up from 206 to 212 (since Chicago two weeks ago, maybe from last week when I saw him in BHM).

— Andy Katz (@ESPNAndyKatz) May 30, 2013
Either way, the needle hasn't moved with regard to Cleveland's interest in Noel. However, it may not be the Cavs that Noel has to impress. It could be another team looking to move up and take the No. 1 spot, which seems like a distinct possibility.
Porter has the most realistic shot at jumping Noel on Cleveland's board, though you'd expect the Cavs to trade down if he's the guy they end up targeting.