Two games are in the books in the Western Conference finals and the Eastern Conference finals are set to start on Wednesday night. Having come this far, the Miami Heat, Indiana Pacers, Memphis Grizzlies and San Antonio Spurs believe they are championship material.
As we know, only two teams will advance to the NBA Finals. That said, what becomes of the two teams who are sent packing after this round?
Here's what losing in the NBA's version of the Final Four would mean for each team.
No Team Would Be More Devastated Than the Heat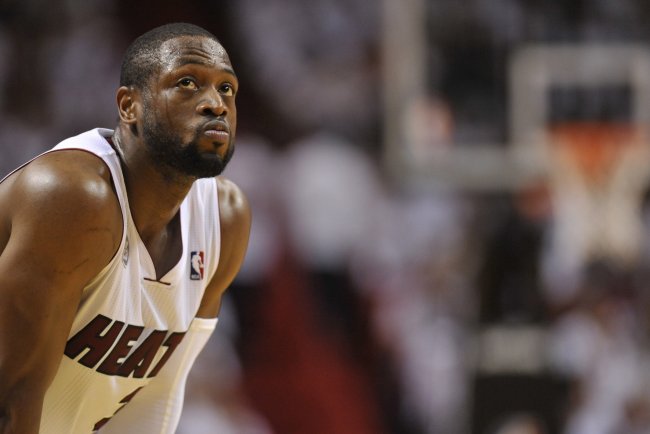 Steve Mitchell-USA TODAY Sports
When you are the defending NBA champions, you have league MVP LeBron James, Dwyane Wade, Chris Bosh and your regular season featured a 27-game winning streak, anything short of an NBA championship is a failure.
How is that for pressure?
It wouldn't matter if the Heat lost in a seven-overtime thriller in Game 7 against the Pacers. If they lose, they will again become slammed with taunts, jeers and other insults almost immediately.
We'll hear references to the "not one, not two, not three" speech from LeBron when the Big Three joined forces. Hating on LeBron will become the "in" thing again.
The Heat trolls in the NBA universe will root for this to happen, but even they know it is a long shot.
The Pacers Have Already Grown, They are Playing With No Pressure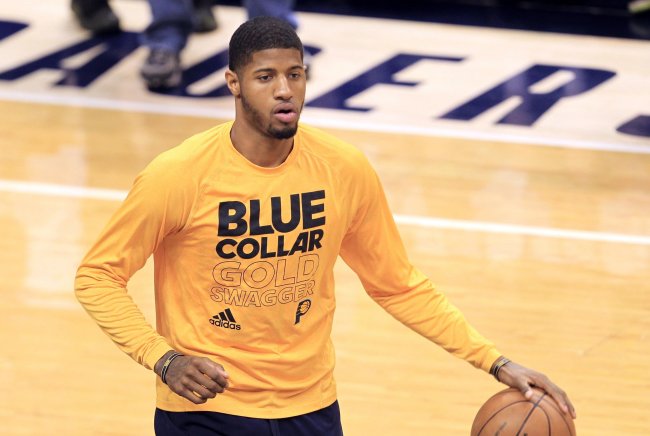 Pat Lovell-USA TODAY Sports
Almost no one expects the Pacers to win more than two games in their series against the Heat. It seems almost certain that the Pacers will try and make the series a tough—borderline dirty—affair, but in the end the Heat will prevail.
With those expectations, losing will hurt, but the Pacers will rebound and their fans should be excited for the 2013-14 season.
With a young, budding superstar like Paul George and a potentially valuable trade piece in Danny Granger, this team is still on the upswing. Their berth in the conference finals pulls them even with a healthy Chicago Bulls team in the East.
For now, those two teams would be in a fight for the title of second-best team in the East.
As Miami ages—more specifically Wade—the Heat will become beatable.
The Pacers and Bulls are the two teams in conference best prepared to pounce. I just don't see it happening this year.
Memphis Will Realize They Still Need More Two-Way Perimeter Players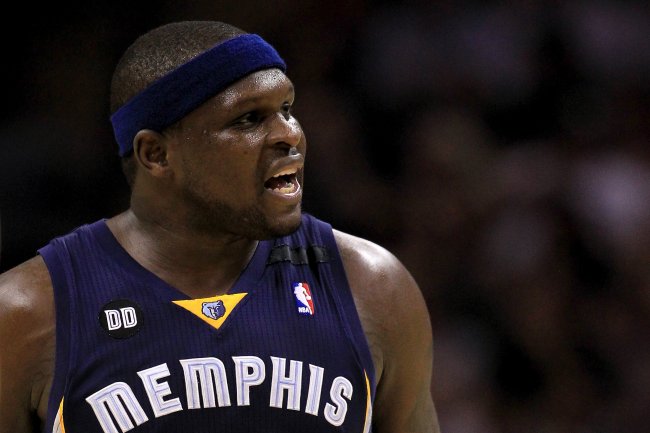 Ronald Martinez/Getty Images
Moving Rudy Gay and not signing O.J. Mayo didn't come back to bite the Grizzlies until the conference finals. As they trail two games to none, Memphis has too many one-dimensional specialists.
When they go for offense on the perimeter, they lose size and defense with players like Jerryd Bayless. When they go for defense, they lose too much on offense with players like Tony Allen and Tayshaun Prince.
Allen is set to enter free agency; while he is one of the premier on-ball defenders in the NBA, his lack of offense is crippling.
The Grizzlies could handle this weakness in Allen's game and likewise in Prince's game if they had consistent threats from the perimeter.
But they don't.
Offensively, this team just doesn't have as many good athletes as they need. Losing to the Spurs should prove to Memphis they need to add a few three (shooter) and D (defender) players.
It would provide more spacing for Mike Conley and options for Marc Gasol and Zach Randolph to pass to out of the post.
A Spurs Collapse Would Be Almost as Bad as a Heat Loss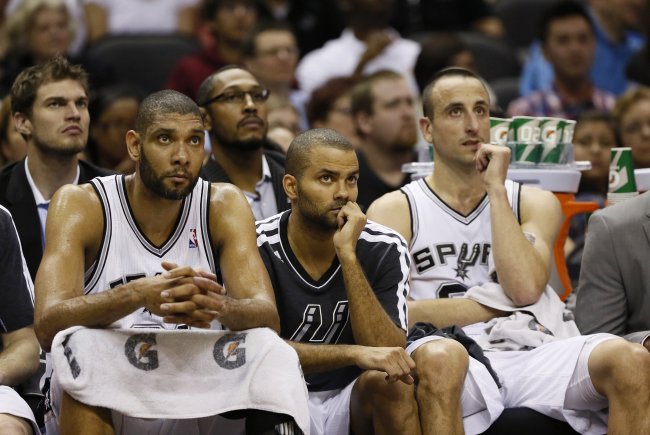 USA TODAY Sports
Which team is least likely to make it back to this point next season?
No one would bat much of an eye if the Spurs advanced to the NBA Finals and lost to the Heat. But if they blow a two games to none lead against the Grizzlies, it would be shocking.
Perhaps it would signal the end of the Spurs' less-publicized version of a Big Three.
Tim Duncan is 37 years old, Manu Ginobili is 35 and Tony Parker is 31. At some point, the Spurs will have to blow this threesome up.
Losing this series would likely speed up the process. With the way the Spurs have handled the Grizzlies through the first two games, it doesn't appear as though we'll have to wonder about this just yet.
However, even though they would be obvious underdogs against the Heat, a loss in the NBA Finals would still create questions as to how long the team will go with Duncan, Ginobili and Parker.
Follow me, because I watch more basketball than anyone should admit.