NBA Free Agency 2013: 25 Best Free Agents 25 Years Old and Under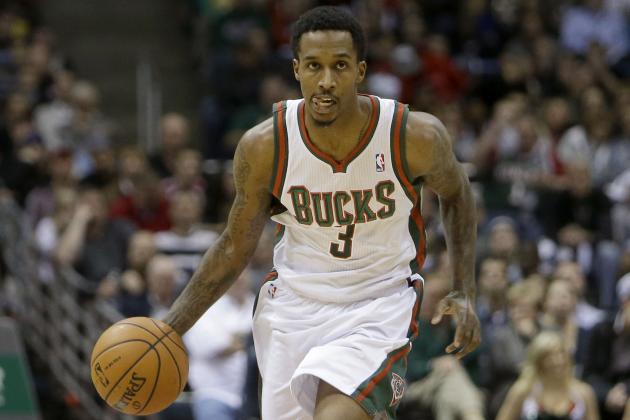 Mike McGinnis/Getty Images
Brandon Jennings is just one of many NBA players 25 years old or under who will be free agents in 2013.
The NBA is a star-driven league, and while not every free agent finds superstardom, 2013's class has a plethora of young talent ready to hit the scene.
There are a number of players who are 25 years old and under who are already household names. Andrew Bynum and Brandon Jennings are arguably the most notable, but free agents such as Xavier Henry, Austin Daye and DeJuan Blair are hungry to prove themselves.
Shiny new contracts are handed out every summer, and while they're partly given on the premise of past production, you can't ignore the notion of future projections. The youngsters of the league will someday be veterans, and many of them will be vying for their first big paydays once July finally hits.
Begin Slideshow

»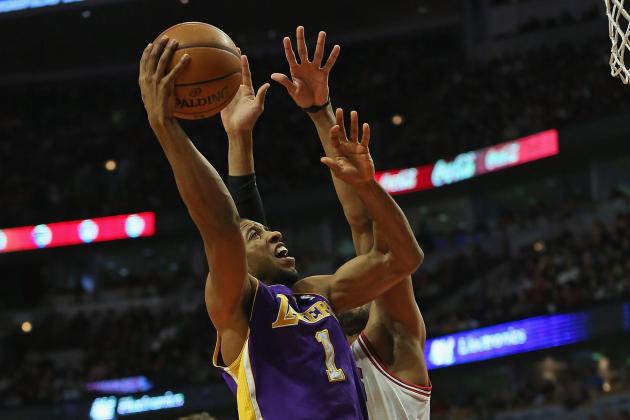 Jonathan Daniel/Getty Images

Darius Morris was called upon sporadically for the Los Angeles Lakers in 2012-13. Because of injuries, the 22-year-old actually started 17 games, but he never put together a strong enough sample size to make him a sought-after free agent.
As young as Morris is, he has time to learn the point guard position. That's going to be important considering his lack of an outside jumper.
His length is a huge plus at his position, but while he's shown he can be a nuisance on defense, strength is something he lacks at this juncture.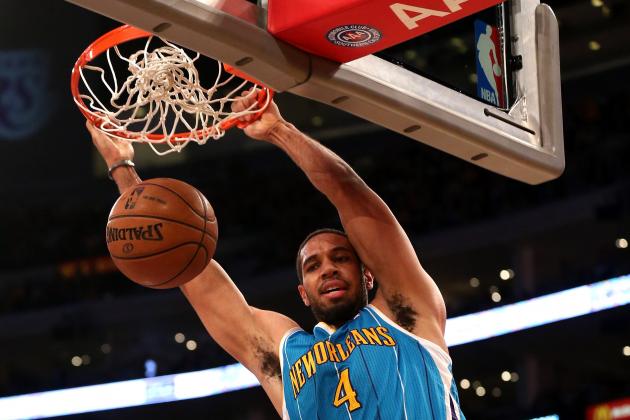 Stephen Dunn/Getty Images

Xavier Henry is a former lottery pick, having been chosen 12th overall by the Memphis Grizzlies in 2010. The potential is there to be a rotation player down the road, but he's yet to establish a clear-cut role at age 22.
Henry isn't a great three-point shooter, but the good news is that he avoids taking shots from behind the arc. Despite that fact, he does take too many shots away from the rim—a place where he's been known to draw fouls regularly.
If Henry is able to improve his offensive game, it's going to be a luxury, as his career will likely be made at the defensive end. He has the frame and the athleticism to impact that side of the court, and that's what teams will be looking at as a future investment.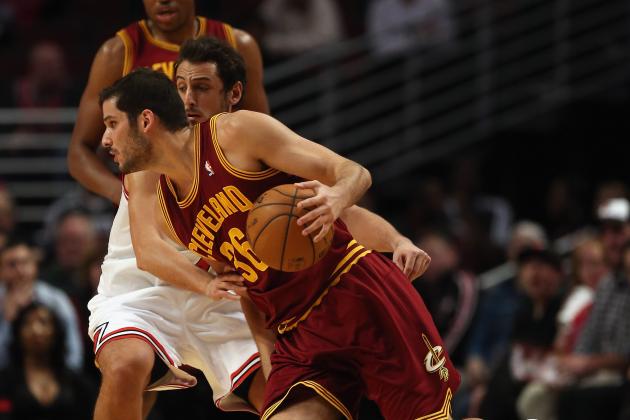 Jonathan Daniel/Getty Images

Omri Casspi isn't going to be on most fans' wish lists during the 2013 offseason, but he's a young player with good size.
The 6'9" forward is at his best when he can get out in transition. He struggles hitting from the outside—as well as the inside in the half court—but he uses his length to finish in fast-break situations.
Any team looking for rebounding should look Casspi's way. He's extremely productive at the small forward position, and while he's been known to foul, his aggressiveness should be welcomed when coming off the bench.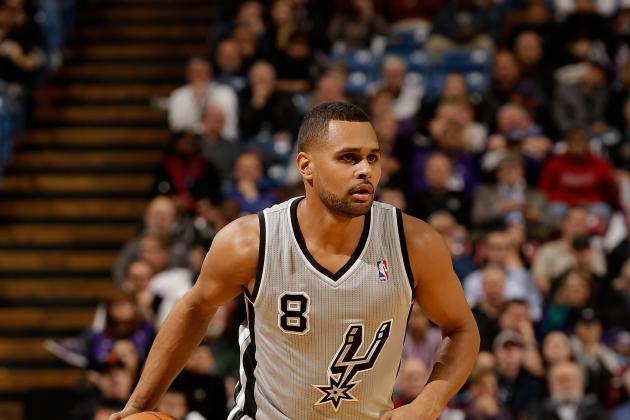 Ezra Shaw/Getty Images

Regardless of how productive Patty Mills is night in and night out, he's a fun player to watch.
At 6'0" on a good day, the point guard is a quick player with a score-first mindset. He's an excellent shooter from long range, and despite playing limited minutes, it's clear where his strengths are.
Unfortunately for Mills, it's also clear where his strengths aren't. Despite operating with an up-tempo mentality, he has trouble running an offense against good defenders.
Speaking of defense, the undersized guard has trouble keeping up on that end of the floor. His lack of strength typically overshadows his lightning speed, making it so his appearances come primarily in blowout situations.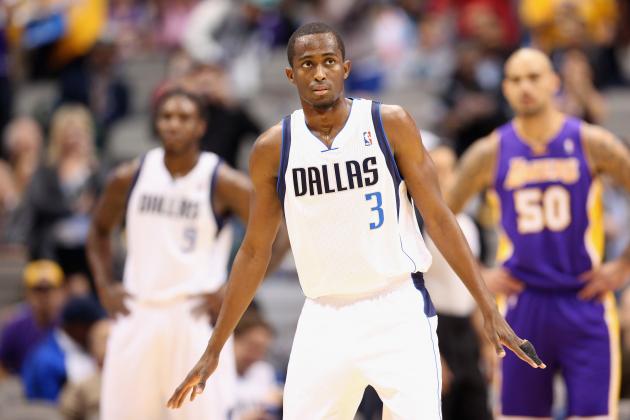 Ronald Martinez/Getty Images

When the Dallas Mavericks were a championship team, Rodrigue Beaubois gave fans plenty of hope that he had a bright career ahead of him.
Now, two years down the road, he's a restricted free agent, and it's tough to tell just how much he'll be worth on the open market.
After breaking his arm, the 25-year-old missed the final 16 games of the year. That injury shouldn't deter teams from looking his way, but it certainly stopped the point guard from boosting his stock heading into the summer.
There's no denying that Beaubois is a speedster with points on the brain, but when he's out of control, it's hardly a recipe for success. He's a combo guard disguised as a floor general, and he must learn to execute discipline if he wants to turn potential into production.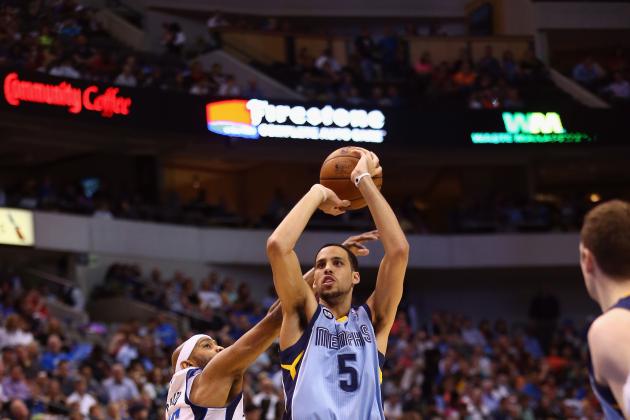 Ronald Martinez/Getty Images

At this point, it's probably safe to say that Austin Daye won't live up to the Tayshaun Prince comparisons we heard about in Detroit. That's not to say, though, that he can't develop into a respectable, reliable player.
In 31 games with the Memphis Grizzlies, Daye posted four points and nearly two rebounds per contest. He has the ability to spread the floor—something that has become increasingly important in today's game—and he fits the defensive culture that's been instilled in Memphis.
Before being sent to Memphis, Daye had done a good job of bouncing back from a horrible offensive season in 2012. He boosted his shooting percentages drastically from the year before, which is hopefully a trend for any team looking to pay him during the offseason.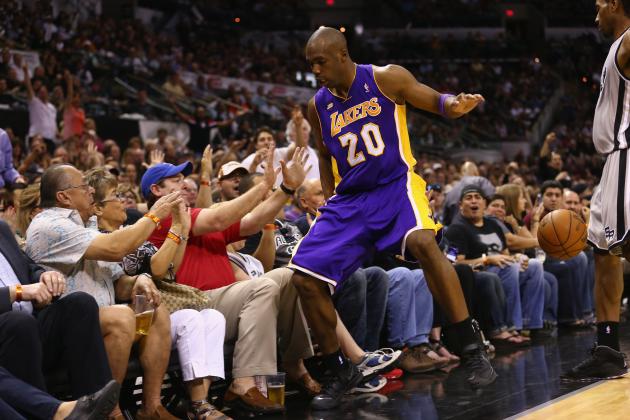 Ronald Martinez/Getty Images

Behind the headline-worthy acquisitions of Dwight Howard and Steve Nash, Jodie Meeks quietly excited fans of the Los Angeles Lakers. He was brought in to be a lights-out shooter, and his presence off the bench would be just what the team needed when it came to combining depth and star power.
Unfortunately for L.A., nothing went according to plan, and Meeks' production was underwhelming.
In Mike D'Antoni's offense, it was expected that Meeks would have an impact off the bench. The problem was that he never found his stroke at an elite level.
It's important to note that part of the disappointment stems from gaudy expectations. Nobody on this L.A. team was supposed to do any wrong, and while the 25-year-old scored 7.9 points per game on 35.7 percent three-point shooting, that simply wasn't enough on a team with such high hopes.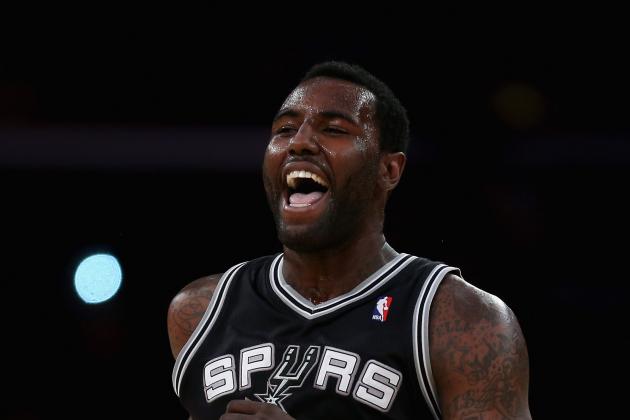 Jeff Gross/Getty Images

Entering the NBA, nobody quite knew what to expect out of DeJuan Blair. His draft stock dropped drastically on draft day, his knees have always been a question and his stature was a concern. He's undersized and overweight for a player attempting to play center.
Blair proved right away that he is an extremely reliable rebounder and that he can score down low when given the chance. That said, his lack of a defensive skill set and subpar jumper have resulted in fewer minutes and a lesser role under Gregg Popovich.
Blair has been trade bait for a while now with the San Antonio Spurs, and it will be interesting to see where he lands and what role he'll fill in 2013.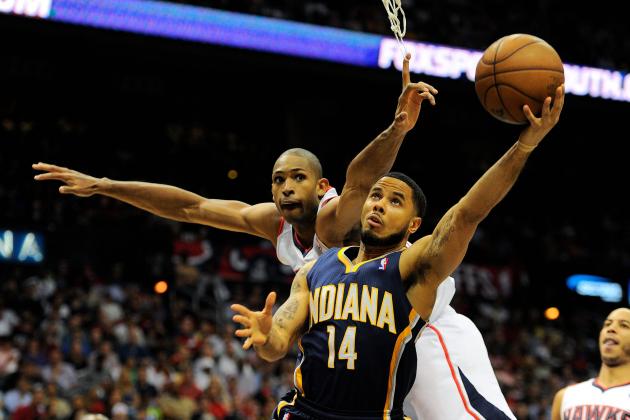 Dale Zanine-USA TODAY Sports

In a day and age of strong, physical point guards, D.J. Augustin has trouble keeping up on defense. He's 6'0", 183 pounds, and his lack of size has proven to be a problem.
Augustin is extremely quick on offense, but that speed hasn't translated to defense just yet.
Offensively, Augustin struggled with his role with the Indiana Pacers in 2013. He played just 16.1 minutes per game, averaging a lowly 4.7 points and 2.2 assists while shooting 35 percent from the field.
Augustin earns a spot this high on the list because of past production and potential, but he's going to need a quick turnaround to convince whoever spends the cash to get him that it was money well spent.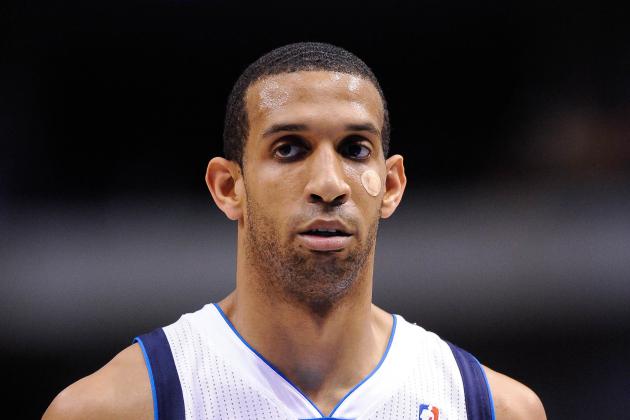 USA TODAY Sports

Brandan Wright is one of many Dallas Mavericks set to hit the free agent market.
At 6'10", 210 pounds, Wright began the 2012-13 season in productive fashion. He wasn't able to keep up the pace throughout the entirety of the year, but he at least planted the seed that he can be a role player down the road.
Wright is the kind of player who will help any team spread the floor. He has virtually no impact on the low-post offense, but he has a decent short-to-mid-range jumper that can keep defenses honest.
One thing you can't teach is size, and at the 4-spot, Wright has that. You'd like to see him continue to bulk up, as his defense and rebounding need work; but when put in the right situation—zone defenses and mid-range sets primarily—he can contribute when healthy.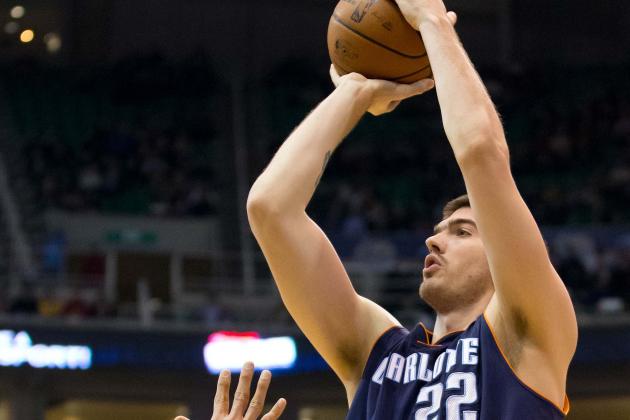 Russ Isabella-USA TODAY Sports

Byron Mullens, once a member of the Oklahoma City Thunder, has turned into a respectable NBA player with one of the least respectable NBA teams: the Charlotte Bobcats.
Coming off a career year, Mullens enters free agency having averaged 10.6 points and 6.4 rebounds in 2012-13. He's a true seven-footer, and he also nailed 31.7 percent of his shots from the three-point line.
Despite being able to knock down attempts from the mid-to-long range, you'd like to see him spend more time establishing a low-post game. He's able to score well in scramble situations, but his back-down game needs serious refinement.
Defense is also an issue, but with size and athleticism on his side, his time in Charlotte may have earned him his first big payout.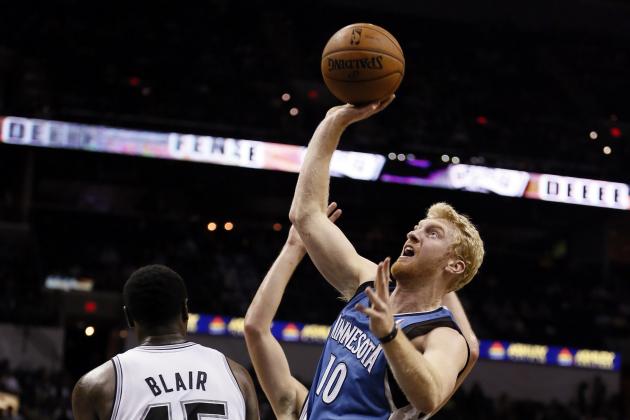 USA TODAY Sports

Chase Budinger was only able to play in 23 games during the 2012-13 season because of injuries. That's far from ideal for a player in a contract year, but he's shown enough consistency when on the floor to intrigue teams in 2013.
Having averaged 9.4 points and 3.4 rebounds for his career, the 6'7" forward has shown that he's an athletic, high-leaping player who can score from both the perimeter and above the rim.
The 24-year-old hasn't improved much since his rookie season, but as long as he doesn't regress any time soon, teams will know what kind of player they're getting.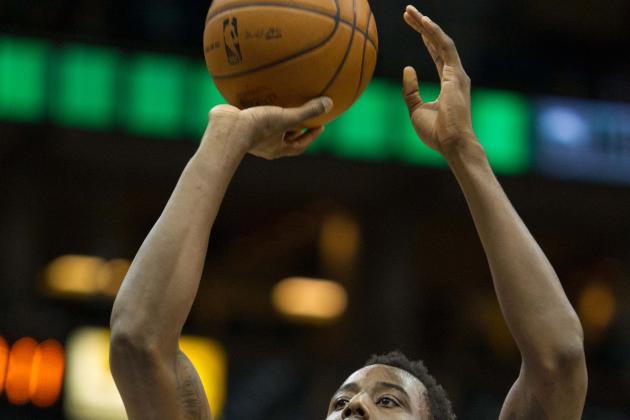 Brace Hemmelgarn-USA TODAY Sport

At just 22 years old, Al-Farouq Aminu has shown that his best quality is his athleticism in transition. He's a slasher who can finish in fast break situations, but the problem is that he's yet to develop a clear-cut role when the offense slows down.
Despite being a poor outside shooter, the 6'9" forward made up for it by not launching from too far outside of his own range. He may not know exactly what his role is, but at least he understands what it's not, which is crucial for a young player.
Defensively, he has a ton of potential with his length. The question is whether or not that potential will come to fruition, outweighing his poor decisions on the offensive end.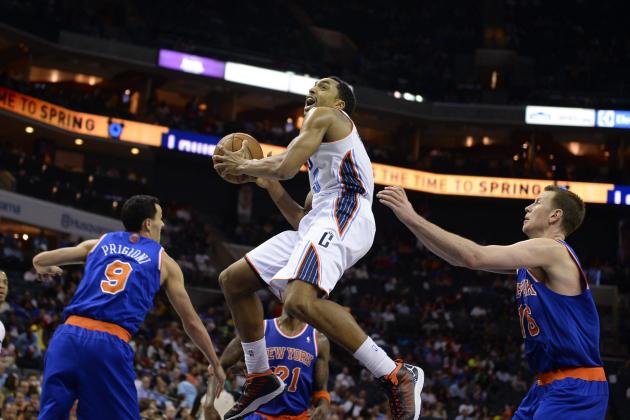 Curtis Wilson-USA TODAY Sports

Gerald Henderson is one of the most reliable players on the Charlotte Bobcats, and while that certainly says something about the quality of his teammates, let's look at the positives and focus on what makes the guard a prospect to consider.
At 25 years old, the 6'5" shooting guard is an athletic scorer at the rim. It would benefit him and his team to shoot more around the basket, which is something he'll hopefully learn as his basketball IQ continues to improve.
Defensively, Henderson knows how to make a difference despite regularly matching up against bigger opponents. On a better team, his defense would be more highly valued, and his need to shoot long two-pointers would decrease.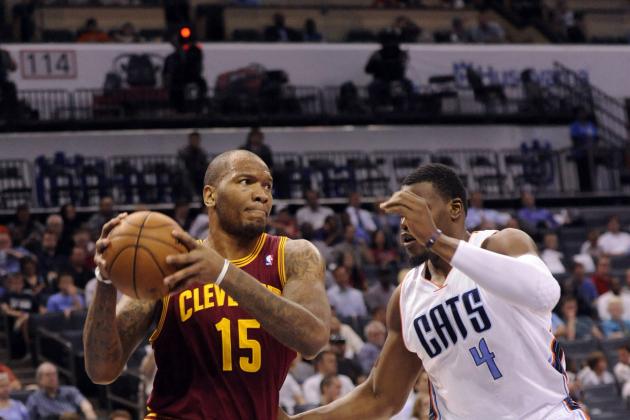 Sam Sharpe-USA TODAY Sports

Marreese Speights has two options this summer. First, he can take guaranteed money on a young, up-and-coming Cleveland Cavaliers team that when healthy can compete for a playoff spot in the Eastern Conference.
The other option is to test free agency, hoping to land with an organization that is further along in its quest toward an NBA championship.
Whichever route Speights chooses to go, it's clear that the big man knows his role as a rebounder, and he knows how to spread the floor with his jump shot.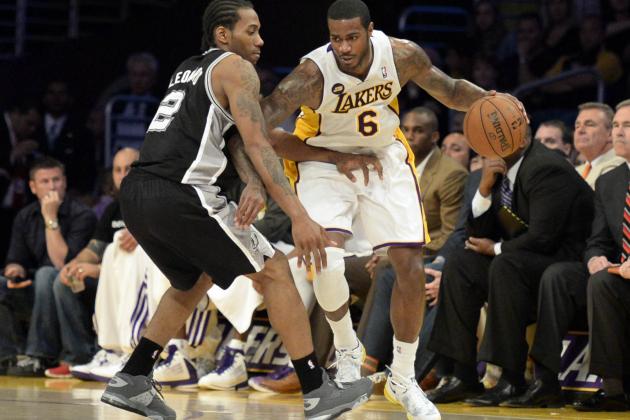 Richard Mackson-USA TODAY Sports

A horrendous year for the Los Angeles Lakers meant that Earl Clark was given a number of opportunities to prove his value in 2013. Injuries all over the roster opened up minutes in his favor, and he took advantage, starting in 36 of his 59 games played.
Those who watched Clark play for L.A. know that you can't value his production by simply looking at his stats. He's the kind of player who can do the little things, as his ability to pass, make backdoor cuts and hit open shots helped make up for areas that the Lakers were lacking throughout the year.
The problem for Clark is that he was seemingly all or nothing. At times he looked brilliant, filling in for Dwight Howard, Pau Gasol and Metta World Peace; but other times it was as if he were a different player, losing minutes and failing to produce with regularity.
Clark is the kind of player who at 6'10" can stretch the floor, but the question is, did he do enough on an underachieving team to earn a long-term deal as a regular rotation player?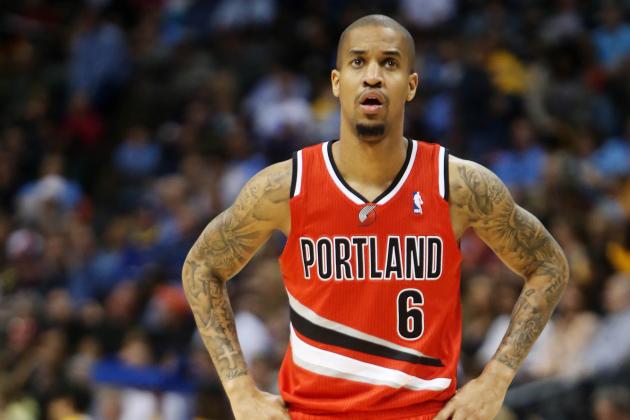 Chris Humphreys-USA TODAY Sports

Once upon a time, Eric Maynor looked like he might be the premier backup point guard of the NBA. He has a pass-first mentality, and despite his small frame, he competed well on the defensive side of the floor against his own position.
Unfortuantely for Maynor, he tore his ACL, was replaced in the Oklahoma City Thunder's rotation and has taken a clear step backward in becoming more than just a promising young prospect.
At just 25 years old, Maynor has plenty of time to prove his value. He did a solid job alongside Damian Lillard in 2013, as he averaged 6.9 points, 4.0 assists and shot 38 percent from deep range with the Portland Trail Blazers.
The point guard is a restricted free agent, but Portland may opt to let him walk without extending a qualifying offer, as a hefty cap hold could prevent it from signing a bigger name early in free agency.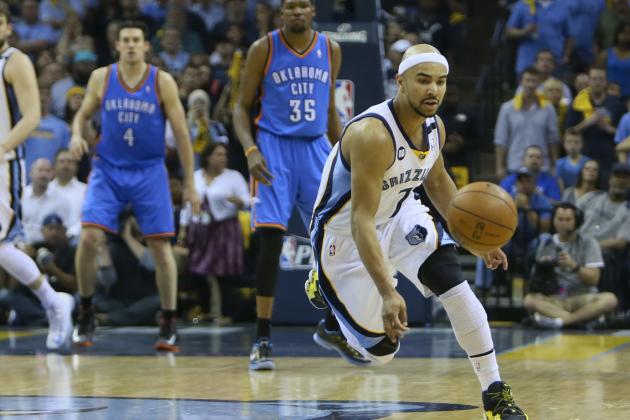 Spruce Derden-USA TODAY Sports

Jerry Bayless is a player who entered the league with high expectations. Fans of the Portland Trail Blazers were ultimately disappointed with the results they saw in his first two seasons, but the guard has trended in the right direction ever since.
When it comes to Bayless' improvements, the story is bigger than just his numbers. He's no longer a one-trick point guard, as he's evolved into a player who can shoot and distribute when he's unable to score at the rim with his athleticism.
With the Memphis Grizzlies, Bayless has also developed a toughness about him that used to come across as unwarranted cockiness. He's started coming into his own, and with a player option in the final year of his deal, he can opt out and see what his market value is in the summer of 2013.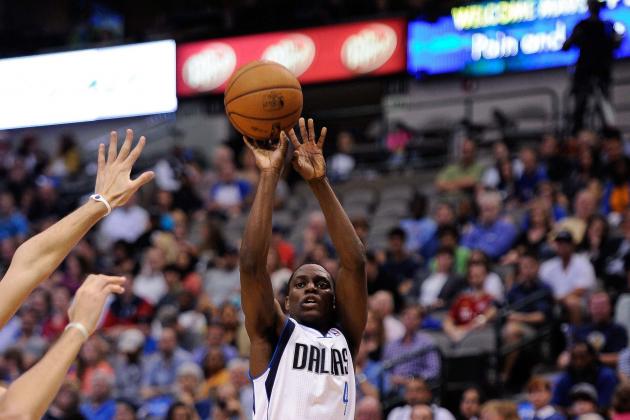 USA TODAY Sports

Through four seasons, Darren Collison has been extremely consistent. He's played well enough to prove he belongs in the starting lineup, but the problem is that his size makes him a target on defense, and his production has yet to jump to the next level.
In one year with the Dallas Mavericks, the 25-year-old averaged 12.0 points and 5.1 assists per game. He started in 47 contests, but he was moved to the bench twice for more experienced, more physically imposing options.
Collison has a future in this league, but the tough part during the offseason will be evaluating just what that future holds.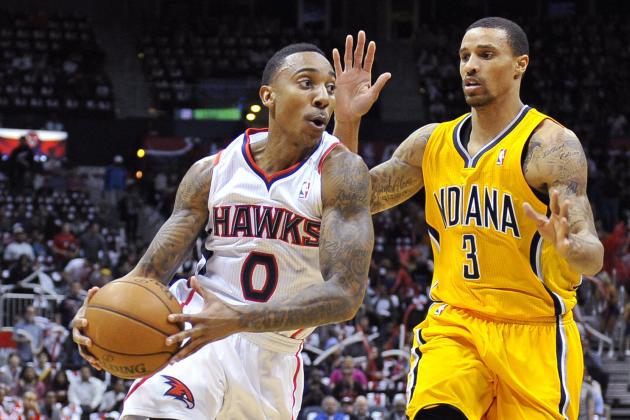 Paul Abell/Getty Images

Jeff Teague had an impressive 2012-13 season, and with contract negotiations right around the corner, it couldn't have come at a better time.
The 24-year-old point guard is about to say goodbye to his rookie contract and accept his first big deal as a restricted free agent. It will be up to the Atlanta Hawks whether or not he returns to the team that drafted him.
It's true that Teague hasn't officially broken out onto the scene the way some have anticipated he will, but his 14.6 points and 7.2 assists per game give people reason to believe. We've known for a while now that he has a scorer's mentality, so to see him ramp up the distribution aspect of his game was refreshing for fans of the youngster in 2013.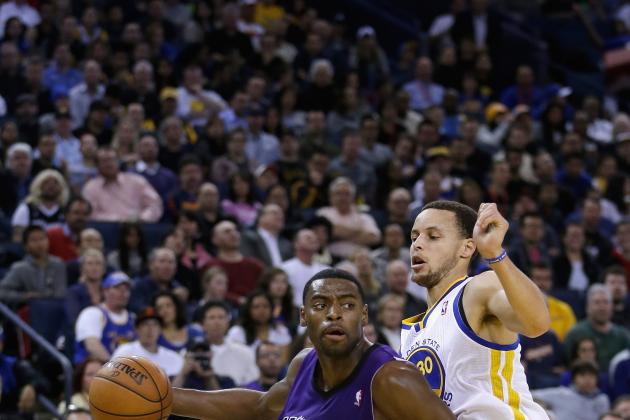 Ezra Shaw/Getty Images

From a talent standpoint, Tyreke Evans deserves to be closer to the top of this list. He's just 23 years old, he's a capable scorer who can finish with contact and he's posted career numbers of 17.5 points, 4.8 rebounds and 4.8 assists per game.
The problem is that those numbers should increase throughout a career, while his have declined ever since his rookie year.
What Evans has going for him is a significant improvement in his shooting percentage. In 2012-13, he posted career highs in both field-goal and three-point shooting. He began establishing himself as a more well-rounded scorer, and those are promising signs despite the downward trend we've seen thus far.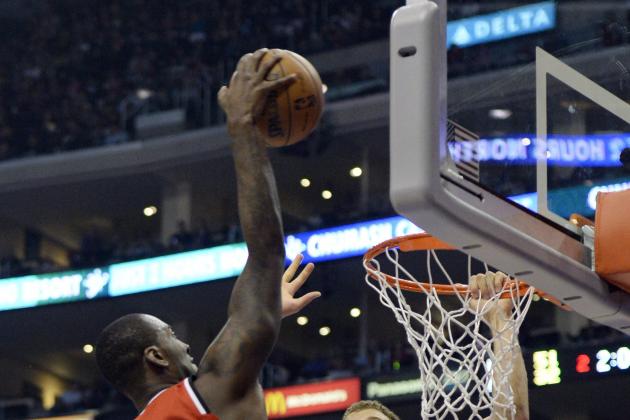 Richard Mackson-USA TODAY Sports

If you watched J.J. Hickson play during the 2012-13 season, it was clear that the big man was in a contract year.
Despite being out of position, the forward-turned-center averaged 12.7 points and 10.4 rebounds per game while recording 40 double-doubles along the way. At 6'9", Hickson exceeded expectations, taking full advantage of the one-year deal the Portland Trail Blazers gave him the summer before.
Hickson's biggest deficiency is hands-down his low-post defense. He doesn't have the ability at this point in his career to keep up with the bigger bodies, and that's why Portland will likely look another direction during the offseason.
However, if a team needs a power forward, Hickson looks like a top-quality choice, as he's coming off the best season of his career.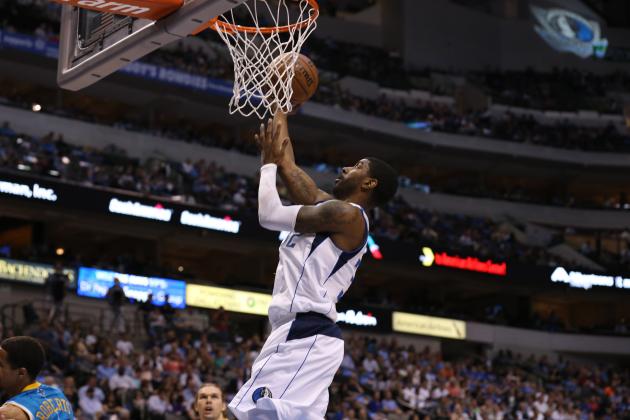 USA TODAY Sports

O.J. Mayo has a player option in his short-term deal with the Dallas Mavericks. If he chooses, he can opt out and test his value on the free-agent market for the second straight offseason.
The 6'4" 2-guard is coming off his best campaign since his sophomore year. He averaged 15.3 points, 4.4 assists and 3.5 rebounds per game, but that didn't stop him from showing he still has inconsistencies.
After a great start to the season, Mayo's production and efficiency dropped with almost every passing month. Part of that had to do with the return of Dirk Nowitzki, but you'd at least like to see field-goal percentages stay high alongside the team's No. 1 option.
Teams shouldn't give up on Mayo, as he has the potential to become a more reliable scorer. That said, he's yet to live up to his impressive rookie season, and that's going to make any team second guess a long-term contract.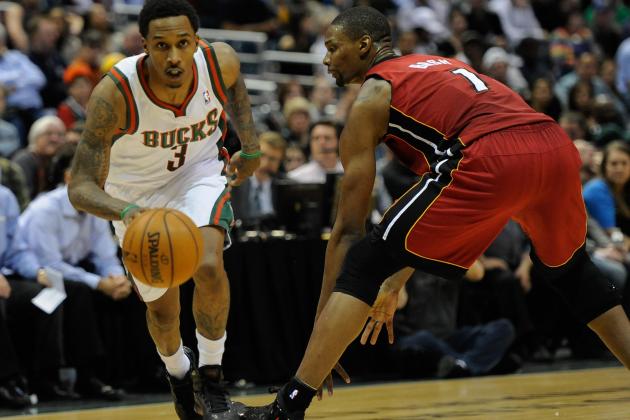 Benny Sieu-USA TODAY Sports

As a quick, left-handed guard, Brandon Jennings has established himself as a dangerous scorer during the early part of his career. His outside shooting has been inconsistent, but he's coming off a 2012-13 campaign that saw him knock down 37.5 percent of his long-range jumpers.
Jennings' final game of the year was an unmemorable one. He shot just 1-of-7 in a double-digit loss to the Miami Heat, and he didn't even play in the fourth-quarter despite it being an elimination game.
Putting it nicely, he didn't play the way he'd liked to have played going into a contract summer, but the fact is that his talent and scoring ability will earn him a deal in one place or another.
On the year, Jennings posted 17.5 points, 6.5 assists and 3.1 rebounds per game while recording a PER of 16.20.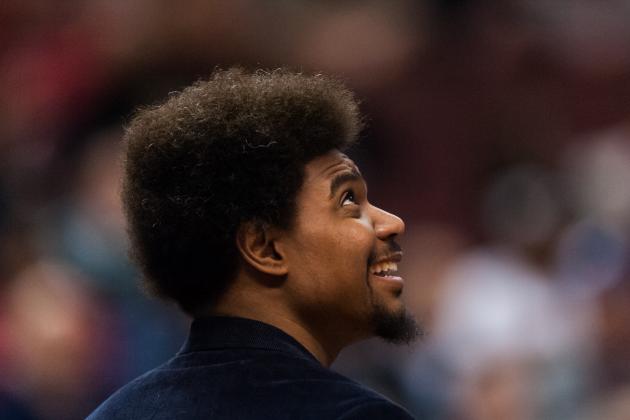 USA TODAY Sports

Andrew Bynum has become the epitome of a high-risk, high-reward situation.
Coming off a year where the center didn't play a single game, whichever team grabs him will be taking a chance. His injuries are concerning, as big men with bad knees seem to have early expiration dates; but as a true seven-footer, he has the frame and the low-post skill set to be a difference-maker on both sides of the floor.
Maturity is another issue to worry about, as he's given fans and coaches headaches with some of his decisions. But with the NBA having shifted to a point guard's game, a true center is a highly sought-after commodity.
Will somebody gamble on Bynum? You bet. He's a two-way player who can have an impact when healthy. At just 25 years old, he's one of the top free agents on the market, and he has a legitimate chance of challenging Dwight Howard as the game's most productive center.