Ranking Biggest NBA Coach of the Year Snubs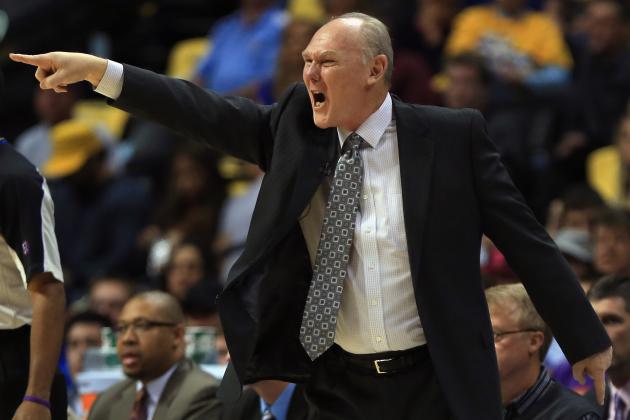 Doug Pensinger/Getty Images

Congratulations to George Karl on being named the 2012-13 NBA Coach of the Year (per NBA.com). Karl took home the Red Auerbach Trophy in this, his 25th season as a head coach, after leading the Denver Nuggets to an NBA franchise-best record of 57-25 and the No. 3 seed in a crowded Western Conference.
Karl's accomplishment is rendered even more remarkable by his recent bout with cancer and by the fact that he currently sits sixth on the NBA's all-time wins list.
(Sure, you can criticize Karl for overseeing the Nuggets' ninth first-round exit in 10 seasons, but this award is a referendum on regular-season success.)
That Karl managed to rise above a loaded field of worthy competitors—and quite handily, at that—is an achievement in itself. Karl finished with 404 ballot points, well ahead of Erik Spoelstra's second-place tally of 190.
As with any major end-of-season award, there's always room for nitpicking and second-guessing.
Not that we're above or immune to such musings. If anything, this year's COY voting is cause for a debate about snubs that, while ultimately meaningless, is a lively and entertaining one nonetheless. With that in mind, let's have a look at which of the NBA's top sideline stalkers got the rawest deals of all from the league's consortium of writers and broadcasters as far as vote tallies, ballot points and relative finishes are concerned.
Begin Slideshow

»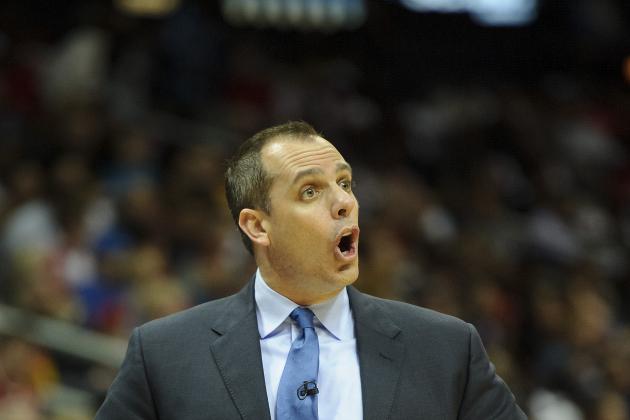 Paul Abell/Getty Images

Frank Vogel
Ballot Points: 60
Voting Breakdown: 3 1st-place votes, 11 2nd-place votes, 12 3rd-place votes
Finish: 5th
For the first time in nearly a decade, the Indiana Pacers came out on top in the Central Division, thanks in no small part to Frank Vogel. The third-year coach oversaw the emergence of the best defensive outfit in the NBA and a team that fell just short of the 50-game threshold.
This, despite the front office's demolition of the (already thin) second unit during the offseason, Roy Hibbert's offensive regression and Danny Granger's ongoing bout with knee troubles.
Paul George's growth into an All-Star certainly played a pivotal part in the Pacers' improvement, though Vogel deserves plenty of dap for putting George (and Lance Stephenson) in position to succeed this season.
Lionel Hollins
Ballot Points: 55
Voting Breakdown: 6 1st-place votes, 4 2nd-place votes, 13 3rd-place votes
Finish: 6th
Lionel Hollins might've been kicking and screaming about the Rudy Gay trade at first, but if the Memphis Grizzlies' hot finish to the 2012-13 season is any indication, he and his team adjusted to the shakeup just fine.
If anything, Gay's absence made it that much easier for Hollins to thrust upon the Grizz his deliberate, inside-out, defensive-minded style. As a result, Memphis managed to exorcise its demons against the Los Angeles Clippers in the first round and now appears to have the upper hand opposite the short-handed Oklahoma City Thunder in the Western Conference semis.
Kevin McHale
Ballot Points: 17
Voting Breakdown: 1 1st-place vote, 3 2nd-place votes, 3 3rd-place votes
Finish: 9th
Like Lionel Hollins, Kevin McHale had to work around the metrical machinations of his front office on the fly. Unlike Hollins in Memphis, however, there was no question whatsoever as to whether the moves the Houston Rockets brass made improved the team.
Nonetheless, McHale did a masterful job of revamping the Rockets' approach to better integrate and accentuate James Harden's peculiar talents. Houston shot threes, attacked the basket and pushed the pace as a whole, with Harden as the focal point, and wound up back in the playoffs for the first time since 2009 as a result.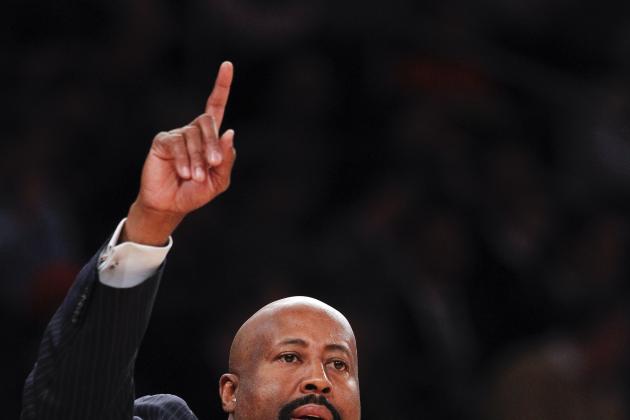 Jeff Zelevansky/Getty Images

Ballot Points: 127
Voting Breakdown: 6 1st-place votes, 28 2nd-place votes, 13 3rd-place votes
Finish: 3rd
As it turns out, all the New York Knicks needed to ride Mike D'Antoni's spread pick-and-roll system to the upper echelon of the Eastern Conference was...less Mike D'Antoni.
And, of course, more Mike Woodson. The self-deprecating coach led the Knicks to a strong finish in 2011-12 and kept that roll going into this season, wherein New York finished with its best record (54-28) in 16 years and its first Atlantic Division title since Pat Riley's heyday in 1993-94.
Along the way, Woody managed to rein in Carmelo Anthony and J.R. Smith, integrate a few fogies (most notably Jason Kidd and Pablo Prigioni) into the rotation and juggle his rotations to account for all manner of emergent injuries.
Most of all, though, he brought joy and excitement back to Madison Square Garden, where such things had been in far too short supply over the past decade or so.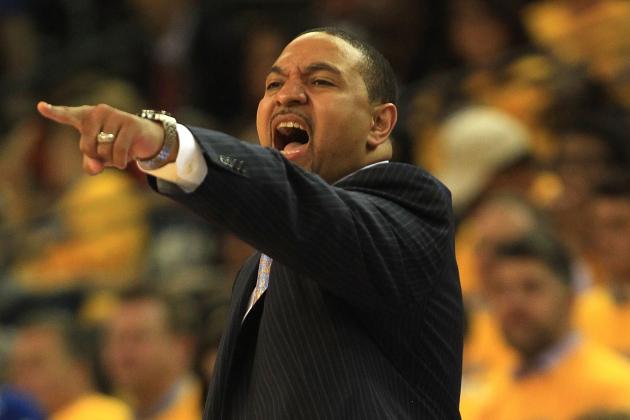 Jed Jacobsohn/Getty Images

Ballot Points: 47
Voting Breakdown: 3 1st-place votes, 6 2nd-place votes, 14 3rd-place votes
Finish: 7th
Speaking of New York, Mark Jackson, a native of and legend in the Big Apple, fit the Coach of the Year archetype better than just about any other candidate in this year's field.
In just his second season as a head coach of any kind, Jackson led the Golden State Warriors from the depths of NBA-draft-lottery "tankdom" to the sixth seed in the West, from which vantage point they've since dispatched George Karl's Denver Nuggets.
Within that turnaround was the job Jackson did in spinning the Warriors' collection of defensively challenged finesse players into a tough, board-crashing outfit. Under Jackson's guidance, Golden State improved from 26th in defensive efficiency and dead last in rebounding percentage in 2011-12 to 13th and eighth, respectively, during this past regular season.
This, despite Andrew Bogut's ongoing ankle troubles limiting him to just 32 games and losing Brandon Rush to a torn ACL the second game of the year.
Not bad for a guy whose post-playing career had previously been characterized by an assortment of awkward catchphrases.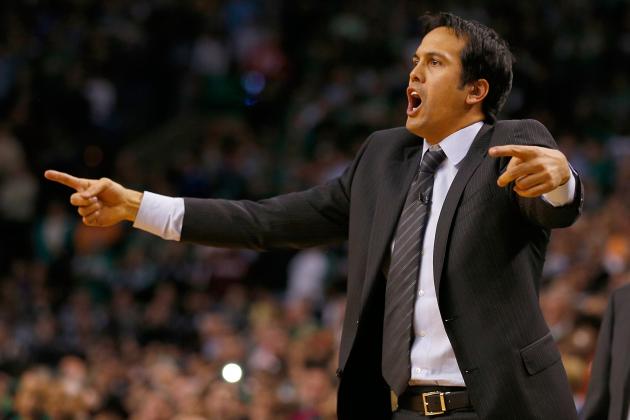 Jim Rogash/Getty Images

Ballot Points: 190
Voting Breakdown: 24 1st-place votes, 17 2nd-place votes, 19 3rd-place votes
Finish: 2nd
I was tempted to place Erik Spoelstra higher on this list, seeing as how he was my choice for Coach of the Year (not that my choice matters, because I don't have a ballot).
Detractors might say that Spo doesn't deserve strong consideration because he simply did what he was supposed to do: that is, let the talented Miami Heat defend their title and get the heck out of the way. The Heat were supposed to be the best team in basketball...and they were.
So what's with the fuss over Spo?
Well, defending champions don't usually dominate the league to the extent that Miami did in 2012-13. Rather than rest on their laurels, the Heat spent the campaign validating their recent run to the Larry O'Brien Trophy and setting up what may well be their third trip to the NBA Finals in as many years. They ripped off the second-longest winning streak in NBA history (27 games) and became just the 13th team ever to win 66 games in a single season.
And, most of all, the Heat seemed interested and engaged in the task at hand throughout that march to the top seed in the East and the best record in the Association, thanks in no small part to Spoelstra. Miami's floor-spreading, small-ball system was largely the product of Erik's design, and with an assist from Pat Riley in the front office, he brought that LeBron James-centric approach to life in the most vivid color imaginable.
Still, it's not exactly fair or accurate to call a guy a "snub" when he finished second in the voting, however distantly.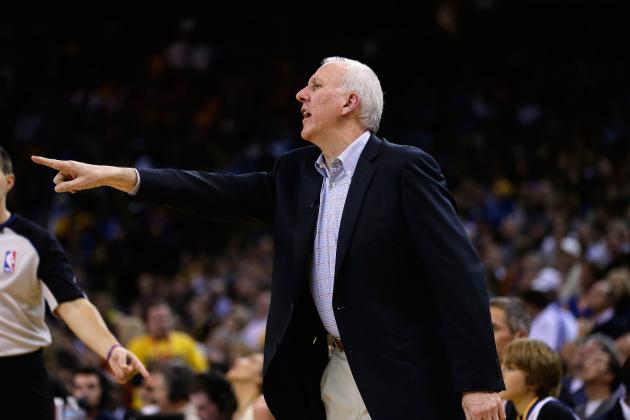 Ezra Shaw/Getty Images

Ballot Points: 120
Voting Breakdown: 11 1st-place votes, 16 2nd-place votes, 17 3rd-place votes
Finish: 4th
Voter fatigue might be the only thing keeping Gregg Popovich from capturing the COY every single year. The reigning Red Auerbach Trophy winner led the San Antonio Spurs to their 14th straight (would've been 16th straight if not for the lockout in 1998-99) 50-win campaign.
Even though each of his top four players (Tony Parker, Tim Duncan, Manu Ginobili and Kawhi Leonard) missed no fewer than 13 games, their absences left Pop's "system" ample opportunity to strut its stuff, with everyone from Danny Green and Tiago Splitter to Nando De Colo and Aron Baynes (ARON FREAKIN' BAYNES!!!) making meaningful contributions to victorious efforts.
The fact that Pop had the gumption to cut ties with Stephen Jackson just prior to the playoffs caught the rest of the NBA by surprise, though the controversial move appears to have paid dividends for a Spurs squad that now looks like one of the favorites (if not the favorite) to represent the Western Conference in the 2013 NBA Finals.
A fourth-place finish in the voting isn't bad, but like LeBron James in the MVP race, Pop will be a perennial COY contender as long as he's in San Antonio and has Timmy by his side.
And if the Spurs keep winning after Duncan calls it quits, then Pop's claim to the award will grow ever stronger.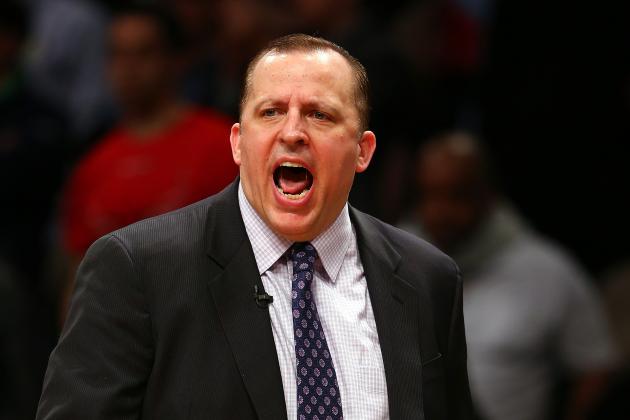 Elsa/Getty Images

Ballot Points: 40
Voting Breakdown: 2 1st-place votes, 7 2nd-place votes, 9 3rd-place votes
Finish: 8th
The snubbery this year's voters bestowed upon Tom Thibodeau is of a type and degree that would lead even the Knights Who Say "NEE!" to pick a new moniker.
Granted, Thibs might not have been the most deserving candidate in the running, though you can certainly make a strong case for him finishing higher than eighth in the balloting.
And I will. Oh, I will.
On the surface, the fact that the Chicago Bulls fell to fifth in the Eastern Conference, with a record of 45-37, after finishing with the NBA's best mark in back-to-back seasons, would suggest that Thibs shouldn't have been anywhere near the Red Auerbach Trophy. After all, when has a coach ever captured COY honors when his team fared demonstrably worse than it did in the years immediately prior?
Except, Thibs, more than anyone, was responsible for keeping the Bulls from absolute free fall. Chicago's front office gutted the team's much-ballyhooed "Bench Mob" over the summer for financial reasons. Derrick Rose didn't play a single minute during the regular season while recovering from a torn ACL, but managed to attract a distracting media circus to the Bulls' doorstep every day anyway. Five key rotation players missed nine games or more, including the 16 Joakim Noah sat out on account of a(n ongoing) foot injury.
And yet, the Bulls won as many games as they did, were within striking distance of home-court advantage in the first round throughout and ended two historic winning streaks (Miami's 27-gamer and New York's 13-gamer)—after nearly halting another (Denver's 15-gamer)—along the way.
All while leaning on the likes of Nate Robinson and Marco Belinelli to provide some semblance of offense, no less...and making them look like severely undervalued players.
Chicago's success in the 2013 postseason is vindication enough of Thibs' sideline genius. That being said, how 103 of 121 voters left him off their ballots is beyond me.